Award-winning
mobile app development Chicago
Build your digital preference with bleeding-edge technologies. Our dedicated team of mobile app developers in Chicago transforms your vision into sophisticated, secure, and robust applications. Leverage the capabilities of our technically experienced team that offers the best solution in the market to meet your business needs through your app.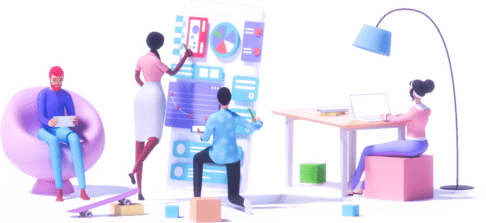 Trusted by
900+ happy clients

including these Fortune companies
Mobile application development solutions
for Chicago's tech trailblazers
From being eighteenth on KPMG's top global tech innovation hub list to making its way to the sixth position, Chicago has emerged as one of the fastest-growing hubs in the world this decade.
The "Windy City" attributes its rapid growth to tech-giants like Google, Facebook, LinkedIn, Salesforce, Uber, Cameo, Sprout Social, Capital One, Groupon, and others alike, who offer a pool of career opportunities for millennials and tech wizards. However, the tech-friendly city's generosity is not limited to its working professionals. It has also proved to be a haven for businesses who want to make the most of Chicago's vast mentor network, powerful venture capital, and affordable real estate.
Simform is delighted to work with you as a dedicated mobile app development partner. Our team contributes to all walks of the app development lifecycle and offers its expertise to progressive startups, small businesses as well as top tech enterprise businesses in Chicago. So whether you want to build a car-pooling application, a payment platform, or a healthcare solution, you can bank on us!
Trusted by
900+ happy clients

including these Fortune companies
Want to build scalable application?
Extend your tech capabilities with
mobile app developers in
Chicago
Mobile app development offerings
Native App Development Services
Native B2B and consumer apps allow you to utilize the inherent power of iOS and Android platforms with secure and performant apps.
Hybrid Cross-platform App Development Services
Utilize the power of React Native, Flutter, and Xamarin to develop apps for multiple platforms while sharing the same code base.
Business Analysis & Consulting Services
Whether you are looking to 
develop business apps or apps to service customers, our consultants can help you define the right tech plan
Business Apps and API Integration Services
Integrate your mobile app(s) with services you are already using and extend their use cases for your employees and users.
Enterprise Mobile Apps
Customized mobile solutions to drive your operations. For example, a CMS to organize and publish content, all in a simple screen.
Apps for Internet of Things
Unlock the potential of high functioning mobile apps that interact with hardware / wearables/ IoT through Wi-Fi, Bluetooth, NFC, and more.
Hire the best App developers around!
Our portfolio of

mobile applications
What
customers say

about our
mobile app development services
The best mobile app developers in
Chicago
Simform is a mobile app development company in Chicago with a focus on a modernistic tech stack. We are engrossed in multiple tech domain expertise to create innovative digital products leveraging user-focused procedures. Unlike other agencies, we bring a wholesome approach from devising a technical architecture and auditing functionalities to offering post-launch support.
Freelance Marketplace sounds like a great idea, especially when your project is accepted by tech agencies and software consulting firms on your own terms. You speak to them about your business goals, vision, and challenges. But alas, they realise it's out of their league, and you end up wasting a whole lot of your time.
In contrast, our goal at Simform is to bring assurance, certainty, and transparency to the mobile application development space in Chicago. Unlike most agencies, who thrive on transactional services, we introduce you to UX/UI design elements that facilitate a user's progress within the app, devise an efficient and scalable technical architecture, audit functionalities for technical problems, and offer post-launch technical support. Likewise, we upgrade your existing application so that it can handle the ever-evolving market demands and emerging technologies.
Our
agile development

process
Let's build a top-notched mobile app together!
Awards & Recognitions
The average cost of developing a mobile app includes all the phases of the engineering process, such as business analysis, design, development, and testing. A mobile app development company in Chicago like us can help you to give a rough estimation to build an app. The average cost to develop a mobile app in Chicago is $70K – $250K. It can also be as low as $10,000 to $40,000 in an app with less complex functionalities.
The average time to complete the development process from scratch to launch takes around six to seven months for a mobile app. However, it may also take up to one year or even more, depending upon the requirements and upgrades of an app.
We have a team of app developers in Chicago who have proficiency in Flutter, React Native, Kotlin, and Swift technologies. Also, you will have to prepare with the requirements that would help us choose the best technology for your project.
Yes. We provide full support and maintenance post-development by assigning a dedicated project manager as your primary contact person throughout the mobile app development project.
Definitely, yes. We sign non-disclosure agreements (NDA) with all our clients. Being a reputed mobile app development company in Chicago, we ensure our clients' business ideas and project details remain fully secure and confidential.