Lead the 
charge to cloud with Simform & AWS
Simform, an AWS Advanced Consulting partner, helps enterprises across multiple industry verticals to transform legacy establishments into dynamic and boundaryless applications. Our trained AWS Consultants and Architects help you develop, deploy, and optimize cloud applications on AWS.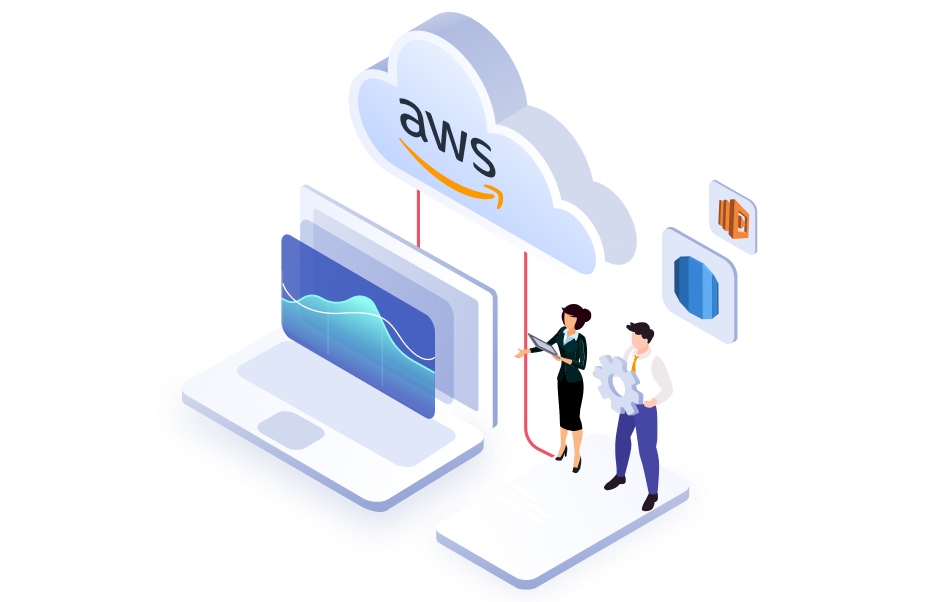 Simform and AWS-
leveraging business agility
Simform and AWS uplift your overall omnichannel customer experience by streamlining business operations and reinforcing the benefit of the public, hybrid, and private cloud environments. It not only focuses on moving your existing infrastructure to the cloud but also offers best-in-class industry-specific solutions that enable you to use the AWS Cloud & Serverless Services at full length.
As an Advanced Consulting Partner of AWS, we offer services to increase your business's capability to cater to rapidly changing customer demands and stay a reliable source of market leader worldwide. We ensure and promise a suitable and comprehensive set of tools and strategies spanning across all types of cloud environments.  
Simform and AWS, with its customer-obsessed team of AWS certified professionals, helps organizations like yourself by providing an entire toolset of cloud advisory services, strategy and roadmap development, cloud-native deployment, implementation, and migration, enabling you to create a future-ready secure ecosystem.
Work with an official AWS
Advanced Consulting Partner
Simform, with its cloud partners, brings you the superpower of cloud-native applications. Our strategic alliances empower organizations like yours to thrive in the cloud.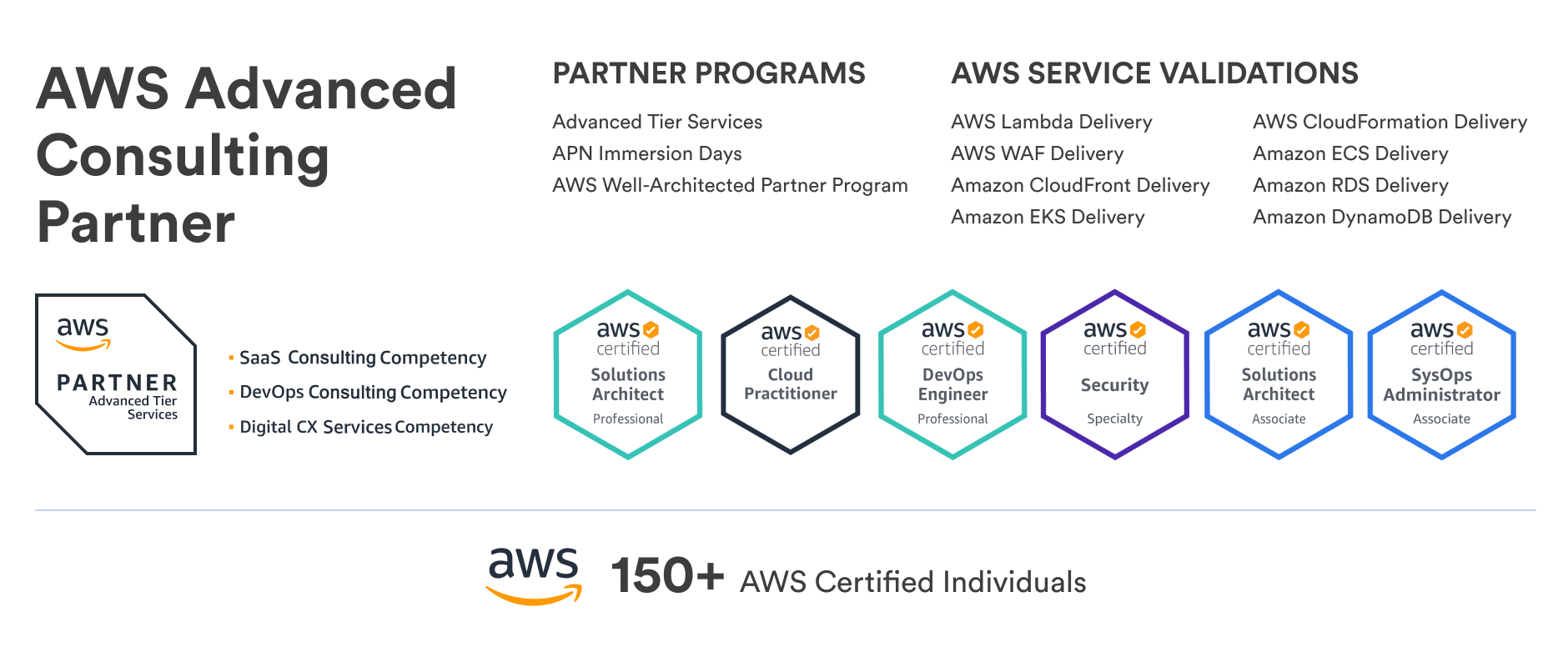 Meet unprecedented speed with
Cloud-first approach
Cloud Transformation 
Cloud transformation maximizes your business's value by aligning your IT infrastructure with your organization's core business objectives. Drive better business decisions with omnipresent service availability.
Scalable Content Services
AWS accommodates more features and services than any other cloud vendor. Let your customers enjoy endless hours of quality services and stay updated with real-time stats using superior storage and bandwidth.
AWS Cost Optimization 
Unfold real business benefits with optimized cloud solutions. Do more with less! Elevate, and modernize your data center with reduced time to market, cost, and yet receive effective performance. 
Cloud Security Solutions 
Safeguard your infrastructure, applications, and networks with consistent control over cloud and physical resources. What's more? Strategically leveraging AWS security products to incorporate a secure cloud infrastructure.
Custom Cloud on AWS 
Create a custom cloud environment with flexible storage capacity—one with a simpler configuration, negotiable contracts, and minimum hardware requirements to accommodate storage expansion on-demand. 
Infrastructure Modernization 
Digital content management over storage servers and network devices is complicated and expensive. We help you develop an infrastructure that is secure, scalable, and optimized with ensured efficiency. 

Data on AWS 
Effective mobility solutions safely move your data to a preferred cloud with encrypted policies to cater to seamless data movement. We bring you the best cloud delivery models and compliance that transforms data into intelligence. 

Serverless on AWS 
Use modern computing services like AWS Lambda to reap the benefits of modern application integrations with serverless on AWS. Build better applications with a serverless-first approach, reduce operational overhead at lowered costs. 

Real-time Analytics
A reliable purpose-built analytics service for best-in-class, performance-driven insights in real time. Reducing manual time, automated tasks for enhanced productivity, and seamless and cost effective data movement. 
Put your cloud infrastructure in
hyperdrive!
About Simform's AWS Practices
Simform is an official advanced consulting partner of AWS

and hence, follows an approved set of practices that define the best work in configuring AWS services. 

Devoted subject matter expert

to walk you through your project and assist teams during the problems. 

A well-structured team

of technical officers whose significant tenure belongs to cloud technologies and AWS services.

A 24/7 constant communication

to help you get through the AWS assistance, zero instances of delayed service. 

Simform's standard auditing and quality assurance

over every module of code we deliver through our consulting services. 
AWS insights
from our experts