How Cloud-based Communication Improves Healthcare Industry?
Cloud-based communication and API integration solutions have made it feasible for medical practitioners to deliver services to patients in the comfort of their homes, offices, or while on the go.
With new policies, technologies, and techniques being adopted to ensure the best services, a lot of positive changes are being witnessed in the way the healthcare industry is functioning today. However, the challenges are ever-increasing, and, at the same time, the situation is ripe for new solutions to enter the healthcare world.
In this article, we'll explore the role of cloud communication in healthcare, revealing its potential to transform how you operate, serve patients, and safeguard their invaluable data.
Benefits of
cloud communication in healthcare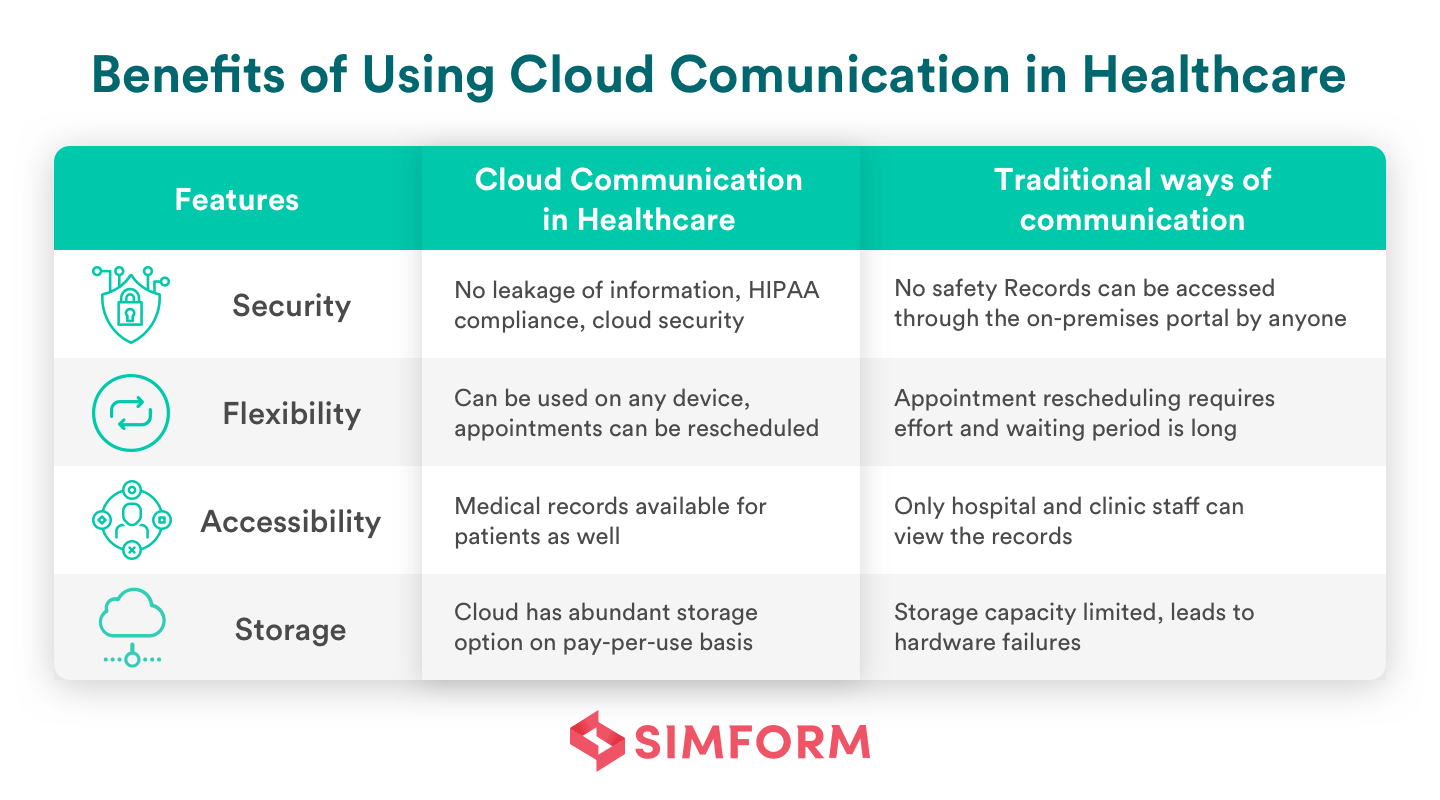 Healthcare consumerism and personalized healthcare propel innovation in the industry, each with distinct digital transformation requirements and outcomes.
The global healthcare market is experiencing significant evolution in terms of innovation and is expected to reach a whopping $665.37 billion by 2028.
Here's how cloud technology is benefitting the healthcare segment:
#1 – Communication through a single platform – Voice and video calls, instant messaging, webchat, EHR management, patient portals among others enable hospitals, healthcare facilities, physicians, and nurses to connect with patients through a single communication platform via the internet.
#2 – Accessible on any device – Patients and medical staff have the flexibility to connect through their phones, laptops, or tablets from any part of the world.
#3 – Establish a secure connection always – A HIPAA compliant cloud platform maintains the safety and security of patient data and avoids any leakage of sensitive information.
#4 – Manage increased users easily – The cloud communication platform is easily scalable with timely upgrades offered by the cloud service provider. This makes it easy to handle sudden increases in patient activities.
#5 – Enhanced patient self-service options – As patients bring their consumer-oriented expectations into the healthcare realm, they desire to manage various aspects of their healthcare independently. This includes self-scheduling appointments, requesting prescription refills, checking in for appointments, and accessing medical information with AI-driven tools.
#6 – Robust Point-of-Care (POC) collaboration – Cloud technology enhancing care coordination and team access through mobile-first cloud communication applications. These tools aim to improve the efficiency of care delivery at the point of care.
With many benefits and lesser shortcomings, cloud-based platforms have boosted the use of Telemedicine and Telehealth applications among patients and physicians, both. The global telehealthcare market is expected to reach $893.7 billion by 2032.
Why are
Telemedicine and Telehealth apps

the need of the hour?

Telemedicine and telehealth apps have become the need of the hour, offering you a seamless and accessible means of delivering quality medical care to patients.

Pulsara is a cloud-based telehealth platform connecting medical teams of different healthcare facilities like EMSs, nursing homes, imaging centers, and testing clinics through a single application. Further, it enables smooth coordination between geographically distributed care groups.

The process involves creating patient channels and forming a care team to establish real-time communication via video and audio calls, instant messaging, images, and others. It allows the core team to add medical professionals and organizations for expert opinions, facilitating the exchange of critical information. In fact, In fact, Pulsara has helped the healthcare facilities decrease the average treatment time by 30%.

In case there were any hospital admissions, the platform informed the physicians prior to the patient's arrival to minimize exposure to the virus. For the convenience of outpatients, adding family members was also possible on the Pulsara PATIENT app developed by the same platform. Furthermore, physicians of different specialties could consult each other by adding care teams on the app and avoid any direct contact to avoid any further spread.
Why should patients and doctors consider telemedicine?
#1 – Provides 24/7 care – With apps like Teladoc that provide 24/7 healthcare services, you can receive a fast diagnosis at your convenience for conditions like cold, sore throat, and acne. As per a 2022 survey, 38% of patients in the United States preferred to receive medical care via telehealth.
#2 – Ensures personal safety – With the required treatment delivered at your doorstep, the danger of being exposed to the virus reduces for both patients and doctors. Research suggests that around 61% of doctors find telehealth a promising platform for healthcare services.
#3 – Cost-savings – Telemedicine can be cost-effective for both patients and healthcare providers. Patients can save on transportation and childcare costs, while healthcare facilities can reduce overhead expenses for maintaining physical offices.
Healthcare innovation

to watch for

From groundbreaking advancements in telemedicine to cutting-edge wearable health tech, there's a wave of transformative ideas and technologies reshaping the way we approach healthcare.

Here are the prominent healthcare innovations to watch for, each promising to revolutionize the global healthcare industry:
1. Expanded self-service options for patients
As patients bring their consumer-oriented expectations into the realm of healthcare, they desire the ability to take control of tasks such as scheduling appointments, requesting prescription refills, completing check-ins, and utilizing AI-driven access to medical information.
2. Digital-first patient engagement
Patients increasingly prefer digital engagement, whether they are perusing physician ratings on platforms like Yelp or interacting with healthcare providers through their organization's Facebook page. This extends to non-social channels like messaging, web chat, and video communication.
3. Cloud apps
With healthcare providers having largely addressed the long-standing need for single-device use, they are now concentrating on how mobile-first cloud communication applications can enhance access for POC teams and improve the efficiency of care coordination.
4. Chatbots and NLP
Healthcare providers will embrace chatbots and NLP for better patient communication and engagement. Together, they enhance patient satisfaction, with chatbots giving personalized advice using medical history and symptoms. Chatbots handle FAQs, offer basic medical advice, and schedule healthcare appointments. On the other hand, NLP analyzes patient feedback, detects trends, and provides early health issue warnings.
Why is
API integration essential for the smooth functioning

of healthcare apps?

Cloud-based Application Programming Interface (APIs) is the link between your application and the best-in-class services of the healthcare sector. With telemedicine platforms adopting advanced technologies to achieve new heights, your patients will expect the same level of comfort and services from your software.API allows you to explore features that can be integrated into your application as a one-stop solution for your patients.

"So why not develop my own features instead of opting for API providers?" you may ask. Well, there are dedicated teams of developers that work on these interfaces with a goal to make them easily scalable, cost-effective, and a value-addition to your application. This gives you ample time to focus on the bigger picture and create unique features to set you apart.
We have created a list of commonly used APIs in telemedicine and telehealth apps as well as for special use cases to embed in your app –
Voice APIs for Telemedicine Apps
When it comes to a healthcare app, voice API proves to be most beneficial for the physically disabled, visually challenged, and senior citizens. It's important that you design telemedicine apps keeping in mind their needs and inadequacies. Some common problems include lack of good vision, difficulty in movement, inability to keep their hands steady while using a smart device, following commands on the screens, and others. Voice APIs, however, can help these patients navigate through the app with pre-recorded commands on calls and have their questions answered.
Let's take examples of the services offered by two top-notch Voice API providers-
#1. Vonage offers a pay-per-second billing option to its customers, so you can analyze the usage and accordingly select a long-term plan. Global connectivity to tier 1 carriers and Vonage's own trusted carrier network ensures uninterrupted communication and excellent voice quality.
Furthermore, the text-to-speech feature covers 40 native languages and generates machine-generated responses, ridding you from the pain of recording audio files. What's more, the auto-join for conference calls feature allows callers to join the meeting as it starts, facilitating the exchange of expert opinions from physicians and discussions with authorized attendees.
Some other features offered by Vonage include –
– Customization of preferred WebRTC and PSTN calling options
– Strong encryption and real-time fraud detection system for secured calling
– Call recording/tracking options to anticipate patient expectations
#2. Twilio Voice API offers the flexibility to access and manage patient calls on all devices, reducing the waiting time and improving patient engagement. Furthermore, the SIP interface allows you to switch from PSTN to cloud telephony without any hardware or software deployment.
It is also cost-effective and easily scalable to increasing demand. TwiMLTM Voice conference connects up to 250 participants on a conference call with moderator controls, participant management, and call recording. Moreover, Twilio's Media Streams allows you to access real-time raw call recordings to get patient feedback and better modify your responses for similar queries.
Similarly, HealthTap is a new-age telemedicine platform that offers APIs that enable instant access to doctors, personalized health insights, prescriptions, referrals, and more.
Another such telemedicine platform is DrChrono. DrChrono provides a suite of voice APIs that allow telehealth apps to integrate virtual visits, EHR, billing, scheduling, and more.
Video APIs for Telemedicine Apps
Just as Work from Home is the new normal, video consultations with doctors and nurses have become a preferred mode of communication for most patients. In fact, the American Medical Association and Wellness Council of America revealed that 75% of the ER visits, urgent care, and doctor visits can be handled over a phone or video.
Additionally, as doctors save time in commuting to hospitals and clinics, they can dedicate that much more time to patients and their concerns. Telemedicine apps around the world are pushing their limits to make video calls between doctors and patients as effortless as possible. Therefore, it is essential to integrate the best Video API into your application for better patient engagement.
MirrorFly provides Video Call APIs and SDKs that can be integrated into cross-platforms and web browsers for a seamless video chat experience. These interfaces are 100% customizable with additional features, hosting options among others to suit your design. With video calling available in HD resolution and assured low latency with support from WebRTC signaling server, patients and doctors can experience seamless communication throughout calls.
Screen recording is another video calling feature offered by MirrorFly that allows patients to rewatch the sessions for everyday exercises. With Doctors Video Conferencing feature, physicians from across the globe can be added for expert advice. Finally, being a HIPAA-compliant platform, end-to-end encryption is provided for secure communication between the users.
Vonage offers Video API solutions to web and mobile applications with video use-cases, where you can choose between 1:1 video communication, group chats, and broadcasts. The platform is HIPAA compliant and also provides users with BAAs as an additional service. Live video session recording, messaging during video calls, and screen sharing are some of the additional features to make communication between doctors and patients effortless.
With limited time, Shaare Zedek Medical Center in Tel Aviv built Telehealth systems with Video API after the COVID-19. It helped the organization treat patients remotely to ensure healthcare services were delivered on time.
Chi Mei Hospital in Taiwan integrated Vonage's Video API to ensure better coordination and efficiency among the medical staff. It enabled the doctors to communicate with each other and connect with patients and their families through video conferencing. What's more, they could also conduct meetings with interns for educational purposes.
APIs for specific use cases
#1 – Better Patient Engagement with Telehealth for Physicians
Telehealth helps with patient education and consultation, vital signs monitoring, and medical research through mobile and web app. While handling large scale data as this for all patients, it is imperative that physicians and medical staff can access, transfer, and exchange data securely among themselves without any delays or system failure.
Cloud Healthcare API by Google allows organizations to store large amounts of data from applications built on Google Cloud through various mediums like EHR medical history into the cloud. Users can analyze it with Machine Learning and Analytics to help patients get proper treatment and reach a conclusion about a specific medical condition in real-time.
Google ensures standard protocols of FHIR (Fast Healthcare Interoperability Resources) to facilitate the exchange of electronic health records. Furthermore, it also provides Digital Imaging and Communications in Medicine (DICOM) format which is considered a standard for sharing digital images among medical staff. Most importantly, Google has a secure data management system in compliance with HIPAA regulations.
#2 – Easy Access to EHR for Patients
EHR (Electronic Health Records) is essential for the smooth functioning of the healthcare industry today. Especially in these unprecedented times, when there is a constant increase in the number of patients seeking medical help, organized patient data will enable physicians and nurses to diagnose faster and better.
Not only medical staff but also patients should get access to records so that seeking medical help from different physicians is convenient. While all this holds true, it is also important that the API integrated with the application is HIPPA compliant and maintains 100% security in patient data management.
Redox offers an EHR Integration API that connects your application with a secure platform to access medical records stored in different software. It uses JSON and FHIR models to read data, apply HIPAA and HITRUST for maximum security, and offer 24/7 monitoring.
#3 – Daily Health Tracking with Connected Wearables for Patients
Health trackers and monitors will determine the future of healthcare in the years to come. According to a survey, approximately 35% of US adults use wearable devices for health-tracking purposes. Just as Fitbits have taken the fitness world by storm, health monitoring devices will be the next big thing in the healthcare sector.
The main reason for this popularity is the convenience with which patients can access their daily records on their devices and set health goals. Doctors can also monitor this data through the same platform and accordingly decide the treatment and medication.
Omron, a leading manufacturer of health monitoring and fitness devices, provides Omron API for developers to integrate it into their cloud-based applications. The data on blood pressure and fitness activity received on the devices are recorded in Omron's database and then made available to the healthcare apps.
The company ensures that secure communication is established between the two platforms, which is the most important factor while developing any healthcare app. It provides an OpenID connect and gives access to their production and staging environments.
#4 – Improved Management with E-Prescriptions For Pharmacies
With healthcare making technological advancements, pharmacies have also entered the game by introducing online purchases and on-time delivery of medicines.
e-Prescriptions are safer and faster as compared to paper prescriptions since there's no risk of misinterpreting medicines due to illegible handwriting. What makes this development critical is that it solves the drug overdose issue as pharmacies directly receive instructions from doctors.
Dosespot offers two API platforms – JumpStart API and Plus+ API – that include EPCS and Surescripts certifications that can easily be embedded into your app. These can either be used in the original form with JumpStart or customized to suit your needs with Plus+.
Conclusion
With more and more developers exploring the potential of cloud technology and API solutions, the healthcare industry is becoming a breeding ground for new advancements. Some of them can include better utilization of health trackers and monitors with real-time updates to doctors, connecting biometric sensors to healthcare apps for early detection of diseases, effective use of IoMT (Internet of Medical Things) for better patient care, etc.
However, embracing cloud communication isn't a choice; it's necessary for patient well-being and medical progress. If you want to integrate cloud advancements into healthcare, Simform is your best bet!
Simform's expertise in crafting customized cloud solutions makes it a trusted partner in advancing healthcare. Recently, we have helped one of our esteemed clients, Fitcom, a prominent cloud solution provider to build white-label cloud healthcare apps. You can read the entire case study here.