Twilio vs Vonage(Nexmo): Which is the best CPaaS Service?
As companies accelerate digital transformation, cloud communications integration has become vital. However, choosing the right CPaaS provider has critical implications for customer satisfaction and financial success.
With the stakes so high, companies need to evaluate the leading CPaaS options—Vonage vs. Twilio—in depth. Twilio powers customer engagement for companies like Airbnb, Uber, and Amazon by offering APIs for messaging, voice, and video. Vonage also provides a full CPaaS stack and counts major companies like Coca-Cola, Under Armour, and Titan among its customers.
Having established their widespread adoption, we have conducted an in-depth comparison of Vonage versus Twilio across key dimensions. In this post, we provide a detailed analysis across factors like capabilities, use cases, reliability, security, and cost. We also make recommendations on when to choose Twilio or Vonage based on specific needs.
What is CPaaS?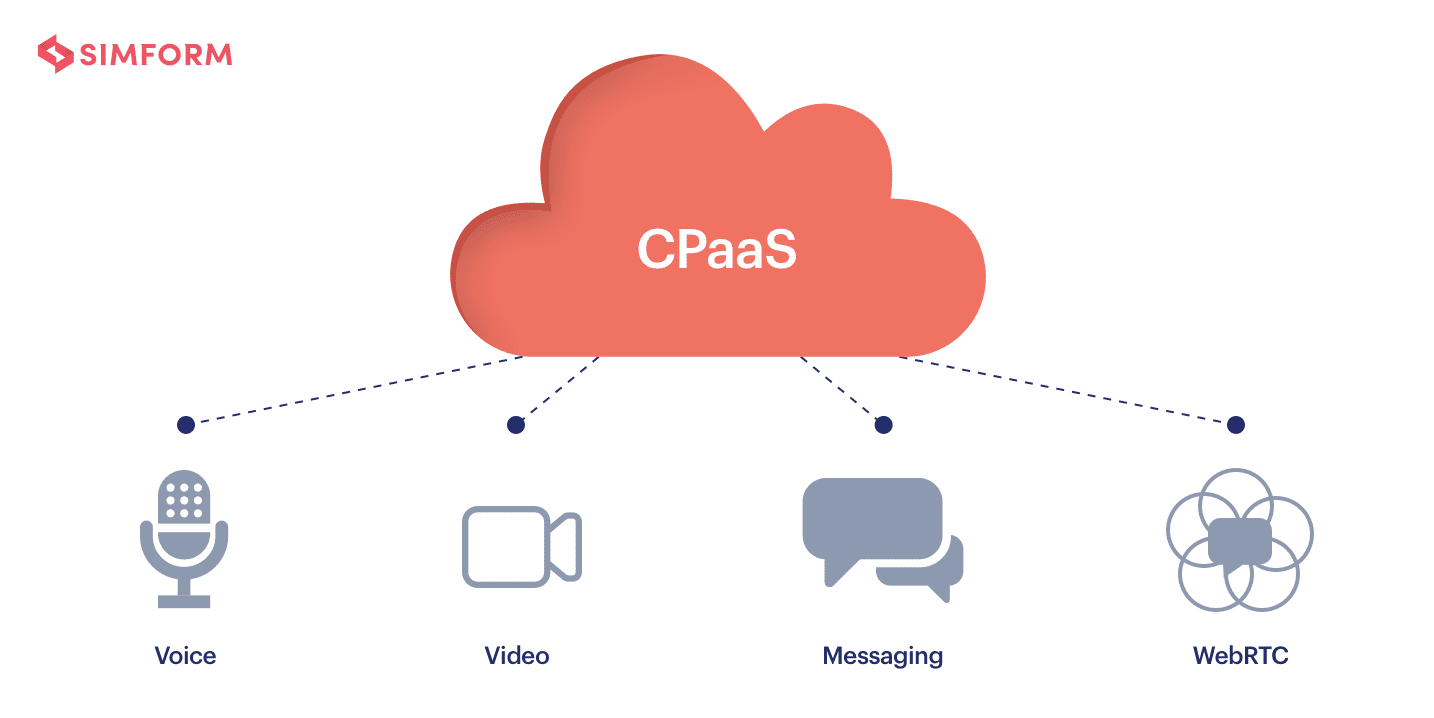 CPaaS (Communication Platform as a Service) is a cloud-based platform that powers real-time communication systems by adding features like video, voice, SMS, instant messaging, and social media.
For instance, top players like Amazon, Uber, and Lyft use APIs to create two-step verifications that authenticate sign-ins, validate online transactions, and track delivery status, among others.
It also offers services like automated reminders for timely payments and appointments, chatbots to answer basic questions, omnichannel communication for SMS/email marketing campaigns, and more to boost customer engagement. As this tweet points out, a product is often the nexus of APIs!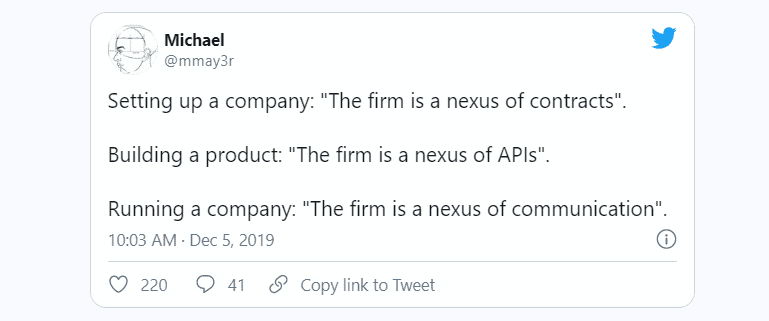 So, whether it's an application or a digital interface of your car, all of them integrate several APIs. The ones that allow you to send messages and call through your apps are communication APIs. Twilio and Vonage(Nexmo) facilitate businesses to add communication solutions like text authentications.
At the same time, leverage the CPaaS structure to deliver a suite of such services. Such a suite will include voice calls and sms messages, video conferencing, and even in-app support for chats.
Now, let's do Nexmo vs. Twilio comparison to understand which is the best for your business!
Twilio vs. Vonage(Nexmo)

: Comparing the Market Leaders

Nexmo has been in the CPaaS business since 2010. It established itself as a market leader for API solutions, having over 1000 carriers and counting. The platform made a breakthrough when Vonage acquired it in 2016. Vonage integrated video support to Nexmo through another platform, Tokbox.

Moreover, Vonage uses adaptive routing technology, which reduces the queuing of SMS requests. It has more than 114,000 developers and about 5 billion API calls per year. It caters to a range of clients like Siemens, Domino's Pizza, Glassdoor, Zipcar, DHL, Concur, and many more.

Meanwhile, Twilio came into existence in 2007 and captured almost 80% of the global market share. The CPaaS provider offers emails, text messages, phone calls, video, smart chatbots, and more.

Furthermore, it houses a massive community of more than 5 million developers who continue to develop communication-rich products. Twilio disrupted the market when it acquired the WebRTC provider– Kurento. It also has an impressive clientele of Uber, Lyft, Airbnb, Chime, and many others.
The Design Experience
Although aesthetics are always pleasing, the focus remains on how well the forum responds to a user request. Such platforms cater to a wide array of people from the business and developer community. So, easy navigations in the user interface is quintessential.
Twilio's console uses color code to distinguish different features, each of which has an exciting snippet describing its functionalities. It also uses icons and elements for ease of navigation, making it minimalistic.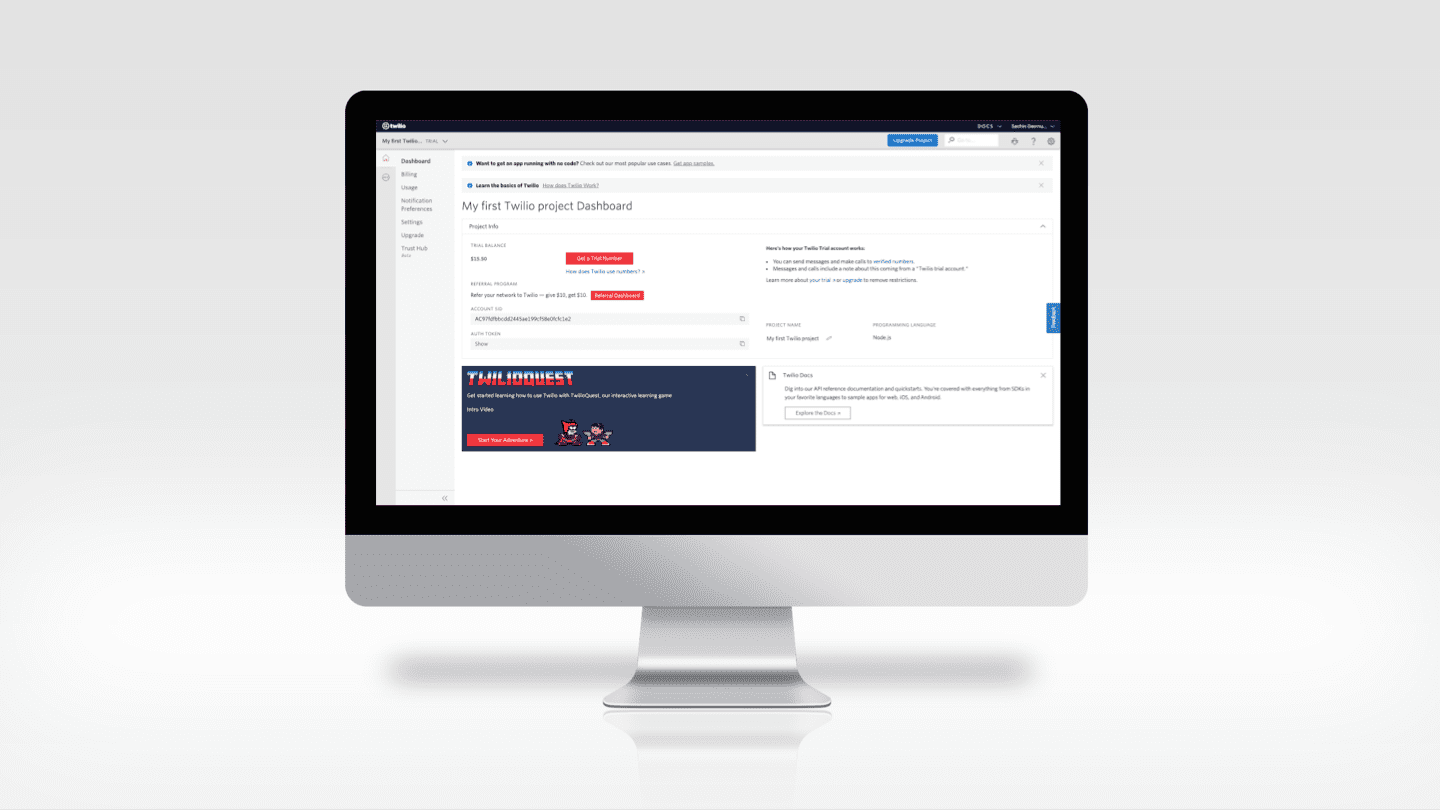 In Twilio, all you need is to sign up with your full name, email address, and phone number. Once you fill in the data, and perform email verification, its dashboard links to tutorials and documentation that helps you wrap your head around the platform.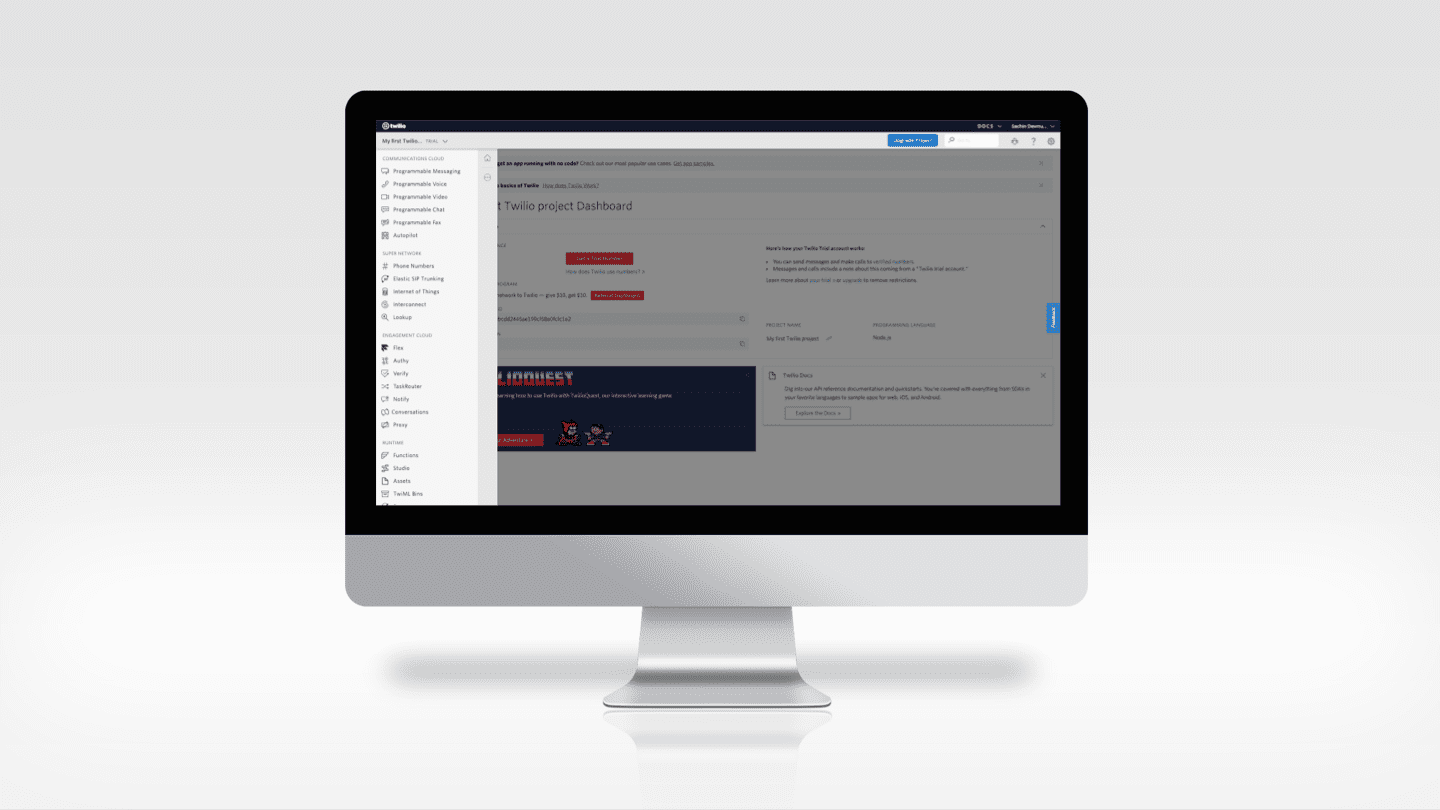 It has a left sidebar with pinned functions for easy accessibility. The best thing about Twilio is that it provides excellent messaging preferences like phone numbers, programmable messages, calls, sms messages and notifications.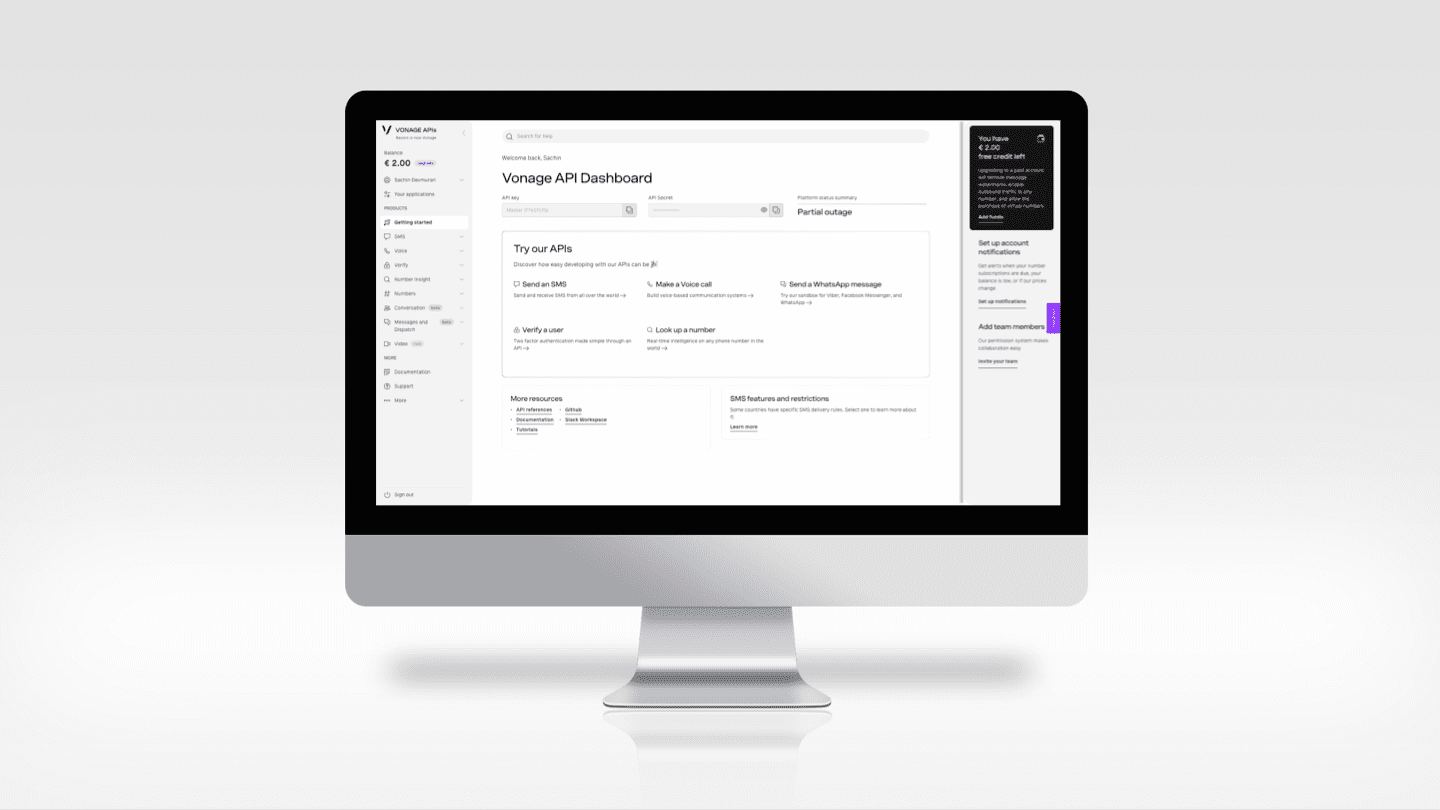 While Vonage has an elegant design, it uses a theme-based method with essential navigation links in the sidebar. From SMS to voice and even the Number Insight section, everything is placed in the same menu as the Getting Started section.
Vonage has a straightforward payment structure and an enhanced settings page.
Vonage takes the UX to a new level with graphical representations, call insights, track of conversions, and many other aspects to support your campaigns.
It offers a comprehensive dashboard that lets you track your inbound call data such as phone numbers, number of conversions, and non-compliant calls. What's more, the dashboard also helps to evaluate the performance of an agent communicating with customers. 
Authentication
Authentication is essential for data security. Whether it's a large enterprise or small business, there is a constant need for data authentication APIs. There are three basic types of authentications:
HTTP Authentication

is an effortless mechanism that uses a username and password for validation. However, owing to significant security risks, this technique is seldom used.

API Keys

generate a unique identification key when a user first signs up. These are more secure and are highly preferred in the industry.

OAuth

offers a complex yet powerful method that keeps attackers at bay. It lays down scopes that give carefully selected access to different parts of API service.
Twilio and Vonage use REST(Representational State Transfer) APIs. It is an architectural pattern to describe the exposure of interfaces by distributed systems. For one, Twilio provides different REST APIs for sending text messages, voice calls, and scraping phone numbers. It supports HTTP authentications and API keys that allow users to access its documentation or request authentication over HTTP.
Alternatively, Vonage provides two-step authentication through REST APIs that guarantee protection against spam. It allows companies to offer the right communication channel to genuine users.
Say, a user logs in to an eCommerce app to make a purchase. The application must have a reliable authentication system to protect the user's private information. Twilio Flex helped Shopify create a PIN system that enabled merchants to verify their identity to reach the right point of contact, saving about 3-5 minutes per call.
Likewise, BlaBlaCar, an on-demand carpooling app, needed a reliable authentication technology to validate its ever-growing user base of more than 70 million registered members. Vonage(Nexmo) helped them with an SMS API two-factor authentication that resulted in low latency and an increased verification success rate. The communication API makes SMS, voice messaging, login without password, and transaction notifications seamless with the app.
With Vonage, BlaBlaCar manages to save 15% on the SMS delivery costs. Vonage SMS API also helps BlaBlaCar decrease the price per acquired user and reduce messages sent to duplicate numbers. 
Documentations for Developers
Twilio provides a comprehensive repository of documentation for users to access information regarding REST APIs and SDKs. Users have regular interactions with the support team, but they also get access to detailed tutorials and setup guides. 
Vonage is better known for robust integrations into existing technology. It's built a vast community that leverages its detailed user manuals and guides to quickly get started with APIs. The best part of Vonage is its efficiency at reusable components.
Such reusable components are added as a part of documentation or libraries for developers to access. So, they don't need to create new codes for features. Whether you are a newbie or an experienced campaigner, these platforms offer outstanding documentation support.
Webhooks for Communication APIs
Webhooks enable any CPaaS provider like Twilio or Vonage to trigger events like a call or message in web applications. These HTTP callbacks are activated on event occurrences like an incoming call or a message, where the data is collected and sent to the URL defined by request. One of the essential benefits of webhooks is the facility of customizations. 
Twilio uses webhooks to communicate the fence of an SMS message to an incoming call on an application. It displays phone numbers and the body of the SMS with the webhooks.
At the same time, Vonage(Nexmo)uses webhooks to provide comprehensive data through a web server set up by you. It reduces the need for extensive coding to request data from the platform. In addition to a boost in the integration process, you get streamlined data on conversions, inbound call insights, and others.
Voice APIs
Twilio and Vonage (Nexmo) offer voice APIs that enable communication in apps and websites. Although the voice services and features are almost the same, it's the number of countries they support that separates them. Twilio supports voice services in over 50 countries, while Vonage supports more than 80 countries worldwide.
Additionally, Twilio provides voice APIs to debug call errors, get data insights, and even customize the calling interface. The CPaaS provider equips businesses with graphical voice insights for easy data understanding. You can also create customized voice APIs to monitor hang-up data and extend support for surface jitters and latency issues.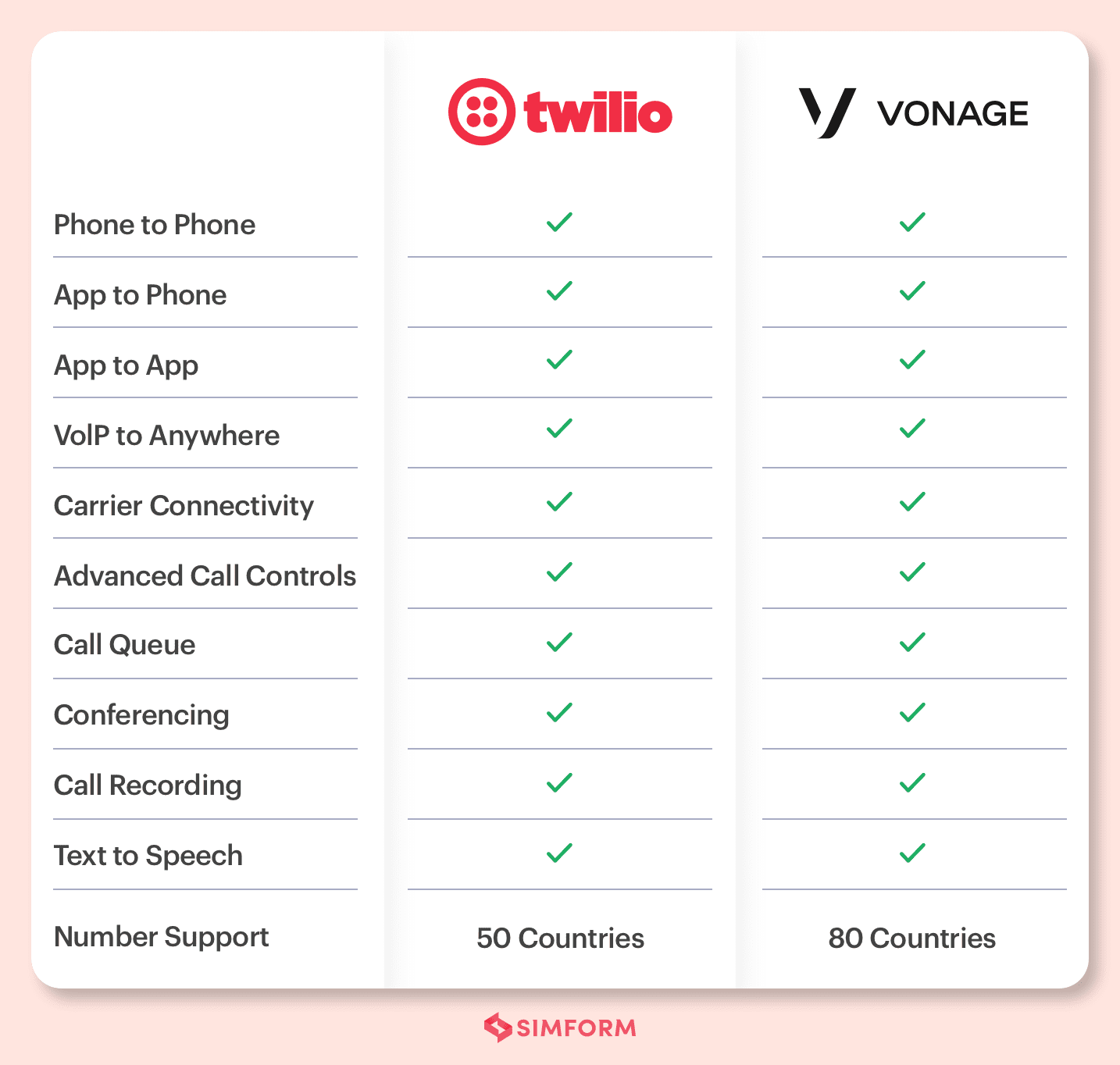 Vonage's voice APIs deliver capabilities like call recording, tracking time and caller IDs, and gathering useful metadata. This powers use cases like improving marketing results, aggregating data for call quality scoring, and integrating with CRM platforms. Specifically, Vonage enables P2P, A2P, A2A calling and text-to-speech.
Siemens leveraged Vonage's scalable contact center technology to create a powerful, flexible CRM solution to support their exponential growth. The platform's strength is collecting insightful call metadata that integrates smoothly across systems to enhance marketing campaigns and customer support strategies.
Messaging APIs
Messaging now includes a web URL and text messaging, especially for the two-step verification process. For instance, when users sign up or log in to a website, they receive an SMS on their device to complete the verification. Likewise, banks use SMS from RMN (Registered Mobile Number) to determine customers' identities.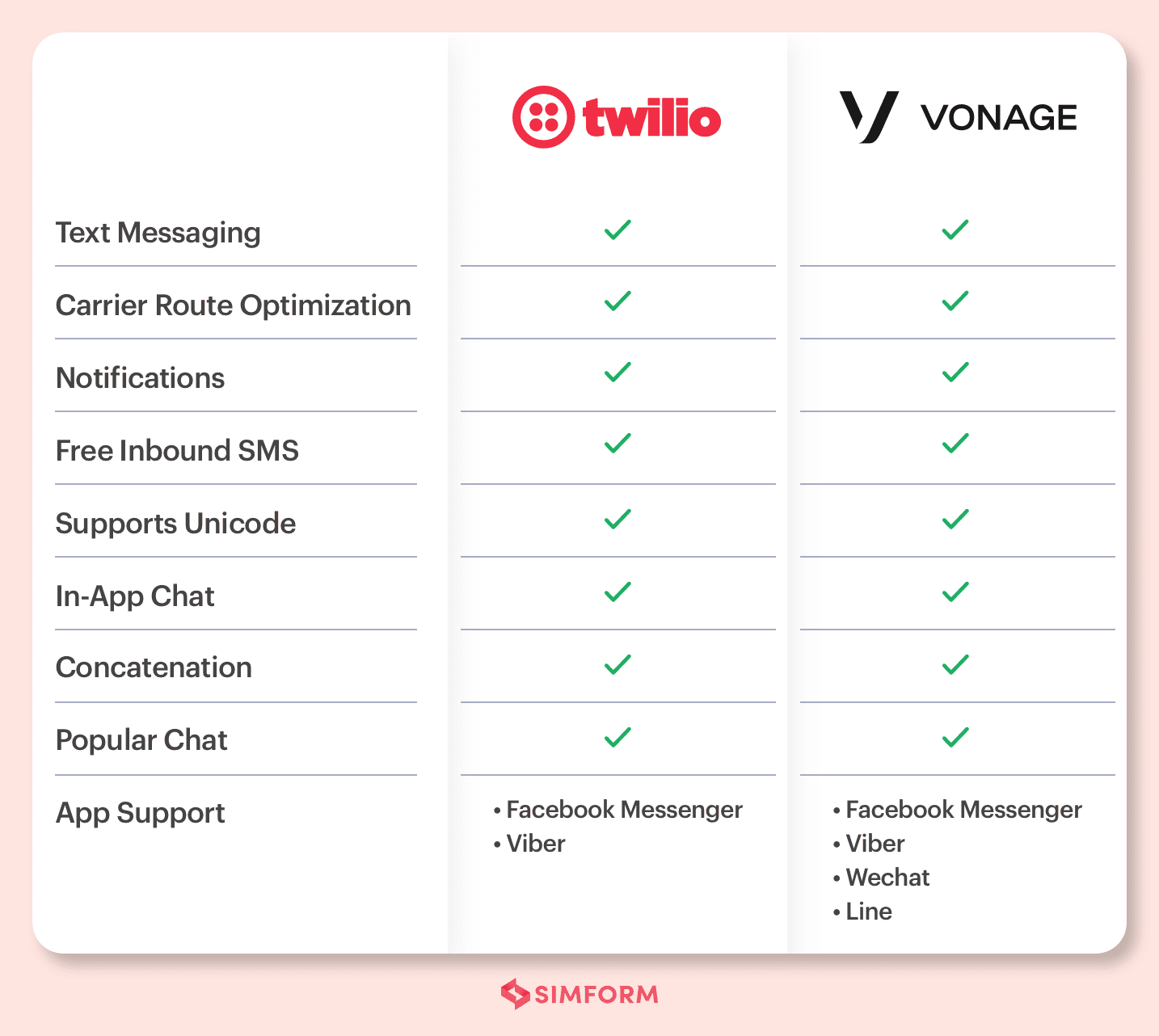 Twilio enables businesses with SMS APIs and helps create Artificial Intelligence chatbots, a proxy for private SMS, and even two-factor authentication. Vonage levels up their services by offering more advanced SMS services with the best API technology. For example, it provides adaptive routing, a feature absent in Twilio. It also offers adaptive routing, which is an algorithm that optimizes carrier routes to deliver SMS.
What's more, Vonage uses the adaptive routing algorithm with a cloud communications platform to re-route through different carrier routes with several data points that choose the optimum path. Grab is one such example specific to this service. The Southeast Asian ride-hailing company uses this feature to send real-time updates to users.
Now that we have discussed different features and elements of both the CPaaS providers, let's know which one is better.
Which is the best CPaaS Provider?
Twilio and Vonage have the finest suite of services for all your communication needs. But, when you are choosing between Vonage vs. Twilio, you need some factors that'll help you determine the right communication API for your application.
Services: Twilio vs. Vonage(Nexmo)
Twilio offers call tracking, email marketing automation, and lead alert facilities to the marketing department, customer support, or operations. Simultaneously, through communication APIs for IVR, contact centers, and AI chatbots, assists in customer support. On the operational front, Twilio enables project management essentials like dispatch notifications, meeting reminders, and account information. The integration of these services into applications and websites of any business is seamless.
Vonage is not just an alternative to any other communication API anymore; in fact, it's taken giant leaps ahead. With two acquisitions – Nexmo, and TokBox (OpenTok) – in place, Vonage offers a suite of services like SMS, voice chat, in-app chat, and private messaging that includes best-in-class communication APIs from Vonage and voice and messaging API capabilities from Nexmo.
Vonage uses TokBox to create interactive voice response and video experiences for organizations. The entire suite works like a symphony, providing a full-stack CPaaS experience. So whether you need voice APIs for marketing purposes or video APIs to enhance operational capabilities, Vonage is your best bet!
Ease of Integrations: Twilio vs. Vonage(Nexmo)
What ease of integration has done is created an ecosystem of services. Earlier companies used a piecemeal approach, where each communication channel had different vendors. For example, you have a voice support service, and then there is another for chat support. With Vonage and others, these services are now a part of a suite integrated into apps and websites.
Modern-age business solutions are integrating chat apps like Whatsapp to have more engaging customer interactions. Twilio makes a good case by supporting integrations like Facebook Messenger and Viber. But, if you think of Twilio's alternatives, Vonage offers Vonage APIs for third-party integrations like Facebook Messenger, Viber, WeChat, and Line.
Call Insights: Twilio vs. Vonage(Nexmo)
As a part of CRM, call insights to help you understand customer behavior and proffers ways to improve engagement.
Twilio offers a unique graphical representation of data to make analytics easy to understand. At the same time, Vonage sorts call insights, so you don't have to gather data from the different resources. It's also planning to bring some graphical designs for the insights, making it a perfect fit for your organization.
Availability of Service: Twilio vs. Vonage(Nexmo)
With the advent of CPaaS, the global reach of communication APIs has increased exponentially. Cloud infrastructure has been at the forefront in providing such solutions. But, when it comes to voice APIs, there are certain constraints of serviceable areas. Twilio is known for its wide range of operational support, which spans over 50 countries.
If anyone can match such an extent of serviceability, it's Vonage. It provides service to businesses in more than 80 countries across the globe. So if you're considering an international communication API integration for your app, Vonage is for you.
Pricing: Twilio vs. Vonage(Nexmo)
Both Twilio and Vonage(Nexmo) have a complete breakdown of costs based on different communication channels. The CPaaS providers do not charge a monthly fee or an annual package, but to help you understand their pricing structures, let's take an example of their SMS service.
Twilio offers SMS APIs with incoming messages at $0.0075 per message and outgoing messages at $0.0075 per message. At the same time, Vonage offers free incoming messages and charges $0.0060 for every outgoing SMS.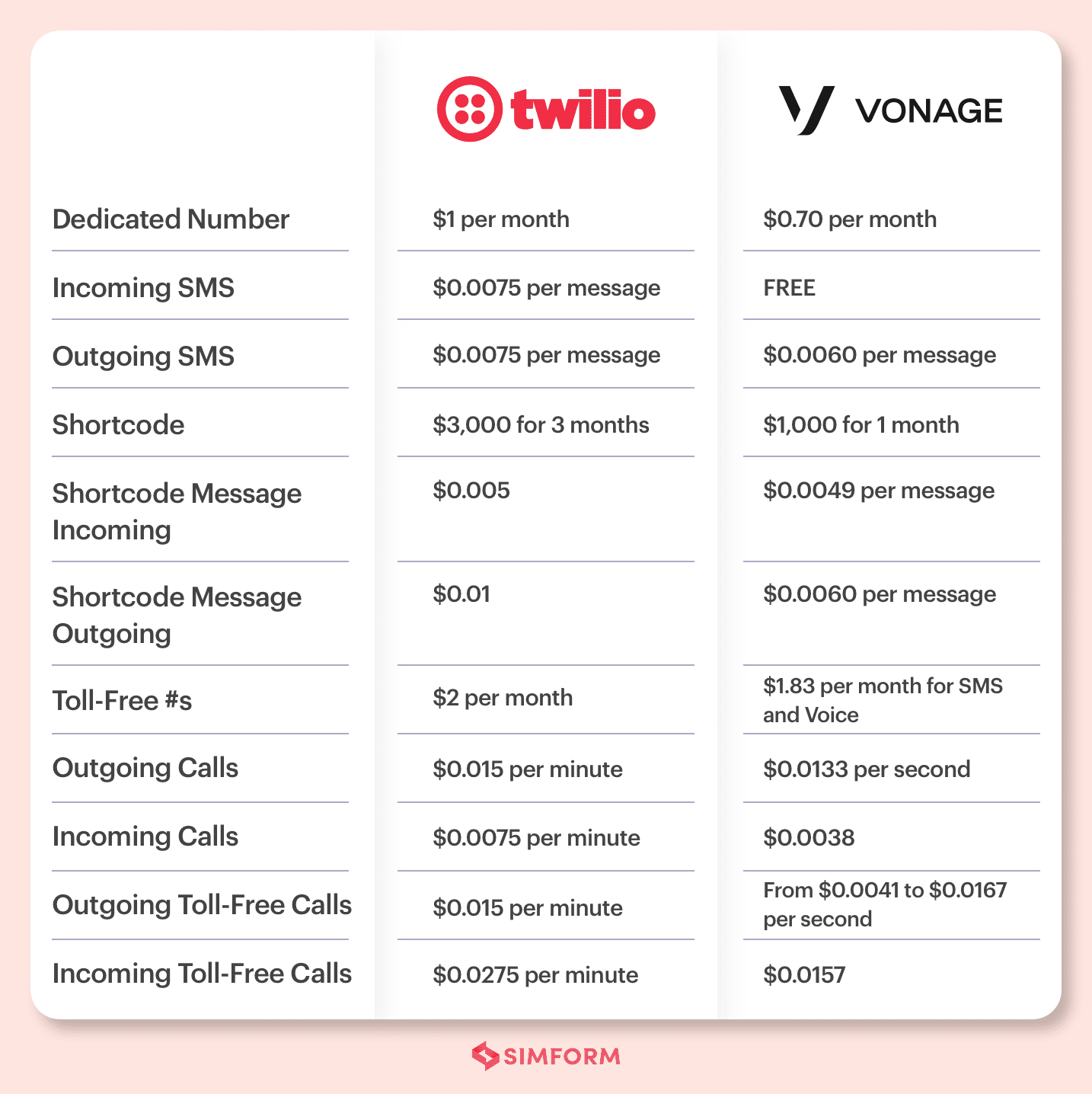 Additionally, Twilio pricing for shortcode incoming and outgoing messages is $0.005 and $0.01 per message, respectively. Vonage, on the other hand, offers incoming and outgoing shortcode messages at $0.0049 and $0.0060 per message. Both the CPaaS providers provide ownership of a shortcode number at $1000 per month.
Twilio vs. Vonage(Nexmo): Key Use Cases
Both Twilio and Vonage(Nexmo) are one of the most preferred communication API providers. But, both are different in terms of technology integrations for communication services.
For example, Twilio still uses conventional SMS gateways for messaging features. At the same time, Vonage uses advanced adaptive routing protocols to ensure lower latency in message delivery through the optimum path. 
Regardless of the communication API provider, you choose to integrate into your apps and web apps. The choice depends on factors like a customer support system and pricing of services. 
If you are stuck on what to choose, then here are some use cases to help you choose the right one for your business. 
Choose Twilio when
You need masking for the anonymity of customers, especially in on-demand services

.

You need media support for SMS or messaging to enhance communications.



Choose Vonage when
You need to have a private SMS facility without revealing the customer's number.

You need to keep track of which campaigns are working well by using insights for different numbers.



As you can see, both have a variety of features to meet your business's unique requirements. Twilio is a market leader, and Vonage may seem a second fiddle. However, with Vonage's acquisition and merger of other services like Tokbox, it gives tough competition to Twilio and is bound to offer more in the future. 
Simform works as an official API integrations partner for Vonage. Together we've been working hand in hand with the CPaaS giant to provide custom communication API integration services. 
Which is the communication API provider that you seem fits your business requirements? Share your preferences with us in the comments section.