SaaS Migration: Transforming your Business One Step at a Time
One of the anchor providers of digital design software, Adobe, has constantly strived to keep up with the latest design tools and features that designers need to make their work easy. But it came at a cost – for consumers, it is a waste of money to buy the single-use product every year, and the company was losing revenue.
The solution was in a subscription-based model that allowed customers to freely access the software from any linked device through the internet. All at a monthly or yearly cost. Not only did it improve Adobe's customer experience, but it got the company a huge return on its investment.
The more we wait to migrate to a SaaS application, the more we risk losing our valuable customers. This article will provide a brief explanation of the benefits of SaaS migration, the models you can use for migration purposes, and a step-by-step implementation guide to help you through the process.
Why
Migrate to a SaaS Platform?
The worldwide public cloud services end-user spending will be approximately $171 thousand by the end of 2022. The trend is predicted to grow even more, and there is no stopping it. The advantages of cloud computing are innumerable, and it gives a significant benefit for the ones adopting it in a growing IT market.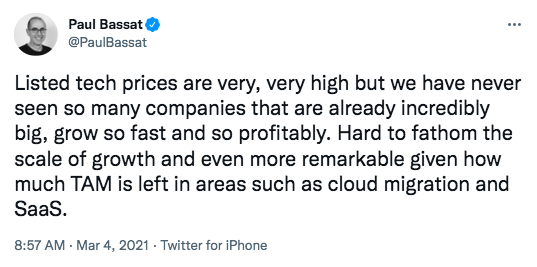 Let us look at some of the benefits you can get upon migrating to a SaaS platform.
Vendor Benefits of SaaS Migration:
Ownership
Get the advantage of the total cost of ownership in deciding the product prices.
Quick Updates
Fixes, updates, and patches on a single codebase update the entire application.
Single Codebase
A single codebase eliminates the need to create multiple copies of the same software.
Low Cost
A shared platform reduces resource and maintenance costs.
Customer Benefits of SaaS Migration:
Flexible prices
Customers can choose to subscribe to monthly, quarterly, or yearly plans.
Secured application
Customers do not have to worry about maintenance or upgrades.
Connectivity
SaaS offers the flexibility to use the application with any linked devices.
Business Benefits of SaaS Migration:
Low maintenance costs
Vendors are in charge of maintaining and updating the SaaS application.
Secured
SaaS has Improved security and computing safety.
Cloud technology
Cloud hosting makes deployment easier and faster.
Team Productivity
Offers the benefit of focusing on other business-related tasks

.
SaaS
Migration Models
The model you choose to migrate your SaaS determines your transformational success. For instance, some migration models facilitate in-place migration, while others simply pave the way for parallel migration.
The idea is to choose a model which would facilitate you to move a component or capability of your system to a multi-tenancy architecture.
1. Service-by-Service migration model
If you are thinking of decomposing your system into microservices, this model is the best way to go about it.
The first thing you need to do in this model is to decide how you plan to distribute your monolith system into multiple services and automate them separately. Once that is done, you can leverage the autonomous system to migrate your system into SaaS, incrementally.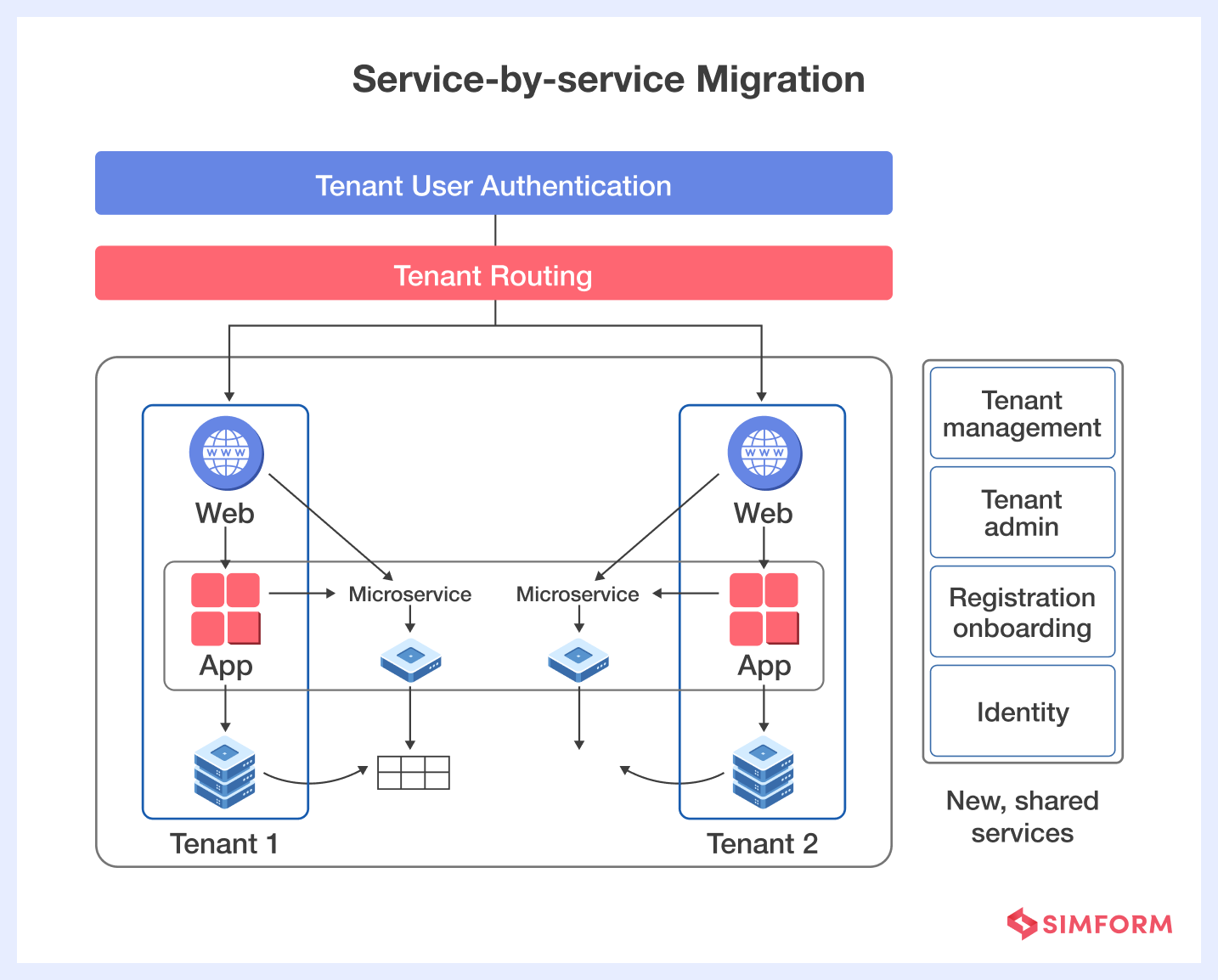 While using this model, a piece of advice would be first to move a service that is of least importance or without which your entire system would keep running. Then, once the migration is successful, other services and components can be migrated faster. Furthermore, to make the transition possible, you will have to operate in a hybrid model – your existing model that keeps the application running, and the new microservices model where services are incrementally migrated.
2. Silo lift and shift migration model
This model is probably one of the simplest ways to migrate your entire system to the cloud.
A silo lift and shift facilitate taking your entire tech stack (as it is) and migrating it from on-premise infrastructure to a cloud-native infrastructure. This model is best suited for those who don't need to redesign their applications from scratch.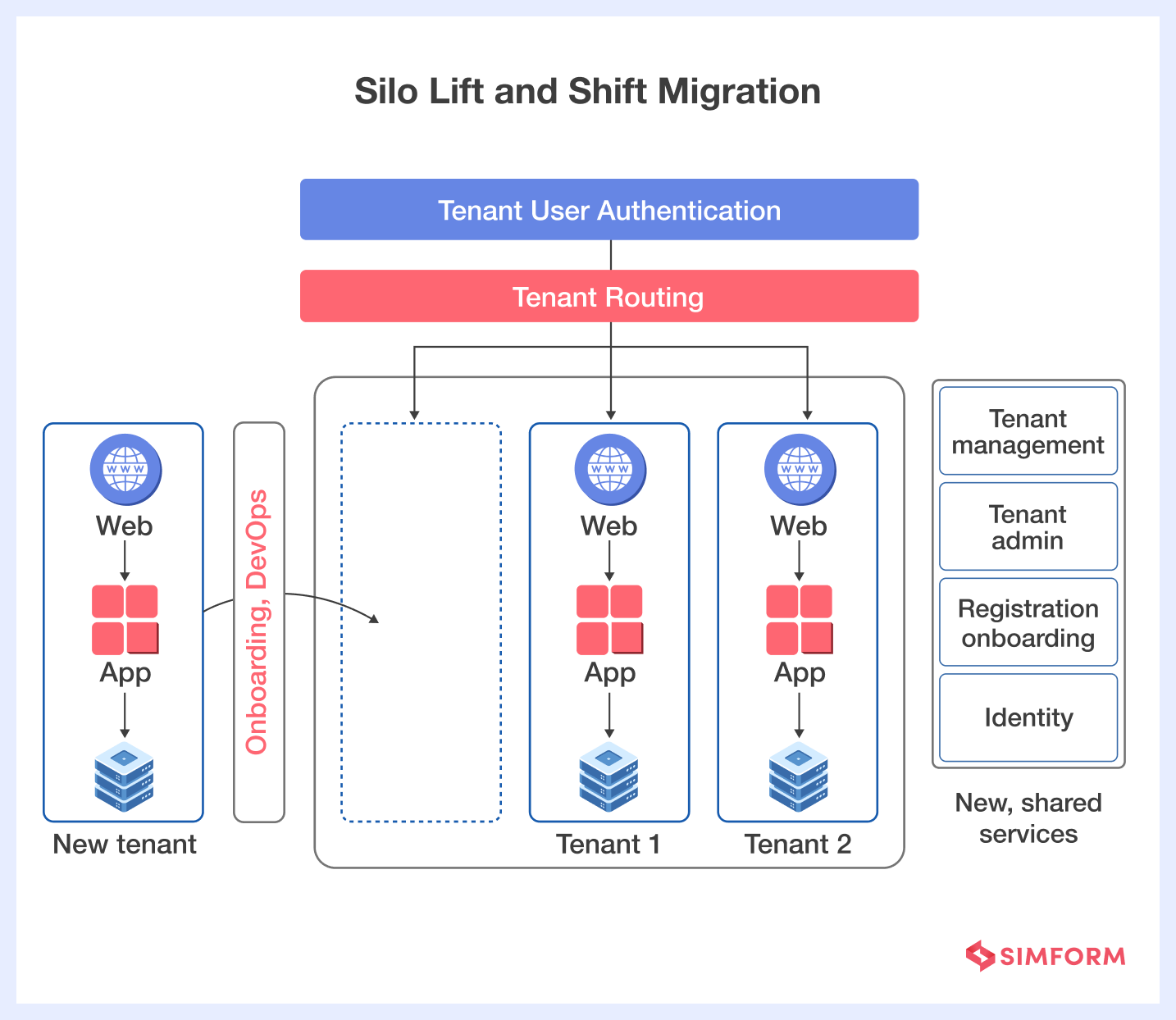 The cloud is a vast space full of capabilities for limitless scalability. Despite that, before moving, make sure you account for the resources your application would need in the new cloud environment – data space, tools, etc. This would save a huge amount of cost and eliminate the risks of system failure after migration.
3. Parallel migration model
We admit that migrating an application to the cloud comes with its own risks. At times, the interoperability between the new and existing applications can be so complex that it slows down the entire migration process. Moreover, it is always an overhead cost and waste of resources to run a parallel system beside the existing one.
A solution would be to introduce a parallel systems migration model – a completely separate architecture that can be used to build a new SaaS application. With this model, developers can create a standalone product or application that would adopt the new architecture. This approach comes with increased flexibility and agility that a new business goal would look forward to.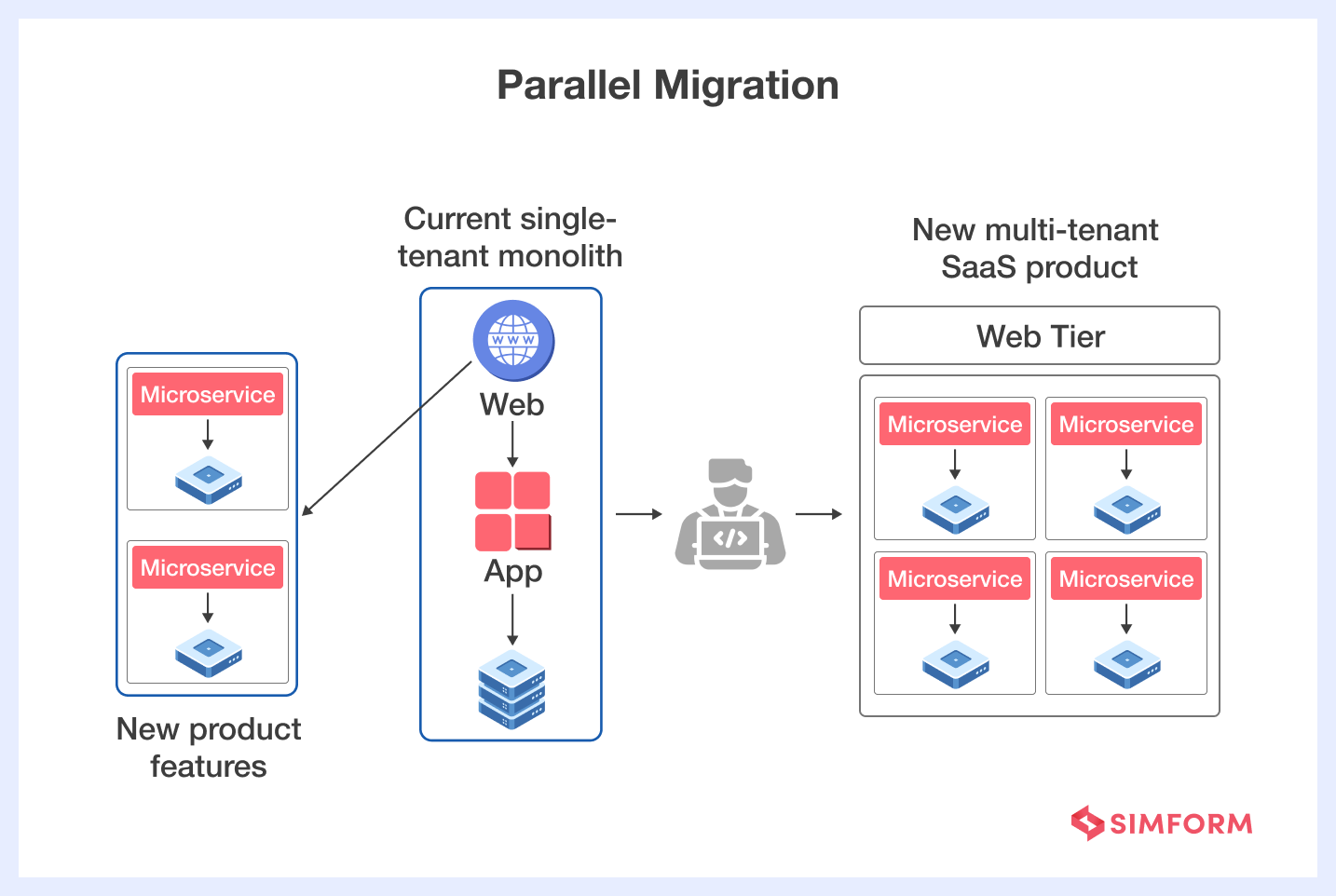 The moment the new system reaches a certain level of maturity, engineers can onboard selected tenants to the new architecture and see the performance. Although the approach takes a little longer than others, it's the best foolproof solution for organizations that cannot afford many risks.
4. Layered migration model
A layered migration model is another form of parallel migration where each layer of a single-tenant is moved incrementally. While it might be an uncommon form of migration model, it's usually a good fit for organizations looking to shift from a single tenant to a shared multi-tenancy.
Unlike a silo or data migration, the layer migration model moves layers or components one by one without affecting the system of the single-tenant design. The model primarily relies on parallel migration and automated provisioning.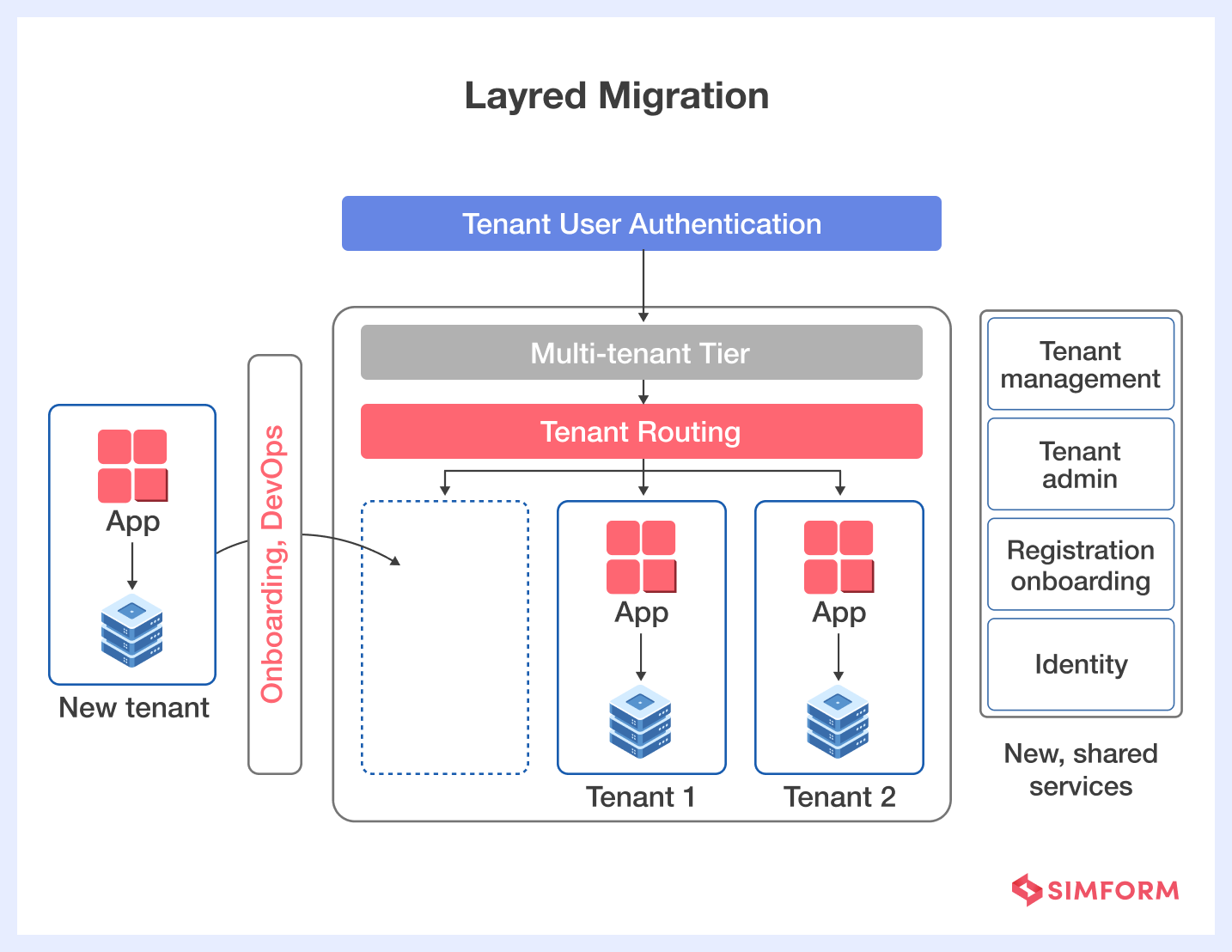 A Step-by-Step
Guide to SaaS Migration
There is no right or wrong way to migrate your traditional application to a cloud-native SaaS. Every organization adopts an approach that benefits their business position, suits their requirements, matches their budget, and enables a high return on their investment. But in all the differences, there are a few common steps throughout the migration process.
Let's dive through –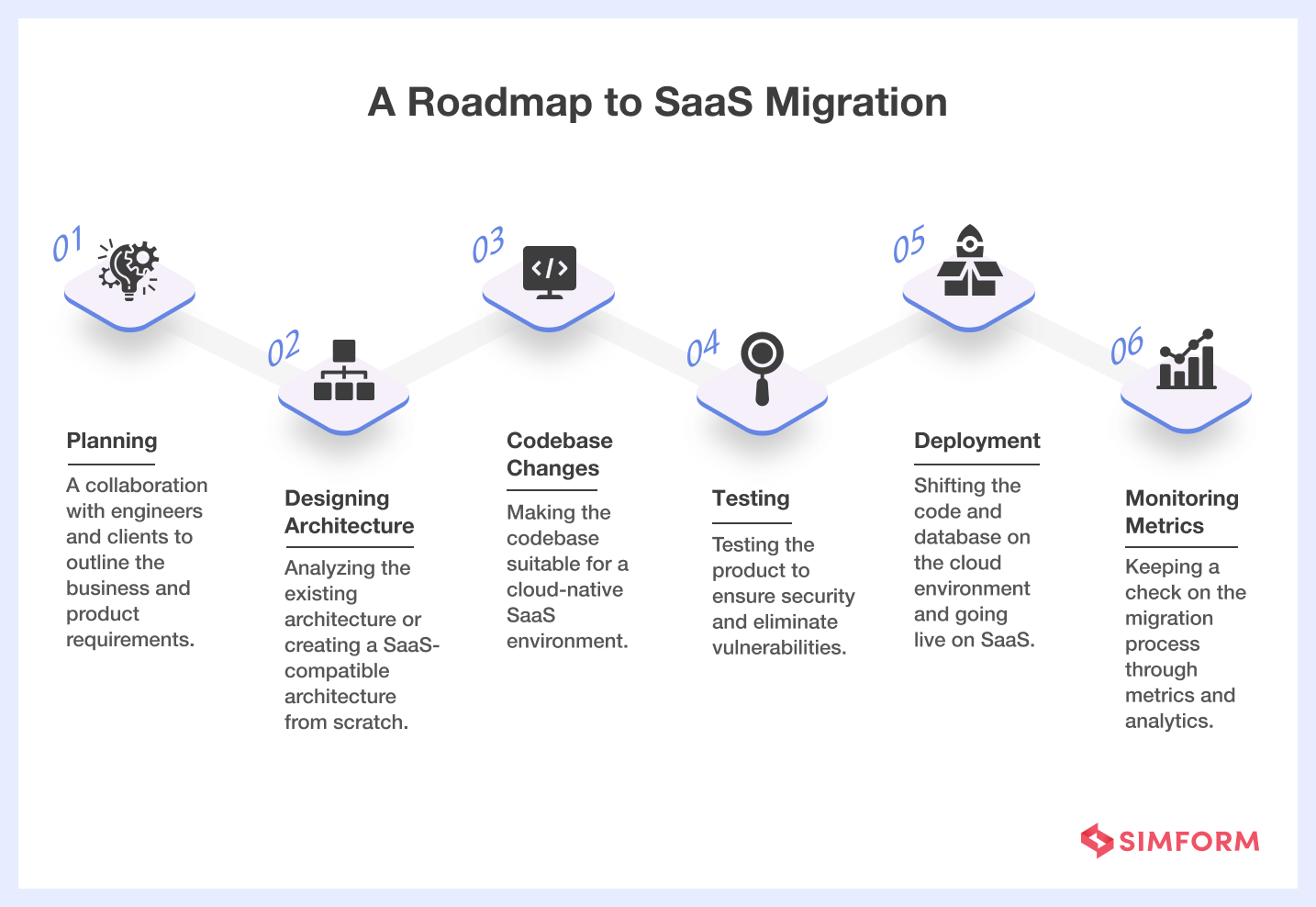 1. Plan it out
The first step of the migration process is always a collaboration with the business analysts, architects, and developers. The step not only outlines the business and application requirements, but also introduces the necessary tools required for the job. This is when you must decide on a migration model for understanding the costs, benefits, and challenges.
Business analysts and clients consider the industry demands and check the project's feasibility in the long run. On the other hand, engineers and developers are in charge of identifying the technical requirements, analyzing the existing architecture or reusability, checking for integration needs, and functionality of the application in a new environment.
2. Create your architecture design
The second step of your SaaS migration plan is to analyze your existing architecture and check its suitability for a SaaS model. Approaches like Architecture Trade-Off Analysis Method (ATAM), Perspective-Based Analysis Method (PBAM), coupling, and application domain scoping are used to assess the current state of the application architecture.
This is the stage where you need to break down every component of your existing application. If each component within the architecture functions independently, then the architecture is the ideal fit for a SaaS model. If not, a complete architecture and database redesigning has to be done.
Here are some of the things you need to consider while designing your architecture –
Individual components
Database isolation
Frameworks
Integration solutions
Security
Service Level Agreement (SLA)
3. Work on the codebase
The third step is to work on your existing codebase to tweak its suitability with a cloud-native SaaS environment. In this stage, two possible scenarios can happen –
a. If your existing code does not adjust with the new delivery model, you would have to rewrite the entire code from scratch.
b. Your code is compatible with the cloud delivery model, and all you need to do is write on the existing code to optimize its features and functionality.
Here is a list of some of the actions you are expected to take during this stage.
Code scrubbing for polishing your existing code and removing unnecessary codes that makes it long.
Merging different versions of the code into a single code source.
Migrating the source code from one system to another.
Implementing SaaS features in your codebase (functional and non-functional components) like SaaS licensing, tenant management, configurations management, etc.
Rewriting the code to enable integration support.
Employing SaaS administration for managing the application through a web interface.
4. Test your system
Testing your code, application, and system status is crucial before you are ready for deployment and the real migration process. QA testers are responsible for ensuring application stability and performance during migration, which would eventually determine the success of the migration process. Moreover, this step ensures a seamless migration and eliminates all system defects that might affect the application after it migrates to a cloud environment.
Testers usually conduct:
Functional testing – business-specific functions, accessibility, UX testing, error conditions, etc.
Non-functional testing – performance testing, load testing, volume testing, stress testing, deployment testing, compatibility testing, endurance testing, and penetration testing.
Other tests – penetration testing, administrative testing, integration testing, security testing, etc.
5. Get ready for deployment
This is the stage where you go live.
Choose a deployment model that best suits your business requirements – the model you choose during the first stage of the migration process. These models can be buyer-managed models like private cloud models and on-premise data centers, or vendor-managed cloud models like a single tenant and multi-tenant architecture.
Apart from a deployment model, don't forget to calculate the load your server can handle. Capacity planning through Transaction Cost Analysis and Predictive Analysis can help you determine the resources, cost, and stability you need to maintain your system on the cloud.
Lastly, employ a load balancer to take care of the requests and responses. This would route your tenant requirements and enable a seamless interaction between a shared system.
6. Keep an eye on the metrics to maintain your system
Keeping an eye on the progress and performance metrics is necessary to understand your migration status, performance difference, and revenue.
Monitor the system and service performance of your SaaS during peak time and analyzes the differences in results. Keep track of the component load and other health indicators to keep your system up to date with the current user demands. This would help you detect problems early and optimize your data in a timely schedule.
Some key metrics include:
CPU usage percentage
Memory usage
Network latency
Load balancing
Error rates
Application availability
Latency
Throughputs
Business considerations:
Are you ready to move to SaaS?
The proposition to move to a SaaS platform sounds promising enough to make organizations take the leap of faith. But don't be hasty to make the jump without analyzing the current state of your business model.
While it is true that SaaS promises business agility, increased productivity, and higher revenue, the migration itself can become a bottleneck if your business is not in an ideal position. In addition, to make a lasting impact in the market, you will have to respect customers' values, retain their loyalty, and keep up with their changing demands.
Being aware of your business limitations and the challenges you might face along the path of migration is an excellent way to brace yourself in advance. To help you through the process, our SaaS experts at Simform have created a customized questionnaire to evaluate your readiness to move to SaaS.
What's the state of your product demand in the market?
Is it high enough to increase your revenue naturally, or do you have to generate demand through your marketing department?
Do you have competitors selling the same product or other products in the same industry?
If yes, does your product offer more customer value than your competitors?
Is your application architecture a monolith or microservices?
If it's a monolith, is your team ready to divide the system into separate components?
Is your organization agile, or are you yet to make those changes?
Are you ready to risk organization-level changes in how your teams and processes operate?
Do you have a compliance management team?
If not, do you have the budget to employ a team for compliance management and train employees to get the necessary certifications?
Do you have the budget for migrating and maintaining your system on SaaS?
Are you ready to take up the risks and challenges associated with it?
Considering moving your product on SaaS and got more questions?
Simform has an excellent team of SaaS experts with more than 12 years of industry experience.
Get in touch with our experts today and take the next step towards business transformation.