How Much Does it Cost to Build a SaaS Application? (In-Depth Guide)
Are you the founder or co-founder of a SaaS product? OR Are you a serial entrepreneur with an exciting startup idea? Then, block a few minutes from your busy schedule as we dive deep into the ocean of calculating the cost of building a SaaS application. The cost of SaaS applications is not just a mere number; it revolves around a variety of topics, such as
Cost to build a SaaS application as per various factors
Factors that influence the cost of developing a SaaS platform
The hidden cost of SaaS application development
Ways to reduce SaaS software development costs
Examples of popular SaaS companies and their development costs
As SaaS market is expected to reach $208.1 billion by 2023, and more than 17,000 companies will develop cloud-based SaaS applications, you must have a panoramic view of the evolving trends. So, if you're planning to enter this fierce competition of SaaS providers, this guide will help you prepare and practice effective budgeting to remain profitable.
How much does it
cost to build a SaaS platform?
The SaaS development cost for a minimum viable product (MVP) lies somewhere between $50,000-$150,000. However, various factors contribute to these numbers:
Complexity
Development stages
Type of solution
Type of team
Geographical location
Let's analyze them in detail.
As per complexity
Complexity can be a combination of various functionalities, user roles, and relationships, or a degree of difficulty faced by developers. When building a SaaS application, factors like scalability, high-level data security, access control, payment integration, customization, etc, can influence the process and its timeline.
Also, data security is a critical aspect you can't avoid, even as security threats and vulnerabilities continue to rise. Hiring an expert in information security who knows how to manage data right through the app is a time-consuming process that requires continuous monitoring that significantly governs the costs.
Businesses also require high-level customization to make the product unique, which involves building everything from scratch as you can't use ready-made solutions, leading to higher hours of development and affecting cost.
The SaaS products for healthcare sectors have complex functionalities and multiple integrations, while a basic productivity application can have basic features. However, there are some SaaS products for a single purpose, but their functionalities are pretty complex.
For instance, Grammarly helps users in spell check and editing, while AI and big data analytics algorithms function at its back-end. Similarly, Mailchimp is primarily used for email marketing but offers multiple complex activities such as email constructors and triggers.
Therefore, complexity is a relative term you can't define properly. However, you can say that higher complexity means more developing hours, leading to higher costs. Based on those assumptions, we can divide SaaS applications into four categories:
| | |
| --- | --- |
| Complexity | Average Price (Apporx.) |
| Micro SaaS | $10,000-$15,000 |
| Basic SaaS | $30,000-$35,000 |
| Average SaaS | $50,000-$60,000 |
| Complex SaaS | $140,000-$150,000 |
As per development stages
As you determine the total cost of ownership for a SaaS product, you need to consider the various software development stages it passes through. Each stage has a time and cost associated with it, contributing to the final cost calculation. So, let's analyze each stage separately.
| | | |
| --- | --- | --- |
| Development Phase | Hours Required | Total Cost (Approx.) |
| Validation and Planning | 30-200 | $30,000-$75,000 (MVP) |
| MVP Creation | 250-300 | $30,000-$70,000 (MVP) |
| UI/UX Design | 100-220 | $3000-$5500 |
| Front-End | 350-550 | $10,000-$30,000 |
| Back-End | 650-850 | $16,000-$56,000 |
Validation and planning
Start by clearly understanding what you want to achieve through your product's value. Then, collect information about customer feedback to help validate the idea. It enables you to define the roadmap for SaaS application development. Opting for full-fledged product development can be risky and expensive. Instead, you can focus on creating a SaaS MVP that involves minimum feature development, costs comparatively less, and helps validate your idea. You can estimate between $30,000-$75,000.
UI/UX
UI/UX is one of the essential stages of SaaS product development as it decides how your product's interface will look and what kind of user experience it can provide. It's the first point of contact with which your visitors interact. Generally, building a good UI and UX design takes around two to three weeks, and the average UI/UX design hourly rate is between $25-$45, costing roughly $3000-$5500.
Front-end
Before starting front-end development, SaaS vendors must decide on the tech stack based on their core features. Now, the question is, why should you give prioritize the front-end? Here's why: It takes only 50 milliseconds for users to form an opinion about your application, and most users are bound to discard your application after that point.
Developing the front-end is more than creating a stunning design; the primary tasks involve minifying resources, optimizing images, reducing server calls, removing custom fronts, compressing files, applying caching and lazy loading, etc. They contribute to a good user experience which requires expertise. The front-end developer hiring options include an in-house development team, freelancers, or an outsourcing agency. It can take around 10-12 weeks to develop a robust front-end, and the average developer rate is between $25-$75 per hour, costing $10,000-$30,000.
Back-end
It requires developers to create everything from scratch per the application functionalities. However, you can save some money by taking assistance from back-end APIs available for standard features. Back-end development mainly involves file management, push notifications, export, search, etc., and the base for data structure and security. These will take around 20-25 weeks, and the average developer rate is between $20-$70, costing $16,000-$56,000.
As per the type of SaaS solution
To know the cost of building SaaS products, you first need to know the type it belongs to, as the price varies accordingly. Some SaaS products require a lot of effort, while others have basic features that developers can build within a limited time frame.
So, according to the type of SaaS solutions, the cost calculations are as listed below:
| | | |
| --- | --- | --- |
| Type of SaaS Solution | Price of MVP (Approx.) | Example |
| Accouting | $70,000-$80,000 | Quickbooks |
| CRM | $50,000-$60,000 | Freshworks |
| Email Marketing | $60,000-$70,000 | Mailchimp |
| ERP | $110,000-$120,000 | NetSuite |
| Martech | $90,000-$100,000 | HubSpot |
| Project Management | $60,000-$70,000 | Confluence |
| Visual Website Builder | $140,000-$150,000 | Weblium |
As per the type of team
The type of team you opt for significantly influences the final cost of your SaaS application. For example, hiring a local agency can prove costly for SaaS startups if you're living in the UK, which is a massive economy. However, you can outsource and reach out to the developer's team in South Asia, where charges are lower. Moreover, SaaS startups are often on a tight budget, so hiring in-house isn't feasible., Alternatively, you can hire freelancers with expertise in specific areas such as design, development, operations, etc., and save costs. The cost of developing a SaaS application varies based on these options:
| | |
| --- | --- |
| Type of Team | Average Cost(Approx.) |
| In-House | $130,000-$140,000 |
| Local Agency | $170,000-$180,000 |
| Freelancers | $40,000-$50,000 |
| Outsourcing Agency | $70,000-$80,000 |
Let us explore the pros and cons of each option as it will help you evaluate the right choice.
Type of Teams
Pros
Cons
In-House

Higher accessibility and quick modification
Complete control over the proceedings

Higher development cost
Multiple hidden costs involved

Local Agency

No difference in time-zone and culture
Easy to resolve legal conflicts as both parties follow the same law

Countries with the soaring economy can cost significantly higher
Hard to control development budget

Freelancer

Deep understanding of SaaS products
Provides deep and unbiased insights

No control over developer proceedings
Doesn't follow any standard guidelines for development

Outsourcing

Offers the best value for money
The team is easily scalable

Time-zone differences can hamper communication
Risk of confidentiality and security
As per the geographical region
The country where the development team resides plays a massive role in deciding the overall cost of SaaS application development. However, the price varies across regions and continents significantly. For example, the cost in the United States may vary from that of the UK or Canada. So, let's look at the breakdown of development rate per various geographical regions:
| | |
| --- | --- |
| Geographical Region | Average Cost (Apporx.) |
| USA | $170,000-$180,000 |
| UK | $140,000-$150,000 |
| Eastern Europe | $50,000-$60,000 |
| Western Europe | $90,000-$100,000 |
| Australia | $110,000-$120,000 |
| South Asia | $40,000-$50,000 |
Top
factors affecting the cost

of SaaS application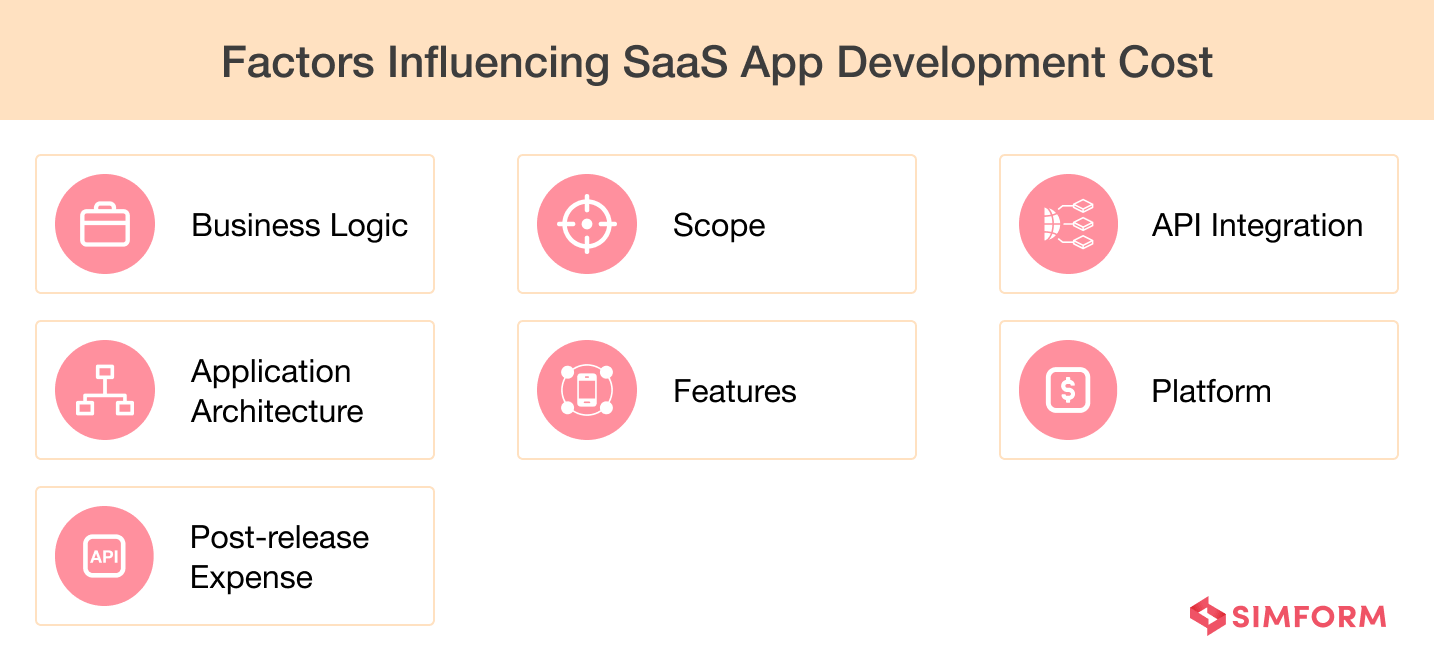 Business logic
It comprises the processes involved with the overall working of SaaS application. It also consists of the app's purpose and the expected outcome that solves the target audience's demands. Finally, it's the base on which you decide the product's features and functionalities.
The business logic comprises
Tech stack of front-end and back-end
The complexity of SaaS solution
Number of team members
Number of external integrations
Size of the application
The SaaS pricing calculator will show a particular amount based on the choices you make for all of these components.
Application architecture
The architecture of SaaS involves the arrangement and interactions between various entities according to the business and technical requirements. Some significant attributes of architecture that influence the cost calculations are
Number of API integrations
Scalability
Multi-tenancy, and more.
So, the more complex your idea is, the more effort it requires for engineers to create integration, leading to a higher cost for SaaS products.
Scope of SaaS product
Project scope is one of the first things you should decide. Next, you need to decide whether your SaaS application will be a platform or a tool, as the functionality and following features will change accordingly. Finally, the time required to develop a tool or platform will also vary, influencing how much SaaS implementation costs should be.
While the tools have a limited scope and manage critical functions, the platform has a broader scope; executing a function properly here can solve multiple purposes. So, while Google Workforce is an example of a SaaS platform, Buffer is an apt example of a SaaS tool. So, according to the scope of your application, the features vary, and so do time, effort, and cost.
Features
To determine the pricing of SaaS products, you must enlist the elements involved. The type of features a particular product provides determines the time and cost of a SaaS product. At the beginning of a project, you focus on core features while developing an MVP. Then, once you get customer validation, you can create a full-fledged product. Therefore, in both these stages, the cost varies according to the features' number, type, and complexity.
Here is the list of features that any SaaS application must have:
User permissions and role-based access management
Security
Communication
Analytical tools
Billing and account management
API integration
As a development team, you'll likely need to decide whether you want to build the whole back-end from scratch to enable a high level of customization or use third-party API integrations. You can choose APIs for standard functionalities like payment, subscription, login, etc., that can help save costs. An API integration consists of API methods that enable CRUD operations (Create, Read, Update, Delete). These CRUD operations contain the primary techniques for accessing and managing data through RESTful APIs. Seamless API integration allows businesses to leverage the existing functionalities with other applications. Also, APIs will help you share the data and automate the system.
However, the developers must follow best practices like reviewing documentation, selecting reliable APIs, auditing for security vulnerabilities, managing scalability issues, etc. Each of these practices is a mini project that requires expertise, knowledge, precision, and, therefore, a lot of time to get it right, which impacts the overall cost.
Platform
Like other applications, you can also decide on a platform for SaaS. For example, a B2B organization needs to develop a web application as most of the clientele uses desktops or laptops. Conversely, B2C companies are more likely to opt for mobile applications as they expect the customers to access the product through smartphones. While the content remains more or less the same, UI/UX changes, affecting the price of a SaaS product.
Post-release expense
Many people believe that after the completion of a SaaS product's development, it's the end of the story and that later there won't be any tasks. However, that's not true. After the development phase, there are post-release expenses related to improvement, hosting services, maintenance servers, databases, and integrations. Therefore, the total cost of ownership (TCO) will depend on these factors and the others mentioned above.
In addition to these factors, there are some hidden costs that you need to keep in mind. Let us explore them in the next section.
What are the
hidden costs of SaaS

application development?

Do you want a good idea of how to price Software as a Service? Then, knowing hidden expenses is vital. These overhead costs don't directly appear in front of you as a startup founder, but they are essential for your application's existence and to stay relevant in the target market in the long run.
Maintenance
Generally, people forget to consider maintenance activities in cost calculations, but they take around 1/4th of your total cost. From hosting services, domain name, SSL certificate, email services, cloud services, etc, the list is exhaustive. These are tasks necessary to keep your platform 'up and running.' Involving various factors like real-world elements of aging software and hardware, rookie engineers, engineering turnover, and software-end aspects of the external environment and program structure, estimating the exact cost is no easy feat.
Also, maintenance can either be -predictive, corrective, adaptive, or preventive. Therefore it's safe to do the maintenance like handling a separate software development cost and requires experts from the operation and production side, which are hard to find as you need a seasoned campaigner, leading to higher prices.
Marketing
Marketing team is essential for a startup business as it helps you attract users and gain visibility among the target market. Generally, the marketing expenses are two to three times the development cost. These involve SEO, email marketing, product hunting, social media marketing, PR, content marketing, etc. If you look at successful SaaS products, they have one thing in common – a good and targeted marketing strategy.
Without promoting your products in front of the target audience, it's hard to become successful today when technology is constantly evolving. Every day hundreds of new SaaS apps come into the market, and to become a standout, you continuously need to be in front of the audience and show everyone your USPs. Marketing is an investment and not exactly a hidden cost as it helps you gain visibility, conversion, reach, and higher revenue and ROI.
Legal compliances
Compliance with federal and state laws is paramount for any SaaS product. Whether you're developing finance, healthcare, banking, and finance, or any other application, you must comply with set standards such as HIPPA, PCI-DCS, GDPR, etc., for which you must pay a hefty amount.
Updates
You must constantly update your enterprise software to avoid security or user experience issues as most SaaS products use cloud storage, which is vulnerable to threats. Also, you need to add new features as the user base grows to keep the retention ratio high. All these tasks have a time and cost associated with them.
Customer Support
Once you launch products in the market, setting up a customer support portal is the next step. It helps you solve customer queries and help them choose the best plan for which customers pay in the end. However, setting up a whole new team requires added costs.
Actionable ways to
reduce SaaS software development cost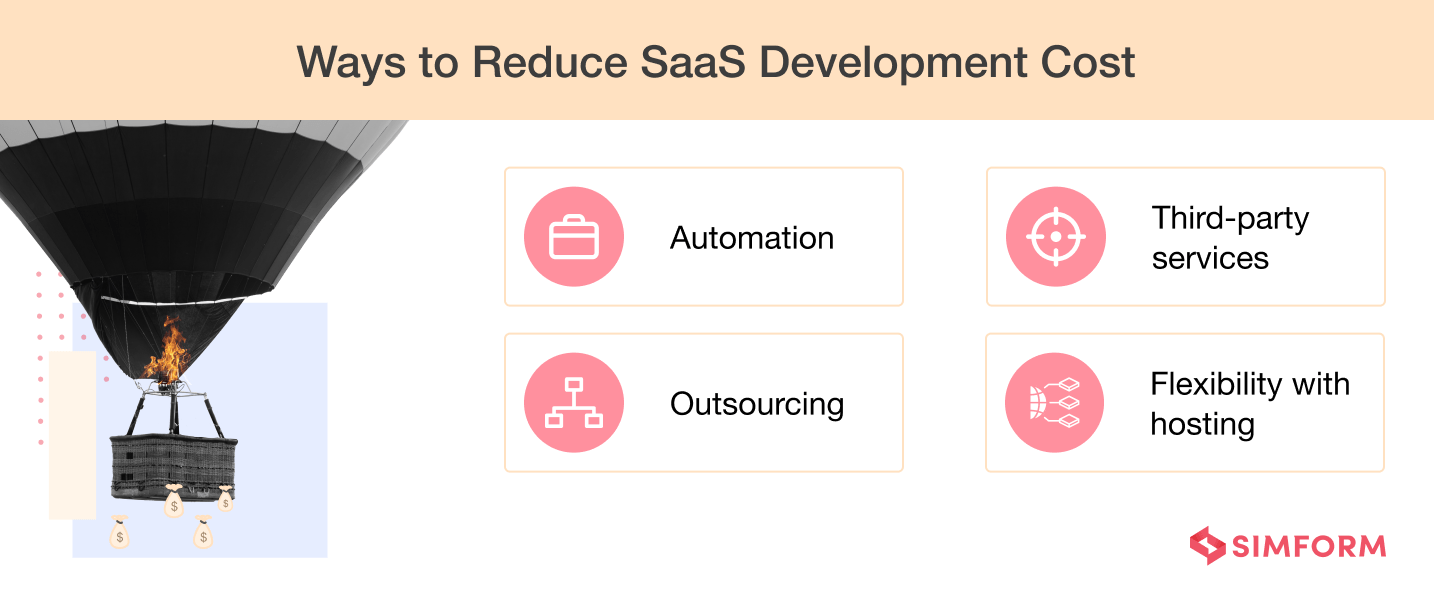 Automation
Generally, software testing or quality assurance activities take around 1/3rd of the total development time. So, if you manually plan to test your SaaS product, it will take a lot of time, and you are forced to spend a lot. However, if you opt for test automation, it reduces the number of repetitive tasks, thereby requiring lesser effort, which significantly helps reduce the development cost.
Third-party services
There are many features or functionalities for which you can avail of third-party APIs such as payment processing, login, subscription management, etc. Instead of writing code from scratch for these features, use third-party services. It will help you reduce a good chunk of your total cost.
Flexibility with hosting
Hosting is a necessary component of your SaaS platform and eats up a lot of resources. However, you can make an intelligent choice by picking a hosting provider with flexible and customizable plans per your needs. It will reduce the wastage of unnecessary services.
Outsourcing
Startups are confined by their limited budgets and resources. In these scenarios, outsourcing can be a boon for startup founders as it allows them to develop their applications at lower prices where developer rates are cheaper than in their local markets.
Want to Connect with Our Industry Experts?
Cost of building a SaaS product:
Learning from successful companies
Sometimes, as a startup founder, you may get inspired by successful SaaS products like Uber, Twitter, Slack, Mailchimp, etc., and want to develop a product that provides similar services. In that scenario, if you know how much it costs, it would help you plan better.
Here are the costs of building some successful SaaS products along with their feature list:
Product Name
Core Features
Average Price of MVP (Approx.)
Slack

Email notification
Text, audio & video calls
Channel privatization
Apps integration
Instant messaging
Messaging channels
Single sign-on

$65,000-$95,000
Mailchimp

Custom forms
Email automation
A/B testing
Geo-location
Email pipelines
Email segmentation

$85,000-$110,000
Pipedrive

Saleforce automation
Calendar
Marketing automation
Reporting & analytcis
Customer support
Social media platform integration

$55,000-$75,000
Twitter

Account authorization
Creating/editing profile
Direct messaging
Uploading photos/videos
Geo-location features
Followers & following
Search

$60,000-$100,000
Uber

Personal profile editing
Geolocation and routing
Payment integration
Driver reports
Ride cost estimation
Call/text the driver
Generating daily/monthly reports
Push notifications

$70,000-$140,000
Instagram

Account authorization
Profile creation
Direct messaging
Photo/Video upload
Photo editing filters
Social media platform integration
Geo-location
Search

$40,000-$60,000
Zomato

Login page
User profile creation
Restaurant detailing page
Ratings and reviews
Geo-location services
Table booking facility
Payment gateway
Push notifications
Online order management

$20,000-$35,000
Want to build your SaaS application?
There's no doubt that developing SaaS applications requires a lot of effort, innovative thinking, and specialization, and you need a seasoned campaigner to handle various challenges. So, if you're looking to develop a SaaS application, look no further. At Simform, we have the best-in-class developers and industry experts who will help craft customized solutions. Get in touch with our team that will provide multiple SaaS models for hiring dedicated developers.