Top 10 Web Application Development Companies For Your Projects.
Listening to your favorite music on the go is not a new thing, and probably we loved using walkmans. However, they had their limitations when it came to the number of tracks you could play. Today, web applications like Spotify have been providing capabilities of music streaming with access to an endless number of songs. 
Not just Spotify, web applications have been phenomenal in helping several businesses like Amazon, Netflix, and even eCommerce development platforms like Shopify. 
However, to reap the benefits these giants did, you need high-performing web applications to deliver an enhanced customer experience(CX) even at peak loads. Here, a web application development company can help you deliver high-end user experiences. Let's discuss some of the top web app development companies that you can consider for your project. 
Top web application sevelopment companies
1. Oxagile
Oxagile is one of the most significant web app development companies offering services across 30+ business verticals. Oxagile offers excellent custom web app development for eLearning, Fintech, eCommerce purposes, digital asset management, and the Internet of Things(IoT).
Apart from custom web application development services, it provides automated testing through the AQA framework. In addition, Oxagile has offered multi-platform video streaming platforms through bespoke web applications for businesses.
This tech firm provides complete development lifecycle services from wireframing, planning the development, and even software prototyping. This is why it has a wide range of clientele, including Google, Vodafone, Discovery channel, Thomson Reuters, to name a few.
Success story:
Oxagile developed a scalable web application solution for a ticketing company from Germany to cater to more than 700,000 passengers. The challenge was to modernize their legacy ticketing platform for public transport services that could not handle peak loads. Oxagile's team of professionals managed to modernize not only the ticketing platform but also improve the scalability. 
Services offered:
IT consulting

Web development

Mobile development

Cloud development

IT outsourcing

Web portal development
Year of establishment: 2005
Headquarters:  New York
2. Simform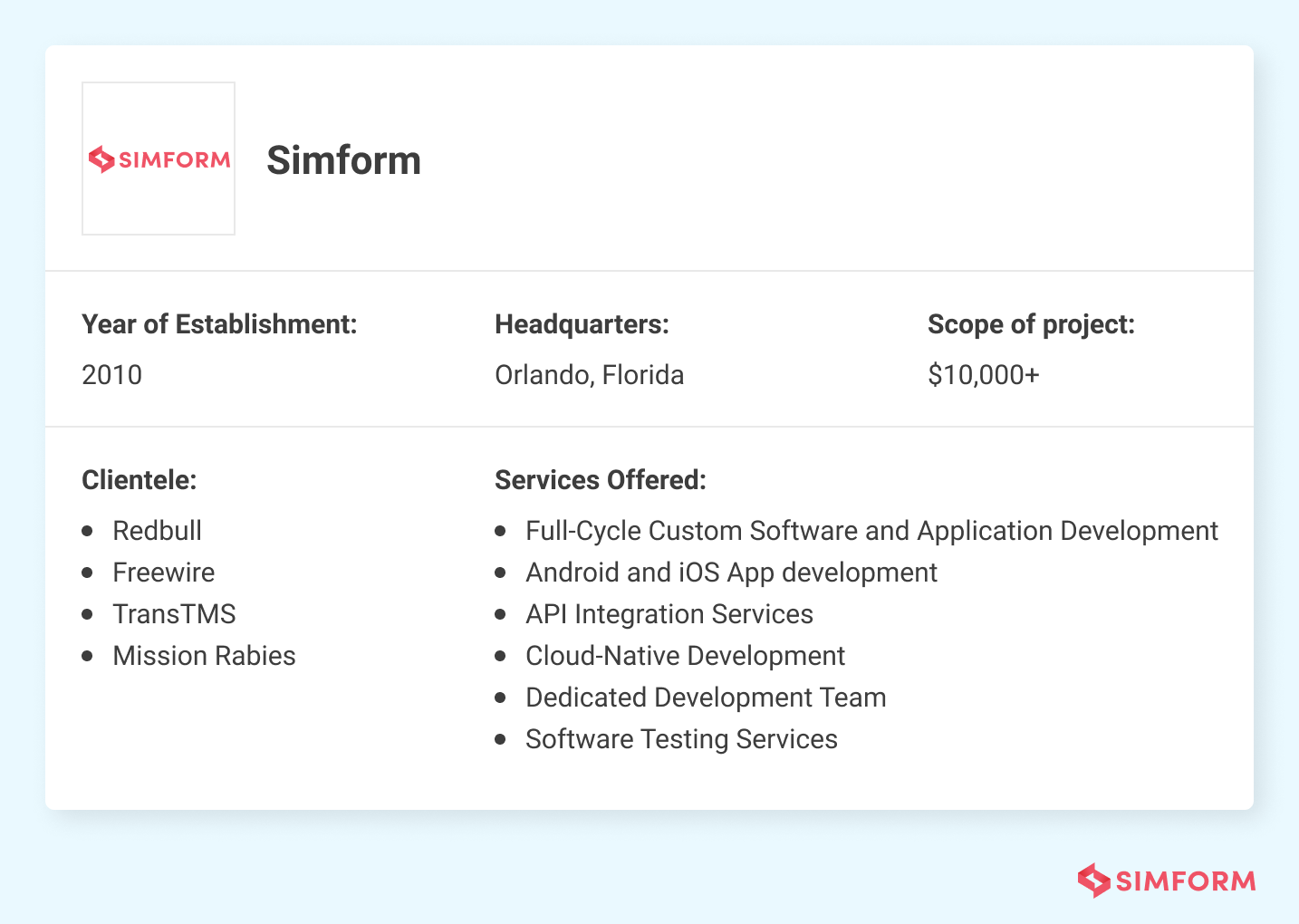 Simform is a top web application development company providing high-quality solutions since 2010. From custom software development to web applications, Simform provides top-notch solutions. 
The tech company has more than 280 experts with over ten years of experience and several teams to help you with comprehensive development solutions. They don't just offer development solutions but help you with reliable architecture, customizations, cloud-based deployments, and third-party integrations. 
Simform has a wide range of clientele spanning different business domains like Redbull, Freewire, TransTMS, Mission Rabies, Tryg, etc.
The tech company also provides dedicated teams that work as an extended part of your organization to enable excellent custom web application development. The best part about Simform's web application development services is its integration of AWS cloud services. 
Simform is an Advanced Consulting Partner with AWS that allows you to leverage CloudOps, cloud integration services, data engineering, and others. 
Success story:
Fédération Internationale de Hockey or FIH needed to modernize its portal for better scalability. They approached Simform to cope with the challenge of catering content for the 2018 Hockey World Cup. 
A team of experts and professionals at Simform leveraged agile methodology and used a headless Content Management System approach to develop a scalable web application for FIH. The result was successful content delivery to more than 3 million viewers.
Services offered:
Full-cycle custom software and application development

API integration services

Cloud-native development

Dedicated development team

Software testing services

Product designing and development

Android and iOS app development
Year of establishment: 2010
Headquarters: Orlando, Florida
3. ScienceSoft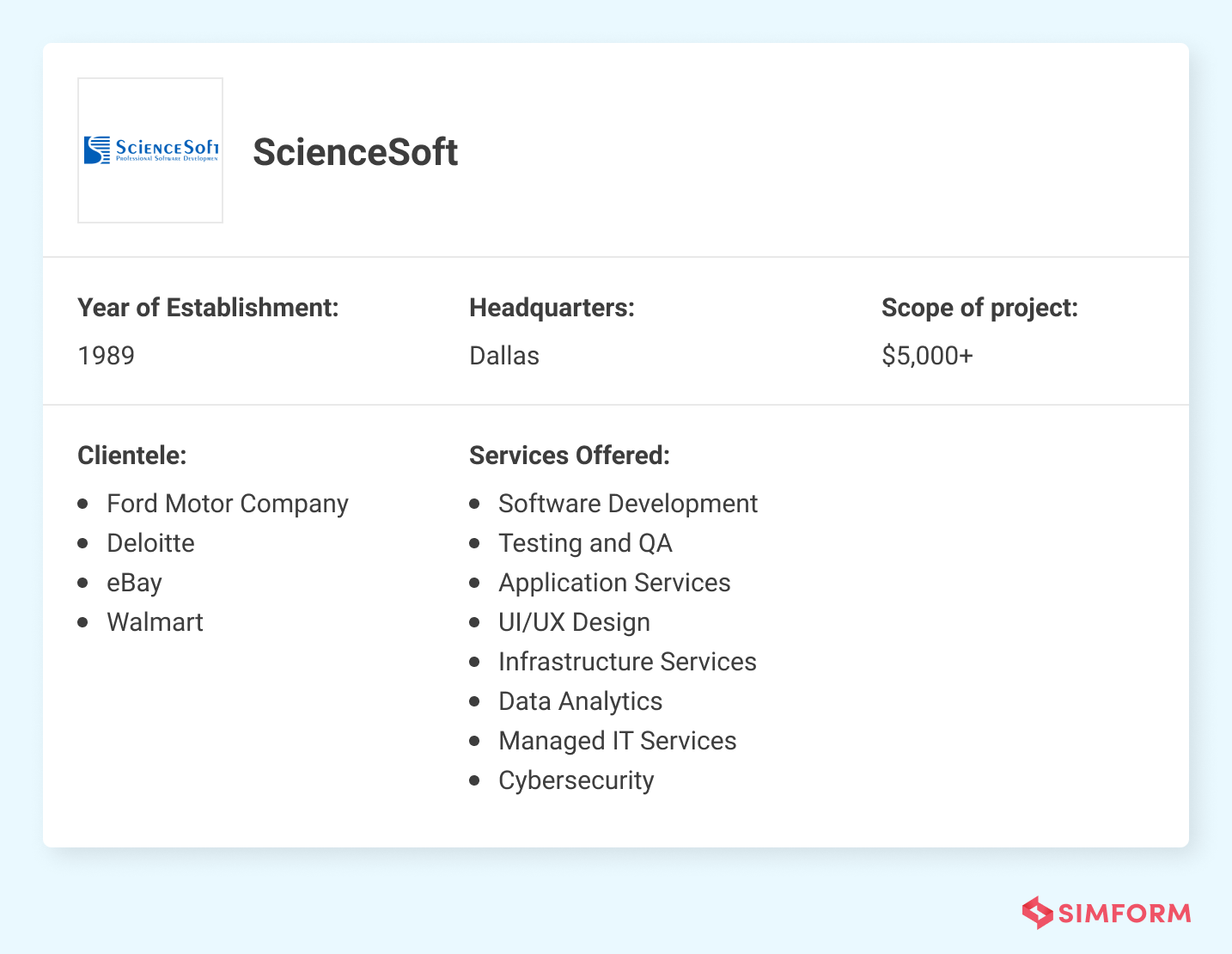 ScienceSoft is one of the oldest technology companies founded in 1989 and headquartered in Dallas. It provides web application development for more than 23 different industries. Apart from a massive team of developers, cloud experts, designers, and QAs, it also has several partnerships with other companies to offer reliable solutions. 
It offers full-cycle web, mobile, and desktop software development with excellent customizations. In addition, SceinceSoft leverages BigData and analytics along with innovative technologies like AI to provide intelligent solutions. 
ScienceSoft also provides IoT(Internet of Things) development with real-time processing features. ScienceSoft also offers excellent cybersecurity recommendations for your web application and facilitates services through its comprehensive solution. 
The tech company also has a wide range of clients from different industries like Ford Motor Company, Deloitte, eBay, Walmart, Heinz, Nestle, IBM, and Viber.
Success story:
ScienceSoft helped a video streaming service with clients like Fox Entertainment Group, MTV, and Discovery with scalable web applications. The tech firm developed a video streaming solution that can be experienced on multiple platforms like smartphones, TV, tables, and even through browsers. 
Services offered:
Software development

Testing and QA

Application development services

UI/UX design

Managed IT services

Cybersecurity
Year of establishment: 1989
Headquarters: Dallas
4. Iflexion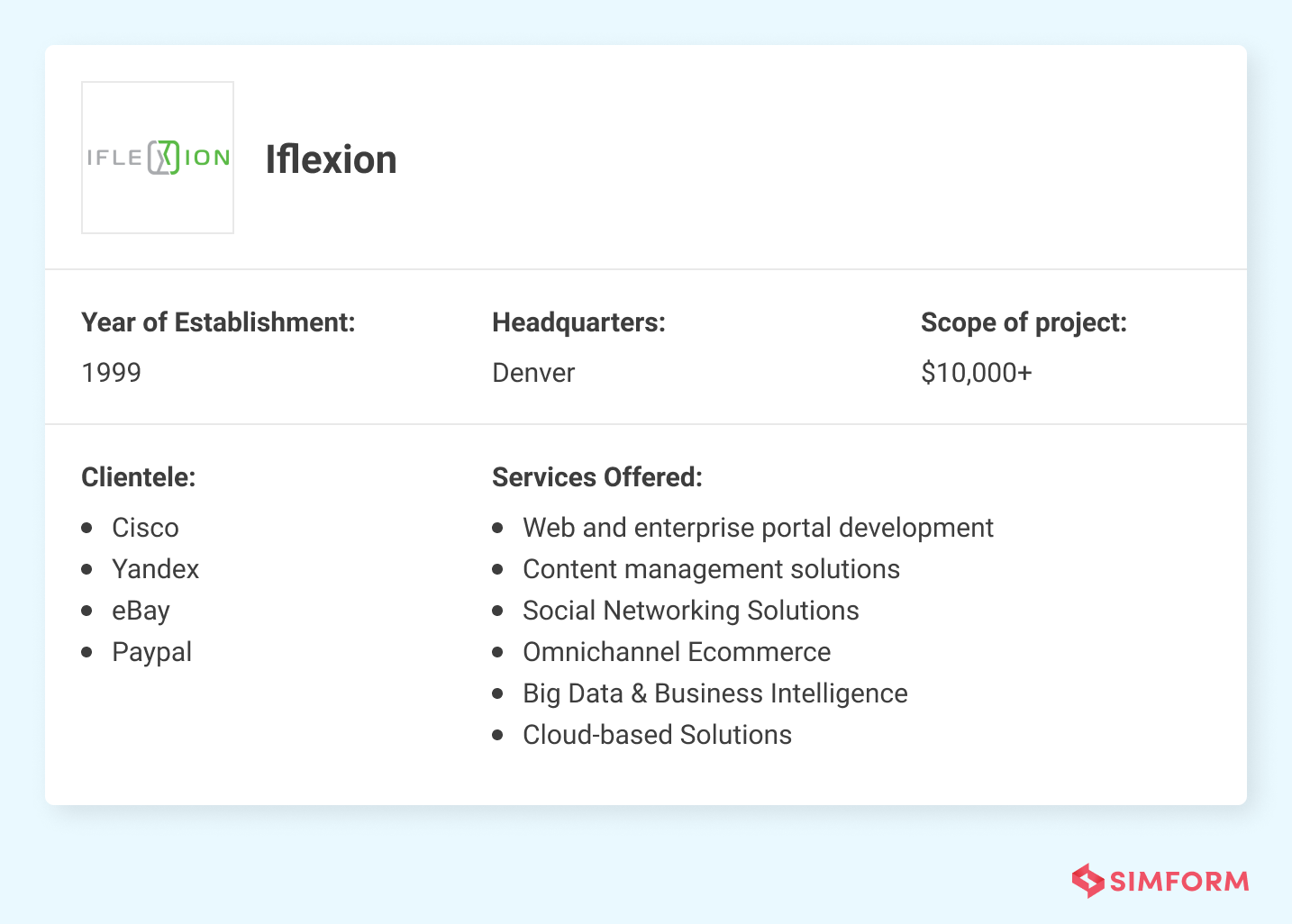 Iflexion is one of the top web application development companies that offer reliable solutions seamlessly across desktops, smartphones, and tablets. In addition, they leverage microservices architecture for web application development and large-data systems and even provide cloud-native development. From small businesses to large enterprises, iflexion has catered to several clients across business verticals. 
The tech company will provide you with a complete web app development solution. From discovery and planning to development and deployment, they enable you to deliver a high-end user experience. Iflexion also offers solution content management, omnichannel eCommerce, business intelligence, and media content distribution. 
Iflexion has served several clients worldwide like Google, Yandex, eBay, Paypal, Cisco, Phillips, Pepsi, Adidas, Toyota, Xerox, and Star Tribune.
Success story:
Iflexion helped a French fashion media company with reliable UI and UX design for web applications across platforms. They conducted an extensive UI audit to offer usability and design suggestions which helped the media company cater to more than 1.5 million monthly visitors. 
Services offered:
Web and enterprise portal development

Content management solutions

Social Networking Solutions

Omnichannel eCommerce

Big data & business intelligence

Media content distribution

Business process automation

Consumer & enterprise mobility solutions

Cloud-based solutions
Year of establishment: 1999
Headquarters: Denver
5. BairesDev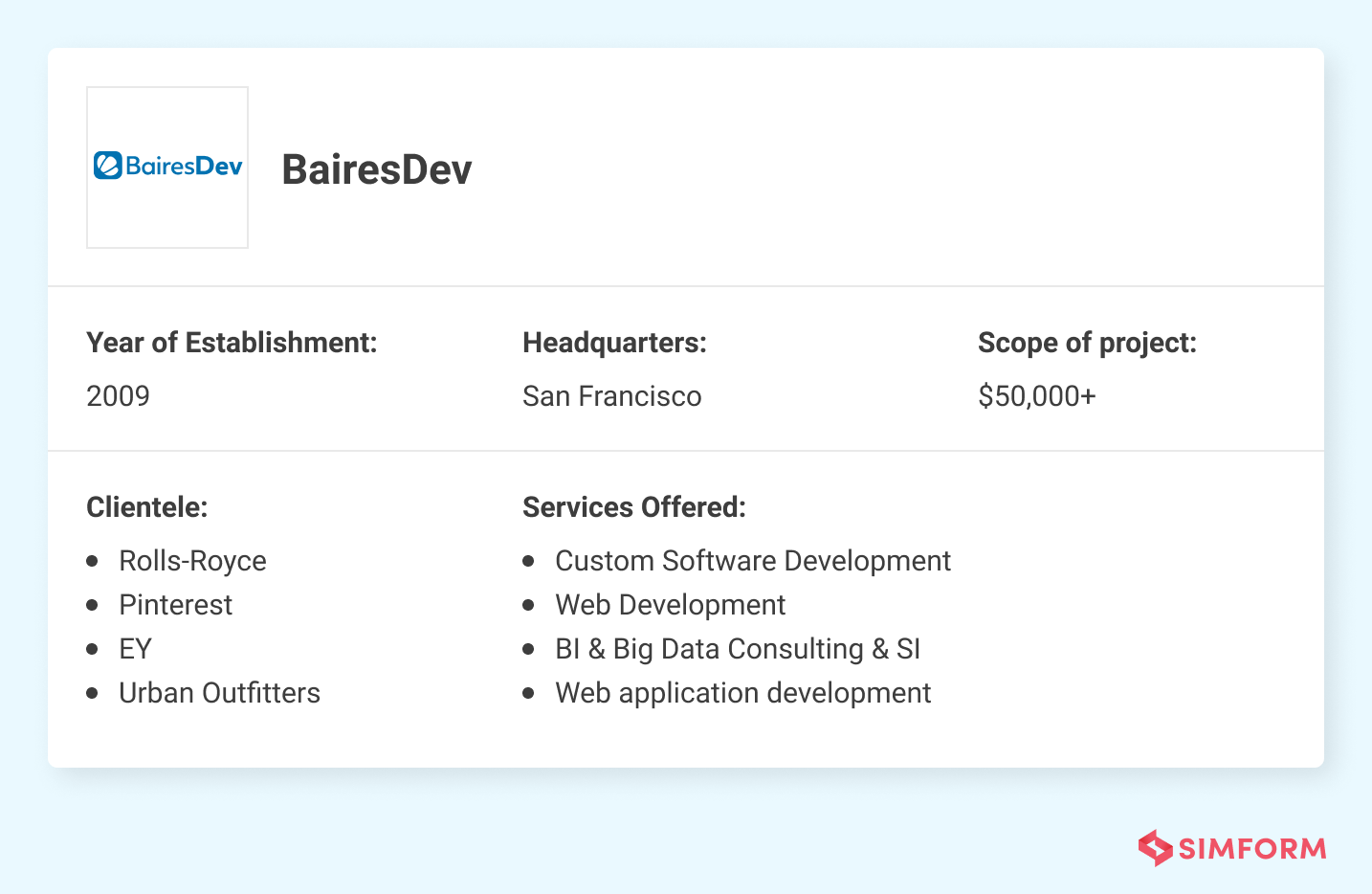 BairesDev is a software development and web application solution provider offering customizations for business-specific requirements. In addition, it provides remote delivery teams and extended teams for businesses to develop custom web applications. Most of the offerings from BairesDev are focused on nearshore capabilities, but they do offer remote solutions for clients across the world.
BairesDev has cross-industry experience with services that span across 36 countries. It provides tailored solutions for startups, mid-market businesses, and even Fortune 500 companies. BairesDev has served clients like Google, Rolls-Royce, Pinterest, EY, Urban Outfitters, SiriusXM, Motorola, ViacomCBS, Chime, Groupon, Netgear, etc.
Success story:
BairesDev helped ViacomCBS with a web application solution. ViacomCBS caters to the streaming needs of major clients like CBS, Showtime Networks, Paramount Pictures, Nickelodeon, MTV, Comedy Central, and BET. The solution from BairesDev helped ViacomCBS modernize its web applications.
Services offered:
Custom software development

Web development

BI & Big data consulting & SI

Web application development
Year of establishment: 2009
Headquarters: San Francisco
6. Mentormate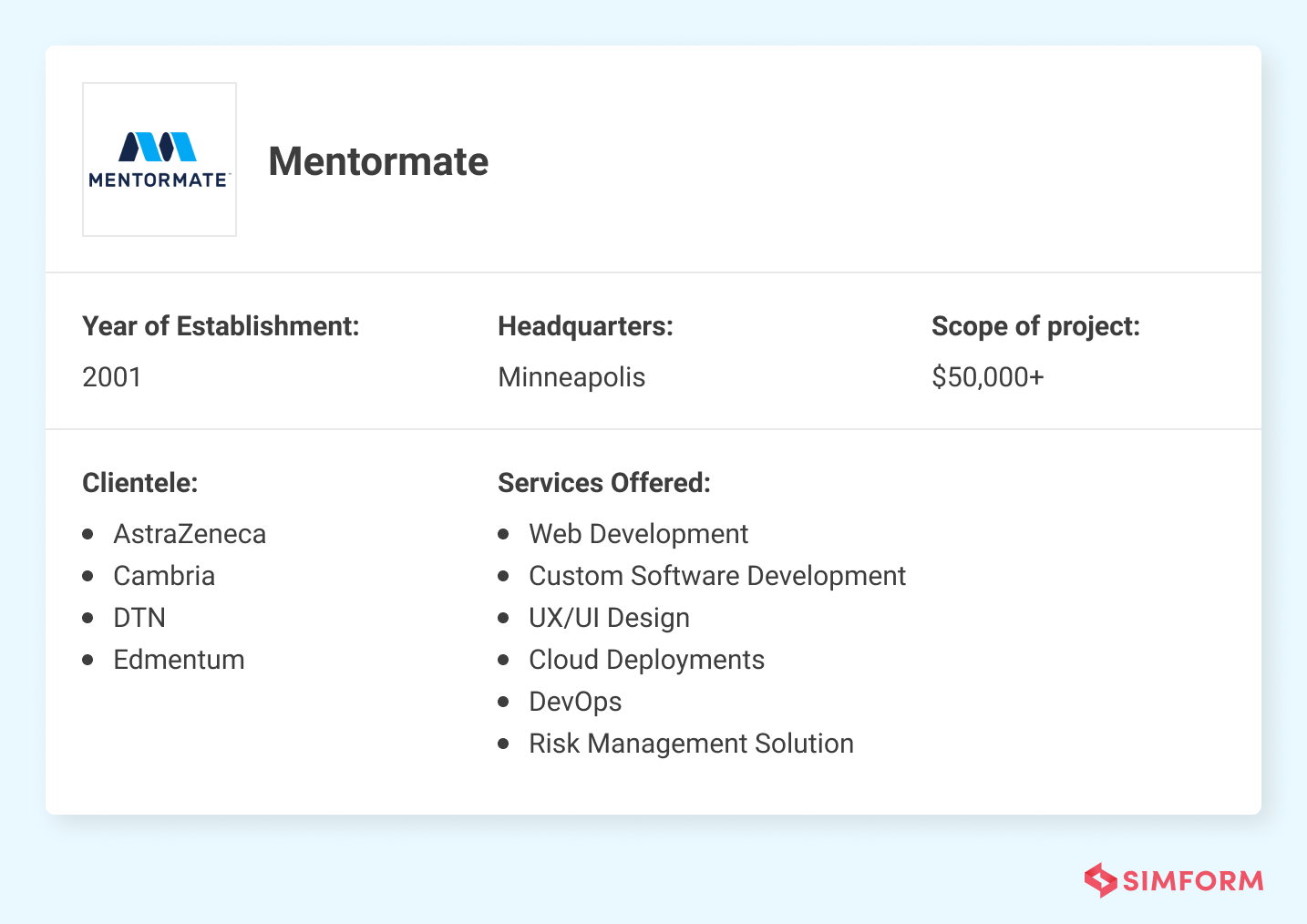 Mentormate is a custom software development and web app solution provider that primarily caters to offshore needs. It has five offices in Bulgaria with employees 100% fluent in English language and technology knowledge for your projects. The tech company employs a daily standup approach to keep clients and stakeholders on the same page, on-site or remote. 
From design to development and even cloud-based developments, Mentormate offers customized solutions based on client-specific requirements. It focuses on human-centric website design and offers high-performance web applications through agile methodologies. 
Mentormate has served several clients across business domains like AstraZeneca, Cambria, DTN, Edmentum, Foss Swim School, Graco, Jostens, Junior Achievement, Land O'Lakes, etc.
Success story:
Soundview leveraged Mentormate's technical expertise to modernize its legacy systems. It is a digital firm that transforms business books into a 20-minute audio format with a short text which becomes easy to understand. 
Soundview needed a reliable solution for which their teams had to scramble the current platform and re-built it. Mentormate helped them improvise on the existing platform without wasting time and resources on development from scratch. 
Services offered:
Web development 

Custom software development 

UX/UI design

Cloud deployments

DevOps

Risk management solutions
Year of establishment: 2001
Headquarters: Minneapolis
7. Moove IT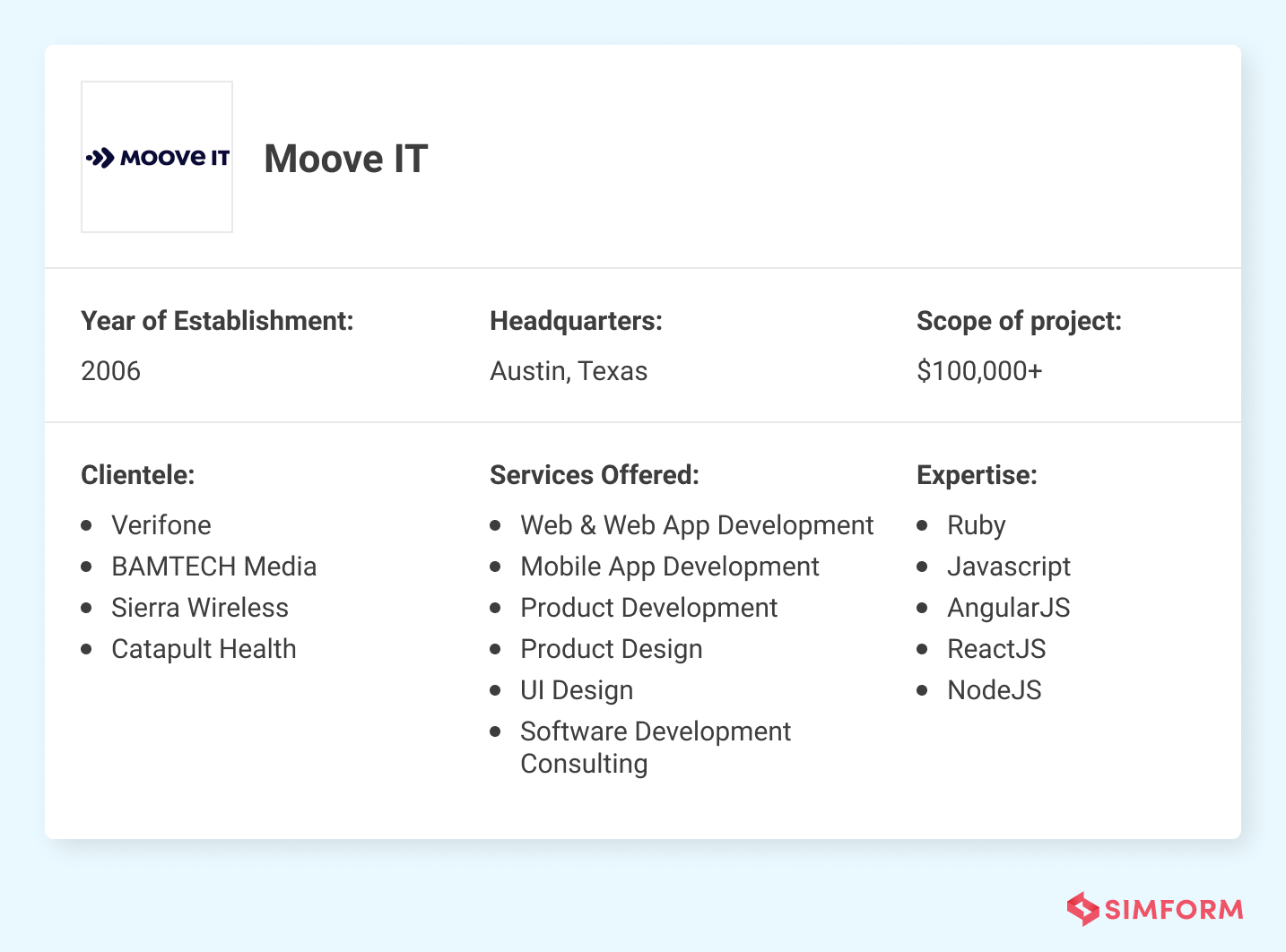 Moove IT is one of the top software solution providers that designs, develop, and deploys custom web applications. It has been phenomenal with custom web application development for several startups.  Mentormate offers the development of web applications across different types like Single Page Applications (SPAs) or mid-level web applications with advanced features. 
The tech company also offers mobile app development on Android and iOS platforms. In addition, they leverage RESTful APIs for secure and reliable delivery of mobile applications. Moove IT is also a web development company that leverages several backend technologies for scalable and high-performance websites. 
Moove IT has served many clients like Verifone, BAMTECH Media, Sierra Wireless, Catapult Health, YouScience, MapRight, etc. 
Success story:
Moove IT created health applications and web apps for Catapult Health. They needed an application to manage patient information and reduce employees' time on manual data entry, which was resolved through an enhanced web app solution. Further, it allowed Catapult Health to efficiently record each patient and leverage them even for remote consultations.
Services offered:
Web and web app development 

Mobile app development

Product development

Product design

UI design

Software development consulting
Year of establishment: 2006
Headquarters: Austin, Texas
8. Thoughtbot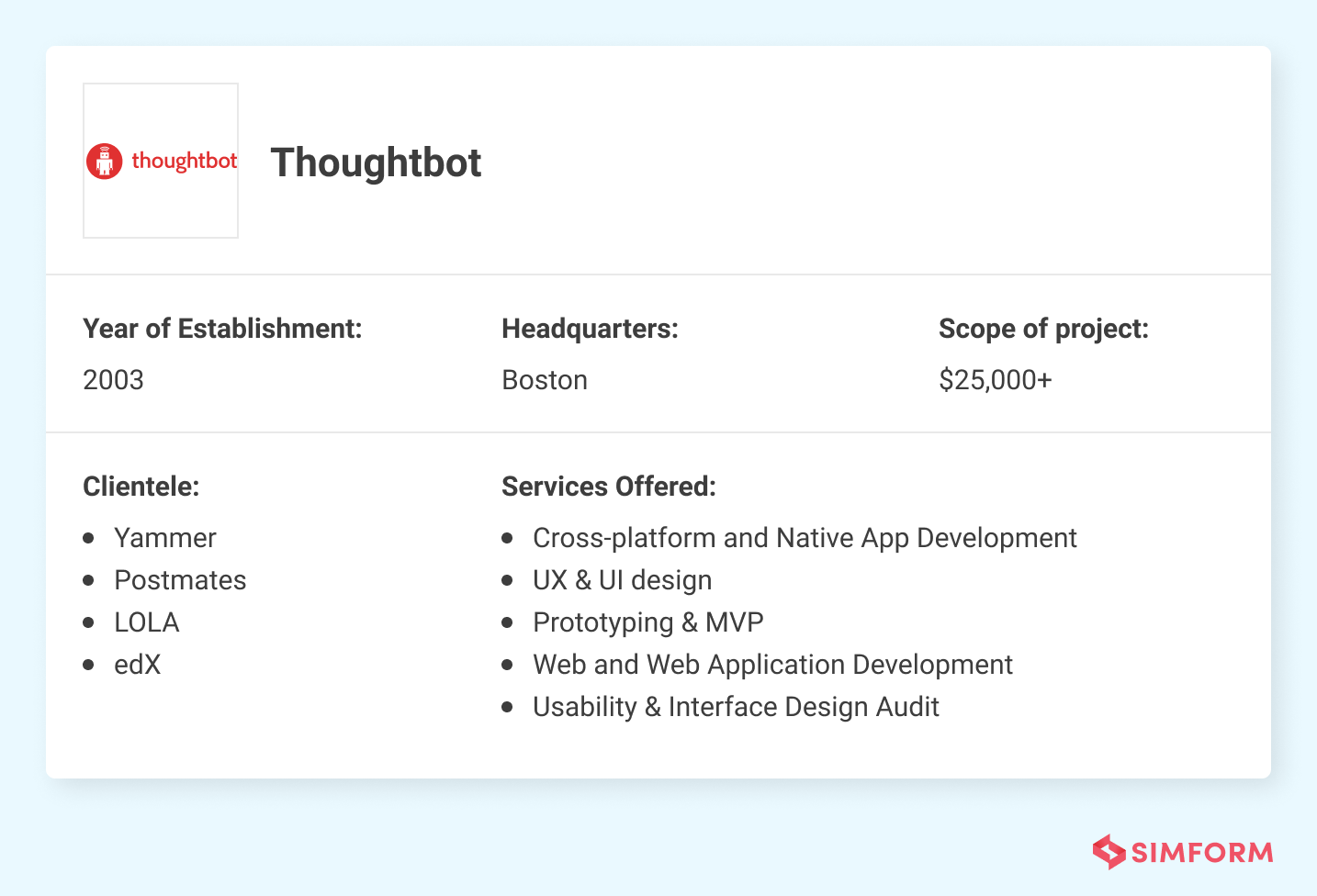 Thoughtbot is a design and development company that provides web and mobile products as per your business requirements. The focus of Thoughbot's development strategy is more reliable product performance and delivery than just features. It has a massive pool of professionals that provide complete web application development solutions through agile methodology.
It leverages Minimum Viable Product or MVP to create a shippable product and then, after rigorous testing, deploys it on multiple platforms as per your business needs. This is the reason why it has been phenomenal in offering solutions to clients like Yammer, Postmates, LOLA, and edX
Success story:
Joydrive, an online car buying and selling platform, needed a solution to launch their idea across platforms with the Superbowl League event. Thoughtbot leveraged the agile approach and, through several iterations, created an enhanced web app solution for Joydrive. 
Services offered:
Cross-platform and native app development

UX & UI design

Prototyping & MVP

Web and web app development

Usability & interface design audit
Year of establishment: 2003
Headquarters: Boston
9. Gorillalogic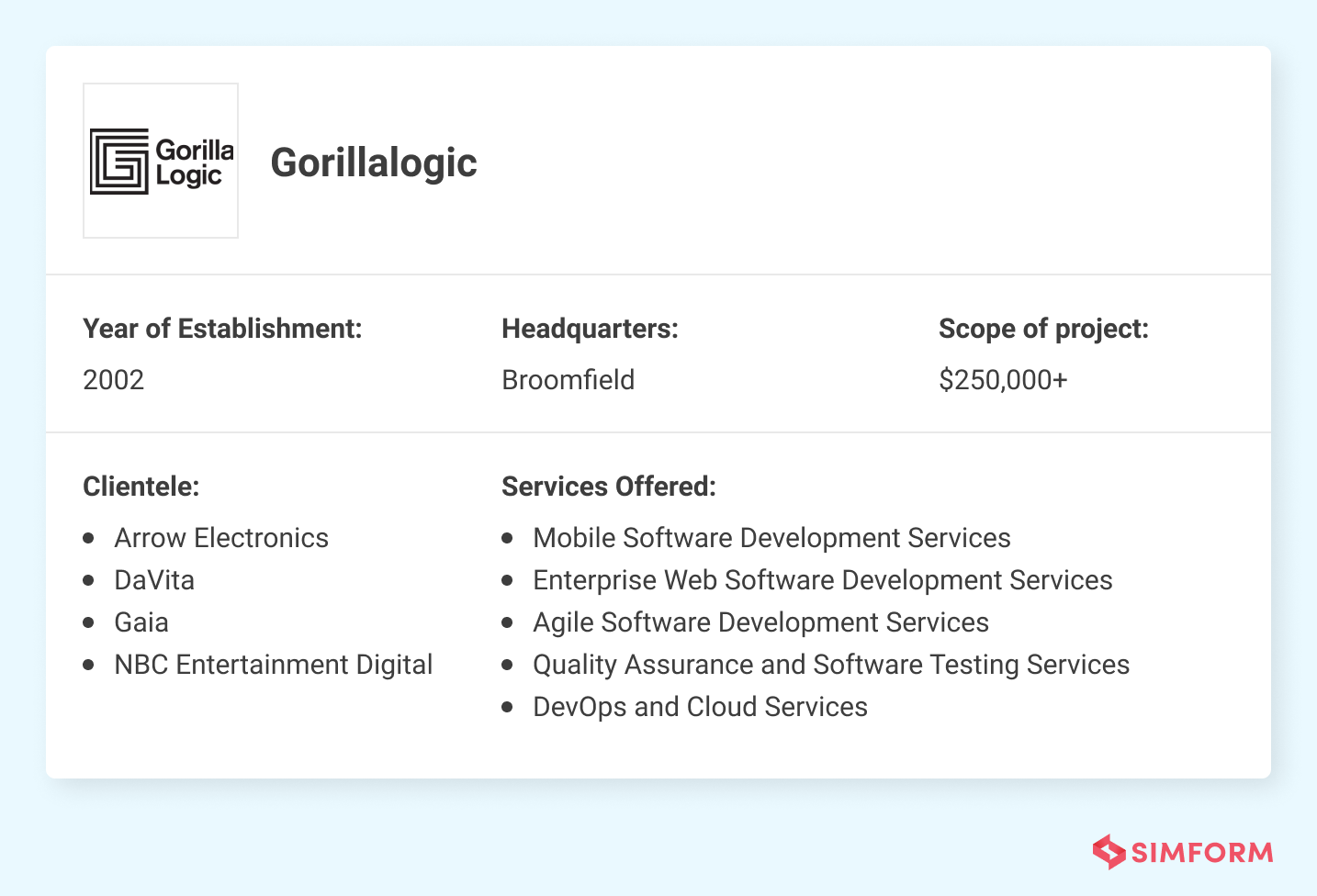 Gorillalogic offers responsive web application development tailor-made for clients with robust architecture and security. Furthermore, it ensures the high performance of the web applications by fine-tuning different metrics with cache management to reduce reload per interaction. 
From Progressive Wen Apps(PWAs) to Accelerated Mobile Pages(AMP), it provides various types of web app development. It has served several clients like Arrow, Electronic, DaVita, Gaia, and NBC Entertainment Digital.
Success story:
Finish Line, a shoe retailer brand, launched its mobile application back in 2014, which lacked user-centric features. So, they approached Gorillalogic, which leveraged a team of experts from their Costa Rica office to provide enhanced native apps. 
Services offered:
Mobile software development services

Enterprise web software development services

Agile software development services

Quality assurance and software testing services

DevOps and cloud services
Year of establishment: 2002
Headquarters: Broomfield
10. Urbaninsight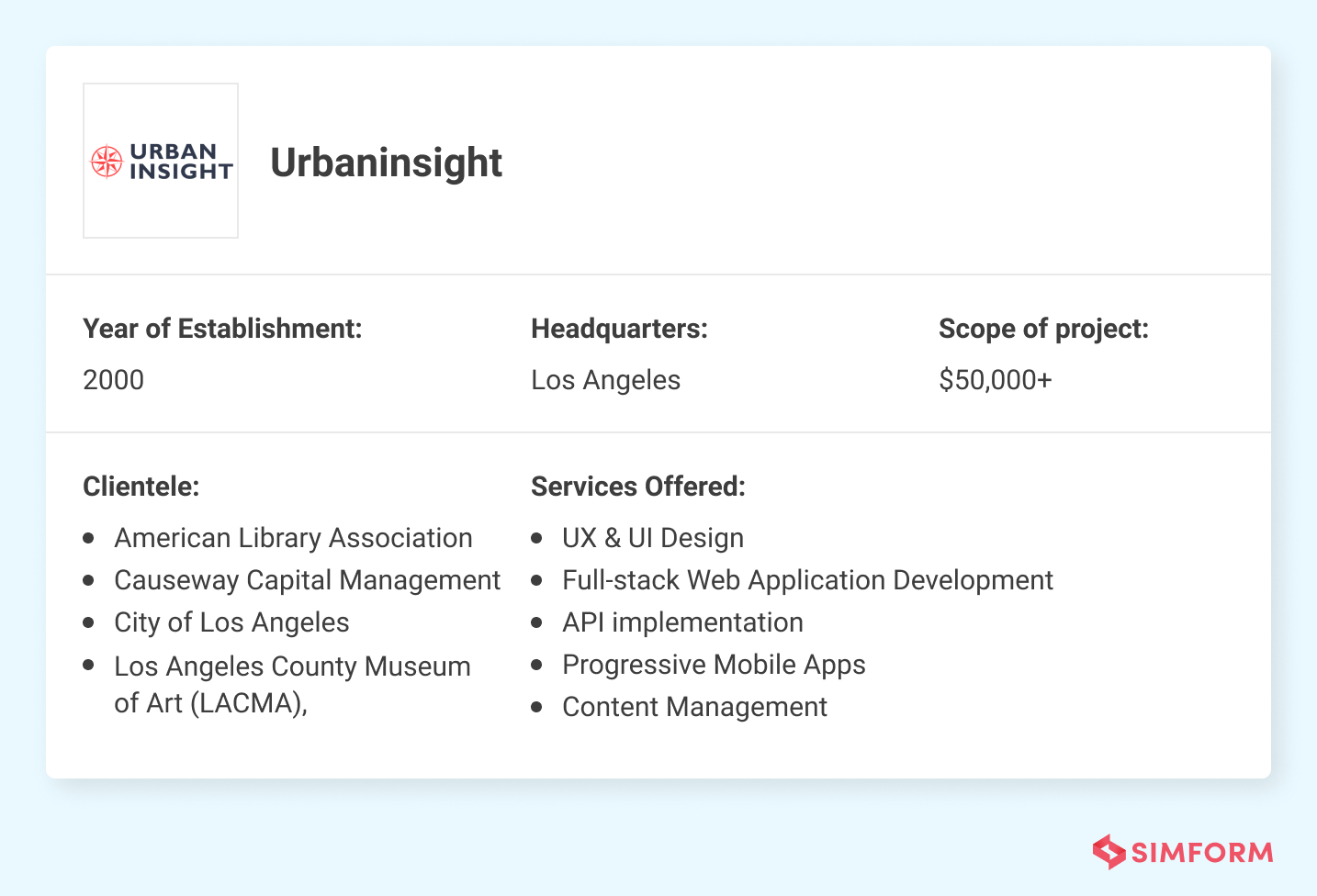 Urbansight is a full-stack application development company that provides design, development, and deployment services. Their team of professionals analyzes customer requirements and strategizes the design approach. Further, they create a wireframe design for the project and implement it through frontend and backend development. 
From progressive mobile development to eCommerce applications, Urbansight offers solutions for a wide range of applications. In addition, it has experience partnering with higher education organizations, urban planning, arts, and legal aid services. 
Urbansight has also served government authorities and organizations like the American Library Association, Causeway Capital Management, the City of Los Angeles, the Los Angeles County Museum of Art (LACMA), etc.
Success story:
Planetizen needed an e-learning platform to enable affordable and accessible online education for the urban planning community. It was a platform that would also have a complex way for monetization to support a high volume of video content. 
This was a subscription-based payment system which with a high-frequency publishing schedule was not easy to implement. So Urbansight created such an e-learning platform with Drupal content management services to cope with peak traffic on the application. 
Services offered:
UX & UI design

Full-stack web application development

API implementation

Progressive mobile apps

Content management
Year of establishment: 2000
Headquarters: Los Angeles
Significance of choosing the right web app development company
Choosing the right web application development company can make all the difference. As a business enterprise, you are responsible for the digital aspects and other activities. So, you need a reliable service provider that can help build flexible, scalable, and secure web applications while you focus on core business activities. 
The experienced and expert web app developer will offer, 
Right tools for development-

An experienced web application development company can help you leverage the right tools and approaches. This will help you build web apps that are advanced and also cost-effective. 

Full-cycle development

– They can provide complete lifecycle services, including planning, wireframing, development, and deployment. 
Prototyping and testing-

With extensive testing and prototyping, they help you build high-quality web applications.
Technical support-

Enhanced technical support will enable you to cope with the issues of web applications and reduce downtimes.
Third-party integrations-

 They help you customize your Application Programming Interface or APIs that makes third-party integrations quicker and efficient.

Customizations of features-

You can have several customized features with the right web application development company.
So, choosing the right web application development company can enable you to provide enhanced CX leveraging the best practices.
Questions you should ask web app development company
Will you provide a fixed-cost pricing quote?
A fixed-price cost will ensure that the entire project does not cost you a penny extra. This is extremely important for startups and businesses with a tight budget. A fixed cost agreement can involve,
Scope- A mutual understanding of the outcome of the project and the measurable output to consider completion. 
Budget- Budget will involve counting every cost until the last dollar in advance for a fixed-cost project. However, if your project is complex and needs several architectural changes during development, a fixed-cost budget may not work.
If either scoping or budget planning is not conducted correctly, it can end up costing you more and with a subdued product. So, it's best to have a comprehensive fixed-cost document from your web development company for the complete overview. 
Which type of web application will suit my business?
There are several different types of web applications that you can develop for your business, like PWAs, SPAs, hybrid apps, eCommerce web apps, CMS web applications, and more. However, it will depend on your specific needs and the scope of the project. 
For example, if you want to develop a blogging platform for your business, a CMS web application will help you manage your content easily. Similarly, if you want to target audiences in a region with low-intensity internet issues, PWAs offers offline capabilities that will fit your bill. 
What are the web app tech stacks you use for development?
Asking about web app technologies that a development company or agency uses will help you understand the core structure of your project's architecture. Apart from that, if you have an existing platform with specific technology in the backend, asking this question will become quintessential. You need to ensure that the web app development company has expertise over the same technology. 
There are three technologies that you should be most concerned with, frontend, backend, and database. Knowing about the combination of these technologies is beneficial to your entire business plan. Especially if your project is massive and complex, it will enable you to plan the budget. 
What is the development approach or methodology?
Regarding the development approach, there are two significant methodologies that web app development companies take- waterfall and agile. Knowing the development approach of any development company is essential as it determines the exact need for time, resources, and efforts. 
However, a full-stack development company or agency is responsible for every aspect of the process; knowing the approach is an excellent way to know the scope. For example, if a web development company leverages agile methodology, several iterations and bleed will be tested for each application version. 
Do your services cover the entire web app development lifecycle?
One of the most important questions to ask as a full-cycle development service provider will allow you to focus on core business activities. There are several stages of a development life cycle, from the ideation phase to prototyping, launching, and even revamping it at a maturation stage to add advanced features. 
If a web application development company offers a complete lifecycle development service, you will not have to worry about several interactions and changes after the launch. 
What is the cost of web app development?
The cost of developing web applications depends on several factors like the complexity of features, the cost of hiring developers, and other resources. For example, a simple feature like log in or signup needs fewer resources than a complex app like data analytics, Artificial Intelligence(AI) integration, or Augmented Reality. 
Similarly, a senior developer can charge you more than a junior-level developer. Again, this is because of the experience and project management qualities of senior developers. On the other hand, medium-level developers will cost you less than senior developers and offer several key benefits like enhanced knowledge, involvement in specific design research, and others.
Conclusion
Web app development companies bring many benefits to the table from full-cycle development capabilities, design research services, product development, among others. Choosing the right web application development company can mean scalable, flexible, and robust solutions to improve your business agility. 
However, you need to analyze their offerings and compare them with specific business objectives to choose the best suitable company. Simform has been at the forefront of web application development solutions enabling digital transformations for many businesses. So, if you are looking for complete lifecycle solutions for web app development projects, get in touch with us.