Ending the Native vs Cross Platform Debate
It's 2021, and arguably the biggest fight after "iOS vs Android" is "Native vs Cross platform app development" in mobile application development. Many big organizations like Google, Facebook, Airbnb, Skype have already built their applications on a hybrid platform such as React Native and Xamarin.
Cross platform solutions are either oversold or an under sold in most cases and many developers and entrepreneurs even fail to make informed decision. So, here's our take on the Native vs Cross-platform debate. But before diving deep into the nuts and bolts and figure out which kind of development is suitable for what use-case, let's look at some points which we are going to cover here:
Native apps vs Cross-platform

apps : How do they differ
What is Native application development?
Native Application development involves developing an application which is specific to one platform (either iOS, Android, or Windows) so that the application can take full advantage of all the device features such as a camera, accelerometer, compass, GPS, contacts list and so on. Native apps are installed through the application store (such as Google play for Android and Apple's app store for iOS). 
Native app development frameworks or programming languages
Native apps run over native platforms such as iOS, Android or Windows. Generally, an application developer will use a software development kit (SDK) and an IDE (Integrated development environment) specifically required for the particular Operating system (Android, iOS or Windows) to develop Native app. 
Some frameworks and languages that are used commonly in building native apps are:
iOS Apps
The Framework

– Building iOS apps require developers to build apps for iPhone or iPad with a framework known as XCode. 

The programming language

– iOS apps are developed with Objective C or Swift language
Android Apps
The Framework –

Building Android apps require developers to build apps for touch screen smartphones with an IDE known as Android Studio.

The programming language – Android apps are developed with Java or Kotlin
Mobile Application Security: Checklist for Data Security and Vulnerabilities
Advantages of Cross-platform apps
Affordable and time-saver
The "write once, run anywhere" approach allows developers to utilize a single code on multiple platforms, which greatly reduces costs and shortens the development time — unlike native apps.
Easy and fast deployment
Cross-platform app developers do not need to learn multiple technologies before creating their apps; they just need to master a few and set the ball rolling.
Since there is no need for creating different codebases, the initial deployment on the target platforms is much faster.
Furthermore, future changes to the application can be done simultaneously without making individual changes on each platform.
Wider audience reach
Developing cross-platform apps provides access to a wider target audience, which could lead to increased revenues.
Small Team size
Since one mandatory benefit that comes with Cross-platform application development is Speed and agility, it is also helpful for developers to work in small team size to carry out the development process. 
Disadvantages of Cross platform apps
Performance glitches
In contrast to native applications, cross-platform applications do not integrate flawlessly with their target operating systems. Therefore, some of the apps may fail to perform optimally because of inconsistent communication between the non-native code and the device's native components.
User experience issues
Apps developed using shared code may fail to offer robust user experiences. Cross-platform apps cannot fully take advantage of native-only features and provide excellent user experiences.
Native vs Cross Platform : The Comparison Chart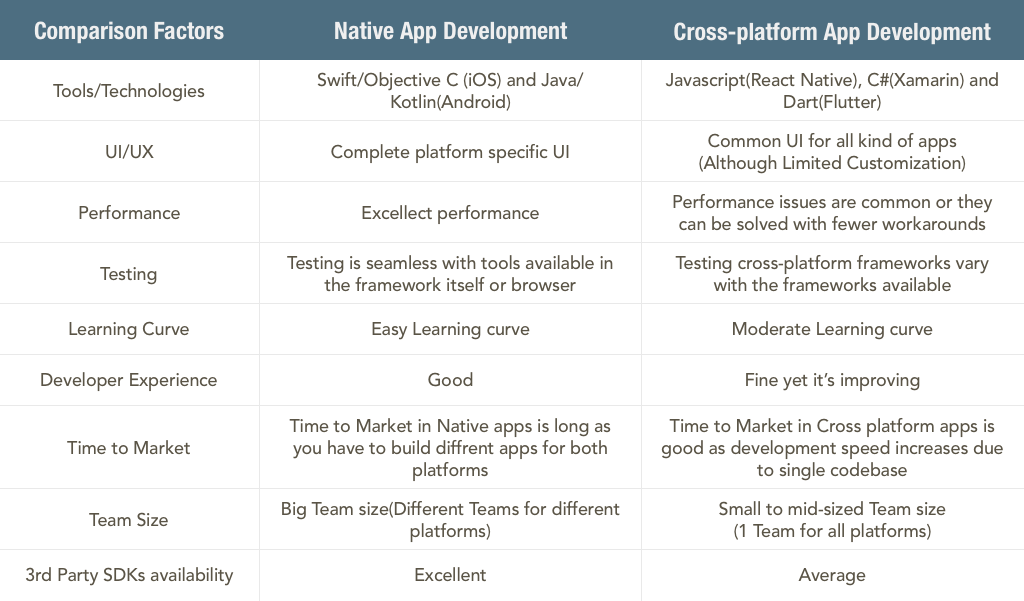 When using Native over Cross-platform makes sense : Use Case
Choosing Native over Cross-platform depends on your app's intended feature set and scope/ Timeline of application. That being said, If your mobile app is supposed to become a business of its own (like fitness and healthcare), going native is an obvious choice.
Furthermore choosing native application frameworks over cross-platform also makes sense when your app is supposed to build with complex and rich-in-class features such as AR/ VR, Animations, built-in games etc. 
When using Cross-platform over Native makes sense : Use case
Choosing Cross-platform over Native makes sense for companies who desires to create a purely informative or content distribution application.
Furthermore, if your project's time to market is less then you might want to bet on Cross-platform frameworks. Likewise, if your project's deadline is less and you want to finish it as soon as possible then Cross-platform might be an idea choice.
Native or Cross Platform- Which one is best for your project?