What is Digital Product Engineering? Phases, Challenges, Trends
Customers' expectations keep evolving with time, especially today when the attention span has decreased drastically. In this scenario, developing a product that provide business value and increase customer satisfaction is a massive challenge. It's like reinventing the wheel multiple times!
But there's a solution to this problem – digital product engineering services. These services are the key to unlocking customer delight and innovation. By 2031, the global product engineering services market will become $1610.6 billion, with engineering software market revenue reaching $22,566 million by 2025.
Given these impressive numbers, it is essential to understand the various facets of product engineering – its phases, challenges, benefits, and trends. This article will give you a comprehensive guide to everything related to digital product engineering.
What is
digital product engineering?
Digital product engineering uses software, IT solutions, hardware, and technical components to design, develop, and deploy valuable products. The process starts with ideation, followed by digital product design, and ends with product lifecycle management. This tech-enabled advancement helps develop innovative and personalized products.
Digital product engineering services ensure:
Developing products that meets customer needs
Crafting unmatched user experience
Creating end-to-end functionalities
Seamless scaling to facilitate growth
By partnering with a digital product engineering company, you can integrate next-generation technologies into your existing ecosystem and refine your current development model to maximize product potential.
8 significant
phases of digital product engineering
Customers seek product features or functionalities swiftly, while businesses prioritize high-quality software and cost-effective product engineering services. A typical digital product lifecycle management comprises eight phases, from ideation to re-engineering. Let us explore each phase in detail.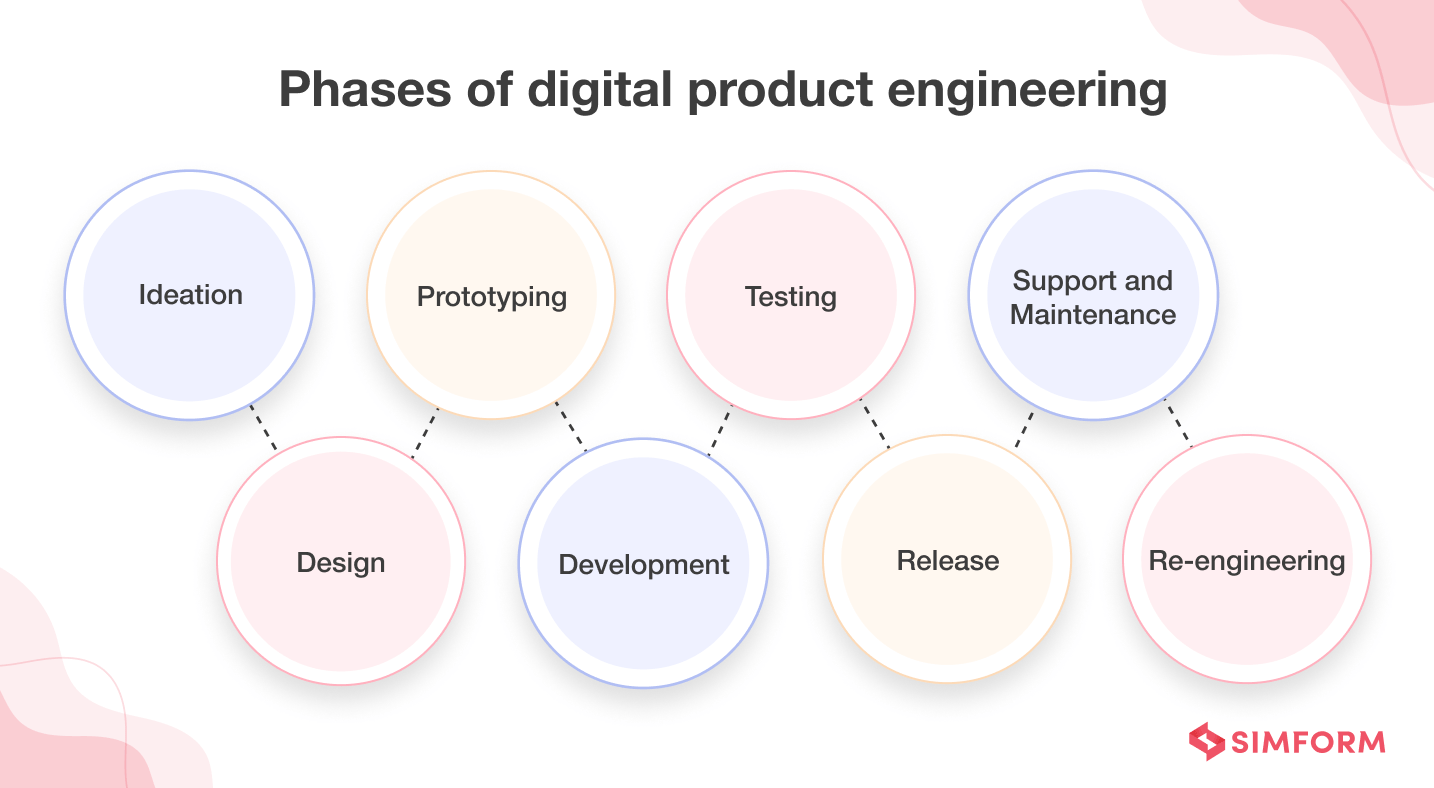 1. Ideation
Ideation is the first step that helps in developing a robust product. Not every idea gets transformed into an end product, but every journey starts with conceptualization. The aim is to identify a product-market fit and the necessary features to achieve that. So, ideation involves a lot of brainstorming sessions with various experts.
The point of ideation is to conduct a feasibility study that helps you to refine the product according to the business needs.
Here are key areas that get defined during ideation:
Vision: What is your product's potential in the long run?
Strategy: It involves a product roadmap for transparent implementation and deployment.
User Needs: It comprises the latest market survey to know customers' pain points and concerns.
Research and Analysis: Organizations need to conduct audience surveys, competitor analysis, and estimate the target market. You also need to highlight functional and non-functional requirements.
Budget: What is the available funding to develop the product?
Proof of Concept: It tells the company whether it can build a product from scratch.
Wireframing and Sketching: After conducting initial research, experts can help you to design rough sketches of how your product may look. It allows you to envision the product better and make changes later to refine the idea.
2. Design
After conducting the feasibility study in the ideation phase, you should focus on developing a good design for your product. Product design impacts the digital product experience, so choosing the best technologies, operating systems, processors, interfaces, and elements is vital.
Creating a great UI and UX is essential when designing a digital product. An intuitive user experience, seamless navigation, picture-perfect placement of elements, bright color palette, etc., make up a good UI and UX. Ultimately, the primary aim is to engage the users with a visually appealing design for your product.
UI/UX designers can help you transform your idea into incredible visuals. However, before designing the product, consider these three questions:
What should be the infrastructure and visual architecture?
Will the product design be user-friendly?
If it's a product modernization, will it have the same old look and feel or a new one?
These factors will help you meet the customer needs in terms of your product's design.
3. Prototyping
Once you have an idea and rough design ready, the next step is to create a prototype of your product to understand its various facets in depth. You have a lot of great tools available in the market, such as InVision, Adobe XD, Figma, Sketch, etc., for prototyping.
With the help of a prototype, you can test the required features and basic functionalities to discover how your end will work. It also helps you ensure compliance with industry standards. Finally, you can determine whether the end product meets the initial business requirements.
4. Development
With the prototype, start developing your product's necessary features and functionalities. Focus on incorporating agile methodology and complex engineering principles into your software development plan. It helps you deliver the software quickly and allows the clients to reduce time-to-market.
Choose the right technologies and tools to build your product's characteristics and implement what you've noted. Also, emphasize on your product's back-end. The focus is on assembling the product, creating a smooth and seamless user experience, and crafting fertile firmware according to the business perspective.
5. Testing
A well-developed product must undergo rigorous testing and stringent quality checks to ensure it's flawless and bug-free. You need to ensure that you deliver a robust product to end-customers. No product gets perfectly developed in the first iteration, so you must conduct multiple iterations of testing, analysis, and reviews before launching the final version.
As a digital product developer, you should focus on non-functional and functional testing methods. It gives you a holistic view of the product's performance and whether it can provide the desired functionalities to end-users.
Focus groups, debugging, A/B testing, usability testing, alpha testing, beta testing, etc., are some ways to test a product. With all the available tools, opting for automation testing is advisable. It reduces time and human effort to provide precise answers to your testing queries.
6. Release
Once the product passes various tests, it's time to release it in the market and collect feedback from the end-users. However, launching the product is not only just about putting it out there. It requires a dedicated marketing and distribution plan to attract as many customers as possible.
To achieve this goal, you need a pre-launch strategy that comprises an omnichannel approach that utilizes social media, email marketing, content marketing, influencer campaigns, video, and paid ads.
As the product matures, it will reach more people, and you'll get feedback from many end-users. You should incorporate all that feedback to improve product's security, performance, and accessibility, build new features, and enhance the user experience, ensuring that it continues to meets their evolving needs.
7. Support and maintenance
Support and maintenance are two aspects of product development that last till the end of the product's life. Most people don't give importance to this product development phase. However, it requires dedicated time, resources, and a high budget.
Launching a product is easy, but providing product support and conducting maintenance activities with increasing customer demands is challenging. Software maintenance aims to modify and update the software after delivery to correct errors and improve performance. It comprises activities such as error corrections, enhancement of capabilities, deletion of obsolete capabilities, and optimization.
You need software maintenance and support when:
There's a change in the user requirements
You want to improve system efficiency
Hardware and software requirements change
You want to optimize the code to run faster
There's a need to modify the components
You want to reduce any unwanted side effects
Some of the software maintenance activities comprise:
Performance enhancement
Porting and migration
Bug fixing
Adding new features
Improving existing features
Crafting documentation
However, maintenance alone is not sufficient! Considering the long-term goals, you should look for periodic updates and enhancements to stay competitive. Know the latest trends in the market and modify your product accordingly to remain relevant for a more extended period. Most importantly, you must manage customer expectations that keep evolving as your product matures. For all of these activities, re-engineering comes to the fore.
8. Re-engineering
Re-engineering is a process of software development that aims to improve the existing software's maintainability, adaptability, and performance. It comprises sub-processes like reverse engineering, forward engineering, reconstructing, etc., to analyze the current software system, identify areas for improvement, and implement changes.
There are various reasons for re-engineering, such as focusing on performance engineering, adding new features, supporting new platforms, facilitating app modernization, meeting new compliances, etc.
It's a critical phase as it helps maintain the software's competitiveness in the dynamic digital landscape and in meeting evolving needs of its users.
However, while implementing digital product engineering, you might counter many obstacles or say challenges.
6 critical
digital product engineering challenges

you should be aware of

With the growing complexity of products, the building process also becomes complex. Thus to develop profitable products and sustain customer satisfaction, it's essential to know the common hindrances you may face during the process. Here are the six digital product engineering challenges you should be aware of.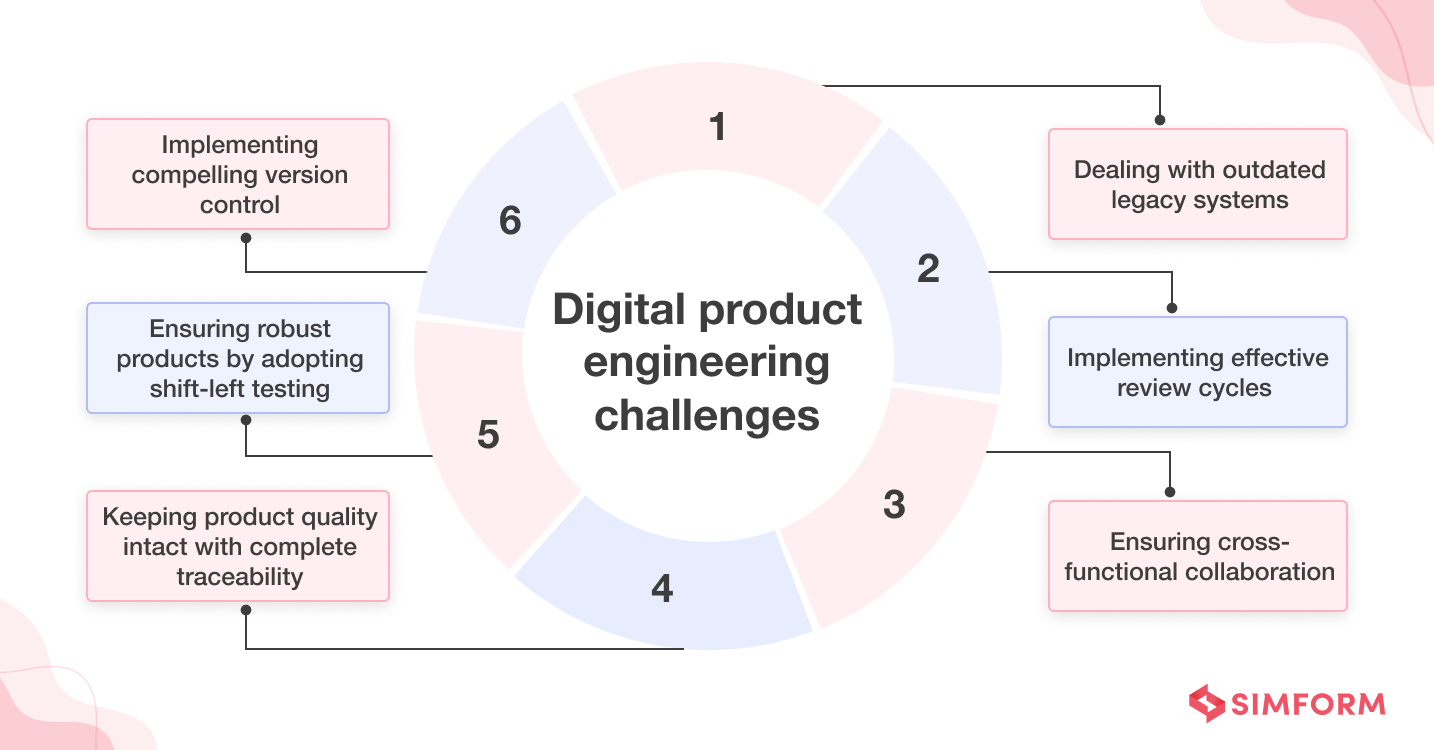 1. Dealing with outdated legacy systems
Over the years, software developers have managed risks and requirements by following a document-based approach, exchanging lots of spreadsheets and versioning documents via email. However, this approach has significant drawbacks:
There is no single source of truth, and keeping track of the latest version with all the updated data becomes challenging.
Secondly, collaboration is limited, and updates can get lost in people's inboxes, especially with remote work becoming more common.
Lastly, using emailed requirements documents can lead to excessive rework because product engineering teams may work on an older version.
The best possible solution to these issues is to use cloud-native platforms. Experienced teams can collaborate on a unified platform in real-time and capture accurate feedback, review progress, and conduct approvals. This approach to early identification of risks, reducing rework and ensuring that the project remains on schedule and under budget.
2. Implementing effective review cycles
The review cycle can be time-consuming without the right platform and process. For example, the document-based manual approach can result in versioning issues and a lack of visibility, leading to delays in the review cycle. The development team often has to spend hours in review meetings to maintain synchronization.
To streamline a review cycle, implement the following:
Use a single source of truth for requirements
Establish best practices for each significant role, i.e., reviewer, approver, moderator
Collaborate in real-time within a shared dynamic requirements management system
Use a simple way to send items like requirements, user stories, or test cases for review
Establish a formal approval process to capture and record sign-off
A cloud-based review management system is one of the best solutions to overcome this challenge. It is a single platform where reviewers, approvers, and moderators can collect and manage all the requirements and feedback for a project in real time.
3. Ensuring cross-functional collaboration
Collaboration is critical to successful product development, and it's imperative in today's fast-paced business environment. Effective cross-functional collaboration and communication are crucial with many subject matter experts involved and remote work becoming more common.
However, software development teams used to working on internal, siloed teams may need help in this new environment. It's necessary to get everyone on the same page to meet customer needs, industry standards, and regulatory requirements. Constant collaboration is also critical to ensure superior quality and minimize risks.
A cloud-based collaboration platform lets you capture the requirements and feedback in real-time, which anyone can access anytime. This way, all the stakeholders remain informed about the latest developments in the product, without any complexities or miscommunication.
4. Maintaining product quality with complete traceability
Staying on top of the product quality requires you to maintain cross-team visibility and complete traceability throughout the product capability development cycle. However, manual document-based workflow makes it challenging to assess the impact of the changes.
To make analysis more scalable, you need end-to-end traceability. This is where cloud-computing-based traceability software emerges, allowing you to map out relationships and interdependencies in product development. With that in play, you can easily track risks and requirements with historical context.
By utilizing the right traceability platform, you can ensure a rigorous formal change management process. This platform reveals interdependencies within the process and enables alignment, making it easier to involve the right decision-makers at the right time. As products become more complex, traceability platforms can help you track requirements and keep the product quality intact.
5. Ensuring robust products by adopting shift-left testing
As a software engineer, you understand the importance of testing. Identifying the potential threats early in the product development process can prevent costly rework. Considering bug fixing costs 30 times higher in production than at the requirement stage, shift-left testing can be a boon.
A typical document-based workflow has too many silos involved. Many developers are working on the same project. However, there's rarely any cross-functional collaboration among them as the testing comes into play only after the entire development phase.
On the contrary, adopting shift-left testing requires constant collaboration and communication between various teams. Plus, it requires you to conduct tests from the beginning, eliminating the chances of errors in the later stage.
6. Implementing compelling version control
Legacy or outdated software systems tend to complicate version control due to conflicting requirements that are exchanged manually and owned by various teams. In addition, they don't provide the right infrastructure for change management, as identifying the latest version is a challenge in a manual approach. Lastly, applying changes requires updating various documentation, which involves time, cost, and effort.
App modernization and digital transformation are two critical aspects of digital product engineering. There are many times when a developer needs to modernize well-establish enterprises or digitally transform an in-person or physical business. That's where having a version control system in place could be challenging.
A cloud-based requirement management system can solve this issue of product development. With effective version control and change management, teams can manage and reuse the requirements throughout the lifecycle. Lastly, teams can reduce design inconsistencies and discrepancies during testing, verification, and validation.
By overcoming these obstacles, you can leverage the benefits mentioned in the upcoming section.
5
business benefits of adopting digital product engineering
Digital product engineering services can lead to digital transformation that enhances business operations. It can go a long way in improving efficiency, cost reduction, and scalability.

1. Improved customer satisfaction
Delivering as per customer expectations help you increase the satisfaction ratio. With digital offerings for product engineering services, you can develop profitable products as per real-time customer preferences and improve them continuously over time.
As a result, the client won't have any chance to complain about the product features or functionalities. Lastly, businesses can satisfy functional and non-functional demands with the help of product engineering.
2. Boost in ROI
Getting an optimum return on investment gives businesses a moral boost and confidence to develop meaningful and innovative products. With digital product engineering service offerings, you can optimize their investment and reduce overhead operational costs. One of the key reasons behind that is the use of automation. It greatly helps you optimize resources, reduce repetitive tasks, and increase operational efficiency.
3. Provides a competitive advantage
Opting for digital product engineering services will encourage you to make data-driven decisions and emphasize customer insights. You can find gaps in the current market with such sound business intelligence.
Also, you can dig deep into competitors' and customers' preferences to gain a competitive advantage. Plus, products can scale as per the changing demands of the market to facilitate sustainable growth.
4. Ensures digital transformation
In today's day and age of digitization, it becomes essential for businesses to have a digital presence. That's where digital product engineering services can be a boon.
Technology expertise, strategic design, and tech consulting allow enterprises to break silos and create a digitized ecosystem. With all the emerging technologies and tools, you don't need to overhaul your existing system entirely. You can achieve digital transformation with minimal disruption.
5. Facilitates innovation
Software product engineering drives digital innovation and helps you create various business opportunities and enforce stringent quality standards to ensure that a robust product gets delivered to customers.
Lastly, with product innovation and modernization, you can evolve with time and stay ahead of your competitors with a relevant, scalable and sustainable product.
However, to avail these benefits, you need to be aware of the latest trends in product engineering, which we will analyze in the upcoming section.
4 future
trends of digital product engineering
To stay relevant in the market, knowing the latest trends is paramount. The same applies to the case of digital product engineering, where the trends keep changing now and then. Here's what shaping the future of product engineering services.

1. Data-driven development
Everyone acknowledges the importance of data in strategic decision-making. Previously, we had many problems gathering and interpreting the correct data to churn out something meaningful.
However, we have overcome that issue with data science and analytics advancements. Companies can collect data from many sources, such as mobile app analytics, advertising data, or customer support tools, and provide that to product owners to know customer insights.
Based on these insights, you can develop a product more likely to resonate with your target audience. With artificial intelligence and machine learning integrated with big data analytics, you can analyze historical records and predict future trends.
It is because AI and ML can conduct predictive analytics and help you analyze customer behavioral patterns. This detailed analysis lets you develop a product that caters well to your target market. In the future, you will see a lot of businesses infusing such advanced-level digital technologies to create next-level products.
For example, consider something like chatbots. Chatbots are AI-powered and can learn from machine learning algorithms. So, product owners can integrate such a technology solution into their customer support horizon. It reduces their daily workload. So, from product development, you will see the software industry take a giant leap toward predictive product development.
2. Security and compliance
Security and compliance have become increasingly important in this day and age of digitization. In terms of personal data protection, you have to follow compliances like –
Regulatory authorities closely monitor all products and services for security and compliance and send a legal notice in case of a willful breach. The finance and healthcare sectors have followed these regulations for a long time, but now all industry verticals must comply with these standards.
In past, data security was the responsibility of information security professionals, but due to frequent data leaks caused by humans, everyone involved in product development needs to take security measures.
Product owners must invest in security tools and techniques for their enterprises and enforce stringent standards in policy implementation. Businesses can also rely on penetration testing to check if any data leaks or security breaches exist within the ecosystem.
3. Distributed teams
Previously, companies recruited core employees from home locations and only outsourced some talents from outside. However, time has changed, and the remote working culture is becoming the "new normal."
To implement distributed teams, you can divide the entire business into functional blocks, such as app engineering, marketing, customer support, and distribution, and outsource multiple service providers for each function.
Additionally, you can also outsource subject-matter experts for your products related to your industry vertical and hire for technical expertise like CTO, digital solution architect, or team lead for remote engineering teams.
As time passes, distributed teams will be the standard way of functioning in any product development. However, the main challenge will be establishing effective cross-functional collaboration and communication among the various team members.
4. Personalization of products
Personalization can become a crucial asset for you to attract and retain customers. Technological advancement has brought processes and resources that help you to obtain user feedback in real time and provide insights about the customer base. All this information can help you develop products with a touch of personalization.
In the near future, you'll see much emphasis on business intelligence and analytics in product development. It will help you know customer behavior and create products that increase customer satisfaction.
Final Thoughts
In the last few years, business processes have changed rapidly. So, if you're still attached to the grand old process of product development, you'll lag behind your competitors.
The modern philosophy drives businesses toward data-driven digital product engineering to develop products that cater well to the target audience. From ideation to implementation, digital product engineering services help companies to transform their ecosystem and deliver next-level customer experience.
However, to utilize digital product engineering services to their fullest potential, you should start exploring product engineering phenomenon as it helps you apply engineering principles, design thinking, and project management to develop cutting-edge products.