Optimizing Supply Chain: AWS Cloud is the Real Game Changer
Modern supply chains are growing more complex as they expand into global networks of manufacturers, suppliers, logistics providers, and retailers. This intricacy has created immense challenges in maintaining end-to-end visibility, responding quickly to disruptions, and leveraging data to drive efficient decision-making. Many legacy supply chain systems struggle to perform under high loads, leading over 41% of executives to turn to the cloud for increased efficiency.
The same research also revealed that cloud adoption enables a 26% improvement in forecast accuracy, 16% reduction in operating costs, and 5% revenue growth for enterprises. With AWS specifically, supply chains become intelligent platforms that facilitate transparency, rapid scalability, and prescriptive analytics demanded by modern businesses.
This blog post will walk you through the benefits of cloud adoption for supply chain management and how AWS helps optimize supply chain systems to be more resilient, autonomous, and scalable.
Benefits of taking the supply chain to the cloud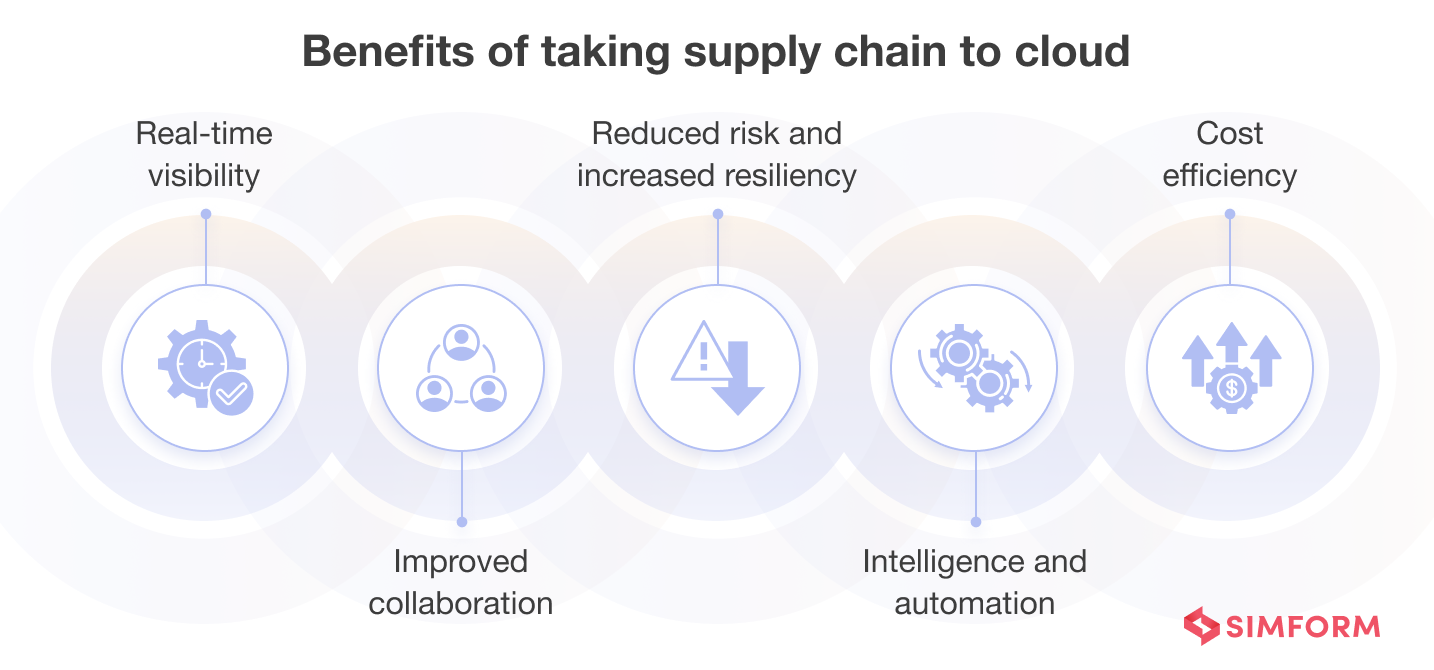 Cloud-based systems transform how businesses manage their logistics, inventory, and overall operations. Here are some reasons why your supply chain should already be in the cloud:
1. Real-time visibility
According to a report by the Association of Supply Chain Management (ASCM), over 50% of businesses struggle to achieve complete supply chain visibility, primarily because they rely only on internal data to gauge the state of supply and demand.
The cloud allows supply chain partners to securely share real-time data on inventory, orders, shipments, and more. It also enables advanced analytics and AI for actionable insights, using which leaders can pinpoint inefficiencies, forecast risks, and track KPIs in real-time.
2. Improved collaboration
Previously, supply chain partners operated in isolation. Each company stored its data within internal systems, creating information silos. This lack of visibility beyond their own boundaries led to strategies focused solely on individual gains.
The cloud has transformed this disjointed network into an interconnected ecosystem. Partners can now collaboratively access real-time data, facilitating synchronized planning. Teams can seamlessly integrate cross-organizational workflows, breaking down silos.
3. Reduced risk and increased resiliency
In a survey conducted by Deloitte, 74% of supply chain professionals said they prioritize risk reduction and plan to increase cloud investments to boost resilience.
Cloud-based solutions offer redundancy and disaster recovery options, ensuring data and processes are safeguarded in the face of disruptions. Additionally, the scalability of cloud resources allows for rapid adjustments to accommodate changes in demand and unforeseen challenges.
This ensures that supply chains remain agile, capable of optimizing fulfillment, adapting to market fluctuations, and minimizing downtime.
4. Intelligence and automation
Cloud computing enhances supply chain efficiency by connecting the supply network to predictive analytics, cognitive tools, and smart apps. This empowers supply chain managers to make proactive decisions, identify potential risks, and recommend mitigation strategies.
For example, KFC Philippines wanted to build a business intelligence platform to get better insights from its sales, inventory, and operations data across hundreds of restaurants. By leveraging Amazon S3, Redshift, and other AWS analytics services, it centralized its previously siloed data and established near real-time visibility. This enabled automated daily inventory replenishment based on actual demand, reducing waste.
5. Cost efficiency
The cloud allows supply chains to shift from capital expenditures to operating expenses by eliminating the need to own and maintain IT infrastructure. Companies access supply chain systems and scale capacity on a pay-as-you-go basis, leading to overall lower costs.
The cloud also enables the simulation of supply chain scenarios (digital twins) to model the cost impacts of different strategies. This allows organizations to predict the most cost-effective plans for various supply chain stages.
As a cloud engineering expert in the supply chain industry, Simform vouches for AWS as the most useful suite of cloud services that help optimize the supply chain at a granular level. Let's find out how various AWS services facilitate resilience, efficiency, and data intelligence within your supply chain operations.
Transforming the supply chain: Leveraging AWS services at every stage
AWS provides a range of cloud-based solutions for supply chain management that help businesses optimize their operations, reduce costs, and improve customer experiences.
Supply chain managers using cloud computing have greatly improved many of these activities. For example, when INVISTA migrated its 600 servers to AWS, it was able to create a fully automated, closed-loop stocking process. This automation now saves the company $2 million a year.
Let's look at how various services provided by AWS help organizations optimize every stage of their supply chain.
1. Demand forecasting and planning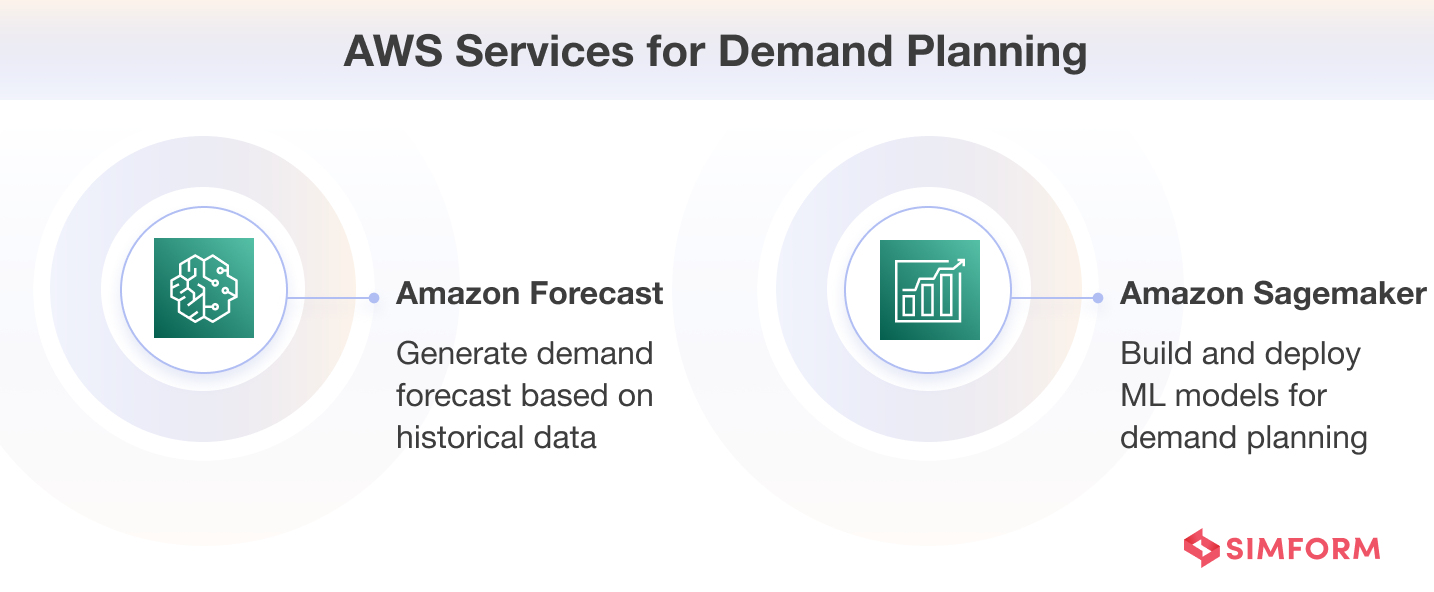 Amazon Forecast
Amazon Forecast excels in capturing nuanced patterns in historical data, which traditional forecasting methods often miss. The service also automates the data preparation process, reducing the manual effort required for data cleansing and transformation.
Moreover, Amazon Forecast allows users to incorporate additional data sources beyond historical sales data, such as marketing campaigns, promotions, and external factors like weather conditions. By customizing forecasts with these external variables, businesses gain a more comprehensive view of demand drivers.
Amazon SageMaker
Amazon SageMaker is an integrated development environment for building, training, and deploying machine learning models. It allows supply chain professionals to create customized machine-learning models tailored to their specific business needs.
Moreover, SageMaker provides a user-friendly interface with built-in tools that simplify data cleaning and transformation. This includes handling missing values, outlier detection, and data normalization. Automating these tasks reduces the manual effort and time required to prepare data for analysis while also ensuring that the data used for forecasting is of high quality.
2. Inventory management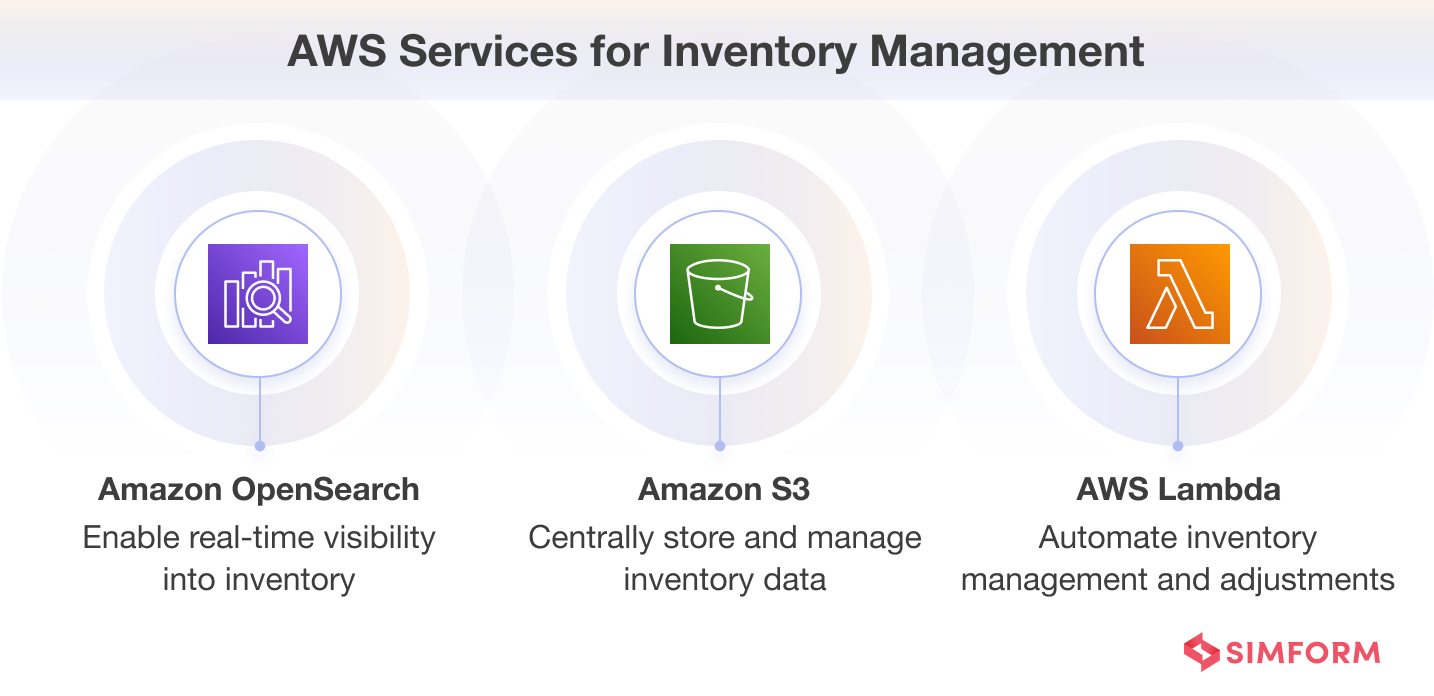 Amazon OpenSearch
Amazon OpenSearch is a managed and open-source search and analytics service provided by AWS. It allows you to index and search data from various sources in real-time and, thus, track and analyze inventory levels, order statuses, and demand data as they change.
OpenSearch integrates with visualization tools, which can help you create customizable dashboards and visual representations of your inventory data. This makes it easier to monitor inventory performance, identify trends, and make informed decisions about replenishment and distribution.
Amazon S3
Amazon Simple Storage Service (S3) acts as a centralized repository for storing various types of inventory-related data, including product information, stock levels, order history, demand forecasts, and supplier records. This data can be easily organized and accessed by authorized stakeholders.
Moreover, S3 provides cost-effective options for data archiving and long-term storage. This facilitates easy access to historical inventory information without incurring high storage costs.
AWS Lambda
AWS Lambda is a serverless compute service that allows you to run code in response to events or triggers without the need to manage servers.
AWS Lambda can be triggered by various events, such as changes in inventory levels, order placements, or delivery updates. When an event occurs, the associated Lambda function can automatically update inventory records, ensuring real-time accuracy and reducing the need for manual data entry.
Moreover, when events like shipments and demand fluctuations are detected, Lambda functions can help in adjusting inventory levels, rerouting deliveries, and optimizing stock allocation based on real-time data.
3. Logistics
Amazon Relational Database Service
For storing crucial logistics data like inventory levels, order specifics, and shipment tracking, you can use Amazon Relational Database Service (RDS). This service ensures data reliability, scalability, and availability, making it ideal for managing logistics data efficiently.
Amazon EC2
Amazon Elastic Compute Cloud (Amazon EC2) enables you to deploy software solutions to enhance various operational tasks, including route optimization and inventory management.
Amazon Redshift
Amazon Redshift, a data warehousing service, is highly valuable for business intelligence, generating reports, and data analytics. This service aids in decision-making and streamlining logistics operations.
Amazon API Gateway
Amazon API Gateway enables logistics firms to create and oversee integration APIs, thus boosting coordination between logistics elements such as order management and transportation systems.
Amazon Location Service
Amazon Location Service offers geospatial data and features tailored for logistics applications. It is useful for optimizing delivery routes, implementing geofencing strategies, and ensuring real-time vehicle tracking.
4. Sourcing and procurement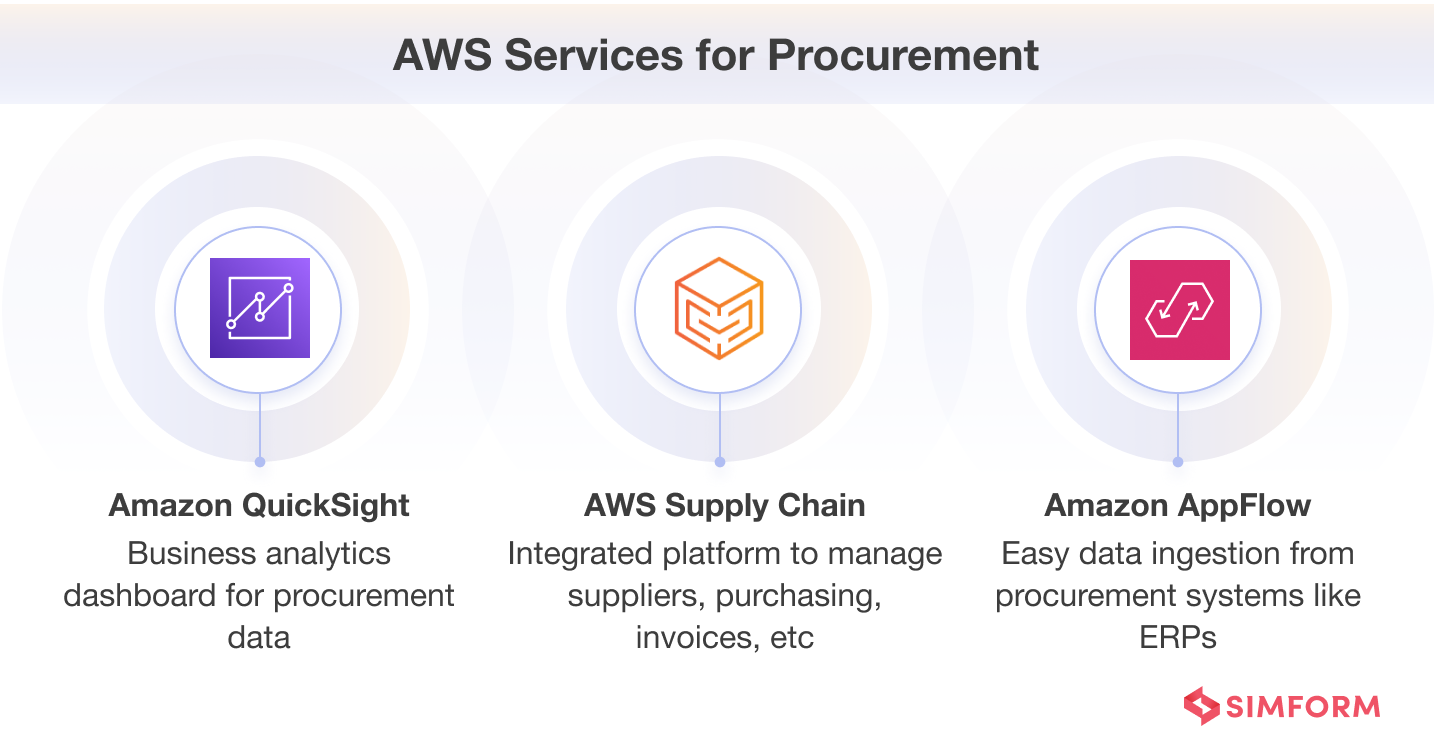 Amazon QuickSight
QuickSight allows procurement and sourcing professionals to create visually appealing and interactive dashboards that provide a clear overview of sourcing and procurement data.
It can also help create supplier scorecards, enabling businesses to assess supplier performance based on various key performance indicators.
AWS Supply Chain
AWS Supply Chain is a suite of applications and services tailored for supply chain management. For sourcing and procurement operations, AWS Supply Chain helps in several key ways:
Provides a centralized procurement system to manage supplier information, contracts, purchase orders, invoicing, and payment.
Automates procurement workflows for requisition, purchase orders, and invoice processing.
Leverages AI and ML to analyze spend data, identify cost savings opportunities, and recommend optimized sourcing strategies.
Enables collaboration with suppliers through a portal for obtaining quotes, managing contracts, and securing on-time deliveries.
Provides seamless integration of procurement systems with ERPs, payment systems, and other business applications.
Amazon AppFlow
Appflow automates the data exchange process between various sourcing and procurement tools, such as e-procurement systems, supplier management platforms, and ERP systems. This automation eliminates manual data entry and reduces the risk of errors.
It also allows you to transform data as it moves from one application to another. For example, you can map and convert data fields to match the format and structure required by the target application. This capability streamlines data flow and ensures compatibility between systems.
The case studies we will present now will help you better understand how to drive supply chain innovation with these and many more AWS services and tools.
AWS has enabled industry leaders to redefine their supply chains
Leading companies have used AWS's integrated cloud platform to transform their supply chain operations and achieve tangible business results.
1. How Rangespan scaled its retail platform on AWS for holiday peaks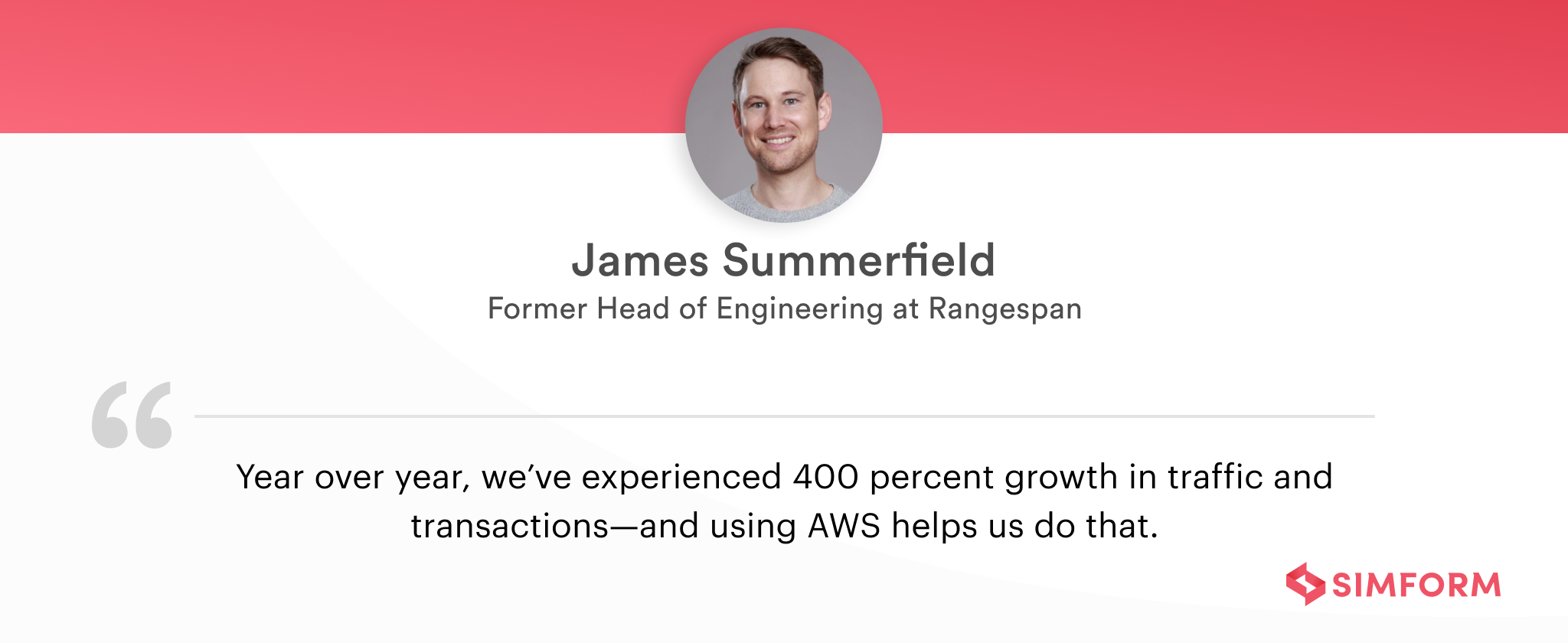 Rangespan offers an automated supply chain service for online retailers, allowing them to increase product selection and source the right products from suppliers.
Challenges
Rangespan needed to scale its retail SaaS platform to handle extreme catalog, order, and demand surges during holiday peaks. However, its legacy infrastructure made expanding globally and managing holiday order spikes difficult. Managing 15 million product SKUs and predicting volatile demand with machine learning required more flexibility.
Solutions
Leveraged Amazon Elastic MapReduce (Amazon EMR) for two functions – to build and validate the product catalog, and to process the demand-supply signals for sale predictions
Used Amazon RDS and Amazon S3 to store and fetch customer details, order history, pricing, and inventory data
Leveraged Amazon Route 53 for DNS management and AWS Identity and Access Management (IAM) to manage user access
Used Amazon SES for internal reports and partner notifications, such as order shipments and refunds
Key Results
Achieved the capacity to support more than 5,000 transactions per second on its product and inventory data sets
Developed capacity to store 400 million records in a 2 TB catalog
Experienced 400% growth in traffic and transactions
Achieved 80% cost savings over on-demand instances
2. How Bizzy gained real-time visibility into sales with AWS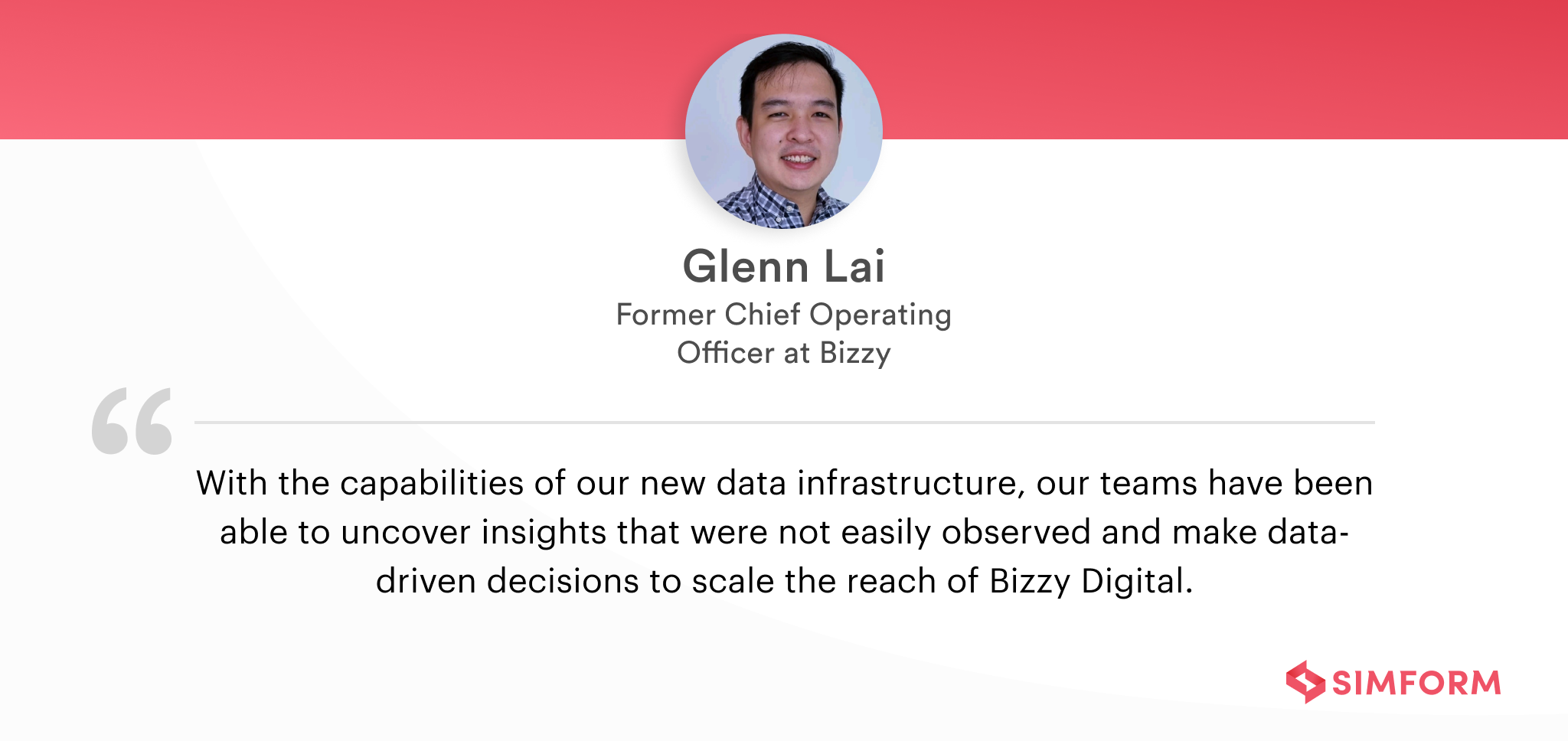 Bizzy Group is one of Indonesia's largest B2B e-commerce platforms, connecting over 60,000 retailers with FMCG brand owners through its Tokosmart app.
Challenges
Bizzy's legacy on-premises infrastructure posed significant limitations in providing real-time visibility into sales patterns, inventory, and consumer demand. The outdated systems did not support change data capture, making data extraction inefficient. Bizzy relied on manual processes for reporting and analytics using batched ETL jobs. As a result, it struggled to get timely insights into product movement, stock levels, and overall sales performance.
Solutions
Built a cloud-based data lake on Amazon S3 to centralize 13 data sources and enable real-time data ingestion
Automated data pipelines for processing and ETL using AWS services
Employed AWS Lake Formation for quick setup of the data lake
Analyzed data in Amazon Redshift to deliver dashboards, reports, and visualizations in one hour
Implemented machine learning for sales forecasting and predictive analytics
Key Results
Reduced sales reporting time from three days to one hour
Unlocked real-time data insights for improved customer experience and informed decision-making
Increased the speed of data streaming from Bizzy's touchpoints by 25%, enabling it to meet increased user demand
3. How Amazon leverages data analytics on Amazon Redshift to optimize logistics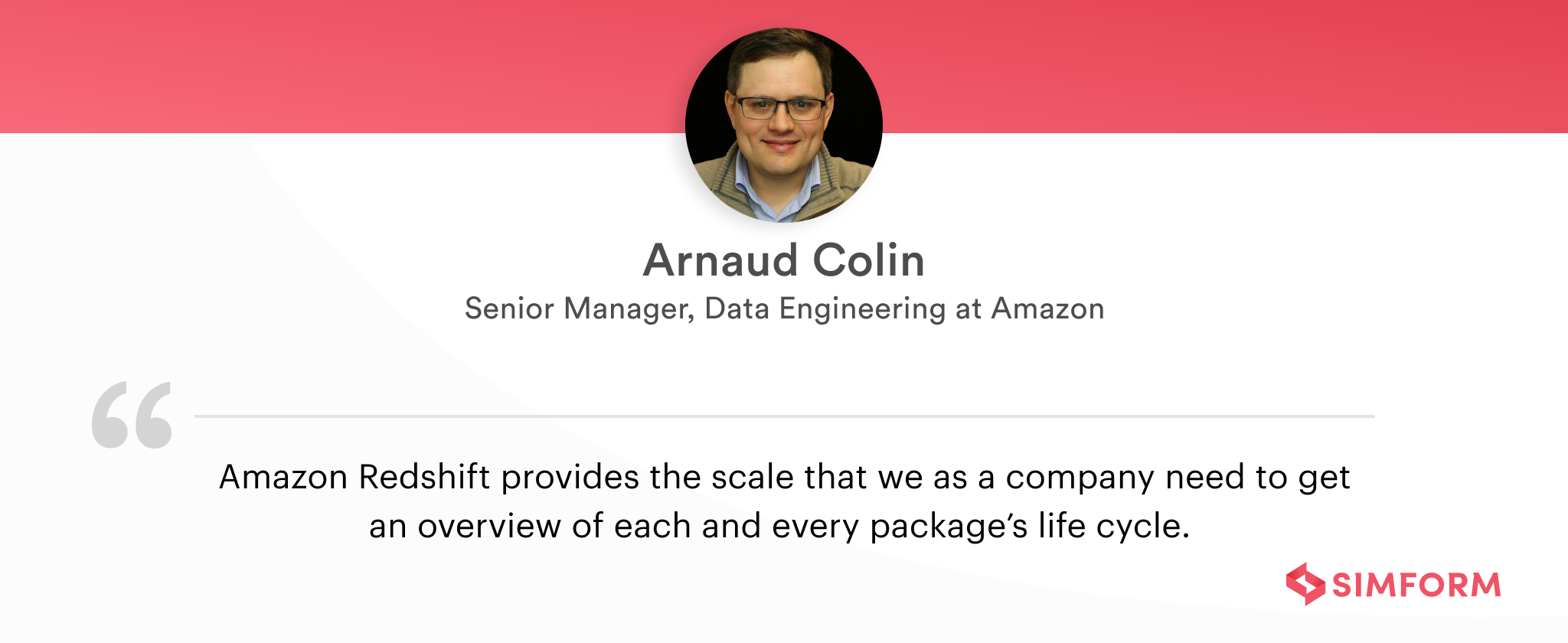 Amazon.com was looking to use the data generated by Amazon Transportation Service to improve operational efficiency and logistics.
Challenges
With exponential annual growth in package volumes, Amazon needed more visibility into its complex global supply chain to optimize delivery performance and improve customer experience. However, supply chain data was fragmented across siloed systems. Teams lacked access to real-time data needed for timely operational decisions. Legacy analytics systems also constrained scale and performance.
Solutions
Implemented Amazon Redshift to centralize supply chain data insights
Built a portal accessing Redshift, enabling 40,000 employees to analyze data
Queried shipment-level data to gain operational insights
Used Redshift's scalability to handle 500+ real-time data sources
Optimized architecture with multiple Redshift clusters for faster performance
Leveraged Redshift's Data Sharing feature to improve speed without data migration
Consolidated data from the data lake and operational stores using Redshift's Federated Query feature.
Key Results
Cut supply chain error analysis time by 83% through automated monitoring
Drove data-based optimizations across billions of package shipments
Unlocked real-time visibility into individual shipment lifecycles from origin to destination
Empowered frontline teams with actionable data to improve decision-making
These success stories speak volumes of the importance of the cloud in achieving supply chain efficiency. However, cloud adoption comes with its own challenges.
Challenges in implementing and managing cloud-based supply chain systems
1. Security and privacy concerns
Migrating supply chain platforms to the cloud can raise valid data security concerns, given the sensitive nature of logistics, inventory, and supplier information. Lack of visibility into public cloud security controls compared to on-prem infrastructure often causes hesitation.
However, leading cloud providers offer a robust suite of security capabilities that can enhance the protection of supply chain data.
AWS, for example, has over 100 native security services to choose from. Encryption, granular identity management, monitoring, and advanced threat detection allow customers to build secure supply chain solutions in the cloud.
2. Vendor management
Transitioning supply chain platforms to the cloud means relying on an external vendor to provide critical infrastructure and services. This dependence on a cloud provider can raise supplier relationship concerns around lack of control, lock-in risks, and trust. However, selecting the right cloud provider and architecture design can mitigate these risks.
AWS enables customers to build transparent, trusted partnerships through robust SLAs, customer service, and flexible architectures. Using open interfaces, diversifying providers, and only migrating targeted systems can also overcome vendor dependence risks.
3. Data ownership controls
Migrating proprietary supply chain data to the cloud can raise valid concerns around legal ownership and control. Companies want full governance over their sensitive business data when moving to the cloud. Lack of clarity around data rights and usage can discourage cloud adoption.
However, AWS enables strong data governance models to address these concerns, with customers retaining complete data ownership and control. As a cloud provider, it accesses customer data only for authorized operations and provides full visibility through audit logs. It also establishes clear policies and agreements to maintain data confidentiality and compliance.
4. Incompatibility with existing systems
Many existing supply chain platforms were designed for non-cloud infrastructure and may lack native compatibility. This can make it difficult to connect cloud and on-premises systems to avoid fragmented processes and data.
However, AWS offers various services and architectural approaches to overcome these integration problems. Using hybrid connectivity, APIs, data integration tools, and gradual migration strategies, supply chain systems can be successfully bridged between cloud and existing environments.
Realize supply chain excellence in the cloud with Simform
Migrating supply chain systems to the cloud has valid challenges around security, vendor dependence, and legacy integration. However, AWS and partners like Simform provide proven solutions to overcome these hurdles.
Simform is an AWS Advanced Consulting Partner that helps organizations transform their supply chains with AWS cloud solutions. With deep AWS technical proficiency and proven customer success, we deliver highly secure, scalable, and optimized cloud architectures for supply chain workloads.
Our team of 150+ AWS-certified experts ensures that our cloud solutions leverage all the necessary AWS services according to the Well-Architected Framework to deliver excellence across operations, security, reliability, performance, cost optimization, and sustainability.
Going beyond technical execution, we dig deep to understand your infrastructure and processes while transferring knowledge every step of the way. Let's talk about how we can overcome the challenges crippling your supply chain operations.