Improve website performance and deliver exceptional user experiences with Simform
We strategically position edge locations worldwide and optimize caching to create a high performing CDN that delivers content at blazing speed.
Trusted by
900+ happy clients

including these Fortune companies
Your trusted Amazon CloudFront partner
Managing content delivery on a global scale while ensuring rapid load times, reliability, and security is challenging for organizations.
Simform leverages its Amazon CloudFront expertise to assess your current content delivery network. We then reconfigure CloudFront to implement intelligent caching and TTL settings to ensure swift content delivery and reduced operational costs.

Leverage our Amazon CloudFront expertise
CloudFront migration and configuration
Simform handles every aspect, from data migration and distribution setup to optimizing content delivery and configuring security features. This ensures your Amazon CloudFront is finely-tuned for high performance.
Edge location selection
Our experts carefully analyze your user base and traffic patterns to pinpoint the ideal edge locations to create a global network. This network minimizes latency, delivering content seamlessly to users worldwide.
Caching implementation
With a keen eye on your content's characteristics and user behavior, we ensure that the right content is cached at the right time and in the right place. This precision optimizes your data delivery.

Mobile and media optimization
Our experts use CloudFront's device detection to optimize content for mobile devices. We also configure efficient media streaming, including adaptive bitrate delivery, for a smooth content viewing experience.

Security and DDoS protection
We implement robust security measures like AWS WAF, HTTPS support, and DDoS protection to ensure your online assets are resilient against attacks. These measures foster user trust by safeguarding content and data.

Performance monitoring and load balancing
Our team sets up monitoring and alerting systems to track the performance of CloudFront distributions. Implementation of load balancing solutions ensures efficient traffic distribution across origin servers.
As an AWS Advanced Consulting Partner, Simform assists organizations in achieving an optimal balance of cost, performance, and security in the cloud. Our Amazon CloudFront Service Delivery Partnership has equipped us with specialized knowledge to customize CloudFront implementations to your specific needs.
Work with an official AWS
Advanced Consulting Partner
Simform, with its cloud partners, brings you the superpower of cloud-native applications. Our strategic alliances empower organizations like yours to thrive in the cloud.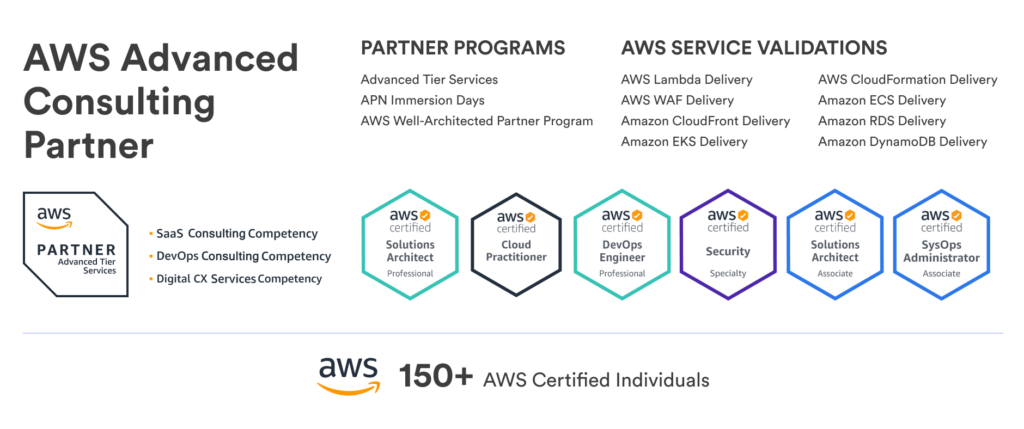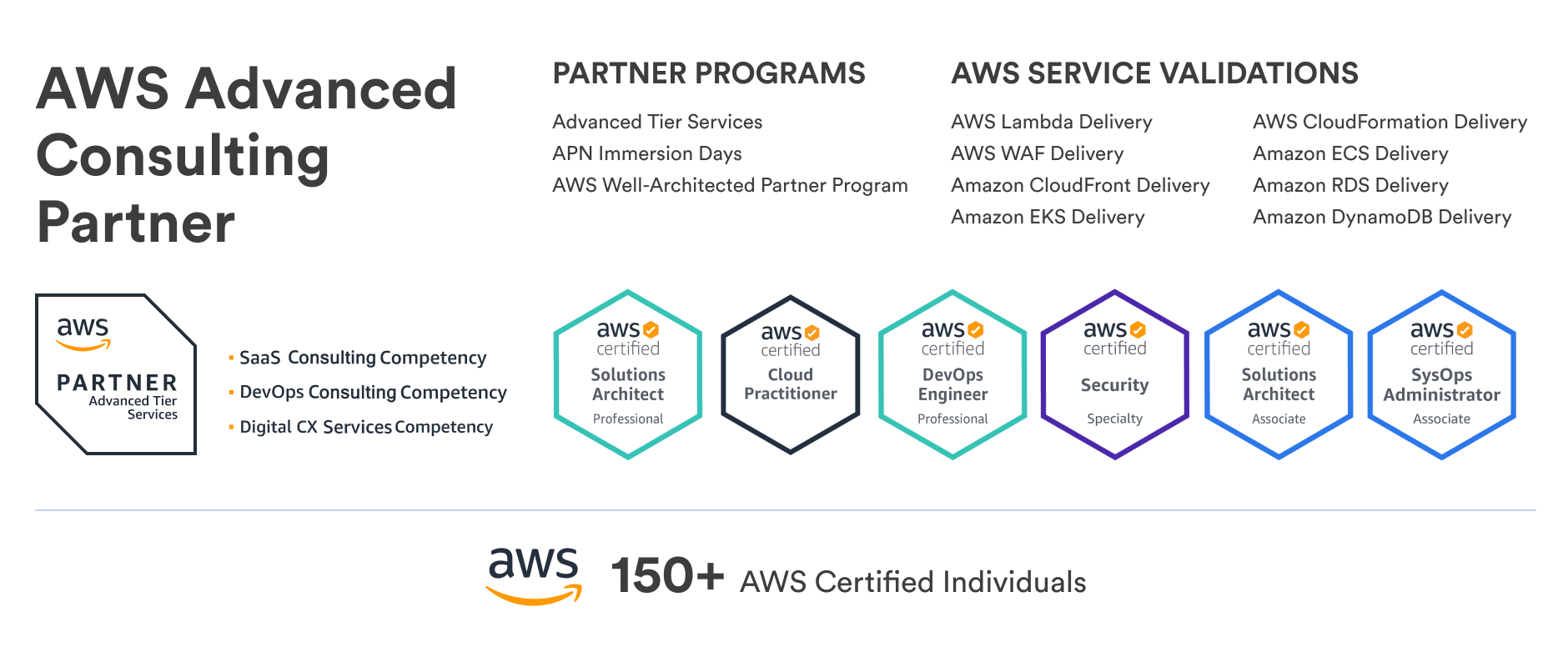 About Simform's AWS Practices
Simform is an official advanced consulting partner of AWS

and hence, follows an approved set of practices that define the best work in configuring AWS services. 

Devoted subject matter expert

to walk you through your project and assist teams during the problems. 

A well-structured team

of technical officers whose significant tenure belongs to cloud technologies and AWS services.

A 24/7 constant communication

to help you get through the AWS assistance, zero instances of delayed service. 

Simform's standard auditing and quality assurance

over every module of code we deliver through our consulting services. 
AWS insights
from our experts