Transform your SMB's operations with AWS cloud solutions
Achieve smart business transformation with Simform's customized AWS cloud technology, designed to minimize IT costs, unlock valuable insights, and fuel unprecedented growth.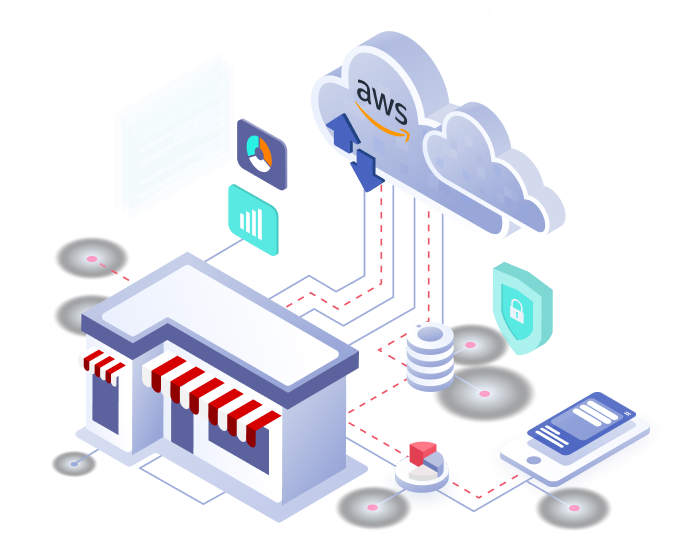 Trusted by
900+ happy clients

including these Fortune companies
Make your business a smart business
Looking to leverage the power of AWS cloud for your business? In today's fast-paced business world, utilizing AWS is essential to enhancing data security, increasing reliability and uptime for business operations.
As an AWS SMB Competency Partner, our team of skilled professionals is poised to assist you in crafting and implementing AWS cloud solutions tailored to your specific requirements. Whether it's a seamless cloud transition, the development of an outstanding SaaS product, or extracting valuable insights from your data, Simform is committed to ensuring your success.
As an AWS Advanced Consulting Partner, our customized AWS solutions can help your business drive digital transformation, reduce costs, and ensure top-tier security and compliance. Plus, our commitment to continuous improvement and innovation keeps you ahead of the competitive market.
Digital transformation
We understand the challenges faced by SMBs in today's digital landscape.
Our tailored AWS solutions are designed to drive your digital transformation journey, enabling you to stay ahead of the competition, adapt to market trends, and deliver exceptional customer experiences.
Cost optimization
As an SMB, being cost efficient is crucial. Simform helps you achieve significant cost savings by leveraging the scalable and pay-as-you-go nature of AWS.
With our expertise in optimizing AWS resources and infrastructure, we ensure that you only pay for what you use, eliminating unnecessary expenses.
Scalability and flexibility
SMBs often experience fluctuating business demands. With AWS, you can scale your infrastructure up or down based on your needs.
Simform's solutions empower you to leverage the scalability and flexibility of AWS, ensuring your technology infrastructure aligns with your business goals.
Security and compliance
Data security and privacy are paramount in the digital age. At Simform, we prioritize the security of your cloud infrastructure.
We implement robust security measures, such as encryption, access controls, and monitoring, to safeguard your data and ensure compliance with industry standards.
Continuous improvement and innovation
As an AWS SMB Competency partner, we are committed to staying at the forefront of AWS technologies and industry best practices.
We continuously invest in our team's training and skills development to bring you the latest advancements and ensure your business benefits from ongoing innovation.
Enhanced collaboration and efficiency
By embracing AWS technologies, you can foster collaboration and efficiency within your organization.
Simform's services enable seamless integration of AWS tools, enhancing teamwork, productivity, and innovation across your teams.
Work with an official AWS
Advanced Consulting Partner
Simform, with its cloud partners, brings you the superpower of cloud-native applications. Our strategic alliances empower organizations like yours to thrive in the cloud.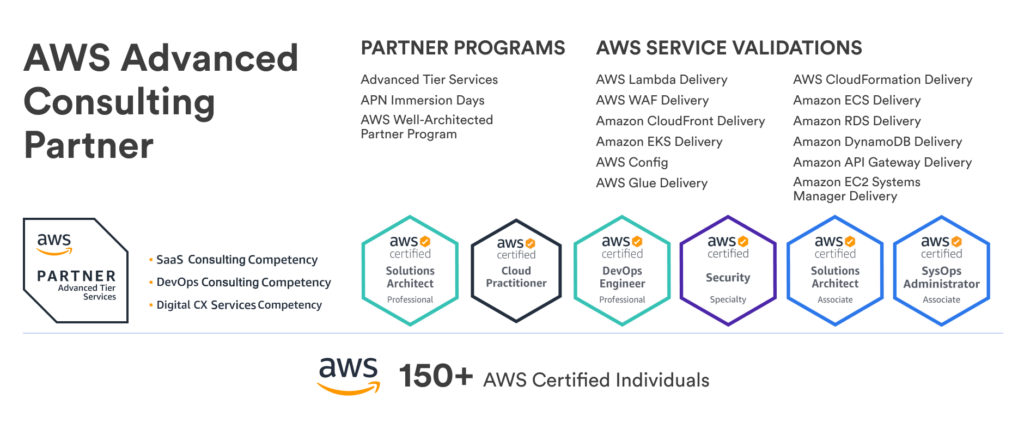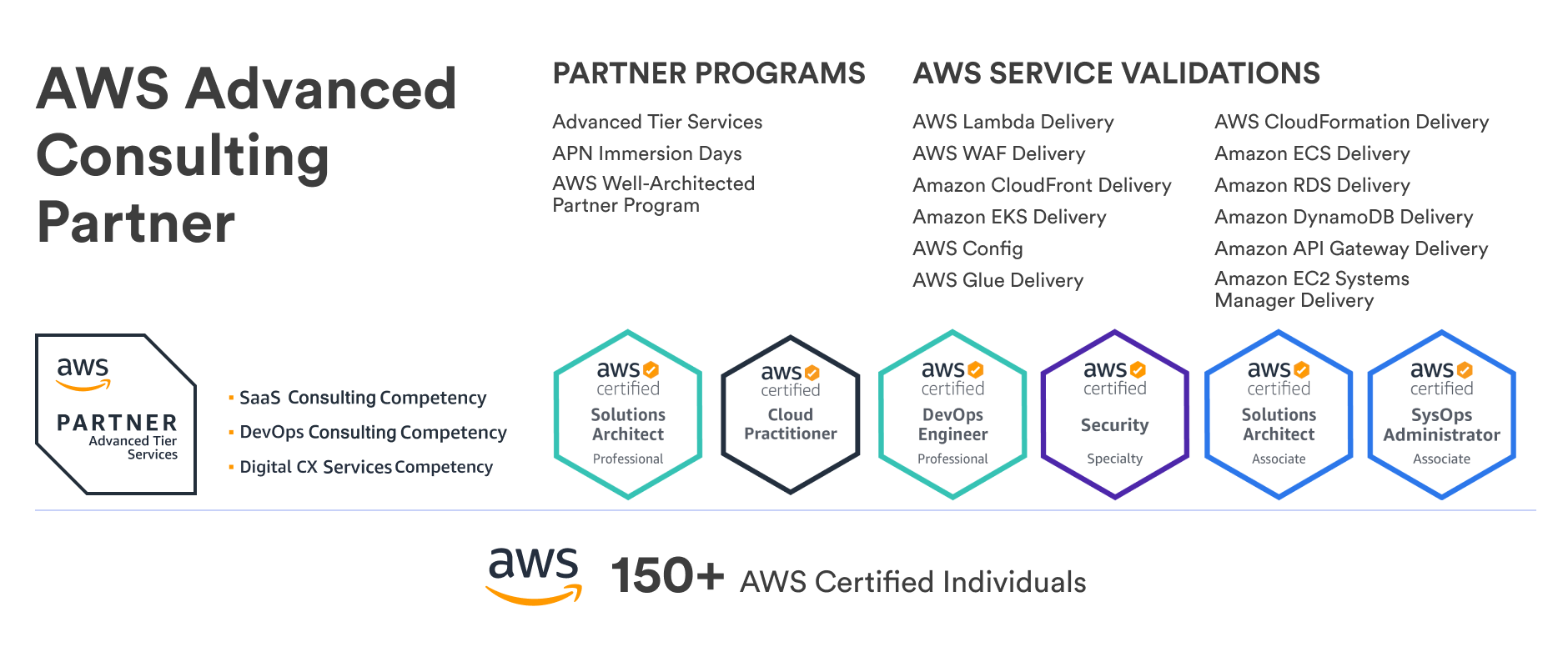 About Simform's AWS Practices
Simform is an official advanced consulting partner of AWS

and hence, follows an approved set of practices that define the best work in configuring AWS services. 

Devoted subject matter expert

to walk you through your project and assist teams during the problems. 

A well-structured team

of technical officers whose significant tenure belongs to cloud technologies and AWS services.

A 24/7 constant communication

to help you get through the AWS assistance, zero instances of delayed service. 

Simform's standard auditing and quality assurance

over every module of code we deliver through our consulting services. 
AWS insights
from our experts