California! We are a
top-notch
software development company
Fuel the right technologies in your business and reinforce your digital presence. Our dedicated software development team builds software compatible with your business needs.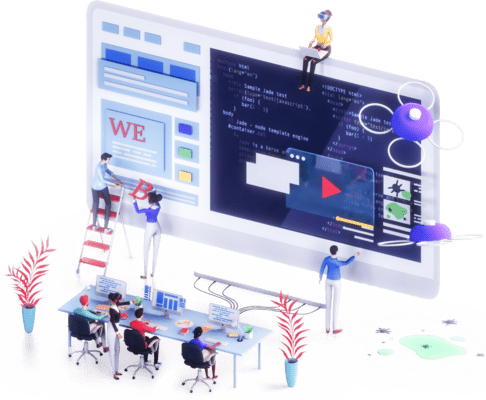 Trusted by
900+ happy clients

including these Fortune companies
A decade of California's
progressive tech ecosystem
From being home to historic film studios to housing over 10% of Fortune 1000 Companies, California is one of the largest economic hubs that employs over 14 million people in the United States. One such industry – with a 16% stake in the overall state economy – is Information Technology.
It wasn't until the 1970's that the Golden City witnessed a substantial growth in the technology sector when enterprises like Apple, Hewlett Packard, Google, Adobe, and eBay established their homebase in Silicon Valley. This growth accelerated even more as manufacturing units embraced newer tech like automation. In no time, California emerged as one of the most prominent information-exchange grids for tech professionals. Even today, it stands unrivalled for its cultural diversity, cooperative spirit, gold rush of talent, and non-compete clauses.
Discover the latest
tech news from
California
Dedicated
team of software experts


to power your technology needs
Simform is a dedicated technology partner to tech companies in California, helping them build innovative software solutions since 2010.
Our expert development team works jointly – to understand your vision, challenges, requirements, competitors, goals, and audience – to present the most fitting tech architecture along with engaging user experiences. We lend our expertise with web and mobile custom software development, streamlining intricate processes, and catering to specific organisational requirements.
Simform is among the 5 top software companies in California, offering custom software development solutions to emerging start-ups, Fortune 1000 companies, and NGO's featured by WHO.
Helping tech companies in California
extend their
technical capabilities
Hire the best software developers around!
How Simform helps
B2B businesses


build a custom software?
Your off-the-shelf product could seem like a boon unless you find yourself in a state of crisis that isn't covered in your subscription; what's more, you end up buying a new solution as a fix to that specific problem. This results in you having to revise your company budget, depend on multiple product executives, get your employees to adapt to multiple software, the list is endless.
In fact, SimplePractice- a cloud-based practice management platform- used a custom software to build a client portal for health and wellness professionals and increased their customer base from 15,000 to 35,000. They could now maintain medical records, organize bookings, set appointment reminders, file claims, and generate electronic bills — all with just one super software.
Likewise, Simform builds futuristic software that supports scalability, increases productivity, and facilitates adaptability. So whether you run an on-demand delivery service, a healthcare platform, or a booking-management portal, we take care of the design, development, and maintenance of your software, simplifying your internal processes like never before.
How Simform helps

B2C businesses

scale
Whether you own a big-scale enterprise or a small to medium-sized business, it's natural to be on the fence about custom software development. After all, it can consume a great deal of time, finance, and other resources.
However, the advantages of a tailored solution are massive. For one, your data is much less likely to be compromised since there's no external dependence. Also, having custom software facilitates scalability, increases flexibility, and makes data sharing and retrieval between departments far easier that further translates into increased productivity.
CREXi, for instance, employs a custom software to organize property listings, carry out transactions, and collate records of buyers, sellers, and brokers. This technology powered the company's growth, resulting in a whopping 230% growth in its user base. Today, CREXi is one of the most active marketplaces with over 90,000 property listings worth over $450 billion.
Here's where Simform comes into the picture! As your tech partner, we build intuitive mobile and web applications to facilitate smoother user interactions. We further extend our expert support to fix technical hiccups and continue to shape the software as your business evolves.
How we develop software using agile
Sprint planning
Sprint roadmap created to actively engage you in the process and facilitate shared understanding.
Tech architecture
Scalable architectures built using microservices and decoupled code allows teams to move faster & more independently.
Stand-ups & weekly demos
Weekly stand-up meetings conducted to demonstrate functionality updates and ensure everyone is on the same page.
Code reviews
Code reviews to detect issues like memory and file leaks, performance issues among others before release.
Custom software


development case studies
What
customers say

about our
software development services
Awards & Recognitions