Best Mobile A
pp Development Austin
We are the app masters of Austin. We design, we code, and we test! Our dedicated team of mobile app developers in Austin supports your vision and nourishes your business needs by crafting seamless experiences with state-of-the-art technologies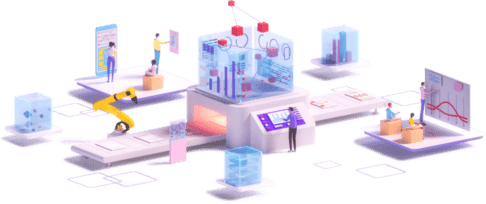 Trusted by
900+ happy clients

including these Fortune companies
Top Mobile App Developers in Austin
We, at Simform, aim to cater to every business need with our expert mobile app development services in Austin. Our mobile app development team in Austin builds scalable, dynamic, and robust applications aimed to drive profits for your business. Our 360-degree services help organizations build innovative and reliable applications, ensuring transparency and operational excellence. With advanced automation, reliable data management, and robust maintenance, our end-to-end solutions deliver top-notch digital products. Our seasoned experts can help you upgrade your existing applications to get an edge over the competition. 
Simform is a fast-growing software development company with a mission to help your organization become an innovation leader. Our customer-oriented working model makes us a reliable partner for you. Our firm belief in consistent product delivery through CI/CD approaches keeps the revenue flowing for your business. Our mobile app companies in Austin can also help extend your business operations capabilities through testing, deployment, and post-launch technical support. If you are looking for the best mobile application development services in Austin, then Simform is your one-stop solution to advanced apps that can catapult your business to success. 
Do you want to develop a scalable mobile app?
We are a
technology partner

to the
trailblazers of Austin's tech arena
Partner with a Top-notch Mobile App Development Company in Austin.
Native App Development Services
Native B2B and consumer apps allow you to utilize the inherent power of iOS and Android platforms with secure and performant apps.
Hybrid Cross-platform App Development Services
Utilize the power of React Native, Flutter, and Xamarin to develop apps for multiple platforms while sharing the same code base.
Business Analysis & Consulting Services
Whether you are looking to 
develop business apps or apps to service customers, our consultants can help you define the right tech plan
Business Apps and API Integration Services
Integrate your mobile app(s) with services you are already using and extend their use cases for your employees and users.
Enterprise Mobile Apps
Customized mobile solutions to drive your operations. For example, a CMS to organize and publish content, all in a simple screen.
Apps for Internet of Things
Unlock the potential of high functioning mobile apps that interact with hardware / wearables/ IoT through Wi-Fi, Bluetooth, NFC, and more.
Hire the best App developers around!
Mobile app development

case studies
What
customers say

about
our app development services
Austin: Becoming the capital for tech business
The foundation of Austin's tech scene dates back to 1937 when IBM opened its sales office. Still, it wasn't before the foundation of Dell Technologies in 1984 that tech leaders like MMC, Samsung, Apple, Google, eBay, Oracle, Cisco, followed suit, giving it the name– Silicon Hills.
Furthermore, the IC² Institute housed at the University of Texas in Austin played a significant role in raising a tech-focused community of 114,843 with its think-and-do tank that delved into the realms of economics, technology, and human factors. What's more, the vibrant social scene and economical cost of living at Silicon Hills attract many entrepreneurs and techies, making it a capital perfect for the "work hard, play hard" lifestyle.
Simform is excited to work with software development companies in Austin that want to build smart, secured, and futuristic iOS and Android mobile applications. In us, you will find a deep-rooted technology partner committed to lending their expertise and growing your business.
Let's build a top-notched mobile app together!
Our
agile development

process
As a reputed mobile app development agency in Austin, we create follow agile process using a systematic, step-by-step approach. 
Awards & Recognitions
There is no one-size-fits-all kind of approach to calculating the cost to develop a mobile app in Austin.The average cost would end up between $10K – $200K for Austin.
Generally, it would take around six to seven months to develop an app from start to finish. However, it would take around a year as well if there are requirements to create complex features. Therefore, it would be advisable to connect with a top-notch app development company in Austin to avail factual information.
We, at Simform, always follow the latest trends of the market, and that's why we have adopted the latest tools and technologies for mobile app development. Android, iOS, Flutter, Kotlin, React Native, and Swift are some of the most utilized technologies.
Oh, Yes.! Being a reputed mobile app development agency in Austin, we take care of support and maintenance activities. We never leave our clients after the project is finished. We provide them with constant support through a dedicated project manager. All the queries of the clients are answered through our support portal. Connect with us in case of any questions.
Yes, Simform always signs NDA (Non-disclosure Agreement) with each of its clients. So, as a result, our app developers in Austin always follow the privacy and security policies related to data while developing a mobile application.