Custom
Software Development Company in Chicago
We help organizations explore new possibilities of managing their business and streamlining the process with best software development companies in chicago.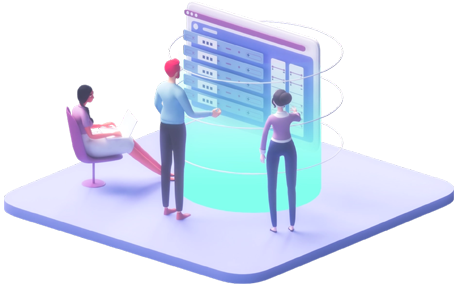 Trusted by
900+ happy clients

including these Fortune companies
Software development company in

Chicago
Since 2010, Simform has been helping startups and enterprise manage organizational needs as a leading custom software development agency in Chicago. 
Our experienced team works closely with you to deliver solutions tailored to your business. We factor in your vision, challenges, requirements, competitors, goals, and audience to build a tech architecture that easily integrates with your business, enables more functionality, embraces growth, and reinforces security
Our proven track record of accelerating operations and improving value propositions has helped companies ranging from startups to Fortune 500 companies. Take a proactive approach to problem solving and gain competitive edge with us!

Helping tech companies in Chicago
extend their 
technical capabilities
Services of our Software Development Company in Chicago
Enterprise software development
We bring agility and efficiency to your processes. Strengthen the operational foundation of your organization with future-proof enterprise software development in Chicago.
Cloud-based development
Extend your business capabilities by getting "on the cloud." We help you build and deploy high-performing cloud-native solutions for long-term value.
Custom software development
Build innovative solutions tailored to your unique business needs with forward-thinking custom software development in Chicago.
Real-time Applications Development Services
Harness the power of technologies like sensor data monitoring, stream processing, etc to get real-time data responses.
Legacy Modernization & Application Migration
We provide cloud migration services, technical architecture reviews, and complete application refinement to bring your IT up to date.
Big Data Application
Services
Custom tools built to provide the deepest insights into your business using the results of high-volume big data processing.
Want to Develop Software that scales?
We build top-of-the-line
software with agility
Team of top 5% developers to build high-quality, robust custom software for your business
Detailed consultation to comprehend your business and its goals, to analyse your software needs, and to underline your project challenges
Dedicated Customer Success Manager to create a roadmap for on-time delivery and continually ensure your expectations are met
Agile Development Methodology to reinforce UX-driven engineering, to streamline all aspects of the development process, and to prevent technical debt
Futuristic custom software, built on a codebase to complement your thriving business with a smooth, intuitive user interface
Speedy and constant communication between stakeholders and builders via Slack, Jira, Zoho, and other platforms
Post-release support by a maintenance team on the watch for technical glitches or risks
Portfolio of
software products
What
customers say

about our
software development services
Hire the best software developers around!
Chicago: Becoming the Epicenter for
Innovation and
Cutting-Edge Technology
Thriving on #6 on KPMG's list of top global tech innovation hubs, Chicago has emerged as one of the fastest-growing centers, shooting up its position from #18 this decade.
The "Windy City" is a great mix of tech entrepreneurship and engineering talent. With over 220,649 community members, Chicago is #3 on the tech talent growth market. The tech-friendly city attributes this growth to giants like Motorola, Groupon, Coyote Logistics, SMS Assist, Overcome Health, Trunk Club. What attracts techies to this city is the endless support they receive from a vast mentor network. Additionally, the "Chi-town" is a safe haven for entrepreneurs, for it offers coworking spaces, a collaborative culture, a substantial venture capital, and affordable real estate.
Simform is excited to extend its tech expertise to progressive startups and top tech companies in Chicago. We collaborate with you as a dedicated team of Chicago software developers to build robust and secure technology solutions that support your business needs. So whether you are a B2B business looking for innovative solutions to streamline your process or a B2C company looking to manage your customers, you can bank on us to extend your tech capabilities!
How Simform helps their Chicago Customer Build Best Custom Software Solutions
Awards & Recognitions
SIMFORM is a leading custom software development company in Chicago. Over the last decade, we have worked with various business verticals and delivered customized solutions to help our clients grow exponentially. Our knowledgeable and experienced developers have expertise in modern technologies such as Node.js, Angular, RoR, Flutter, Swift, React, etc. Using this skill set, we can deliver software development services that are scalable, secure, and reliable.
We at SIMFORM offer you a full range of custom software development services in Chicago that are high-performing, reliable, result-driven, and align with your business goals. 
Our software development services comprise:
Application development
System integration
Dashboard, ETL, and BI
Legacy app modernization
Application migration
Big data app development
Real-time application
Enterprise software
Industry-specific software
Customer-centric apps
Yes, we at SIMFORM, the leading provider of custom software development company in Chicago, offer them various technical support and maintenance services post-development. We always stay with our clients even after the project gets completed and solve any issues that arise.    
Oh, Yes.! We at SIMFORM emphasize comprehensive end-user documentation during any project. We stick to the documentation guidelines finalized in the quotation or contract.
Yes, SIMFORM signs an NDA (Non-Disclosure Agreement) with each clientele. Generally, the master service contract we offer has NDA as the prominent clause. Lastly, we get the NDA process done before the software development begins to establish the trust factor.