Award-winning
app development company in Denver
Gain a competitive advantage. Partner with a dedicated team of diverse programmers in Denver to craft frictionless digital experiences across multiple platforms to meet your business needs. Tell us your vision — together, we'll turn your app into your competitive advantage.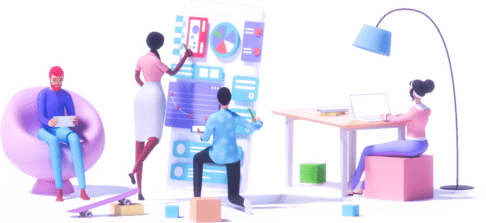 Trusted by
900+ happy clients

including these Fortune companies
Building the next "Silicon Valley"
with App developers in Denver
With a 'start-up, scale-up, grow up' ecosystem to support entrepreneurs, Denver has marked itself as the fourth-best tech hub to start a business, making it the 10th largest tech market in the United States.
The Mile-High City has neatly woven a fine balance between its fast-paced growth and high-spirited culture. But what makes Denver a business-friendly locale is its highly-educated workforce, tax incentives, well-tended infrastructure, and economical cost of living. In fact, since 2010, the city has attracted as many as twenty-two high-ranking tech companies – Lyft, Facebook, Google, Amazon, Netflix, Apple – from the Bay Area.
Simform, being a custom software development company, is excited to extend its expertise to small businesses and tech companies in Denver. You can count on us to be your dedicated app development partner who understands your vision and navigates you through different walks of the app development lifecycle.
Want to build an app that scales?
We are a dedicated strategic partner,
extending your
technical capabilities
Mobile application development

offerings
Native App Development Services
Native B2B and consumer apps allow you to utilize the inherent power of iOS and Android platforms with secure and performant apps.
Hybrid Cross-platform App Development Services
Utilize the power of React Native, Flutter, and Xamarin to develop apps for multiple platforms while sharing the same code base.
Business Analysis & Consulting Services
Whether you are looking to develop business apps or apps to service customers, our consultants can help you define the right tech plan
Enterprise Mobile Apps
Customized mobile solutions to drive your operations. For example, a CMS to organize and publish content, all in a simple screen.
Apps for Internet of Things
Unlock the potential of high functioning mobile apps that interact with hardware / wearables/ IoT through Wi-Fi, Bluetooth, NFC, and more.
Business Apps and API Integration Services
Integrate your mobile app(s) with services you are already using and extend their use cases for your employees and users.
Hire the best App developers around!
The best app developers in
Denver
Most of the software development companies that focus on mobile app development in Denver do not develop a cross-platform strategy. Some of the typical development pitfalls you might face in iOS and android app development in Denver include failing to develop or even understanding the asynchronous processes of your project requirement.
Technology is always evolving, and digital trends are even more so. In such circumstances, it is imperative to leverage new technologies and tech stacks. At Simform, our app developers in Denver understand the innovative disruption that technology's evolution might cause at any given point in time. Thus, we frequently address the pitfalls of mutating technologies and how we can use that to your advantage to build a future-proof mobile application with innovative features and creative objects. We don't just deliver visually appealing apps on the client side. We also understand iOS and Android's kernel function to ensure high internal performance to ensure your mobile application will always stay ahead of the competition.
Build an MVP with specific features or space for the future extension at a jaw-dropping budgetary cost without compromising quality and cross-platform compatibility. If you do not receive what we promised and what you expect, we fix concerns that arise on our dime and provide a money-back guarantee without any questions asked. You can confidently trust us to be your reliable dedicated app development partner who understands your vision and navigates you through different app development lifecycle walks.
Our portfolio
of mobile applications
What
customers say

about our
app development services
Our
Agile Development

Process
Let's build a top-notched mobile app together!
Awards & Recognitions