Award-winning
app development in Atlanta
We help to build mobile apps that put your business into the hands of your customers. Our team of expert app developers will help you build apps as per your business needs that boost your revenue and brand reputation in Atlanta.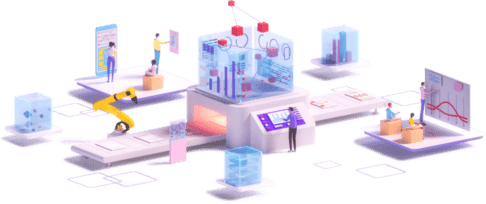 Trusted by
900+ happy clients

including these Fortune companies
The best app developers in Atlanta
Simform commands expertise in Atlanta with its team of mobile app designers that are proficient in building feature-rich mobile applications. We offer you our vast experience on all popular platforms, like Android, iOS, Hybrid, and Native mobile apps, to help you build a unique blend of new-age performance-driven apps. We have a team of experts specializing in custom software development, web design, web development, and mobile app development in Atlanta.
We bring to the table an exceptionally skilled team of app developers in Atlanta, which shines in bringing a collaborative approach – a mix of strategy, design, and stringent quality policy to the core of your business app. Our trusted team of pre-vetted developers works as your extended team on your terms and time. 
Whether you are in the inception phase or refactoring your application, Simform translates your ideas into robust and scalable applications. Global brands and industry trailblazers like yourself have relied on Simform repeatedly to design and build mobile applications. 
Do you want to work with the
best team of App developers?
App development

firm
serving Atlanta's tech scene
Mobile app development offering
Native App Development Services
Native B2B and consumer apps allow you to utilize the inherent power of iOS and Android platforms with secure and performant apps.
Hybrid Cross-platform App Development Services
Utilize the power of React Native, Flutter, and Xamarin to develop apps for multiple platforms while sharing the same code base.
Business Analysis & Consulting Services
Whether you are looking to 
develop business apps or apps to service customers, our consultants can help you define the right tech plan
Business Apps and API Integration Services
Integrate your mobile app(s) with services you are already using and extend their use cases for your employees and users.
Enterprise Mobile Apps
Customized mobile solutions to drive your operations. For example, a CMS to organize and publish content, all in a simple screen.
Apps for Internet of Things
Unlock the potential of high functioning mobile apps that interact with hardware / wearables/ IoT through Wi-Fi, Bluetooth, NFC, and more.
Hire the best App developers around!
Atlanta shaping its tech scene to
become the next big thing
With a promising tech ecosystem shaping its economy, Atlanta is the Wakanda from Marvel with an untapped treasure of innovation, tech entrepreneurship, and talent.
Over the last decade, communities like Atlanta Tech Village, Georgia Tech, Venture Atlanta, and others alike have worked in conjunction to nurture the city to be among the top five tech hubs in the United States. With a myriad of businesses pitching in, the Empire City of South offers new tech entrepreneurs opportunities to substantiate the many applications of technologies– Internet of Things (IoT), Blockchain, and Artificial Intelligence (AI). Moreover, nearly twenty-six companies headquartered in Atlanta have made it to the list of Fortune 1000 Companies with about sixteen companies making it to the elite list of Fortune 500 Companies.
Simform is excited to collaborate with you to build smart, sophisticated, and secured iOS and Android mobile applications. We've worked with high-growth startups as well as top tech companies in Atlanta to help them find the sweet spot between intuitive design and innovative technology. Our headquarters is in Florida, we also have offices located in  San Francisco, Los Angeles, and Dallas.
App development
case studies
What
customers say

about our
app development services
Our
agile development

process
Let's build a top-notched mobile app together!
Awards & Recognitions
The exact cost to develop a mobile app in Atlanta can be determined by three factors:
The number of platforms – native, hybrid, or web
The complexity of the app
Functionality requirements
The average cost to develop a mobile app in Atlanta varies from $80K – $250K. For less complicated apps with a few basic features can range from $10,000 to $50,000.
Generally, it takes five to six months to develop a simple application. It also depends on the complexity of the application and features.
We, at Simform, use the latest technologies including Java, Angularjs, Node.js, Rails, and Python, and more. We help clients to choose a technology that works best for their project's requirements. You will also have to be prepared with the features and functionality requirements to be added before hiring developers. 
Yes. We provide 24×7 technical support and assistance post-development with a dedicated project manager.
Yes, we sign a Non-disclosure Agreement (NDA) with our clients. At Simform, we offer a secure service and adhere to strict security measures. Additionally, our team of developers and other staff are contractually obligated to follow our security policies.