San Diego! We are a team of
mobile app development experts!
Helping startups and large enterprises create cutting-edge mobile platform experience for new-age users with powerful iOS and Android app development.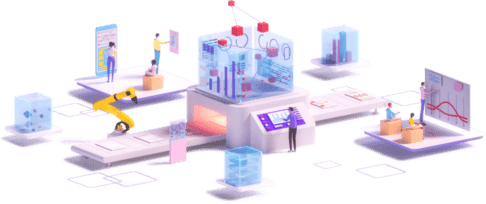 Trusted by
900+ happy clients

including these Fortune companies
San Diego

:Becoming the Capital for Tech Business
Proving an age-long saying – slow and steady wins the race – right, San Diego ranks at #8 among the top 50 best places for startups in the United States.
With industries like Biotech and Life Sciences contributing thickly to its economy, San Diego's tech ecosystem has been picking momentum with tons of startups and enterprises exploring the realms of Robotics, Artificial Intelligence, AR/VR, among others. What draws tech entrepreneurs and talent to the city is its "work hard, play hard" lifestyle attributed to a consistent surge in the workforce, collaborative environment, lively beaches, and craft beer.
You've got an idea? We're here to listen! Simform is excited to work with you as a dedicated mobile app development company. Our software architects and UX designers are equipped with the latest technology to craft sophisticated, robust, and secure mobile applications that delight your customers.
Want to build an app
that scales?
Extend your tech capabilities with

mobile app developers

in San Diego
Mobile app development offerings
Native App Development Services
Native B2B and consumer apps allow you to utilize the inherent power of iOS and Android platforms with secure and performant apps.
Hybrid Cross-platform App Development Services
Utilize the power of React Native, Flutter, and Xamarin to develop apps for multiple platforms while sharing the same code base.
Business Analysis & Consulting Services
Whether you are looking to 
develop business apps or apps to service customers, our consultants can help you define the right tech plan
Business Apps and API Integration Services
Integrate your mobile app(s) with services you are already using and extend their use cases for your employees and users.
Enterprise Mobile Apps
Customized mobile solutions to drive your operations. For example, a CMS to organize and publish content, all in a simple screen.
Apps for Internet of Things
Unlock the potential of high functioning mobile apps that interact with hardware / wearables/ IoT through Wi-Fi, Bluetooth, NFC, and more.
Hire the best App developers around!
How is Simform different from the others?
Most companies follow a standardized process of mobile app development, from gathering requirements to deployment. But, it would neither be cost-effective nor future-proof. Standard app development companies in San Diego provide a demo or create a beta version of the project as their USP offering. Still, in the process, they fail to respond effectively to the active inertia of the market demands and attain project flexibility.
On the other hand, at Simform, we provide your business with the opportunity to focus more on your goals and tasks. At the same time, we take responsibility entirely for the development as an extended team supporting you. To avoid project failure risks and achieve guaranteed results, we craft a hiring model that best fits your scale requirement.
Our successful project lists proudly testify to our team's capacity in-action for all our mobile app developers in San Diego. By undertaking the agile methodology and strategic pipelining, you get access to a ready-to-test MVP. This helps you as well as us to make flexible improvements at any point in time. Likewise, we upgrade your existing application so that it can handle the ever-evolving market demands and emerging technologies. Yet, if we do not meet your expectations, we provide a money-back guarantee or fix the encountered issue at our discretion, no questions asked.
Mobile app development

case studies
What
customers say

about our
app development services
Our
agile development

process
Let's build a top-notched mobile app together!
Awards & Recognitions