8 Tips to Consider While Hiring React Developers
More than 9750 renowned companies and 90,000 websites worldwide are using React. Netflix, Amazon, Instagram, Codecademy are some of the famous apps built with React. 
According to the Stackoverflow 2020 developers survey, 68.9% of developers have expressed their interest in continuing to work with React. Additionally, it secured second place as the most loved web framework due to its quality of promoting a productive environment. The main reasons behind this popularity include its simplicity, flexibility, faster rendering, and ability to create interactive user interfaces. 
Though React has all the necessary characteristics of building a high-performing web app, it works at its full potential only when it is in the right hands. For example, say your team of React developers is experienced in dealing with complex projects and is profound in technology concepts like JavaScript. In that case, they're more likely to reap the maximum benefits of what React offers. 
However, before you hire a React developer, it is crucial to evaluate their experience with relative technology and many other aspects. This blog introduces you to questions and necessities that remain an inevitable filter for your interview drive of React developers.
But before we get started with the tips to hire React developers, let's explore the primary duties of a React developer.
Let's take a deep dive into details.
Responsibility of React Developers
Responsibility of a React developer include:
Create quality UI code using mock designs and wireframes.

Monitor the code constantly to improve application performance.

Develop interactive user interface components using React toolkit.

Create and optimize reusable HTML/CSS/JavaScript components and make them cross-compatible.

Write concise, expressive, and modern UI code utilizing the JavaScript features, stylesheets, and CSS-preprocessor like SASS and LESS. 

Manage applications' state and functional libraries to make asynchronous API calls and derive computed data from the state using React workflows like Redux and Context APIs.

Go through the QA process, including unit testing, end-to-end testing, and integration

testing.
Eight Things to Remember

while Hiring React Developers

The popularity of React sets the expectation high for React developers in this competitive field. After all, you look for a skilled developer who can perform specific tasks and fulfill responsibilities. Right? So let's go through some skills which are essential to look for while hiring React developers.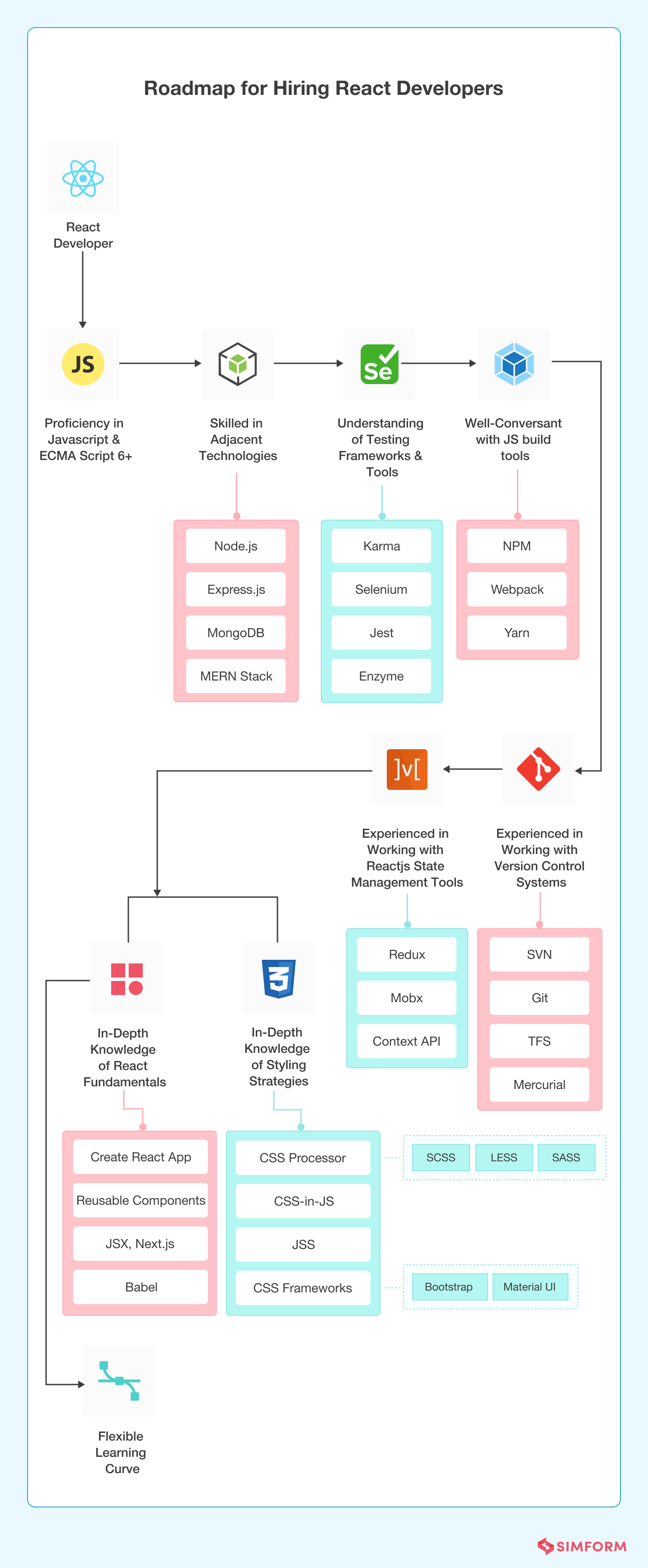 1. Are they proficient in JavaScript & ECMA Script?
React is a JavaScript library, and hence it is essential for a React developer to have a strong command over JavaScript features, syntax, and operations. In addition, it's essential for developers to understand the JS scopes, hoisting, prototypal inheritance, DOM manipulation, event bubbling, and functions.
Apart from this, ECMA Script plays a pivotal role while developing React applications because it allows developers to write single-line code and simplify the JS code using the Destructuring feature. As a result, the developers with little knowledge of React but in-depth knowledge of JavaScript and ECMA Script will be an excellent addition to your team, especially in cases where hiring React developers is hard or expensive.
2. Do they have excellence in Adjacent technologies?
Excellence in one framework or related technology is not adequate for a Reactjs developer. He/she should have experience working with multiple technologies that are compatible with React. We all know that a backend framework or platform is a prerequisite to host a React app. Laravel, Django, Ruby on Rails can go hand in hand with React. Hence, knowledge of these technologies definitely gives an upper hand to any individual developer. 
Apart from this, one should have a good command over MERN Stack (MongoDB, Express JS, React JS, and Node JS).  After all, MERN stack is most preferred for building fullstack JavaScript applications and are the most compatible backend technologies to use with React. 
Also, because Express is a Node.js framework, considered best to pair with React for building scalable apps. Undoubtedly, the Express-React combo works best in handling multiple requests and managing the server load. 
Overall, developers with divergent thinking and extensive knowledge of adjacent technologies and frameworks can make a successful React application.
3. Do they have a basic understanding of testing frameworks & tools?
Thanks to the rising quick-deployment needs during the development phase, testing has become an essential skill for React developers. Several tools and frameworks are available to perform unit testing, end-to-end testing, and integration testing on React code. Some of the most preferred tools and frameworks are:
Jest, Enzyme, Sinon, Mocha, Chai, AVA, and Tape (For Unit Testing)

Selenium, Webdriver, Cypress, Puppeteer, Cucumber.js, Nightwatch.js (For end-to-end testing)

Karma (For integration testing)
However,  the most sought-after tools are Jest, Enzyme, Selenium, and Karma used to perform tests on React components. Moreover, React Testing Library and React-hooks-testing-library are the utilities to encourage good testing practices on React components and React Hooks which are must-know for React developers. 
Knowing how these testing tools and frameworks work helps developers prevent mistakes and write better code. After all, the sooner you detect and fix bugs, the more time and money you end up saving. So, tick mark testing competency as your 'must-check in your technical assessments for hiring React developers.
4. Are they well-conversant with JavaScript Build Tools?
React developers are required to install many software packages and tools to handle dependencies, optimize assets for production, run the development web server, file watcher, and browser reloader, and many more. Hence, several JavaScript tools are required to extend the React library. Some of the build tools used widely in React applications are:
Webpack:

An open-source JavaScript module bundler to generate a dependency graph and

combine all application resources in one single file.

Npm:

A dependency cloud storage to help developers download and install software packages from the NPM registry.

Yarn:

A package manager to optimize npm workflows, install software packages and manage dependencies.
In addition, these tools help developers in automating several repetitive tasks during the development. Moreover,  a good understanding of installing and managing packages through build tools reduces the development time and increases productivity.
5. Are they experienced in working with Version Control Systems?
Say you're working on a complex software project that requires multiple developers working collaboratively and making frequent changes in the code. In such cases, it is the version control system that streamlines the development process and helps with code management. 
That is why developers with experience in working with version control systems should be given the first preference. It enables them to keep track of the changes in a specific development project. Also, it makes reviewing old codes, comparing them with new code, and undoing mistakes in the latest changes much simpler and faster.  
Developers use many version control systems, including Git, SVN, TFS, and Mercurial, to name a few. However, developers prefer Git to store projects on code hosting platforms like GitHub, Bitbucket, and GitLab. With Git, developers can pull the code from their own repository and manage the commit history. Therefore, it's a mandatory skill for a developer to track different versions of files using push, pull, add, and commit commands. 
Apart from this, branching and merging are essential skills for developers as it helps them work independently on the code. SVN and TFS are centralized VCS, while Mercurial follows the distributed branching approach.
6. Do they have experience working with ReactJS workflows?
State management in large-scale React applications is the biggest challenge for frontend developers. Look for folks who have worked with projects where managing the state across the application components was evident, and their portfolio speaks volumes about optimizing application performance.  
See if they are well-versed with popular libraries and structures of state management such as Redux, Mobx, and Context API. These are used to synchronize the state of applications across all components. 
Redux, a standalone library for state management having a huge amount of application states that are needed to be updated frequently in response to actions.
Mobx, a library that applies transparent functional reactive programming to make state management simple and scalable.  
Context API, a component structure to share unique data across all application levels, helps solve prop-drilling problems.
Additionally, someone with knowledge about the newest additions like hooks in React 16.8 is a plus for your team. It helps your team handle complexities in projects and make functional components stateful without writing a class. Therefore, elementary knowledge of state and state management libraries is requisite for React developers.
7. Do they have In-depth knowledge of React Fundamentals & Styling Strategies?
Since React is a huge ecosystem with reusable components, you need a developer well-versed in playing with React concepts and fundamentals. Apart from this, developers must know what the Create React App is and how it works. It's a tool that helps developers scaffold a React app with default tools required initially. Not to mention, Babel, JSX, Next.js, etc., are a few fundamentals that are a must to add in developers' skill set to excel in React application development.
Similarly, hiring a React developer who can code and do the styling is a big advantage. Knowledge of React components, external styling libraries, and CSS strategies help design highly responsive UIs, building rich and interactive UIs. 
Since all these strategies are written in CSS and are meant to ease the styling processes with React, some CSS techniques are used widely among developers to style React components. 
CSS Preprocessors:

SCSS, SASS, and LESS to write styling information that compiles to CSS later. They follow the Don't Repeat Yourself coding principle.

CSS Frameworks:

Bootstrap and Material UI are ready-to-use components to make the web development process fast and easy. 

CSS-in-JS: A technique to style components using Javascript, which is being implemented by React libraries like styles-components.
JSS:

An authoring tool for CSS to write style in the declarative, conflict-free, and reusable way using JavaScript.
One last check on styling fundamentals if they know working with Material UI and the SASS. Since Material UI is popular to create complex UI elements, the SASS as a CSS extension keeps large stylesheets organized. All-inclusive, being good at CSS and styling techniques is considerably a forte of React developers.
8. Do they have a flexible Learning Curve?
We all know that React is built on JavaScript that every frontend developer is familiar with. Hence, the learning difficulty is significantly modest. Thanks to its easy learning curve and detailed documentation, understanding React concepts, libraries, and its commands and syntax won't take more than a month or two for JS developers. 
Apart from this, developers are required to learn many third-party packages, libraries, and frameworks like Redux, style-components, Material UI, etc. Well, don't be scared! It also doesn't require hefty time to spend. For example, Redux- it's a tiny API that can be learned in a week. 
What's more, React is open-source with huge community support, which makes it the best library for web development. Many enterprises are adopting this technology because of its ease of use and flexible learning curve. Therefore, you should ensure that the developers you hire are flexible in learning technology changes and updates as required.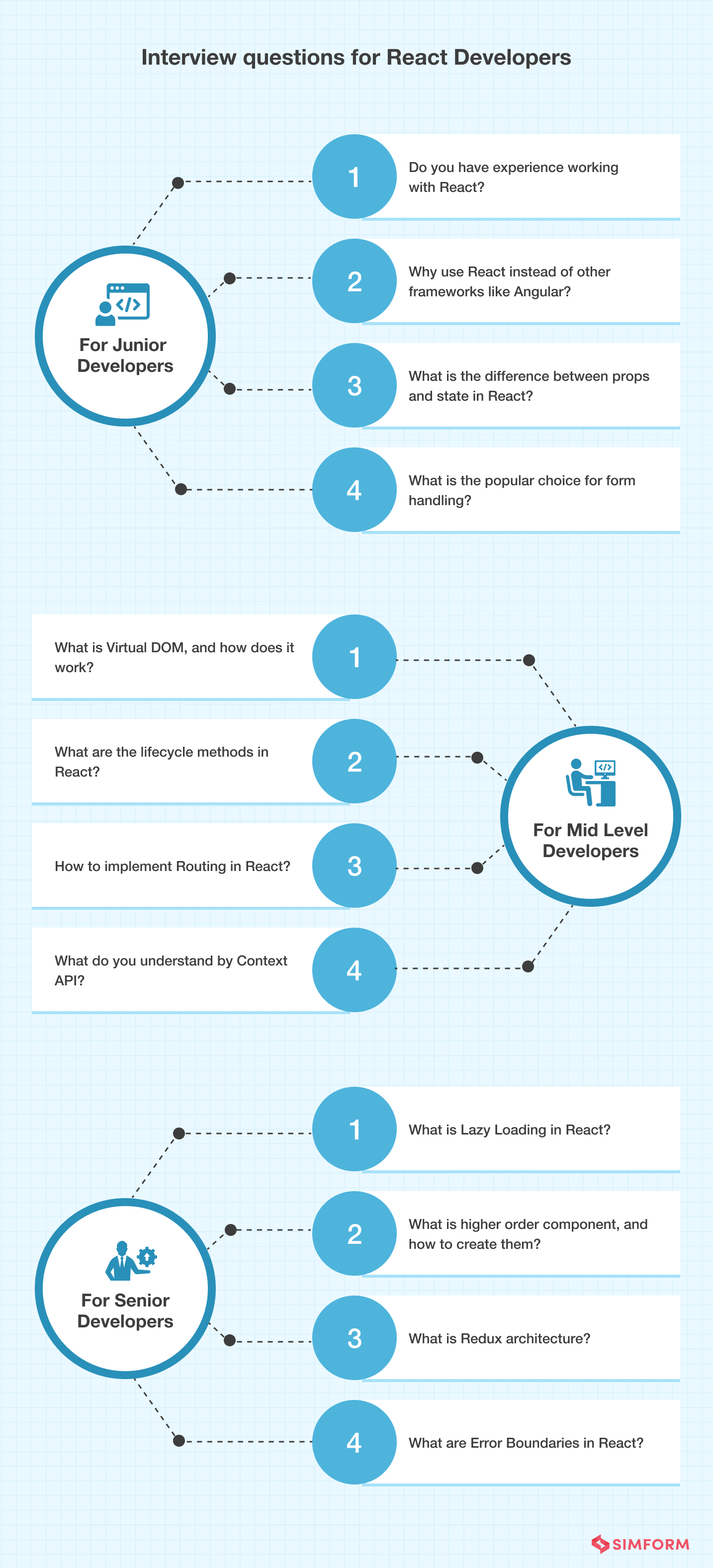 How can Simform help?
Hire remote Reactjs developers from Simform to build web applications that can scale your business needs. Simform gives you the ownership and licensing of the software that you can commercialize and use as per your need. We also provide a non-disclosure agreement for the confidentiality of your data and flexible contracts to hire our developers as per your terms. All you need to do is share your project requirements and goals with us. 
Developers at Simform: 
Work with your team to help your business grow.

Follow agile development methodology for quick and smooth product delivery. 

Communicate with your team to provide product development progress. 
You can hire our talented team of Reactjs developers for
Migrating your current application's frontend to the latest version of React

Building PWAs and SPAs

Developing eCommerce and large enterprise applications

Creating dynamic dashboards using React ecosystem

Building plugins to integrate with your existing applications
If you have any questions about hiring developers, drop us a message or comment here. We will be happy to help you.