5 Reasons to use Nodejs with React for Web Development
During my early correspondence with new clients, these questions typically come up without fail:  
Which Javascript library would be a better fit for my project– React or Node?

I have heard Nodejs is scalable. Could we use it with React?

I also need a scalable UI for my web application. What do you think is the better option, Reactjs or Nodejs?
As I began responding to these questions on a daily basis, I knew I had to give a detailed account of Nodejs and React, covering all the whys, hows, and what ifs. Here's when I thought of writing a dedicated article that covers these questions.  
Editor's note: In case you're an experienced persona and want to discuss advanced possibilities for your project. Feel free to connect with our Web application expert and choose custom web app development offerings as per your requirements.
In this blog, I will explain to you 5 reasons why you should use Nodejs with React.  But before we dig into the meat of the matter, let's kick things up with a few notches and get the basics right.
Is React a Frontend or Backend library?
Created and maintained by Facebook, React is a front-end library that runs on a browser. Like most libraries, this one runs on web servers like Apache or with backends like PHP or Rails.
Initially made for working with web browsers, it has a ReactDOM library specifically for working with browser's DOM. But over the years, it has been upgraded to a cross-platform framework called React Native that's widely used by iOS and Android developers.   If you want to know more about the differences between Reactjs and React Native, take a look at our recent article: Reactjs vs React Native. 
With React, it is possible to build a web app that specifically caters to challenges like slow user interactions and low performance due to DOM manipulations. It solves this by using a Virtual DOM, where changes are saved and an algorithm is analysed to figure out the difference between two UI states. 
This is why React is the #1 choice among developers, who want to build highly robust, hybrid, and native applications. 

Is Nodejs backend or frontend?
According to Nodejs User Survey Report, more than 43% of Nodejs developers have admitted to using it for enterprise development, for it is an ideal choice for building modern solutions based on microservices, WebSockets, and event queues. It also makes an excellent choice for backend since it is asynchronous, has non-blocking I/O, and is event-driven nature. 
Interestingly, Node can be used as a single programming language, i.e. writing both front-end and back-end code for server-side applications in JavaScript using the runtime environment. What's more, giants like Walmart, NASA, and Twitter employ Nodejs for their backend development.
Being highly scalable and having a large developer community, Node is a popular choice among developers for backend development. Here's a usage statistic for it as seen on Google Trends: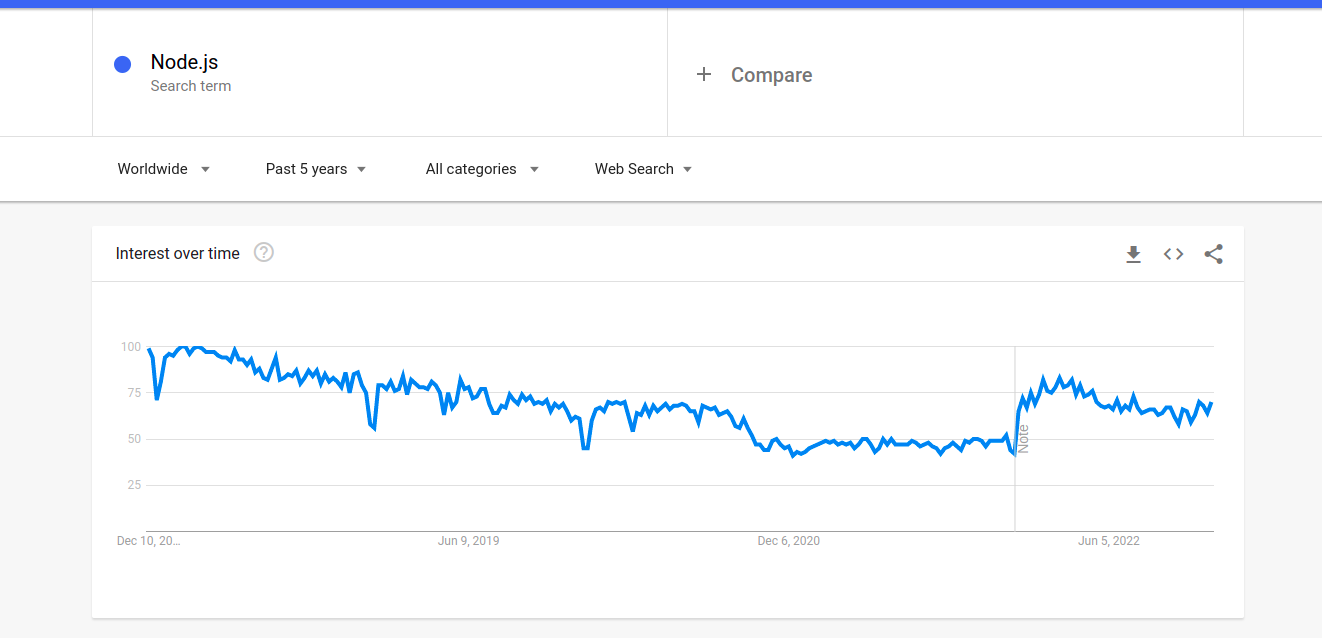 Can you use Nodejs with React?  
Yes, definitely, and in fact, Nodejs is the most convenient platform for hosting as well as running a web server for a React application. It's because of two main reasons:
Using an NPM (Node Package Manager), Node works alongside the NPM registry to easily install any package through the NPM CLI.

Node bundles a React application into a single file for easy compilation using webpack and several other Node modules.  
Furthermore, using Nodejs to host and run your web server helps in a lot of ways: 
Nodejs uses a speed optimized V8 engine to address bulk requests that are handled through callback functions to ensure quality and quantity. 

Both Nodejs and React are javascript languages that can be executed both client and server-side.

Developers can execute the Reactjs code directly in the Nodejs environment.

The React DOM has components specifically designed to work with Nodejs that reduce lines of code, making server-side rendering comparatively easy.
Sometimes, changing your backend completely is not a feasible option. Let's assume you have RoR (Ruby on Rails) as a backend. You can still use Nodejs to run the web server hosting your React application. 
But how would I need Nodejs for a web server when I've already got ROR, you may ask?
Well, Nodejs offers highly reliable and efficient tools which can be used without the need for a Node Web Server. You can use Node's assets to build the RoR asset Pipeline, thereby leveraging CommonJS to make your work a lot easier.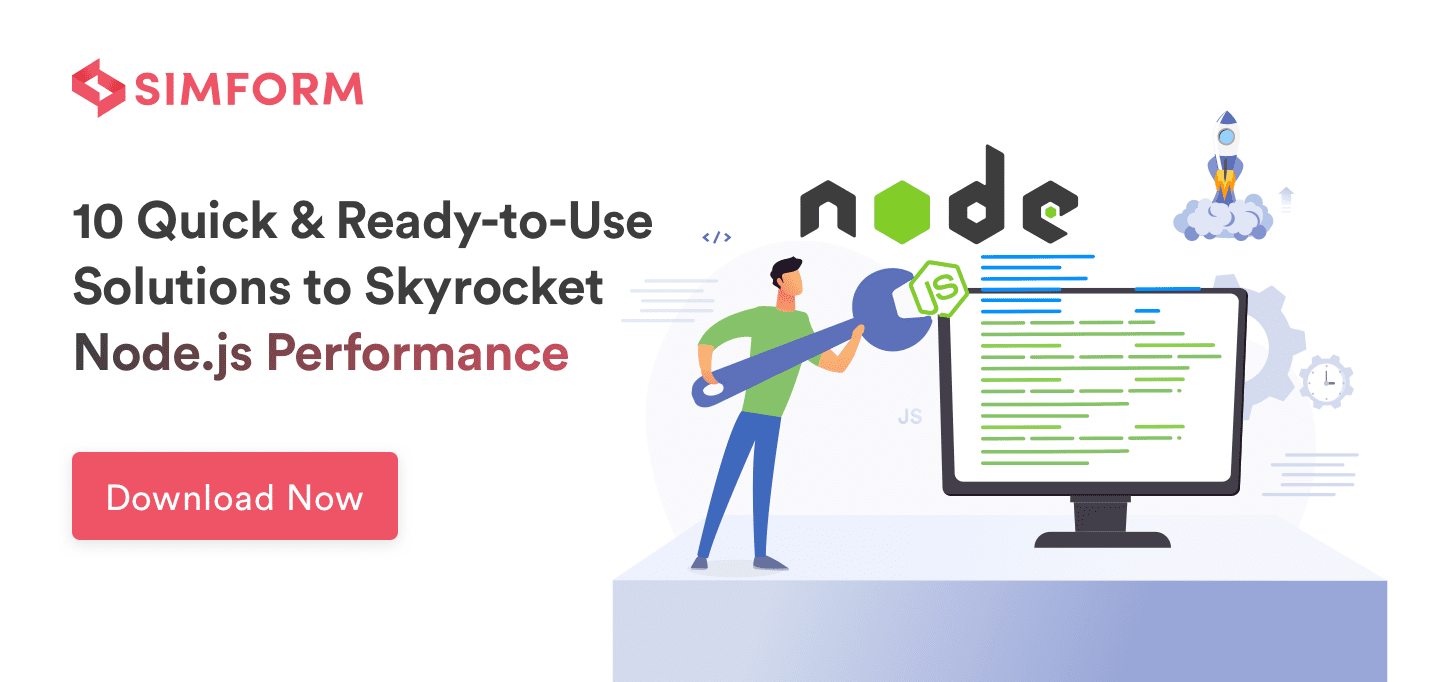 Do you still need Nodejs in the backend to run React?
Decision-makers sometimes assume that for running Reactjs, they must have a Nodejs backend. It is not true; you DO NOT need Nodejs every time you use React. 
See Reactjs is a library, which is only used to render the user-interfaces of your web and mobile apps. On the other hand, Nodejs is a runtime environment to handle data communication on the server-side. It's used in networking applications to provide real-time data management across systems.   
Both React and Node exist in the developer ecosystem for different reasons. So it's important to analyze their use-cases before you approach the development process. 
While Reactjs can only be used to build UI components on the frontend, Nodejs will take care of the data stored on the backend. Reactjs offer tools like react-router and redux, which will provide dire communication to be handled at the server-side by Nodejs. 
So when a user interacts with the user-interface (Reactjs) and a server request is made — the browser responds appropriately by sending data as per the specified URL path from the backend (Nodejs). 
Now here comes the gist: Reactjs, being a frontend framework, loads the components attached to the specific routes (read Routing and Navigation). Whereas Nodejs, being a Backend framework does not care which component loads on a particular URL request made. It's only providing an environment for the entire data communication, does it make sense?
Are there any specific conditions or reasons that would help React developers to use Nodejs?
Yes, there are some specific conditions or reasons where Nodejs can be used with React. In fact, using these two technologies in conjunction can do wonders and save you a lot of development time.  
Top 5 Reasons to Use Nodejs with React:
1. High server load: Using Nodejs with React makes sense when your web application needs handling of multiple requests and maintaining server load balance. 
2. Real-time data: If your application's core is based on Real-time Data-Intensive management or Data Streaming, using Nodejs is highly advisable for continued server connection. 
3. JSON APIs: Building JSON APIs for your application is very efficient with Nodejs due to high code reusability and easy code sharing in Reactjs.
4. Single Page Applications (SPA): Developing Single Page Applications in React while using Node to build a lightweight backend model for asynchronous data loading through callback functions. 
5. MERN stack: Nodejs can also be used with React with MERN (MongoDB, Express, React, and Nodejs) stack.
How to do React Migration And Increase Your Performance 3X?
Wrapping Up
Undeniably, both React and Node have different functions such as React for front-end, and Node for the backend. Nodejs can do a lot more than making servers; it can do all sorts of scripting and CLI tools. 
If you want to use React with Nodejs, you need to know how to use NPM. There's nothing like actually coding in a Node environment to use React unless you want to add a backend. Using React with Node can surely help you to scale your project to a much higher level. That's why Nodejs is used by several tech-giants like Netflix, PayPal, and achieved tremendous results and drastic improvement in performance. 
So, are you ready to combine React with Node in your web development? Hire pre-vetted and dedicated developers and start your two weeks free consultation call.