On-premise vs Cloud-based Call Centers: How to Choose One?
When any business decides to address their huge customer base, their first action of agenda is to establish a call center. With the changing nature of information and technology, this decision divides business owners into two alternatives – on-premise vs cloud-based call centers. It may seem difficult for startups to incorporate modern concepts such as chatbots, cloud software, API integrations in call centers, but that's really not the case. 
The field of information and technology continues to evolve with newer approaches, programming languages, and automation. This means fresh updates in software solutions pop about almost every day. The concept of a cloud-based call center is very attractive as it increases returns on investment, minimizes the costs, manages the workforce, and eliminates the costs of physical spaces and hiring specialized IT professionals. 
On the flip side, businesses opting for an on-premise call/contact center are more likely to increase their responsibilities towards call-center activities. It includes expensive spending on hardware configurations, software updates, call management, HR-related purchases, and more. While the cloud-based systems are purchasable as per their needs, they need not acquire the entire system. It's like buying a service on a pay-per-use basis. 
How are
Cloud-based systems changing the landscape of contact centers

?

Cloud-based technologies have modernized the way information and technology deals with businesses. This includes contact centers and business-process organizations. The factor considered first and foremost in choosing a cloud-based contact center is cost. On-premise call centers are more prone to costly expenditures of a big workforce, physical servers, and separate considerations for the IT department.

On the other hand, a cloud-based solution saves big bucks when it comes to the total cost of ownership. Business owners only need to pay for supportive apps and hardware configuration. Plus, it's a significant gain with a competitive edge. So even if your closest competitors haven't moved on to this new development yet, you can't bank on them to continue with the old ways forever. 

This is similar to how eCommerce has come to redefine the business.Brick-and-mortar stores have been crippled now that almost everything is sold online with a discount. The entire retail business is operating through the internet including after-sales service/feedback.

Now, organizations and brands need to also focus more on offering better customer services along with the products and services quality. And from what this pandemic has shown us, the importance of being physically independent yet connected with the customers is realised strongly like never before.

The idea of cloud-based contact centers is built on the very same idea – making systems independent, connected, and with a widespread reach. A business can operate from any geographical location, sell the products across different continents and yet have native representatives to address a customer's problems. In a nutshell, this option offers a wholesome customer-service experience from multiple channels.

Illustrating the point above, Vonage is bridging the gap between customers and delivery agents. They help eCommerce companies build cloud-based contact centers through APIs (Application Programming Interface) and provide an omnichannel customer experience. Over the time, this approach has emerged as a preferred solution by the customers as well. According to Vonage Global Customer Engagement Report 2020, 35% of customers prioritize phone calls, 11% in-app messaging, 18% text messaging, and 10% prefer messaging apps. 

When you compare on-premise vs cloud-based call centers, you'll notice a drastic change in capability and strength in services. The new technology is an all-inclusive service laced with core functions such as outbound call routing, chatbots, voice bots, workforce management, analytics, and more. 

Cloud infrastructure becomes your best buddy in delivering continuous customer service and portraying your business unit into a satisfactory vendor. 

So the key takeaway is – you need not hire IT professionals, lease an office space, or purchase expensive hardware. All crucial activities of your on-premise business can be done without really wasting a lot of time, money, and dealing with complicated issues. 

Here's a comparison between on-premise vs cloud-based call centers highlighting the difference between the two:
Comparison-
On-premise vs Cloud-based call centers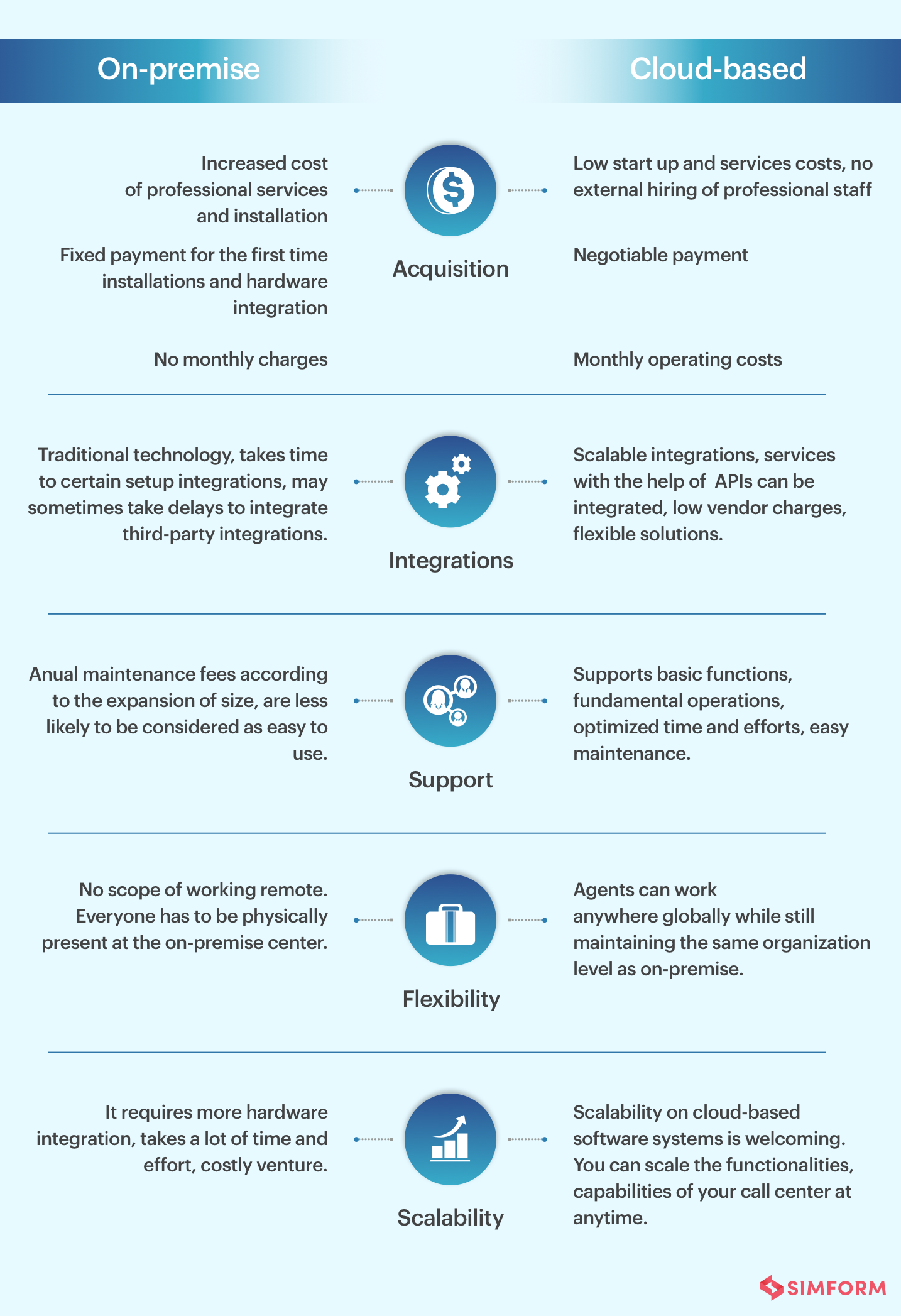 How are cloud communications shaping
modern customer experience

?

Modern customer experience focuses on personalization. Customers need prompt, personalized, and easy resolutions to their problems. For your call center to become a desired service-reporting platform, ensure that you have the right tools to address a customer's issues. Also, it's of utmost importance for customers to have multiple ways of reaching their solution providers.

Today, call centers aren't limited to just calls. Omni-channel communication is the best way for businesses to communicate and address customer needs promptly. 

Cloud system provides solutions using different channels. With the advantage of its scalable and flexible servers, calls in waiting are a thing past.  It also eliminates the need for spending a lot of time selecting the choice from the IVR menu. 

Cloud call centers are the best alternative to increase the flexibility of communication channels and address the maximum number of customer problems. It's observed that approximately 40% of customers switch to competitors or prefer to cancel the services post experiencing lousy customer service.     

Here, we introduce omnichannel contact centers where customers can reach out to service providers through their choice of communication. 

Omnichannel call centers are an enhanced form of multichannel customer services. Different communication APIs are integrated to offer a better mode of communication. It also records and keeps track of a customer's interaction history and preferences. All this data is projected to customer-service agents when they're speaking to customers.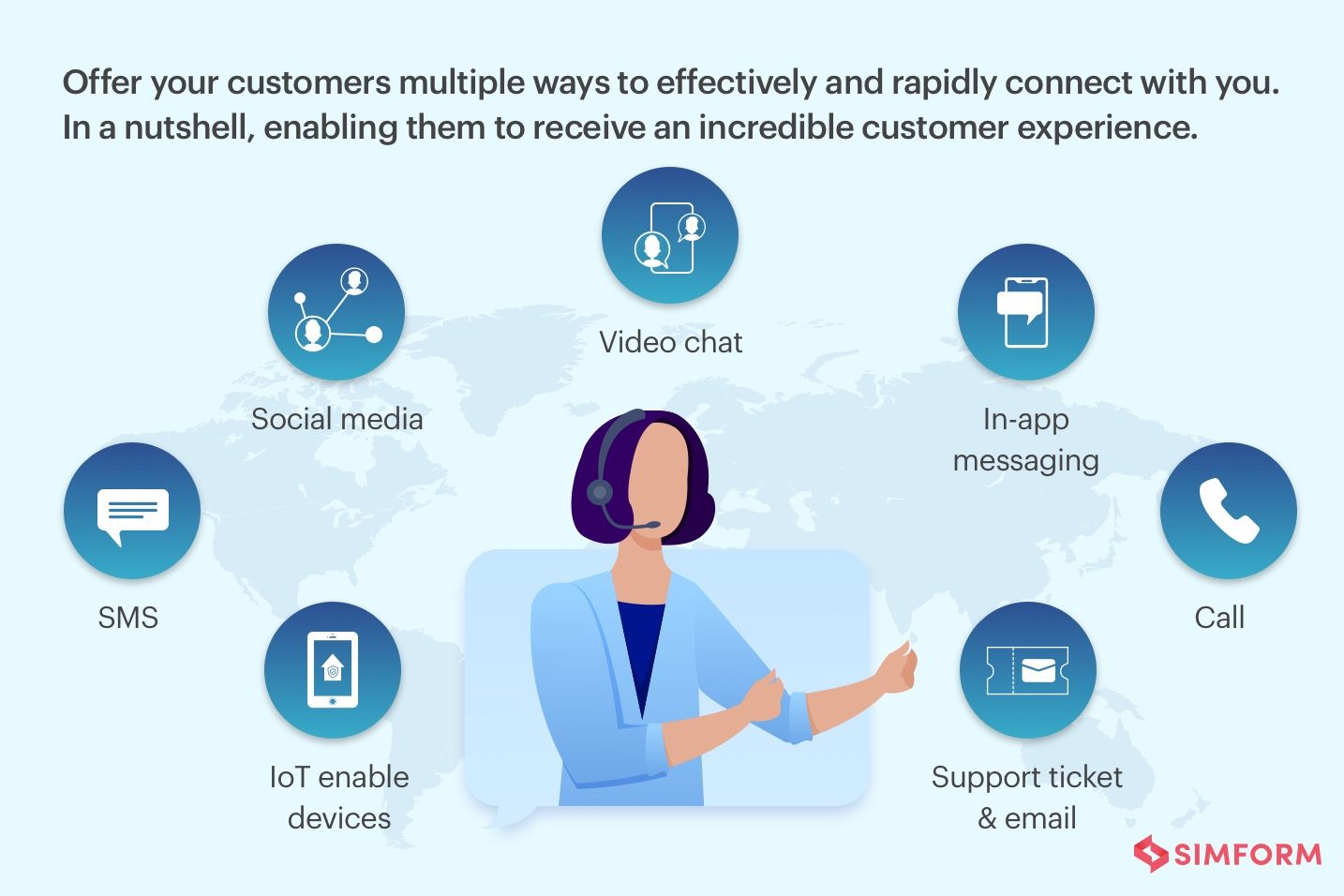 APIs are the pillars of an omnichannel customer experience. The system employs various chatbots and other in-app prompts based in voice, video, and artificial intelligence to shape a seamless customer experience. This new approach elevates customer services to a great degree and paves the way for a customer journey that's truly unique.

The next section discusses the role of these communication channels, their importance, and a few service providers that offer ready-to-use integrations. 
Voice communication channel
While on-premise call centers can only run a limited frequency of outgoing and inbound calls, cloud-based call centers have increased this capacity by manyfold. Thanks to voice-call APIs that help make, receive, and monitor calls with high-quality voice, multitrack recording, and other vital features. 
They promote better customer interaction by keeping representatives in loop about all interactions of a recipient with the product/service since  joining along with their cellular network, region, early support of media such as ringtones while holding calls, speech recognition, automating complex reporting tasks, and the like. 
Voice APIs are more than just a voice-communication channel. They make for an insightful integration and enhanced version of the calling facility in the call center. 
Let's take some examples of voice-call APIs by popular API service providers: 
#1. Vonage offers a high-quality voice service that has done wonders for customer care. The API service is programmed to provide a personalized calling experience, making it a high-quality calling network.  Vonage APIs also help you with calling insights to frame marketing campaigns and improve customer experience using their call tracking feature. They record critical data like caller's information, prioritize the routing of calls to available agents, and organize higher-value calls in order of priority. 
#2. Twilio makes quick receiving and dialing of calls through the application. Its voice API is capable of performing multiple operations with just a few lines of code. The best part is – the API is offered for various programming languages including Java, PHP, Node, Python, etc. It's got the right building blocks to scale your application and manage the entire voice operations. 
#3. Exotel is programmed to control voice calls using its RESTful APIs. It initiates, manages, and triggers voice calls. The APIs are designed in an intelligible format that's easy to understand for developers. Its click-to-call and automate-responses features increase productivity and convert tedious work into an enhanced customer experience. 
SMS communication channel
Apart from the calling feature, short-message services are a massive hit with the millenials. Customers aren't able to connect with the representatives sometimes or may not be directed to the relevant agents due to long queueing or other technical reasons. In such cases, they can always reach out through the SMS option. 
Additionally, it works more as a time-saving tool for customers. They can still send their problem via SMS without having to quit everything they're doing to get help on the call. For example, customers facing issues with mobile data or calling services cannot report the problem via call.
Thankfully, they can quickly send an SMS and have the problem fixed without wasting the time making a call.
Call centers should seriously consider integrating SMS-service API into their customer service or cloud-based applications. 
#1. Plivo offers an SMS API platform to send and receive text messages. Call centers can use it to connect with their customers globally. Your call-center applications can integrate two-factor authentication to protect from security threats, send automated alerts and notifications, engage customers through marketing campaigns via SMS, conduct surveys, and more.
It runs the SMS function in over 190 countries and has access to customizing sender IDs in over 100 countries apart from the US and Canada. 
#2. Vonage offers SMS API that smoothens the customer journey making customer communications within the context of applications. It enables secure communication with users, performs analysis, and generates leads. It's the best communication API for alerting your customers at the right time, keeping them engaged and informed at all times.
It also comes with a secured feature of adding a two-factor authentication, promotes users to use mobile app on detection of web engagement, and more. 
#3. Being the world's largest soft-drink bottler, Coca-Cola Enterprises converted their biggest challenge of sending service workers on time to operate more than 600,000 coolers and vending machines. Twilio offered them an SMS API to integrate into their Salesforce field management solution.
The API helped them address high-volume customers and gave them continuous active assistance. The easy-to-use API gave them global SMS coverage and a rapid solution to manage work, allocate technicians, and decide the urgency of the situation where technicians can communicate via readymade SMS templates. 
Video calls communication channel
Some services require sharing of computer screen or some hardware-related access with company representatives. Face-to-face problem resolution for the setup of electronics  requires prompt support for installation.  These days, sharing or calling through videos is the most sought-after feature. As expected, customers receive a wow experience through this service.     
Voximplant's high-definition video calling API is programmable to video conferencing, secure one-to-one, and many-to-many video calling. You can add this feature along with conferencing to any application. The API is affordable and reusable to the extent of the SIP infrastructure. It supports different network and device types, mixing audio and video with SIP video interoperability.  
Twilio's real-time set of video calling APIs integrates into your call-center application. It supports any browser and is super developer-friendly. They can quickly deploy the APIs and scale the functionality of the existing app. Customers can report problems with product configuration more accurately with this feature. Twilio ensures high-quality connections powered by WebRTC and builds flexible APIs that send invitation links to video calls and enhance customer journeys. 
Bitpaper, an online collaborative platform for education, uses Vonage's video API that allows teachers and students to write on a shared application. This whiteboard technology helps them share URLs, use digital pens, drag and drop content, and give access to other features. This could replace physical-classroom training considering the urgent need for an alternative in a post-covid world. Vonage's video API is considered by many the perfect complement to the traditional whiteboard with its inbuilt chat and screen-sharing benefits. 
In-app messaging & social media integration channel
Chats and email communications are an irreplaceable part of today's communications other than the calling features. Written communication allows customers to describe their problems in detail, send requests, ask for help, demand in-app purchases, and more. Cloud software solutions offer better chat communications since they handle end to end encryptions on secured data centers with high-speed internet. 
#1. Logistics giant Aramex used Vonage's messages API and Whatsapp to create incredible customer experiences. They couldn't accurately identify customer problems, nor could they pinpoint the exact location and problem of delayed deliveries. Vonage's messaging API resolved these issues.
Now. the customers could report a problem immediately. Aramex wanted to take their business to the next level of automation where autonomous vehicles and drones use data science to enhance the customer experience and needed a solution that quickly uses this data to report the problem. This challenge could only be met with the best communication channels available that are also faster and more secure unlike calling and traditional IVRs. 
#2 Mesibo is a real-time communication platform for in-app messaging and chats APIs. It has correctly programmed APIs for accurate in-app messaging with real-time texts being sent, delivered, and read. It also offers a group messaging API to send specific alerts and reminders to customers in call centers. It supports multiple mobile platforms and programming languages and is the most developer-friendly cloud-based provider of call-center API for in-app messaging. 
Chatbots communication through APIs
Chatbot-communication APIs like Amazon Lex helps you automate your traditional call-center conversations. Call centers sound  better-informed about customer journeys with this advancement. It brings the natural flow of conversations to a personalized customer experience.
These chatbots use deep-learning functionality that converts speech to text concepts, reduces the call times, and improves the success ratio of self-service interactions. 

Twilio Studio specializes in creating excellent chatbots for cloud-based contact centers. You can incorporate chat-bot functionality in your app by creating and editing communication workflow using Twilio Studio. They create SMS-enabled chatbots using Studio Widget library, providing a visual interface for design and helping cross-functional team members streamline the processes of design, development, and deployment.  
In a nutshell, cloud hosts empower your business by eliminating the long and unnecessary time to resolve customer issues. They enhance the capabilities of your customer-service representatives by presenting all the required information with one click.
Conventional on-premise solutions restrict access to information, face frequent escalations and connectivity issues, and can only handle a limited number of queries at once.
APIs are your first-hand control over your virtual-contact or call center. It eliminates the need for telecommunications and proves to be virtual yet efficient, well-connected, and productive. 
Why is the
cloud-based contact center a preferred solution

these days?

From what we have discussed, you must have gathered that a cloud call center has many beneficial features. So is it these features that make the call centers superior, or is their technological advancement just a hype? 

For starters, cloud call centers enable businesses to reach their most remote customers, open doors to more comfortable questioning, increase reach to solve problems, and streamline business processes. 

Some key features of this modern solution are listed below: 

It's a single screen with all customer data, service requests, purchase histories, complaint escalations, and pending actions. It helps customer representatives work smartly and carry out their job roles with enough information about the product and services. Cloud or virtual call centers have certain requirements from this software, which are reflected on the dashboard to keep virtually-located representatives on the same page.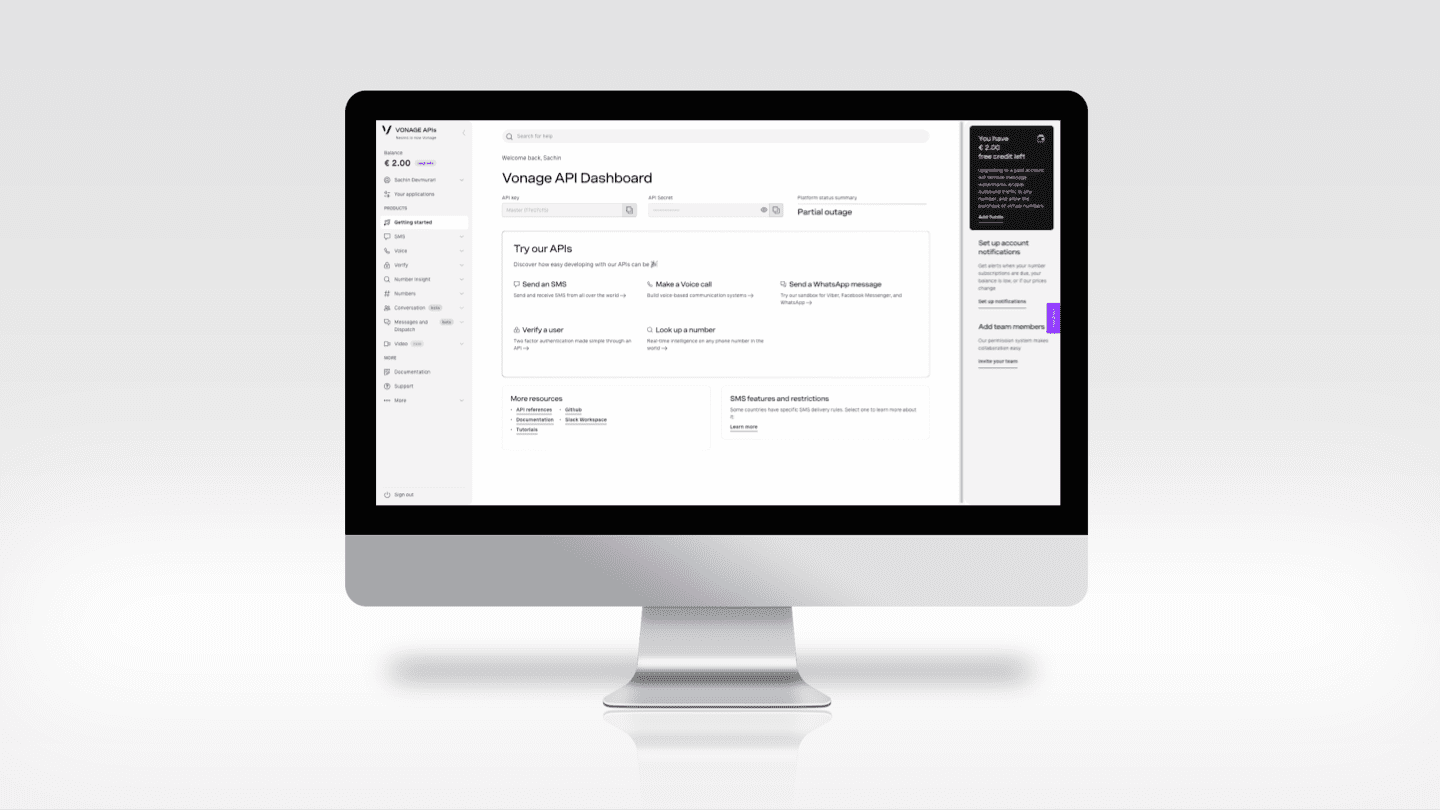 Conventional hardware configuration takes a lot of time and effort for system updates, not to mention the unexplained costs and discomfort it incurs onto your on-premise resources. Cloud-based systems entirely integrate into specific APIs. They are software based, so the latest updates, features, and required customizations do not take time and are always up to the mark.
You can track an employee's performance, gather important data, and filter analytics for a particular business segment and implement the feedback in the production. Cloud call-center solutions give detailed reports and timely tracking of employee activities. Since there's no single calling premise of the business, it proves to be most productive.
You can implement functionalities in your cloud or virtual call center that generates proactive alerts for the employees. They inform employees about their tasks, prepare them for the customer queries, help them set reminders, and provide them with product or service-related information. 
Best ways to develop

cloud-based call center

You might want to reach out to software companies offering cloud-based solutions and look for the best cloud API service provider. After all, API integration and a cloud-service provider play the most crucial parts in reshaping your entire relationship with the customers.  

Here's how we consider developing a virtual experience for your customers: 
Use API service providers 
API service providers help you build the cloud-based call center of your need. However, it's advisable to check the functionalities of a particular service, the scale they are flexible enough to integrate your requirements, and their features. Reach out to reliable software-development companies that offer cloud solutions and gain more insight into API services or API service providers. 
Simform offers API-integration services for your software. We get your call-center applications to work seamlessly using ready-made APIs. Putting suitable APIs at work, our developers scale your existing functionalities to the advanced software. 
One of our case studies includes TransTMS – the Logistics, and Transportation industry of the US. We developed a web application for them that had an advanced way of tracing the orders by documenting via API integrations with popular companies like Canada Post and FedEx. 
We also worked on EDI integration, fetching accurate information about the fleets and enhanced their tech infrastructure. The application would receive the status of quotations and related documents using our API development and integrations on the quotes module. 
Custom features and functionality
You might wonder whether you'll be able to integrate custom features into your ready-made cloud-based APIs. Vonage is one of the most reliable communication API providers and brings in out of the box features. It transforms customer experiences into programmable messaging, voice, and video forms. It enables you to build flexible communication channels within the organization as well as in customer communications. 
However, you can always choose the customization you want in your customer services. Cloud communication platforms give you flexibility with the features you want, filter out those you don't need, and proceed with the required services. 
You have two options here – acquiring private hosting or lending external hosting services. Owning has the disadvantage of having to continually keep an eye on updates. On the other hand, the latter gets automatic updates, and charges only for the services. 
For cloud-based contact centers, it is pretty much on the service providers and necessary integrations. You decide the size of the call center, functionality implementation, time, and budget constraints. Based on these factors, you can decide on the hosting. Discussing flexibility with hosting providers allows you to have a broader scope in the future for scaling and development. 
Check out for comparisons between hosting providers tools like Twilio vs. Vonage, look for capabilities, latest technology considerations, and your changing needs with time.
How
API integration plays a foundational role

in developing a Cloud-based contact center?

An API allows users access to certain parts of the application. For example, you could interact with the cloud using cloud-communication APIs and integrate payment gateways using payment-gateways APIs. It gives app users an uninterrupted experience and access to external functionality. 

In most web applications, the use of APIs is common to facilitate several services. And software systems are no longer an exception where service-oriented APIs are used. The modern web and software applications are more inclined toward integrations of various services, and cloud apps are no exception. 

This integration reduces the need to develop everything from scratch, saves a lot of resources, and increases focus on business processes and benefits. There are certain direct use cases of specific APIs that customize the cloud-based apps to swiftly carry out call-center activities. 

For a particular cloud-based functionality, there could be different API integrations. You can address separate components of cloud-based apps in many ways. The API integrations can be divided into three parts:

Service-level integrations: Platform-as-a-service integrations fall under this category. Here, the service APIs are designed to access functionalities for the cloud environment. It handles integration with databases, access to cloud environments, storage components, and portals. It has two major components – one goes on to build, test, and deploy, and the other connects apps with third-party APIs such as social-media service or payment gateway. It is also referred to as PaaS APIs. 

Application-level integrations: Software as service are application-level integrations. They deal with the application layer while connecting to the cloud. Examples of these API extensions include applications for enterprise-relationship programs and software for customer-relationship management. 

Infrastructure-level integrations: These APIs are responsible for controlling cloud resources, their allocation to user requests, and optimizing the resources for new environments. Infrastructure APIs work with these kinds of configurations, including network and workload management. To sum up,they take care of everything that's related to servers and hardware configuration. 
Conclusion
What are the differences between an on-premise vs cloud-based call center?
Cloud-based call centers offer you maximum flexibility and scalability when customizing your customer service and providing central control over a remotely spread workforce. 

On-premise call centers are not flexible workplaces since you have to be taking care of physical infrastructure, workforce, hiring IT professionals, and difficult hardware configurations. They're traditional business-processing units and take a large amount of time to add a single functionality or upgrade a feature. 

A cloud-based call center takes care of the entire customer communication, which involves using customer insights into business actions, keeping track of historical records of customer interactions, reducing time to address customer problems, improving business functions by certain optimizations in customer service operations, and of course – calling. 
You may choose to work with a cloud-based call center or use part of it in your existing call center depending on your business needs. With the emergence of technology and competition in the business, you can be sure that the future of customer services has arrived.
Simform is the official API integration partner for Vonage – the world's most flexible cloud-communications platform. Together, we've worked with organizations looking to incorporate diverse functionalities on their modern call centers and have successfully integrated custom API services into their software systems. We hope that this comparison of on-premise vs cloud-based call centers provided clarity about cloud-based connectivities and their benefits as a service.