Healthcare App Development 2023: A 5 Step Conclusive Guide For You!
Healthcare app development has been gaining popularity over the years due to several reasons like
Ease of healthcare access.

Better health monitoring and tracking of diseases.


Technology development in the healthcare industry.

Higher access for users to the internet for medical needs.
Owing to the above reasons, the healthcare app market is set to reach $100 billion by 2025. mHealth apps have seen massive growth, and several use cases have emerged over the years, with many startups investing in its development.
For example, Osmind is a healthcare startup started by Lucia and Jimmy for mental health improvement. They work on treating the mental conditions of patients to aggregate data and assist doctors through their software in providing necessary insights.
Doctors can track patient behavior between two consecutive appointments and adjust their treatment patterns accordingly for better results. Similarly, healthcare app development offers use cases like telehealth or telemedicine, fitness app, wellness app, remote patient monitoring, etc.
However, building a healthcare app for your organization depends on the tech stack, business model, features, and available budget. This article is a comprehensive walk-through on various aspects of healthcare app development. Let's start with the most obvious – building a use case.
Step-1: Building a use case
Building a use case for your business is essential to understanding the risks of developing a healthcare app and its viability within the market. The first step is to analyze the market and formulate a business model with reliable and sustainable revenue sources.
Not to mention the healthcare needs your app attempts to satisfy. Therefore, let's first understand the market scenario for building a healthcare app.
The market scenario
The Healthcare industry has seen many innovations, from the integration of Artificial Intelligence (AI) to the usage of robots in surgeries. Such innovations drive the current market trends. Nevertheless, they also create new opportunities for healthcare businesses.
Due to the massive growth in inpatient data management and allowing secure access to doctors for such medical information, Data-as-a-Platform (DaaP) has been gaining popularity. It includes using a management layer that helps create data groups as per domains reducing duplication of information.
You can retrieve your patient's data with the DaaP-based technology and use the information to empower your mobile healthcare apps.
Integration of technologies like Artificial Intelligence and Machine learning is also helping the healthcare app development industry flourish. The South American country has a population of more than 5 million who suffer from chronic diseases.
Here's an example of AccuHealth's campaign and how it has been helping deal with chronic diseases in Chile. AccuHealth's kit consists of sensors and tablets that help collect biometric data from patients like blood pressure, glucose levels, weight, and others.
In addition to that, it is a healthcare kit that comes with embedded software which prioritizes critical patients with the help of Artificial Intelligence services.
Algorithms help AccuHealth identify critical patients and enable doctors to precisely customize diagnoses. This has reduced inpatients by 32% and emergency visits of critical patients by 15% in Chile.
Business model: healthcare apps
Apart from understanding the market scenario, you need a business model that defines how your healthcare app development will work post-finalizing a use case.
According to Joan Magretta from Harvard Business Review, "Every business model has two parts. First part deals with designing, aggregating resources and developing or manufacturing it. The second part deals with selling something: finding, interacting, and transacting with customers with delivery of product or service."
Whether you want to create a digital platform for your existing healthcare institution or a startup, understanding different aspects of app development becomes vital. Working on a business model canvas will help you find answers to several questions for executing the development process successfully.
Let's discuss some of the critical aspects of the business model canvas for healthcare app development.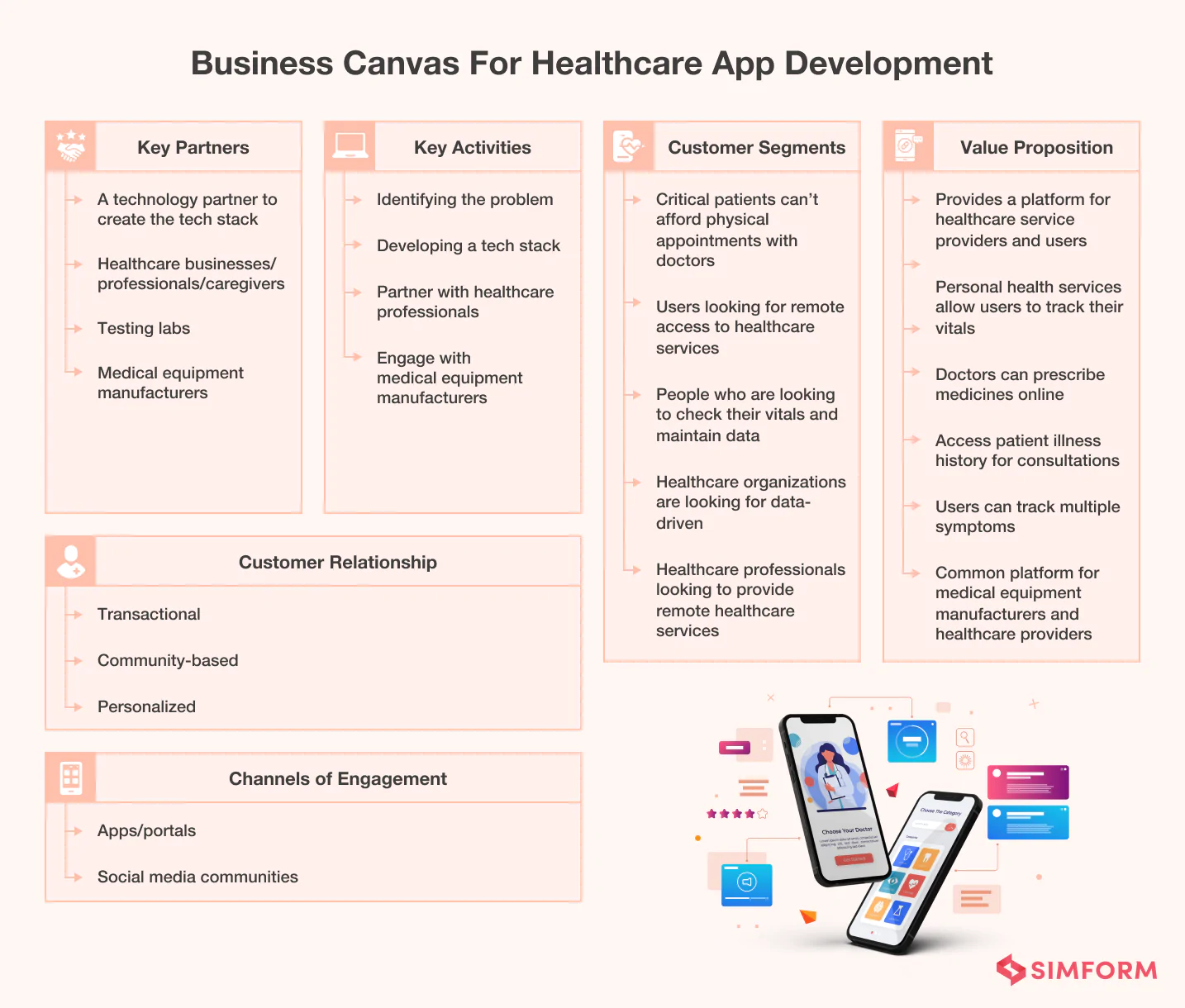 Key partners
Healthcare applications can follow any model based on partners and resources needed. For example, developing a Direct-to-Customer (D2C) healthcare app that provides services directly to users may or may not require a technology part ner for development. However, you have to consider outsourcing expertise on stack through extended managed engineering teams.
At the same time, if you are developing a Business-to-Business-to-Customer (B2B2C) based healthcare app, you may have advantages by functioning with your key business partner. For example, Omada's diabetes program partnered with Cigna, an insurance company for digital health services.
Cigna integrated Omada's services into the myCigna application to provide services for all its users and also improve its user experience. It also helped Omada scale its services with access to more users and data via the myCigna app. It is a win-win!
Key activities
Identifying the critical activities for your healthcare app development projects is essential as it will answer the following questions,
What are the key activities and values you need to provide to end-users?

What type of distribution channels will you require?

How will your activities affect user engagement?

How will you convert necessary activities into profitable revenue?
Some of the critical activities of building a healthcare app include identifying the problem which your app should address, choosing the tech stack, creating appropriate development pipelines, and deploying the final app. If you choose a B2B2C model, you will also have to integrate services from different healthcare professionals.
Finally, once you have an idea of the key activities to be performed, you will have to identify the critical resources needed to run your healthcare business via the app effectively.
Key resources
One of the critical resources for setting up a digital healthcare business is creating a mobile application that helps engage with users as per requirement. Apart from creating a mobile application, you may require professional services from doctors, testing labs, emergency services, nurses, and more, according to the type of business model chosen.
For example, suppose you are building a telemedicine application. In that case, users will need access to healthcare services remotely without physical presence, and so you need to integrate virtual services of doctors to be offered via your app.
Similarly, if you are developing a healthcare app to monitor blood glucose, blood pressure, and others, you may need cloud services for efficient data storage, correlation, and management of Electronic Health Records(EHR). Again, the resources required will differ based on the use case.
Value proposition
The value proposition is the USP and services you provide to users through your healthcare application development. Keep in mind that the value offered also differs according to the use case you choose. Some examples of healthcare apps based on value propositions are as follows: on-demand healthcare apps provide a platform for healthcare service providers and users.
Personal health services

allow users to track their vitals through wearable devices and doctors to prescribe medicines and access patient illness history for consultations.

Patient symptoms trackers

allow users to track multiple symptoms and share those data with professional doctors for diagnosis.

Contact tracing apps

use modern technology like Bluetooth Low Energy (BLE) and geotagging to indicate whether users have come in contact with an infected person or not.

Medical equipment marketplace

allows medical device manufacturers and healthcare providers to connect with each other for medical equipment-based transactions.
Customer segments
Based on different use cases, there are several customer segments like,
Critical patients who can't afford physical visits with doctors due to mobility issues.
Users looking for remote access to healthcare services.

Users looking to check their vitals like heart rate and maintain personal data daily.

Healthcare organizations that are looking for data-driven solutions.

Healthcare professionals looking to provide remote healthcare services to patients and users.

Pharmacies that want to build a digital platform to connect with users for healthcare purchases.
Healthcare institutes that provide ambulance services which can be booked online through healthcare apps
Now that you understand the customer segments, determining engagement channels and relationships is the next step.
Channels of engagement
Digital healthcare businesses can engage with users through mobile applications, web portals, and custom software developed for different use cases. Apart from these platforms, healthcare organizations and professionals can also cultivate engagements via social media communities.
Customer relationship
Medium of communication is important to establish good user relationships. Some are purely transactional, like in the use case of a medical equipment marketplace. In other instances, like telehealth/telemedicine apps, user relationships are more personalized via interactive sessions between the doctor and a patient.
Understanding all the above would help you build a strong business use case. But, the list of ideation and development requirements does not stop there. You will also need to conduct a cost analysis to ensure the project's feasibility.
Step-2: Healthcare app development cost estimation
Cost analysis is one of the most critical aspects of a business model as it allows you to determine the returns on investment. While considering the costs, it is safe to always have a pessimistic and optimistic view.
The optimistic view is that the features, development process, and deployments will be seamless with no disruptions. On the other hand, the pessimistic approach is not a negative view, but rather, it is all about preparing for the worst-case scenario through contingencies.
In this case, cost estimations for a healthcare app development depend on the complexity of features to be built, location-based hiring costs, and engagement models chosen. So, let's start with how the complexity of features may impact your cost estimations.
Featured-based cost estimation
There are several different types of features that you will need as per your healthcare app use case and based on its respective complexity levels, the development cost may differ.
Predicting an exact number on how much a feature development will cost may not be ideal. However, we can have some idea of the range of time it can take to develop the said features, and furthermore, as per the price a given developer or a dedicated team may charge, will provide an estimation.
Here is a time estimate for healthcare app development with basic features.
Features

Description

Total hours

Patient profile management

Patients can manage their profiles, access health data, and upload medical documents like prescriptions, etc.

10-15/td>


Appointment booking & scheduling

Allows users to book appointments with doctors through the healthcare application and schedule visits.

10-20

Video calls

Allows doctors to provide telehealth services and consultations online to patients or vice-versa through video conferencing based on the requirement.

10-20

Contact tracing

Allows patients to track whether they have come into contact with an infected person or not.

15-30

Payment integration

Allows users the convenience of paying through multiple options through the integration of payment gateways.

15-25

Inpatient registrations

Allows users to book physical consultation appointments from the application directly.

5-10

Push notifications

Alerts received on the user's device remind them of doctor's appointments, specific medical prescriptions, and so on.

5-10

70-130
These are some of the basic features essential to your healthcare application as they provide value for users and healthcare providers just the same. However, cost estimation does not depend only upon the development time.
It also depends upon the platform your app is supposed to be catered for and the hiring cost of developers who have experience in working with the said platforms, frameworks, etc.
Platform-based costs
Healthcare applications are deployed on Android, iOS, and others. Some of these applications are cross-platform, and some work across multiple operating systems with a single codebase. You can hire developers to develop applications that provide excellent native, cross-platform or hybrid capabilities based on your requirement.
Engaging an android developer or iOS developer for your projects needs consideration of several cost factors like location, experience level, etc. For example, Android developers in the US may charge anywhere between $40 and $53 per hour. At the same time, an iOS developer may charge you in the range of $37 to $78 per hour.
Deriving the cost estimation of hiring a developer to build a healthcare application can be tricky as you have to consider several aspects like prototyping, testing, and deployments. Therefore, you also need to consider the development time required according to the respective platforms.
| | | | |
| --- | --- | --- | --- |
| Features | Android Development Hours | iOS Development Hours | Cross-platform Development Hours |
| Patient profile management | 10 | 12 | 14 |
| Appointment booking & scheduling | 15 | 16 | 20 |
| Video calls | 20 | 25 | 30 |
| Contact tracing | 20 | 22 | 25 |
| Payment integration | 15 | 15 | 20 |
| Inpatient registrations | 10 | 10 | 15 |
| Push notifications | 10 | 10 | 15 |
| Total hours | 100 | 110 | 149 |
We can estimate an approximate development cost considering the total hours required for Android, iOS, cross-platform and the average price of hiring necessary developers.
| | | | |
| --- | --- | --- | --- |
| Platform | Total Time (Estimated) | Average Cost Per Hour (in USD) | Total Cost (Estimated) |
| iOS | 110 hours | 37-78 | $4070-$8550 |
| Android | 100 hours | 40-53 | $4000-$5300 |
| Cross-Platform | 149 hours | 53-70 | $7897-$10,430 |
It is essential to understand that the cost estimation derived here is not comprehensive and only includes specific features.
However, a full-fledged healthcare application will have several other features which can increase the development cost. Apart from such costs, expenses will also be incurred for testing, QA, maintenance, and deployment of newer versions over time.
Accounting for all these factors, the average cost of developing a healthcare application can go up to $425,000, including fulfilling its marketing requirement. The next step is to decide on specific strategies to monetize your applications and justify the cost of development.
Step-3: Monetization models
Monetizing your healthcare application needs proper planning and a reliable revenue model aligned with the organizational structure. From in-app advertising to subscription-based strategy, there are several monetization approaches that you can choose from.
Freemium model
The Freemium model allows you to provide specific services for free, and for premium services, users need to pay a fixed fee. Here, deciding what features you may offer for free becomes vital as it will be tricky.
However, if your free features provide enough value to attract users to premium services, then you can consider your monetization strategy to l be successful.
Take an example of a fitness and training application like Fittr, which uses a freemium model. It is one of the largest online communities for fitness enthusiasts and professional trainers, with a massive library of more than 150 workout sessions accessible within the app.
Fittr provides free health tips, nutritional information, diet plans, workouts, and more. However, if users want to personalize these services with a personal trainer and or a dietician, they need to opt for a premium plan.
Advertising model
The advertising model allows healthcare applications to monetize their platforms by placing ads from different businesses in-app. Here, it is essential to ensure that the advertisements are relevant to users' expectations, requirements, and location.
In addition to that, the relevance of ads is also significant to avoid or reduce user bounce rate. The last thing you need is to lose users because the ad placed was completely irrelevant.
Subscription-based model
Healthcare mobile applications can use the subscription-based model to monetize as well. For example, Zocdoc is a marketplace that connects users and doctors through mobile applications. It generates revenue through subscription fees that doctors need to pay for using the platform.
Zocdoc charges doctors up to $3000 per year as subscription fees allowing them to connect with users via their platform. The premium services include curated users suitable to the doctor's designation and medical practices with sponsored ads.
Certified content model
Healthcare applications can employ a monetization model based on access to certified content that doctors can leverage for their practice. Experts and peers curate such content with free access to specific sections, while other sections need a premium subscription.
It is relevant for medical practitioners and caregivers who want to stay updated on the latest advancements in the healthcare industry. Such targeted users are prone to pay a premium subscription fee to access such content to enhance their personal healthcare services.
Data monetization model
Data compliance and security are essential for mobile healthcare applications. For example, Health Insurance Portability and Accountability Act (HIPAA) has a set of standards that healthcare apps must follow, especially if the app deals with Protected Health Information (PHI).
However, you can monetize data by offering paid access to healthcare providers and organizations offering patient-care services. You can also monetize by providing relevant data through legal agreements to pharmacies that conduct research for developing new medicines.
Step-4 Tech stack for healthcare applications
Tech stack is a connecting link between your idea and a highly functional healthcare application. It is a set of programming languages, frameworks, and software tools required to develop an application.
What type of technologies you use to build your healthcare app determines the development cost and time of creating your app's architecture too.
If you are to develop a cross-platform healthcare application that works on both Android and iOS, the tech stack will be different than what you may need for single native app development.
So, understanding different tech stacks as per operating systems becomes essential. Let's first discuss the Android technology stack.
For example, the iHealth Tech is the brainchild of celebrity trainer and fitness coach Scott Alexander. The fitness business wanted to create an application that leverages scientifically-backed workouts for trainers and coaches.
So Cardioguru or iTrainU was developed by Simform, working closely with Scott Alexander for iHealth Tech.
The application was deployed on iPhone, iPad, Apple Watch, and the web after four years of research and development with support from the EU innovation scheme.
Going beyond the MVC architectures, Simform engineers chose MVVM architecture due to the benefits it offered in terms of testability and eradication of problems faced in using massive view controllers.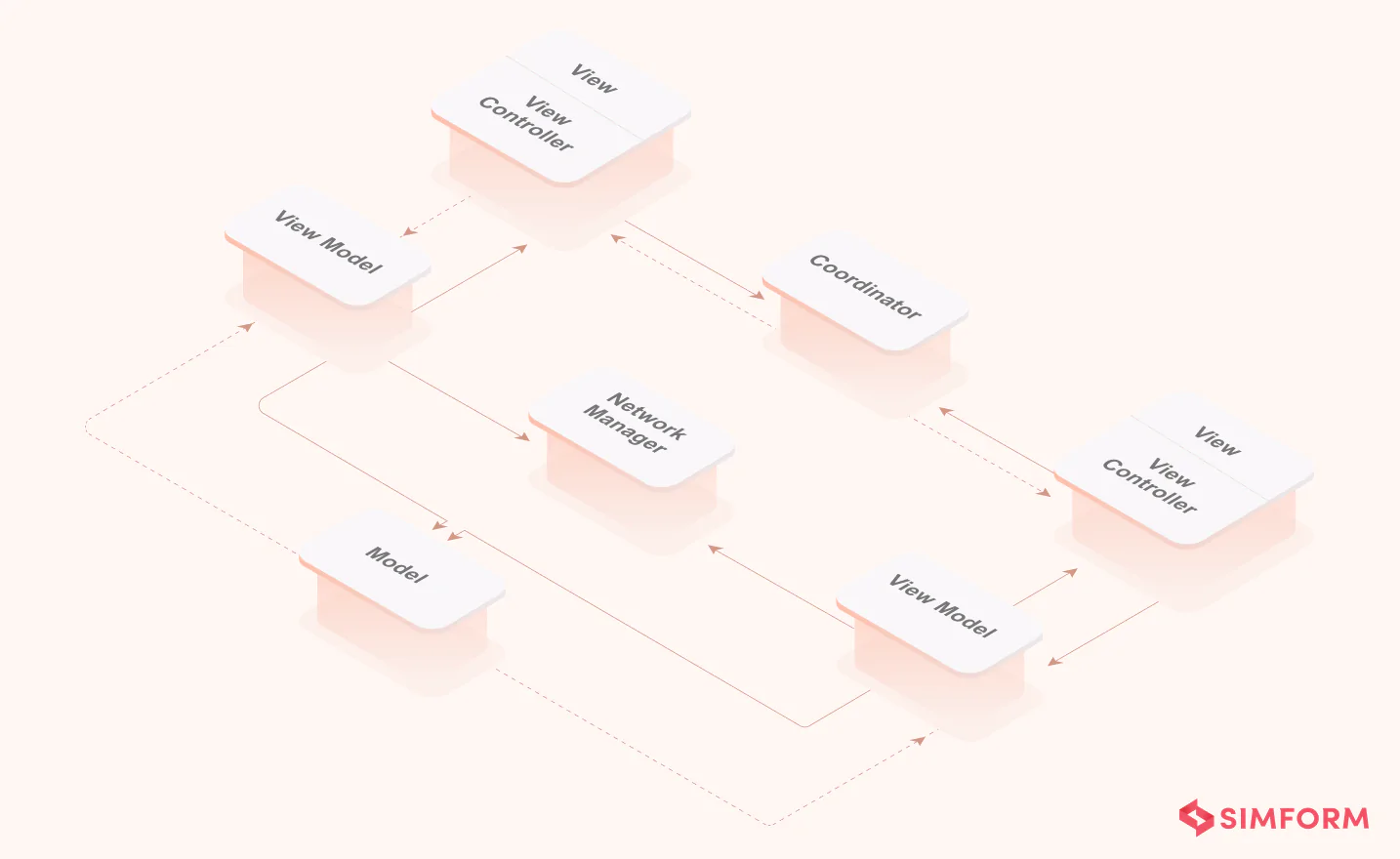 For MVC architectures, controllers can become huge with 3000 code lines with activities to be performed like business logic execution, data manipulation, etc. This is why engineers at Simform used a variant of MVVM architecture that does not involve the controller part and instead adds a coordinator.
It is also known as the MVVM+C architecture, where the coordinator will manage different flows like,
Registration flows.

User setting flows.

Purchasing flows.
The result was a scientifically-backed healthcare application that allows trainers and coaches to monitor workout performance and changes in the body of a trainee in real-time.
Similarly, you need to plan your app architecture, technologies, and deployment platforms like Android, iOS, etc. But, first, let's understand what might be contained within the Android tech stack.
Android development
Making your healthcare app stand out needs an excellent native experience. Here are some of the technology frameworks and tools that you can use to create a native experience,
Kotlin

is a general-purpose and open-source programming language that you can use for native Android development. It combines object-oriented programming with functional programming for enhanced interoperability.

Javascript frameworks

like Node.Js, Angular, and React can help develop an application. While Node.Js is an excellent backend framework with full-stack capabilities, Javascript frameworks like React can be leveraged for frontend development.
Android Studio and Android SDK

enable you to access the native functionalities required to build the perfect app.

Analytics tools

like Firebase crash analytics, Google Analytics, Mixpanel Analytics, Flurry analytics, and others can help analyze apps with metrics. You can detect crashes, monitor performance, and diagnose and fix issues easily.
iOS development
iOS is another significant operating system and native environment for application development. For iOS development, technology frameworks and tools you could use are,
Objective-c

is one of the earliest programming languages used for iOS app development. It adds Smalltalk-style messaging to the C programming language.


Swift

is an intuitive programming language with an easy-to-learn syntax that is concise and expressive. You can use Swift to develop healthcare applications for iOS, iPadOS, macOS, and watchOS.

Xcode

helps to develop native features through different feature-rich functions and also offers a visual interface for developers.
UIkit

is a framework for building graphical components in iOS apps. It comes with several templates that define the UI elements and can also serve as a building block for your app's interface.
Cross-platform development
If you are targeting to develop your app for both the platforms Android and iOS, then you will need a tech stack that is compatible with cross-platform app development, which includes,
React Native

is a cross-platform app development framework based on Javascript, which you can use for developing healthcare apps.

Flutter

is another excellent cross-platform development tool that supports hot reloading features and provides a lot of widgets for better performance.

Vonage

allows you to integrate communication functionalities, especially in the case of telehealth/telemedicine

applications.
Step-5 Building an MVP
You need to formulate a development plan based on your business use case, revenue model, and features to be built. The first step of a healthcare app development plan is building an optimally viable product with basic features, also known as a Minimum Viable Product (MVP).
Testing and using the test results for further iterations will ensure that you can provide an excellent user experience to your MVP. It also helps to deploy your app quickly in the market while developing more complex features parallelly and not compromising on minimum quality.
Using an MVP approach will help you,
Have a competitive advantage with the early entry of ideas in the market

Test essential features, and find errors before the launch of the app

Leverage an agile approach where you can integrate user feedback for each iteration
How can we help?
By now, you may have understood the different aspects related to healthcare app development like business models, monetization strategies, tech stack, and cost estimations.
However, it is essential to know that the impact of these factors and how you plan for them will differ as per the use case you choose to cater to with your services.
This is where a healthcare app development company like Simform can help you with excellent solutions. We help you with,
Expert guidance on ideating business use cases

Identifying key revenue streams

Identifying a reliable tech stack

Extending your development team with our experts

Iterative development and architecture designing at scale

Leveraging cloud technologies for better

scalability

, flexibility, and agility.
So, don't ponder over your idea today, allowing your competitors to stay ahead tomorrow.
Transform your vision into reality with excellent solutions offered by Simform starting now!