How Much Does It Cost to Develop an App in 2023?
How much does it cost to make an app or build an app? The first question that pops into your mind if you have a brilliant app idea or an existing business in need of an app. Well, the only correct answer is – it depends! But it raises more questions. So, if you're wondering what factors the app development cost depends on and how to estimate a ballpark figure, we're here to help!
This guide thoroughly examines all the factors that influence app development costs. It also discusses cost breakdown for straightforward calculation, tips to reduce costs, a few cost estimates, and examples.
Let's start with an overview of app development costs today.
How much does it
cost to build an app?
The cost to develop an app can fall anywhere between $10,000 to $500,000 or even up to $1 million and above, depending on the app's type, features, and complexity. There is no exact figure for app development cost, but that's quite a wide range, isn't it?
Such a huge gap is due to many factors that affect app development. So how do you calculate the price for your mobile application development?
To simplify, let's narrow the range by categorizing your app idea based on its complexity, which is the major influencing factor. Determining whether your app is simple, moderately complex, or highly advanced is a good starting point. Below is a table that illustrates the tentative price range and timeline for developing an app based on complexity.
| | | | |
| --- | --- | --- | --- |
| Complexity | Simple app | Moderate app | Advanced app |
| Cost | $10,000-$50,000 | $50,000-$200,000 | $200,000+ |
| Timeline | 2-5 months | 4-9 months | 9+ months |
These numbers can get you started on planning your app development budget. A small app with core features can be developed at lower rates, whereas a complex app with intricate design or a feature-rich enterprise app will be expensive. If you're building a minimum viable product (MVP), it may cost even less than $10,000, taking only a few weeks to develop depending on the complexity. Also, you'll need a larger budget if you want to develop an app for both Android and iOS platforms.
However, the overall quotation will fluctuate depending on a myriad of other factors apart from the complexity. We will discuss these factors in detail later in the post.
How do you calculate the cost to build an app?
By factoring in the total development time and hourly rates, you can quickly work out a rough estimate. Here's the simple formula to calculate your app development cost:
What affects app development costs?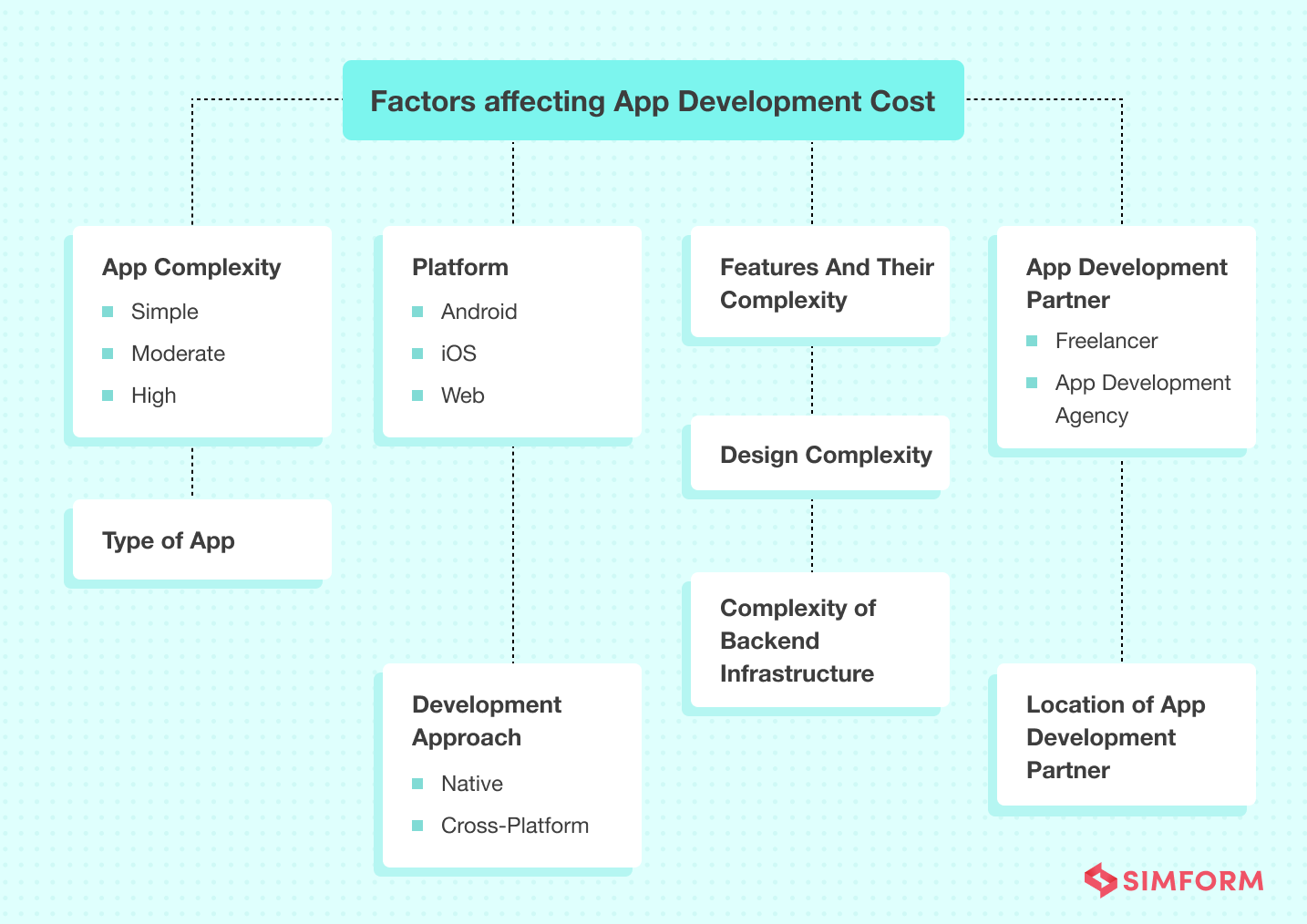 The major determinants that affect the number of development hours are:
Type and size of the project
Number of platforms and development approach
Number of features and functionalities
Design of the app
Additionally, the hourly rates will on your:
Development team set up, whether you hire freelance developers or a dedicated development team
And the location of the team as the hourly rates differ in different countries
After considering all these influencing factors, the figure will be a lot closer to your actual app development cost. So keep reading to understand the influence of various factors in detail to ascertain your ideal budget.
Development cost based on
type of app
There are various classifications of apps based on their logic, function, and overall purpose. It is essential to identify the type of app, whether your idea is a gaming app, social media app, e-commerce app, lifestyle, or such. It directly affects the app development cost by helping determine the features you're going to include or if you need to spend more on visual design enhancement and app marketing.
For example, if you're developing a standalone app with simple functions, it will be less expensive than a social networking app. On the other hand, apps that include AI, Augmented Reality, or VR unlocks new potential but are costlier.
To make the cost estimation process easier for you, below are raw estimates of some common app types.
Common App Types
Cost Estimation
Timeline
Data-driven apps
$15,000+
1-2 months
Authentication apps
$50,000+
3-6 months
E-commerce apps
$50,000 – $200,000+
3-6 months or 9+ months
Social media apps
$60,000 – $200,000+
3-6 months or 9+ months
On-demand apps
$70,000 – $200,000+
5-8 months
IoT-Centric apps
$60,000+
3-6

months
Data-driven apps are more complex than basic apps. These apps store data on the user's device or a remote server and process specific information. It may require developing a back-end and some additional features like a camera, access to the gallery, or an internet connection to work as desired. Some examples of data-driven apps are stocks apps, news apps, and weather apps.
Authentication apps require the user to log in for full functionality, preferably via social networks. The user's personal account interacts with the data synchronized among devices. It may require additional features and a corresponding admin panel for user and content management, which increases costs. Examples of this type of apps are Microsoft Authenticator, Google Authenticator, and so on.
E-commerce apps are complex in infrastructure. They require a robust back-end and admin to manage users, inventory, orders, payments, etc. Therefore, their final cost will vary depending on the app design, complexity, and features you want to include. Some important features include filtering and sorting products, barcode scanning, personalized recommendations, and so on.
Social media apps generally include networking and communication between two individuals or groups of people. Some famous examples are Instagram, Facebook, and Youtube. However, they may have subdued versions like apps for rating or review, communities, blogs, dating apps, etc., which cost less. These apps process a lot of data that requires well-planned back-end support and are costlier to develop.
On-demand apps aim to satisfy specific needs or wants, serving as a platform where content is constantly changing in real-time. The most well-known examples are Uber and food-delivery apps. They require two solutions with different functionalities for riders and users. These apps also require order sections, delivery add-ons, and payment features. They are costlier to build depending on complexity.
IoT apps connect physical devices with the user device to make them smarter. They are interconnected via Bluetooth or wifi to send and receive data or requests. The physical devices can include watches, appliances for home assistance, pet collars, etc. These apps aim at enhancing the functionality of physical devices that can consist of an alarm, camera, etc.
Number of platforms and development approach
As you start calculating app development cost, the first question you need to answer is what platform to build your app on: Android, iOS, or both. It will also help decide the development approach, whether the app will be built for native or cross-platform.
Android vs. iOS app development cost
If you develop natively for a single platform, there won't be a massive difference in the development cost for iOS and Android. However, the timeline could differ depending on the complexity of features and functionality to be included. So the cost would be proportional to the number of hours required. But if you're developing for both platforms individually, it will double the prices. Simultaneously, building on the iOS platform requires following Apple's strict guidelines and regular maintenance, whereas Android is more flexible. Finally, both Android and iOS development use different SDKs and frameworks, affecting overall costs.
Cross-platform vs. Native app development
Cross-platform vs. Native app development
Develop For Multiple Platforms With A Single Codebase
Needs Specific Development For Each Platform
Cuts Development Costs
Cost Increases With Number Of Target Platforms
Cuts Down Time-To-Market
Higher Development Timeline
Best Suited To Reach Larger Audience
Best Suited For High-Performance, Complex UI Apps
Quick And Easy Updates
Requires Maintaining Separate Codes
Recently, cross-platform development technologies like Flutter, Ionic, and React Native are increasing in popularity in the IT industry. They facilitate the development of apps for multiple platforms with a native-like functionality with a single code base. Such hybrid apps can cut down development costs and time-to-market significantly. It is also easier to maintain apps and update features after release since there are no separate codes.
On the contrary, native development is best suited for high-performance apps or apps with many custom animations or complex UI. Native apps are better optimized for user experience than hybrid apps, making them technically superior. Moreover, they also have greater functionality with hardware and are highly scalable. They use specific toolkits and programming languages such as Swift for iOS and Java or Kotlin for Android apps. Generally, native app development is costlier and requires a higher development timeline.
But what if you want to develop a mobile app for both platforms cost-effectively? Then cross-platform development is the preferred choice, which brings us to our next point.
Pro-tip to reduce cost: For younger startups, it is advisable to target one platform initially. When choosing between platforms, it is vital to consider factors like market share of Android and iOS devices, country-wise prevalence, etc. For instance, Android has twice as many users as iOS, but iOS has a significant market share of around 60% in the USA alone. But globally, Android has more users.
You may also consider releasing both Android and iOS app versions with simple functions. For example, at Simform, we have developed and designed various applications for both Android and iOS platforms within the range of $30,000-$40,000.
Moving on, the next step is to determine the features you will include in your app based on its purpose and function.
App features and cost based on their complexity
To estimate a more accurate app development cost, the number of features to be implemented in your app is critical as it directly affects the development hours. In addition, more complex features take a longer time to develop than basic ones, increasing the overall cost of development. So, the effective formula will look like this:
App development cost = (Features X Development time) x Hourly rate
While making a list of features you want to include, it is best to consider long-term business goals and go for the ones in the best interest of your target audience.
If needed, developers may use ready-made templates or third-party APIs, which will add extra cost. Even the typical user engagement or authorization features can vary in complexity. Overall, the development and maintenance of highly complex features is more cost-incurring than basic features.
Well then, let's take a look at some basic and complex features with the approximate timelines to develop each.
Basic features:
Feature
Description
Approximate development time
Approximate cost (based on $30/hr)

User login

login via email or phone,

login via social media accounts, s

toring user details when they login

20+ hours

600+

Navigation

define user flows (such as swiping, scrolling, etc.),

adding customizations (such as language change, landscape mode, etc.)

30+ hours

900+

Chat

in-app messaging,

adding other functions such as group chat, file transfer, auto-deleting messages, etc.

130+ hours

3900+

Search

search within the app with suggestions,

adding functions like predictive speech, filtered search, etc.

15+ hours

450+

Push Notifications

update users with real-time information,

engaging users

15+ hours

450+
Complex Features:
Feature
Description
Approximate development time
Approximate cost (based on $25/hr)

Payments integration

add in-app payment systems such as PayPal, credit cards, etc.

50+ hours

1500+

Geolocation

detecting user's device,

integrations such as Google maps

32-70 hours

960-2100

Streaming audio/video

start/stop and view broadcast,

switch between broadcasts

90+ hours

2700+

Analytics

analyzing user activities for valuable insights,

integrating Google Analytics, Flurry, etc.

5+ hours

150+

Offline mode

local database on user device for access and storing data

30+ hours

900+

Data encryption

encrypting data including text, image, audio or video for security

20+ hours

600+
Check out this blog on how to improve your mobile app's performance
Development cost based on hiring models
When deciding who will build your app, you can hire freelance developers or an app development agency. You can also hire professionals to extend your existing in-house development team if needed. All these routes have pros and cons associated with them which significantly affect the overall development cost.
You must choose the right partner depending on the project size and complexity. However, their cost shouldn't be the only deciding factor. Instead, consider the talent, expertise, and experience of the development team. Let's have a closer look at all the hiring models.
Hiring Freelancers
Hiring freelance app developers is the most cost-effective way to build an app if it isn't too complex. If you manage to hire a talented freelancer, they can build apps with good quality as developed by an agency at a lesser cost. The hourly rates also drastically differ as per their location. For example, in the USA, the hourly rates of app developers start from $50 per hour, while in India, the rates start from as low as $10 per hour.
But you need to hire freelancers for all aspects like design, coding, QA, and manage the team yourself. Thus, it may pose certain challenges like communication gaps, limited accountability, and transparency. It can lead to delays and low-quality development which is costlier in the long run.
It is best suited for developing simple or small apps. But if you're on a tight budget, you can split your project into smaller phases. Also, ensure that you clearly define and convey your requirements.
Hiring App development agency aka Outsourcing
Hiring an app development company to build an app is more advantageous, reliable, and easier. It is costlier but provides faster and quality-assured results. These teams work with deep involvement, discipline, and efficient communication. The agencies ensure projects complete on time, with the desired results, and security which makes it worth the cost.
App development agencies have all the required infrastructure and resources for developing and deploying apps. Their team of highly qualified and experienced professionals will guide you through creating robust, feature-rich apps from the planning to the deployment phase with the best options. Their dedicated team of specialists consists of:
Business Analyst
UI/UX Designers
iOS/Android Developers
Quality Assurance Engineer
Project Manager
The size and structure of the team will directly affect the development cost, and it should be according to the needs of your project. For example, complex apps will require more work by the designer, hence two or more developers may be required comparatively with basic apps. The costs charged by the agencies will depend on all the factors we've covered above, their location, and the engagement model you choose.
Hire Dedicated Remote Developers/Extended Team
If neither of the above models seems ideal for your needs, you can hire dedicated remote developers and add development capacity on demand. The difference between hiring freelance developers and dedicated developers is that a freelancer might be working on several projects at a time which can hinder the quality of work. Whereas a dedicated developer is only working on your project which enhances productivity and quality of work. Also, when dedicated developers are hired from a software development company, you do not have to do the hiring legwork such as vetting candidates, payroll, etc.
Moreover, you can also hire dedicated project managers and other required professionals to extend your existing in-house team. An extended team is preferred when you already have established management, processes, and workflow. With a dedicated development team, you get higher security, expertise, and uninterrupted productivity.
Simform has the answer to all your needs whether it is hiring dedicated developers, team extension, or building a project from scratch. Our developers and teams will seamlessly integrate with your culture to build a great product.
Pro-tip to reduce cost: It is cost-effective to have one app development agency take care of both design and development. Furthermore, outsourcing mobile app development or extending your existing team will provide financial benefits as well as access to a larger talent pool.
Want to Hire a Mobile App Developer For Your Project?
App development
cost based on location
The geographic location of your app development team is also a key factor affecting the hourly development rates. However, it is essential to do thorough research before hiring an app development company regarding services they provide, benefits, maintenance, support, and development quality.
A few popular destinations for app development are North America, UK, India, and Australia. In addition, South America and Eastern European countries like Ukraine and Poland are becoming popular outsourcing destinations.
Let's see the average hourly rates of app development agencies at different locations.
| | |
| --- | --- |
| Region | Hourly rates (in $) |
| USA | 100-250 |
| Canada | 50-150 |
| Eastern Europe | 25-100 |
| UK | 50-200 |
| India | 30-40 |
| Australia | 50-100 |
| South America | 25-100 |
Cost breakdown based on app development stages
Now, you're just one step away from deciphering the final development cost of your app.
A complete app development process is much more than just coding and designing. It has different stages as shown below.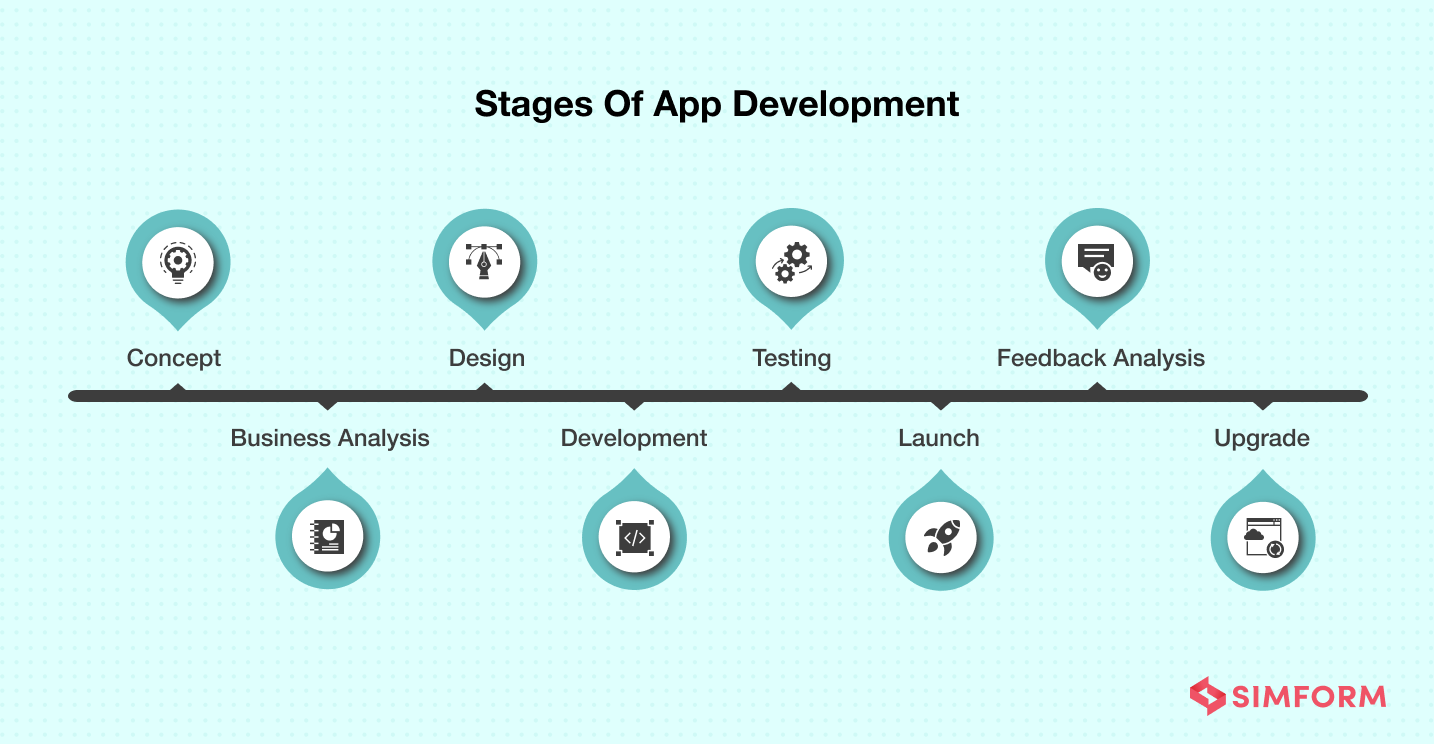 Each stage constitutes a chunk of the total app development cost. Therefore, a comprehensive understanding of the development process will allow you to allocate funds to each stage better. The significant factors we covered earlier mainly pertain to the development stage. So, let's discuss all the stages in terms of their cost and time required.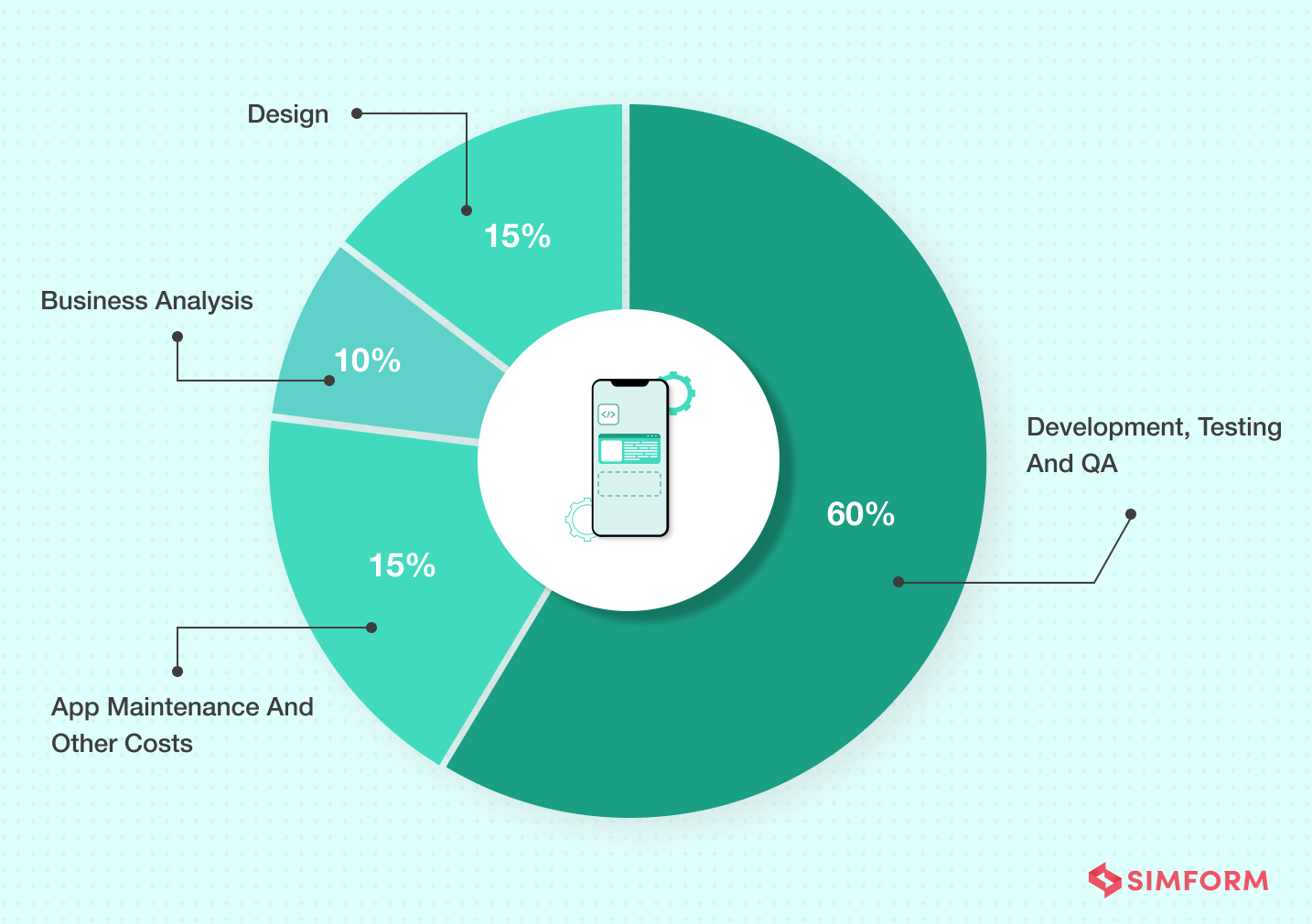 App Development Stages
Development Stage
Cost Estimation
Timeline
Business Analysis/Discovery stage
$1,500 to $10,000+
2-4 weeks
Design stage
min of $2,500 to $10,000
2-6 weeks
Development stage
$10,000-$30,000 and above
Depends on complexity
Testing and Deployment stage
$5,000 or within $5,000-$10,000
Depends on complexity
Business Analysis/Discovery stage
You have a winning mobile app idea, but how do you make an app out of it? This pre-development stage helps your app development vendor know the ins and outs of your app from technical, development, and business perspectives. It is often underestimated, but further development is impossible without it.
A business analyst verifies the business scope of your app, runs the competitor analysis and market research, prepares documentation, app architecture plan, and product backlog. User stories in product backlog help calculate the development budget and delivery time more accurately.
Cost of Business Analysis Phase
Can cost anywhere from $1,500 to $10,000+
Has a timeline of 2-4 weeks
Design stage
Impressive UI/UX is a must for your app to hook users' attention. The UI designer gives your app a unique look. And UX designers meticulously develop user experiences after behavior studies to deliver specific results. Depending on the target audience, the design costs fluctuate as per the number of screens, design complexity, and custom visual elements.
If you have a tight budget, prioritize the elements or divert funding from other stages if it's worth it. Also, it is crucial to have a functional prototype in place before proceeding towards development.
Cost of Design Phase
Ranges from a minimum of $2,500 to $10,000
Can increase to $25,000-$50,000 or higher for complex apps
Has a timeline of 2-6 weeks, depending on complexity
Development stage
Development or coding is the largest function of the whole app development process and significantly influences the overall budget. And of course, its cost depends on various factors which we've covered extensively like app complexity, features, platform, development resources, and their location.
Cost of Coding Phase
Costs between $10,000-$30,000 and above
Can even cost $5,000 or less in some cases.
Testing and Deployment stage
Testing, quality assurance, and deployment are crucial to ensure the success of your app development project. Users will drop your app if they face multiple lags or glitches, even though it has good functionality.
QA engineers conduct individual tests for all features and aspects of the app to make it flawless and avoid any issues or bugs post-release. However, app testing is not limited to this stage. It can be carried through the development process to ensure the proper functionality and quality of the app.
There are different testing tools available and the total cost will be affected by the tools used. It will also be influenced by the experience of development in making use of the tools chosen.
Cost of App Testing and Deployment Phase
Cost less than $5,000 or within $5,000-$10,000
Seldom costs more than $10,000k based on app's functionality
App maintenance and other hidden costs
After you've built a great app and deployed it comes the phase of maintenance and support. It is vital to keep your users happy and retain them by improving the app according to their changing expectations. It entails implementing necessary updates, new features, bug fixing, and emergency maintenance. It also includes the cost of app infrastructure services like servers, database, and third-party services.
Cost of App Maintenance Phase
Costs less than $5000 or $5000-$10,000 annually
Takes 10-20% of the original app development budget
Some app development companies also offer free maintenance for a few months after release or at regular intervals. It is better to ensure you benefit from such services and have breathing room in your budget for any hidden costs that you might have overlooked.
Below is a list of maintenance costs, including other hidden expenses you may incur during the app development process, its launch, and post-launch.
Google Play Store charges a one-time fee of $25 and the iOS App Store charges $99 per year for releasing an app.
The time and cost of updates vary depending on the nature and size of the update. For instance, updating a functional aspect can take days and cost around $1000-$2000 based on hourly rates.
The cost of bug fixing also depends on the size of the app and the nature of the changes. A quick bug fix in one line of code would not cost much. But if there are too many bugs to be fixed, it can impact the total cost significantly.
Hosting app data on a server can cost $20 to $300 per month, depending on the type of data, amount, and type of solution you choose. If you choose to host in the cloud, it may be cheaper with their pay-per-use model. And also, you will need to consider scaling up the servers in the future if there is potential for user growth.
Some third-party tools or services like maps APIs, payment APIs, SDKs, push notifications, etc., will incur subscription costs. And you may have to pay additional fees for using licensed technologies or frameworks.
App Monitoring and analyzing helps you make better decisions with insights on user behavior and performance. Using analytical tools or platforms will add extra costs to your app development project.
A Project Manager controls and oversees the app development from start to finish. They may charge hourly fees or a fixed price for a certain period, and the cost also varies depending on the project type and timeline.
With millions of apps available on the app stores, marketing is a requisite to get your app noticed and installed by the users. Although non-technical, marketing costs should be planned into the total budget as the market reach of your app may fail without it. The prices will vary as per the marketing strategies used.
If you decide to protect your ideas through copyrights and trademarks to avoid any infringement, it will add-on to the expenses, including the legal fees and filing paperwork. Some projects choose to add necessary rights to their app while developing to avoid any duplication issues in the foreseeable future.
Want to discuss App Development Cost with a professional?
Concluding Remarks – App Development Cost
So, how much does it cost to develop a mobile app? Well, now it's evident that there is no clear-cut answer. It depends on numerous factors associated with your app idea and the development process. Considering all the influencing parameters should help you arrive at a nearly accurate cost for turning your genius app idea into a reality.
Let's say you have a brilliant start-up idea or want a mobile app for your existing business. But the process of calculating the total app development cost could be strenuous. What if you could consult with experts and get a quote for free?
Say no more; we've got you covered. Simform has developed innovative, modern, and successful mobile applications for clients in various industries. We've curated apps for companies like Redbull, Pepsico, Sony Music, and many more.
Here's how it goes once you get in touch with us. We will:
Discuss your project idea and establish all the above factors
Plan in detail the tech stack, architecture, timeline, and budget for free
So, let's get started!