Fleet Vehicle Maintenance: A Quick Guide for Fleet Managers
As a fleet owner, the biggest challenge that you might be facing is to increase your fleet's efficiency and decrease vehicle downtime. Plus, the twist is you've to do that on a limited budget. So, there is a need to develop a new strategy, where there are less human intervention and more automation. That's where the necessity to leverage technology comes into the picture. 
With so many emerging technologies at disposal, there is a paradigm shift in fleet vehicle maintenance, with predictive maintenance becoming the most preferred option. In this blog, we will talk about predictive maintenance, the role of custom software for such maintenance, and how emerging technologies are playing a vital role in it. 
We will also be providing you with a fleet vehicle maintenance checklist/program that would help you uplift your fleets' operational efficiency. So, let's start with fleet maintenance first.
Editor's note: This blog is completely focusing on fleet vehicle maintenance. If you are planning to implement a complete fleet management system, consider checking our software development services.
What is
Fleet Vehicle Maintenance?
Fleet vehicle maintenance is the process of managing diagnostics, services, and repairs periodically to keep your vehicle in optimal condition for safe and prolonged usage. With a well-devised fleet management checklist and custom software in place, you'll find yourself saving fuel and maintenance costs, complying with local, state, and federal laws, reducing mechanical challenges, and boosting driver and customer satisfaction.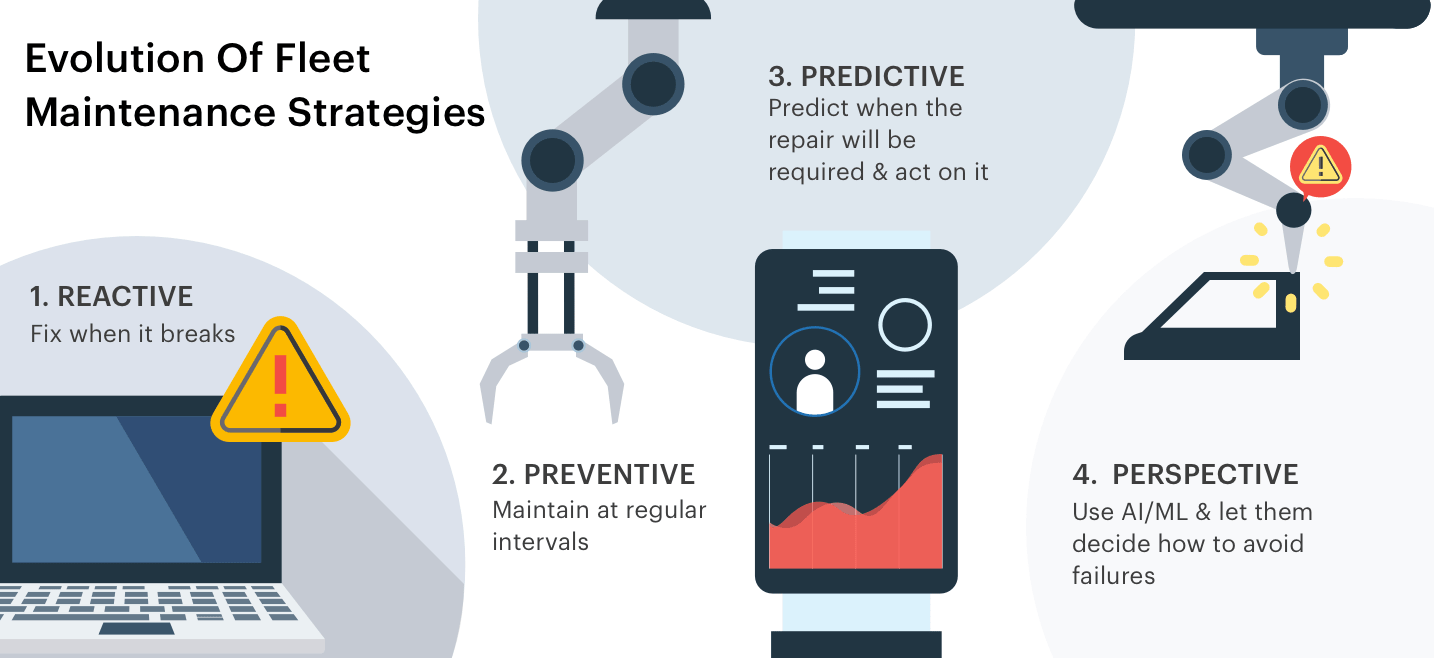 To explain this phenomenon, allow us to share an anecdote of a client, the second-largest general insurer in the Nordic market, who wanted insights into effective utilization of vehicles, drivers' behaviors, operational costs, fleet tracking, claim management, among others.
With a vision to care for and protect fleet vehicles and their drivers, they wanted to receive notifications about real-time accidents. This called for a consideration to integrate telematic insights into their business that would give them a deeper understanding of insurance claims and offer reports of a vehicles' health and driving patterns.
We built them a fleet tracking solution for web and mobile, powered by IoT and Cloud, that extracted data such as speed, fuel consumption, engine coolant temperature, and idle time from vehicles' sensors and devices. What's more, fleet managers could schedule, what we call, predictive maintenance based on the analytics received on emerging health issues. Consequently, the client experienced a boost in the immunity of customer fleets with reduced accident risks.
Anyhow, we're sure the term "predictive maintenance" piqued your interest, for you may have established from this use case that it could be one way you and your fleet managers could minimize spending and effort.
So, what is predictive maintenance?
The condition-based maintenance approach lets you monitor fleets using sensors that generate important data in real-time to predict the next maintenance and prevent failures.
In fact, technologies like AI, Machine Learning, IoT, Big Data, and Telematics play a significant role in reinforcing quicker, smarter decision-making, increasing performance, cutting unnecessary costs, decreasing vehicle downtime, and minimizing unexpected failures and risks. 
Here are some features that could add to your custom software and extend its predictive maintenance capabilities:

GPS Tracking: With the help of advanced telematics, fleet managers can track the vehicle's location and inform their customers about their delivery status.
Fleet Diagnostics: The IoT-based sensors placed in the fleets provide real-time data for vehicles and send DTC (Diagnostic Trouble Code) to track a failure. 
Vehicle and Asset Utilization: AI and Machine Learning process the data to provide FM with the vehicle's health condition and drivers with notification for maintenance alerts. 
Driver and Vehicle Safety: With AI data analytics, Fleet Managers get a driving pattern for each driver in a visual format. Based on that, he/she can alert the driver regarding rash driving.
Driver Communication: With flexible cloud architecture in play, drivers can fill the inspection report through an app, and Fleet Managers can access it from anywhere.
According to the US Department of Energy paper, a good predictive maintenance program can reduce vehicle downtime by 35-45% and increase productivity by 20-25%. In fact, the US Navy decided to use AI-driven drones to anticipate their fleets' maintenance needs. Interesting, isn't it?
Off-the-Shelf vs.
Custom Software

: Which One Should You Opt For?

After knowing how critical the role software would be in fleet maintenance, most of the fleet managers would have a question in their mind:
"Should I opt for off-the-shelf software or custom software?"
Let me give you the upside and downside of both these options, which would make it easier for a fleet manager to make a decision. 
As far as off-the-shelf software goes, it very quick to install, use and understand for anyone. Another great benefit of traditional fleet management software is the low upfront cost and wide adoption. But, the downside is that this software may not meet all your business needs. Modification is a significant issue for off-the-shelf software as it's rigid in nature, and it often faces compatibility issues.
On the other hand, custom software can meet all your business's challenges as it is explicitly built according to your methodology. The other great thing about custom software is that it's scalable, adaptable, secure, and robust in nature. It can give you a competitive edge over the others. The only downside is that it requires a little upfront investment from your end.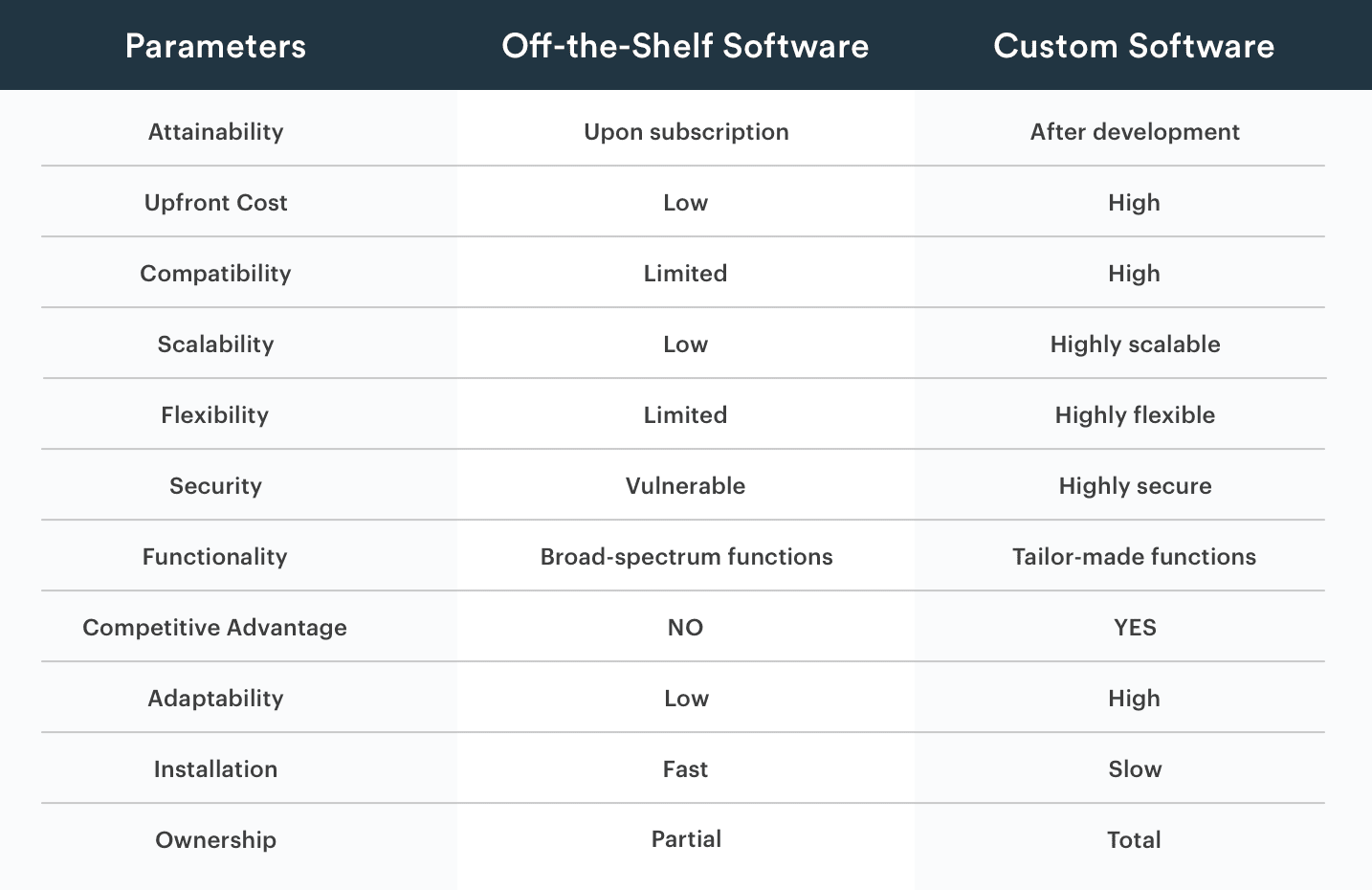 You must have made your mind regarding the kind of software you want to build. So, let's now analyze the role of automation in fleet vehicle maintenance software.
The Role of Automation in Fleet Vehicle Maintenance Software
88,000

– number of jobs lost in the

trucking industry

in April 2020. 

Chris Brown

– Exclusive Editor of Business Fleet and

Amin Amini

– Associate Director of Verizon Connect told

Chris Wolski

– Content Editor of Automotive fleet in a

webinar

that there will be a fleet rightsizing in 2021 with

33% of the US workers

working remotely. 

American Trucking Association has predicted a

shortage of 174K drivers

by 2026. 
Now, you may be wondering, why am I throwing such random numbers? Let me explain to you its importance. All these statistics suggest two major trends for fleet owners:
Working remotely will be the new normal 

Making optimum use of available resources (drivers) will be a key to success
In this scenario, automation will play a crucial role in fleet maintenance. It can rapidly perform repetitive tasks and allows fleet managers to concentrate on important business decisions. All these things can be made possible by leveraging emerging technologies in fleet maintenance. The advanced telematics track vehicle location and send it to them as well as customers. Connected-IoT sensors track mechanical failure and send an alert to drivers as well as fleet managers.
We built a robust, intelligent, and user-friendly web solution for TransTMS - A transportation & logistic company in North America.​​
Cloud Computing provides accessibility and power to process Big Datasets, while AI and Machine Learning process the collected data to find failure patterns. Based on this, fleet managers can make crucial decisions. Lastly, AI data analytics represents the important data on the custom dashboard in a pie chart, so understanding them would be a cakewalk for fleet managers and owners.
On the other hand, custom software can meet all your business's challenges as it is explicitly built according to your methodology. The other great thing about custom software is that it's scalable, adaptable, secure, and robust in nature. It can give you a competitive edge over the others. The only downside is that it requires a little upfront investment from your end.
Implementing a
Fleet Vehicle Maintenance Checklist
Before implementing the checklist for fleet vehicle maintenance, it's important to list the goals and objectives as it helps Fleet Managers and drivers know their roles and responsibilities. In addition to that, it also creates transparency, clarity, and accountability among the stakeholders involved in the maintenance process.
For example, fleet managers could devise a maintenance checklist/program and then monitor it from beginning to end. On the other hand, drivers could conduct a basic inspection, which includes checking tire pressure, fuel level, engine temperature, etc. 
Once the roles and responsibilities are defined, you can follow the 3-step checklist listed below:
Step 1: Collecting and Storing Information from Existing Fleets
Collecting and storing all the important vehicle information at one location is the key to success for any fleet owner. It helps drivers and fleet managers save precious time and avert miscommunication.
A predictive maintenance software built based on flexible cloud architecture can seal the deal for any fleet manager. Cloud computing provides you the power of accessing, recording, managing, and retrieving data from anywhere. It also makes a paradigm shift from a traditional business model to a SaaS-based business model. 
Here's how predictive maintenance software built on the Google Cloud Platform looks like: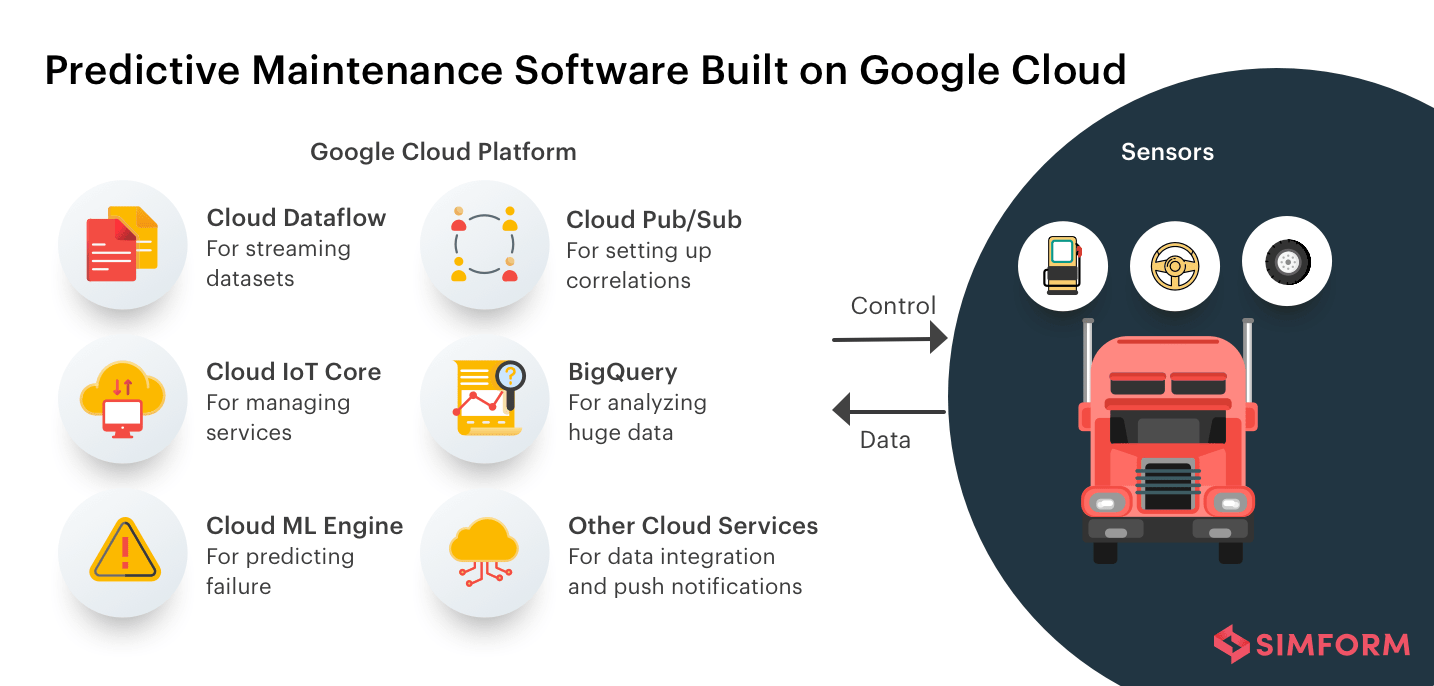 As you can see in the image, how various emerging technologies have combined with the cloud to provide predictive maintenance services.
Step 2: Devising a Fleet Vehicle Maintenance Plan
Once you have all the important vehicle data at a central location, proceed with devising a detailed maintenance plan for your fleets. It will ensure maximum uptime for your vehicles and also save fleet managers from missing any key elements. Here's a checklist of DVIR (Driver Vehicle Inspection Record) that drivers need to follow every day:
Exterior vehicle parts

Wheels and tires

Breaks and clutches 

Engine 

Fuel 

Windshield and glass

Dashboard and interior

Any other part that FM specify
With fleet maintenance software, drivers can easily fill the DVIR form. Fleet Managers then get a real-time notification for DVIR and drivers receive an alert for service/maintenance. With Amazon SNS (Simple Notification Service), you can achieve it quickly.
What's more, fleet managers can take advantage of the user-friendly and comprehensive dashboard that represents important vehicle data visually through AI data analytics. They can check whether drivers carried out maintenance, respond to failures in real-time, check vehicle status and efficacy among others.

Step 3: Creating and Organizing Regular Maintenance Cycle
This step calls for managing and coordinating a predictive maintenance schedule that entails parameters such as type of vehicle, frequency of usage, operating conditions, mileage, hours of operation, time since the last check, etc. 
All fleet managers need to do is set the base parameters, and their custom software automates the repetitive maintenance tasks, streamlines the workflow, and improves efficiency by leaps and bounds.
As per the paper published by Deloitte, in industry 4.0, predictive maintenance is the key to success. It increases equipment uptime by 10-20% while reducing maintenance cost by 5-10% and maintenance planning time by 20-50%. 
Role of Emerging Technologies in Predictive Maintenance

1. Advanced Telematics
Advanced Telematics gives real-time information about fleets. For instance, drivers are alerted when they drive rashly or fleet managers receive updates on fuel consumption patterns. 
Use Cases of Advanced Telematics:
With the help of advanced telematics, fleet managers can know the vehicle's exact location and get a real-time update. They can also know the estimated delivery time, and keep their customers informed about the same to create transparency.

In addition to this, telematics also provides fleet managers with fuel consumption patterns, which helps them to take steps to optimize fuel consumption and increase vehicle efficacy.  
2. IoT (Internet of Things)
Connected-IoT sensors placed in the fleets notify managers about damages such as sudden shock, temperature change, brightness, etc. 
Use Cases of IoT (Internet of Things):
The IoT-based sensors placed in vehicles capture defects in real-time and send alerts to drivers/fleet managers so that they can take immediate action and save the vehicle from further damage.

These sensors also help fleet managers know the vehicle's current status and based on the operating conditions, they can guide the drivers with the next course of action.  
3. Cloud Computing
The flexible cloud architecture allows the processing of huge chunks of data seamlessly. It ensures accessibility and enables businesses to shift to customer-oriented SaaS models.
Use Cases of Cloud Computing:
With cloud computing in play, drivers can submit their DVIR (Driver Vehicle Inspection Report) from any corner of the world through the mobile app. 

As soon as the report is submitted, fleet managers will get a notification in real-time. They can access this data from anywhere and take important maintenance decisions on the go by collaborating with drivers. 
4. Big Data
Big Data processes the enormous amounts of data fetched by Telematics through frameworks like Hadoop, Apache Spark, and MapReduce.
Use Cases of Big Data:
As you know, every minute detail/data of a vehicle or its parts is crucial. Managing these data in a way that represents meaningful information is key, and that's where big data can seal the deal for you.

Whether you need to find the most efficient route or create an effective maintenance schedule, big data is the one that gives you the intelligent patterns based on which fleet managers can make crucial maintenance decisions. 
5. AI and Machine Learning
AI and Machine Learning process the data received from telematics and DTC to provide deeper insights for maintenance. For instance, it detects abnormal vehicle health patterns and immediately sends notifications to fleet managers and drivers.
Use Cases of AI and Machine Learning:
With AI and Machine Learning, fleet managers and drivers get a reminder of when the next service inspection is due. It can predict the next assessment based on the average usage of a vehicle.

Based on the vehicle's historical data, AI and Machine Learning can identify the vehicle's failure trends and devise a service program that streamlines the workflow.

AI data analytics provide fleet managers with all the essential maintenance information in the form of a pie chart on a custom dashboard. Based on these charts, they can analyze the opportunities for further improvement and improve efficiency.
Wrapping Up Things
Predictive maintenance has transformed the fleet vehicle maintenance process and given a new dimension to the fleet managers. Now, they can keep a check on every maintenance activity while working remotely. On the other hand, drivers also don't have to remember the maintenance data. The custom software built for predictive maintenance manages everything.
Whenever there is a paradigm shift, there are bound to be some challenges, and so is the case of predictive maintenance. The upfront cost could be a concern for small businesses as there's a need to leverage the emerging technologies. However, the benefits like scalability, accessibility, automation, efficiency, etc., could overshadow the cost drawback. 
As per the research by markets and markets, the global predictive maintenance market is expected to grow from $4 billion in 2020 to $12.3 billion in 2025 at a CAGR of 25.2%. So, more and more companies will opt for 'predictive maintenance,' and fleet owners have to be smarter in their approach towards maintenance. In this scenario, custom software can be their best bet as it helps them to automate the entire maintenance process and also implement the principles of predictive maintenance with utmost precision.
Have you used custom software for fleet maintenance? What are your views on predictive maintenance for fleet business? Please share your thoughts in the comments section.