Custom Software vs Off-the-shelf: Best Approach for Business Growth
Every company on the planet relies on software nowadays. It's an inescapable reality. Employees use software to work with data, which integrates with the company's backend to deliver services or goods to end-users or empower companies' operations by facilitating their interaction with delivery networks and multiple pipelines.
When choosing software for your business, you may be faced with the dilemma of whether to go with custom development or off-the-shelf software. Each option has its advantages and disadvantages, and your choice will depend on various factors like business needs, budget, and timeline.
In this blog, we will help you choose the most suitable option for your enterprise by explaining pros,cons, and applicability of custom vs. off-the-shelf software.
Adoption Trends – Custom Software vs Off-the-shelf
Talking about the adoption trends of the two types of software (say for example in ERP category), it can be projected that there could be a marginal decline in the usage of off-the-shelf software and an increase in usage of the custom software. Let us understand it more clearly from the graph below (published in ScholarWorks).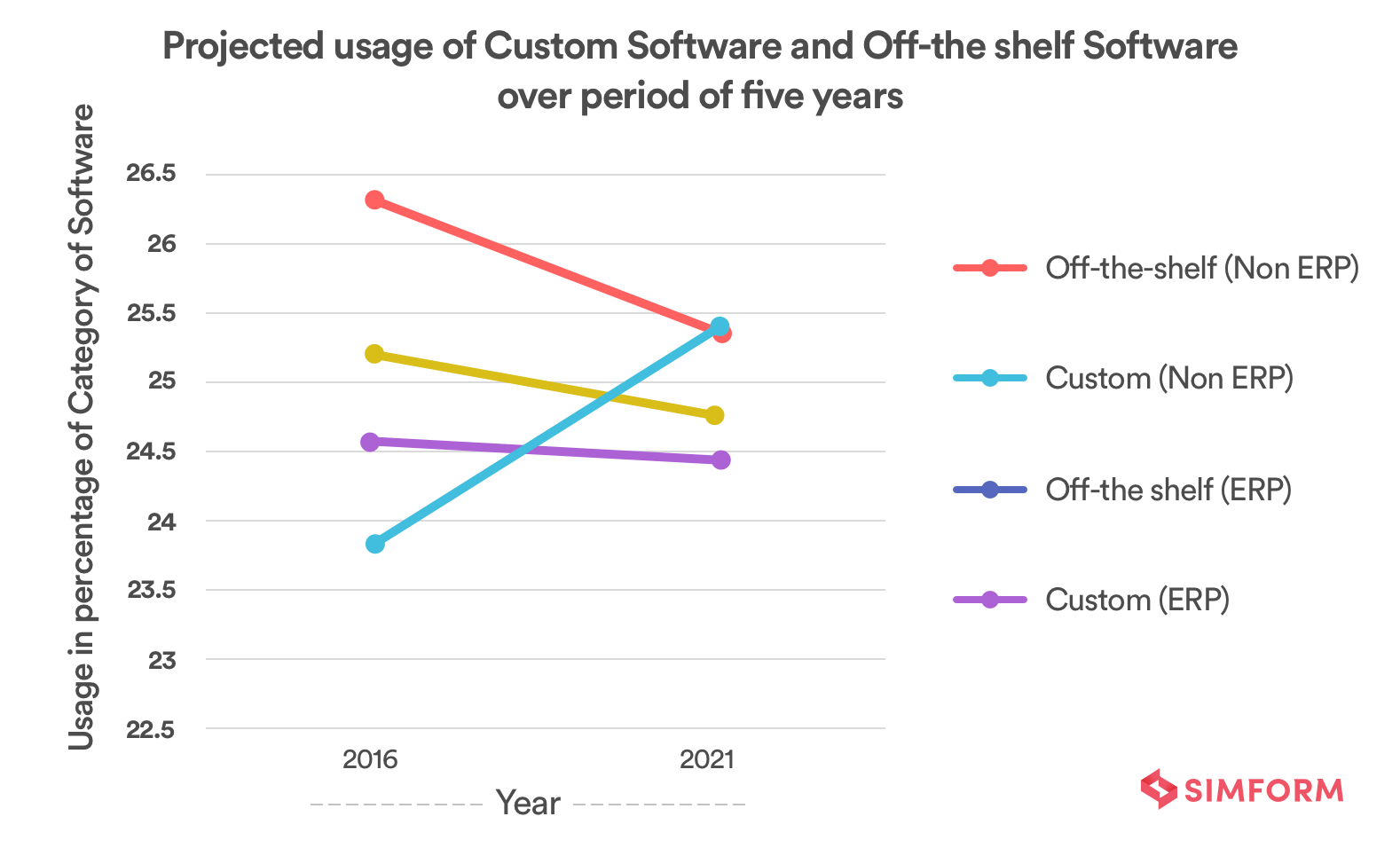 What is custom software?
The software is built to cater to the specific needs of an organization or individual users. For instance, you are the HR head who wants to introduce a payroll system in your organization. As an experienced person in the HR department, you know the system inside out. Hence, you decided to go for a custom solution that would be equipped with all the features that are required for the payroll system of your company.
Pros of Custom Software
It enables you to integrate apps as per your business requirements and add only the required features tailored to your needs.

You get lifetime support from the software development teams. 

You can embed modern functionalities as per needs and emerging trends and only pay for what you need. 

You are in total control of the added functionalities and, as a product owner, need not pay extra for licensing. 
Cons of Custom Software 
It costs you more compared to the off-the-shelf software since it is custom-made for you.

It might take more time to develop, sometimes several months, depending on the requirement. 
When to Choose Custom Software Development?
Custom software is the best bet in cases where readymade software pieces don't fully satisfy either your customers' expectations or your business goals. Here are a few typical scenarios wherein building custom software is definitely a better choice:
1. When application integration is a priority
Off-the-shelf software often limits an organization's capability to integrate multiple workflows into one. As a result, teams have to work with a number of different applications which eventually causes integration and security issues.
Custom software, on the other hand, enables you to embed all your requirements into one integrated application. It not only improves operational efficiency but is also an opportunity to generate data-driven business insights.
2. When you want to own the software and how it works
If patience is the name of your game and you are looking for a long-term solution rather than quick, cheaper options, then you should prefer custom software. In the long run, custom software always proves to be more advantageous, considering that you own your software and design it the way you want.
3. When you want to ensure scalability in the future
If you want to ensure scalability in the future, custom software development is your best bet.
By building a system that is designed specifically to meet the unique needs of a business or organization, custom software development allows for scalability to be built into the system from the outset.
This means that the software can be designed to handle growth without major updates and integrate easily with other systems to improve efficiency and facilitate further growth.
4.When competitive advantage is your priority
Custom software development can give you a competitive edge by providing tailored solutions that meet your requirements. This unique advantage can help you differentiate from your competitors and gain a foothold in the market.
Custom software is scalable and can be seamlessly integrated with your existing systems, leading to optimized operations and increased efficiency.
Moreover, you also have complete control over the development and maintenance of the software, ensuring that it meets your exact requirements now and in the future.
5. When you need foolproof security
Nowadays, cyberspace has a complex threat environment, making application security a grave concern for modern businesses.
Although every company takes measures to safeguard their software against hacking attacks, the current situation is still worse. By using a robust custom app solution, businesses can take added measures to prevent their data from malicious hacking attacks and security threats.
What is off-the-shelf software?
This software is a readymade product. You have to just purchase it and it is ready for your use, as opposed to the custom software that is designed & developed for a specific purpose. For instance, Microsoft office is off-the-shelfsoftware.
Pros of Off-the-Shelf Software 
It is ready to use. You can read reviews of others, learn from their experiences about the product, and check if it is suitable for use cases like yours.

It is moderately priced compared to the custom-made software.

It has the availability of pre-existing support and solutions to the issues since people are already using it.

It includes functionalities and features from a perspective of a more extensive user base. In case your task requires anything specific, you may not have such a feature facility. 

Since it is pre-developed, you can always try it before buying. In addition, most of the off-the-shelf softwares offer a free trial or a freemium version.
Cons of Off-the-Shelf Software
Though it's a comparatively cheaper option, you may end up paying more over time due to its licensing fees, cost of additional users, or hidden charges for added functionalities. 

It doesn't allow customizations as per your unique business requirements. 

Compatibility issues are likely to persist since it is hard to integrate apps with ready-made software. 
When to Choose Off-the-shelf Software?
Choosing off-the-shelf software can be a good option for organizations that need to quickly implement a solution without investing much time and money into building one from scratch.
But this is not just one factor in opting for off-the-shelf software development; there are a few more:
1. When you want to save big on costs
The cost of building an off-the-shelf software is comparatively lower than the custom one as its licensing is distributed among several buyers. One only needs to pay a one time activation fee. Because the cost is split among thousands of users that buy the same software license, using off-the-shelf software is always a cheaper option.
2. When you want to leverage an existing user base
Off-the-shelf software solutions are frequently popular and widely adopted, giving them an existing user base. By utilizing such software, you can tap into this pre-existing community of users and expand your reach to a larger pool of potential customers or users.
3. When you need ease of installation
Opting for off-the-shelf software means procuring a product readily available in the market. You can instantly buy and install the software on your system without much hassle, as the installation process is usually simple. This differs from custom software, which requires prolonged development, testing, and deployment cycles.
Custom software v/s Off-the-Shelf
1. Build Purpose
Custom software is built to meet the unique challenges of a particular organization or an individual. It is designed specifically for the unique circumstances and when built well, provides a perfect solution to your problem. For example, you can use serverless technology to enhance your software's performance. It is built to cater your internal processes. It is really fast and easy for you and your team to familiarize themselves with how the system works. It will be simpler to fine-tune the software in the future to make sure that a high level of performance is maintained. 
Off-the-shelf software is designed for a wide range of consumers with a standard design and framework that is already developed. There are chances that it might not cater to your individual requirements. This would require you to be more careful while choosing one. 
2. Usability: Is commercial off-the-shelf software better than custom software?
Off-the-shelf software has the advantage of being used by many users as it is readily available. Anyone can buy it and install immediately for use. But, it would require your operations team to put in efforts in understanding the functionalities of the software. 
We had a client who was working in a data company. He came to us with the problem as stated here: "We had a lot of data but were unable to utilize it properly. We decided to buy a tool that would help us get the most out of the data. We bought a tool (the name I would not like to state here), which seemed to make a perfect match for us. It did that we needed it to do and enabled us to use the data in the ways in which we were not able to do it before. From implementation to understanding the tool, it was tedious. It was too much of hotchpotch between the software provider and us. Gradually, we on the research team stopped using the tool, and that thing became a relic almost eight months after the purchase."
We, at Simform, consulted the client to channelize the efforts put in the utilization of the data. We developed a custom solution based on our client's requirements with the features – data churning, predictive analytics, report generation, data segmentation, etc. The client is satisfied and making the most out of the data on which they work.
Talking about custom software, it is built for only one individual or company for their specific purpose. The company or individual should have an in-depth understanding of their needs and should be thorough about how the end products will address those needs. It might happen that sometimes the actual requirements are identified at the time of custom web application development, which is not common though. Also, it would require extra time and effort. The installation and integration of the custom software is easy and smooth since the software is built in collaboration with people from the organization.
3. Cost: Is Custom Software really Expensive
Off-the-shelf software have low upfront costs because the development cost is distributed across a wider audience. They are cheap to purchase initially but can cost you a lot more; sometimes due to their inefficiencies or any ongoing maintenance or due to subscription fees. Another hidden expense of using off-the-shelf software is that your own operations staff will require formal training for using the software. 
Custom software is expensive upfront as the software is developed to solve specific business needs which involves time and investment. Though expensive, they probably last longer and make you feel uniquely yours, rather than slightly off at this spot or that spot. Since it is designed for the already existing process, it saves time and overhead expenses in training the operations staff.
4. Modifications: is it allowed in commercial off the shelf software?
Off-the-shelf software, once purchased, are difficult to be modified. You don't know when your business grows and would require you to modify the already purchased software. Just because you don't control the changes and upgrades of the said software, you have to limit yourself with the options available in the purchased software. In order to get the changes done in the software, you'd need to convince the software company that your needs outweigh their product roadmap. 
On the other hand, custom software can be easily modified and are open to expansion. You own the software and in order to keep in-step with the trending technology, morphs, and different changes, you need modifications in the software, keeping the pace of your business intact. A ready-made solution provides the space and has that scope of accommodating modifications required when the need arises.  
5. Community Support: how important is it?
Most of the pre-built software comes with on-going support, where the support required will be subject to some fee. This would allow the users to get help if they are facing any trouble while operating the software. If the user base of the software is large, you might find a helpful community online.  
By developing custom software, you would have an advantage of contacting your custom solution provider to solve the queries or issues, if any. You won't require to search for solutions to your problems that you face using the custom solution.
6. Time to develop and deploy
The deployment time required for off-the-shelf software is almost nil as the user has to only install the software and it is ready to use. But using off-the-shelf solution might be unsatisfactory due to standard features. Also, implementation and customization of software that was not built for your company's needs can take surprisingly more amount of time. It can't be as easy as loading a program and getting the output. Most off-the-shelf software is structured as monthly subscription packages for the purpose of cost dispersion. The perpetual nature of this model can end up costing more than a custom platform. 
In the case of tailor-made software, it is built from scratch and there might be endless customizations possible. The development phase itself might take several months which might not be feasible in certain situations. But, the end product would be according to your requirements which will save time for training your operations staff. 
7. Competitive Advantage
Opting for off-the-shelf software would mean that you are choosing a solution that is available to your rivals also, and your innovative ideas can be easily copied by your competitors. 
"User adoption is a difficult thing to achieve, and if you hope to achieve it, you're going to have to look at more than features when you are considering products."
On the other hand, the custom software offers a competitive advantage over your competitors. This is because your competitors don't have a customized solution and as long as your software is well designed you would soon see yourself getting ahead of your competitors.
8. Compatibility issues
Off the shelf software face compatibility issues which infers that your business operations, devices or other systems might clash with the packaged products at a base level, making it either unusable or incredibly inefficient. 
Further, when you won't find a functionality match for your company, you will probably use various commercial products to fill in the gaps. But, this is not the only problem that you may be facing. Off-the-shelf software is overloaded with features that your company might never use. Eventually, too many functionalities can slow down your system, which will create more problems than improving efficiency
On the other hand, custom software fits in easily with the current business operations as they are built according to the requirements of the organization. 
9. Dependency on software provider
Off-the-shelf software is designed to be installed in minimum time and can be used immediately after installation. Well, the pre-built software might need to be customized as it may not be compatible with your current systems, which altogether will cancel the speed benefit. If you need to add some features, then you would require to hire dedicated software developers, which would cost you both time and money.  
A custom solution, ideally a scalable and well-architected one, would not keep you dependent on software providers. But if the need arises you can hire dedicated developers to build that particular feature. These software teams prove to be incredible – providing maximum benefits as they truly understand your business. Therefore, you should wisely choose your software provider.
Conclusion
The software industry is inundating with tons of software products that are developed on a daily basis – be it off-the-shelf or custom made. As already seen in the post above businesses or individuals nowadays are popularly opting for custom solutions. Here's one more case study of our client, Redbull, for whom we've created a custom solution.
If you are in quest of a software solution that would cater to your specific needs, I would recommend choosing a custom software solution as it will satisfy all the requirements of your organization.
If you are looking for custom software development services, Simform can help you out. From consultation on solution to be developed to finalizing the end product, we own a team of specialized professionals who can address all your requirements.
Still, if you face any query or would like to add anything from your side, feel free to comment below.