Cloud Deployment Models: Explained with Detailed Comparison
When companies talk about cloud migration, it is a general assumption that they are bringing their on-premise workload to the public cloud without switching clouds. But with cloud deployment models, the possibilities are aplenty. However, GitLab, a startup famous for its developing tools,  migrated from Microsoft Azure to Google Cloud Platform as mentioned in the official GitLab statement.
The company wanted to adopt cloud-native practices and use microservices and containers, which have become a critical factor in modern software development. Also, Kubernetes turned out to be a beneficial choice for them since it allows elastic scaling from a couple of users to millions. 
GitLab is not alone. Many organizations switch their cloud deployment models following the modern demands of application users. You might also be reconsidering your public-cloud choices thanks to continually changing needs. Or you could be wondering whether to re-architect an application. This might feel like you're spoiled for choice. 
So if you're considering these options and more, this blog is for you. Many factors are taken into account when deciding the architecture and technology for your application. 
But before we move further, let's first understand the basic concept of cloud deployment models:
What is a
cloud deployment model?
A cloud deployment model represents the particular category of cloud environment based on who controls security, who has access to the data, and whether the resources are shared or dedicated. The cloud deployment model also defines the purpose and nature of your cloud environment. Each cloud deployment model can satisfy different needs of the organization and so, you should choose the model that fits within your organization's methodology. 
Now, let's explore the various options available for cloud-deployment models along with their pros, cons, and real-time examples.
Cloud Deployment Models
There are mainly 5 cloud-deployment models; each one is unique with its offerings, specifications, benefits, and trade-offs. 
Cloud deployment models chart of comparative overview: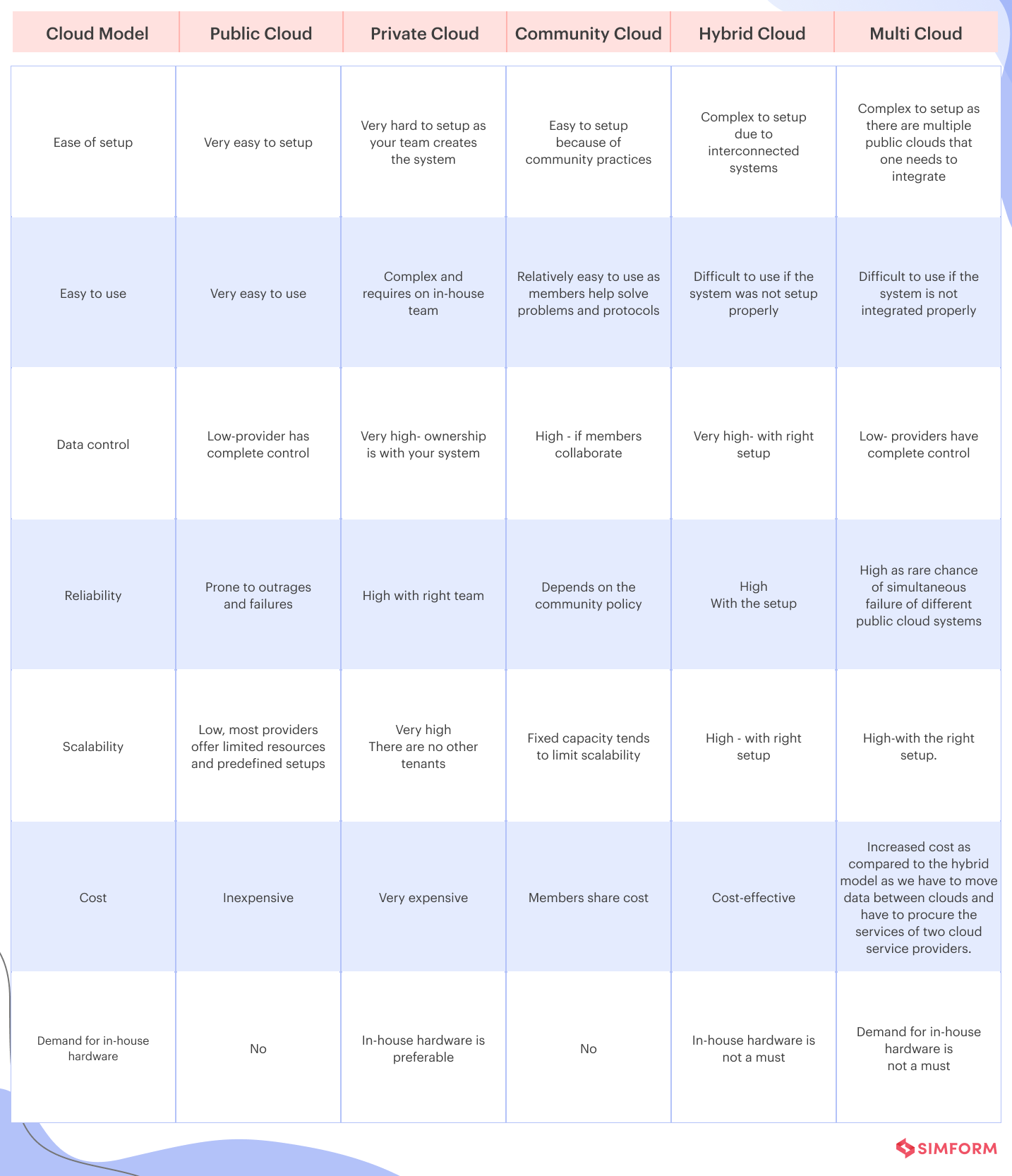 It is undoubtedly critical to pick the right one, but fret not! This blog will definitely give you a comprehensive idea to make an informed decision. Let's have a look! 
Private Cloud Deployment Model

A private cloud is an environment specifically dedicated to a single user within the user's firewall. It grants access to only authorized users, giving companies more central control over security factors and data. The data center can be either a co-location or even an on-premises one. However, on-premise deployment is very similar to the "legacy IT" structure. 
This deployment is usually single-tenant, which means the platform isn't shared. However, it can have multiple tenants per department within the company. It also provides on-demand data availability, securing reliability, and aid for mission-critical workloads. Governments and scientific laboratories mostly incorporate a private cloud.
Moreover, companies with precise demands such as their data are confidential and sensitive or need secure and robust efficiency; they should choose a private cloud model. An enterprise typically deploys its applications and infrastructure to its data-center in a private cloud-computing deployment model. If the right stack is designed, it can have many cloud computing characteristics converting into a 'private cloud'. 
However, private cloud is not a pay-as-you-go expense––you pay for the whole stack, used or not. Nevertheless, you can opt for a record meter and display usage to user groups or various tenants. This payment option is known as 'chargeback'. 
Although private cloud deployment doesn't provide many benefits of cloud computing, having your private cloud means better control of sharing and storing data. When it comes to data security, this deployment model is your best bet to manage data governance, guarantee compliance with regulations, and safeguard precious intellectual property. 

Advantages of private cloud
The company is the exclusive owner with full control of its service integrations, operations, regulations, and user practices. 

It supports legacy applications, which is not an option on a public cloud.

Only authorized personnel are given access, which is ideal for protection of corporate data with a privacy policy.

Companies can customize their solution according to demands.

It further enhances the quality of service given by the clients.

It offers exceptional reliability in performance.

It provides higher control over system configuration as per your company's requirements.
Disadvantages of private cloud
Under-utilization is a cost to your company, and not to your provider, affecting the model's overall feasibility.

Your company may need to invest in expensive hardware and software along with trained human resources.

Scalability depends on the choice of hardware.

It's maintained in-house and demands high maintenance.

A hosting-service provider may encounter limitations with storage capacity, which can influence your requirements directly.
Private cloud: possible customer scenario of central government
In a scenario where a country's central government has thousands of servers for their ministries' infrastructure, they might be looking for a secure cloud model. The central government can choose a private cloud to secure and centralize their infrastructure and host several government applications such as payroll, personnel management, back-office systems, and accounting. In case the government's principal goal might be to decrease the total ownership cost by eliminating the need for an administrator in every ministry by excluding excess systems.
Problem to address: The central government's private cloud possibly decreases energy consumption, frees up IT resources, and makes the environment cost-effective. 
Requirements and capabilities: The telecom company could build the entire cloud infrastructure on a private network. Security and privacy were of utmost priority; hence, they can choose the private cloud-deployment model as there are several sensitive information and confidential data on a government's server. 
Portability concerns: Portability concerns: If the government has no intention of moving its applications and data-storage; they could look for a secure private cloud to host its official applications.
How to Build a Scalable Application up to 1 Million Users on AWS
Public Cloud Deployment Model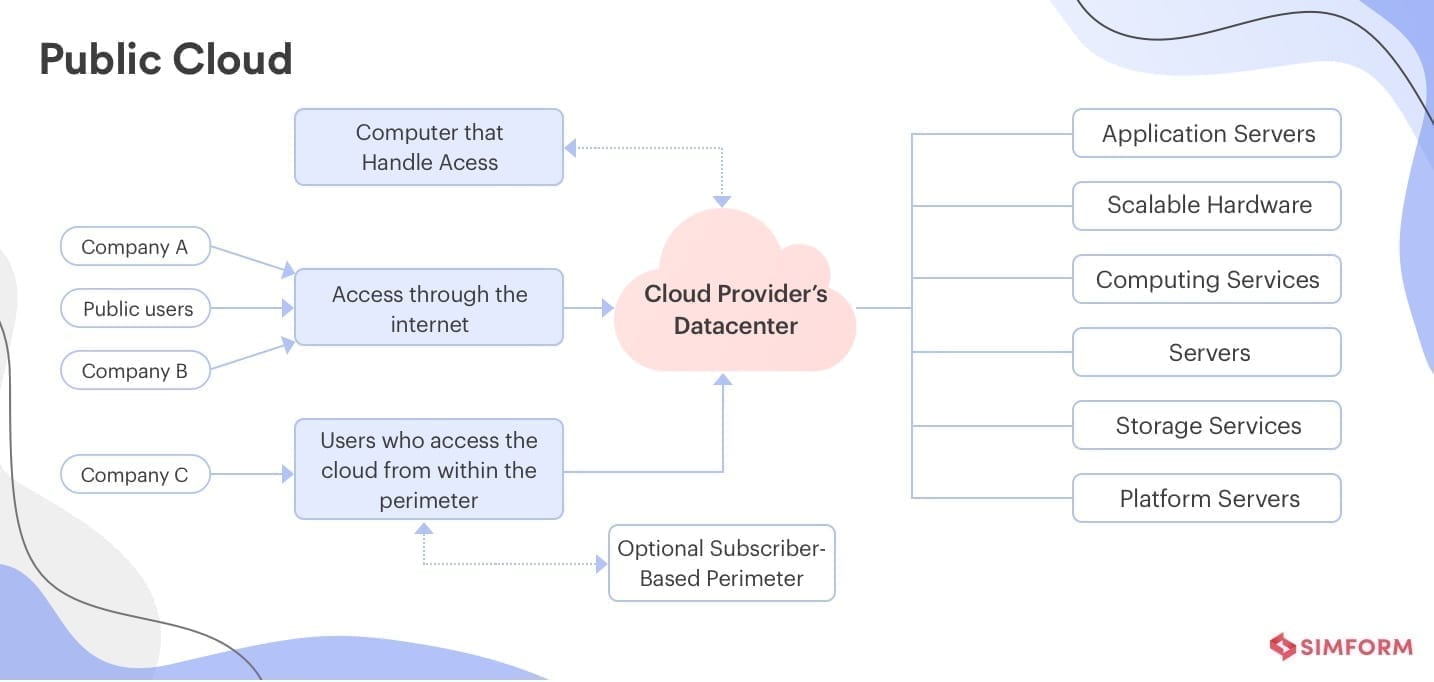 The public cloud is an ideal deployment model for companies whose business demands quick access without incurring massive setup costs upfront. It's open and available to all types and sizes of businesses and is extremely beneficial due to its unique feature that securely transfers data online. It's more cost-effective than the private cloud-deployment model since its services are more commoditized. 
It has a pay-as-you-go setup with minimal investment to start. Your company purchases virtualized-compute data storage and networking services from a cloud-service provider in the public cloud. This cloud accelerates time-to-market, scales promptly, and gets the agility to try out some latest services or applications swiftly.
There are various leading names such as Amazon Web Services, Google Cloud, Microsoft Azure, Alibaba Cloud, and IBM that provide this service. So you have a variety of providers, large and small, offering an a la carte of services. 
This is a multi-tenant model with many clients sharing the same infrastructure like Amazon EC2 Dedicated Hosts. 
Public cloud services are especially beneficial for workload in the short term like for an event or initial phase for a start-up just as long as it requires. Public cloud is ideally used by businesses that need services like on-demand scaling, social networking, CRM, and storage. 

Advantages of public cloud
It's the most affordable model on the market with no location dependencies.

You don't need infrastructure management with a dedicated in-house team to fully use a public cloud.

It offers greater vertical scalability through virtualization. 

It's very reliable, so there's no interruption in your services or scope of any failure.

Services like SaaS, Paas, and Iaas can be readily accessed on the public cloud via all internet-enabled devices.
Disadvantages of public cloud
Shared resources sometimes lead to breakdowns in scalability and flexibility.

It's not suitable for data-sensitive applications.

Concerns around its security and privacy are serious. It attracts more targeted attacks as it has no stringent data protocol.

The public cloud has limited customization. Clients can select the operating system and the VM size but cannot customize orders, reports, or networking.
Public cloud: prospective customer scenario for eCommerce applications with dynamic resource requirements
Say an e-Commerce application that runs an online store encounters a seasonal spike in traffic and sales during the festival seasons. However, due to the limited resources, they don't want to limit their customer service and shopping experience for their buyers. So they opted for a public cloud model to address limitations. 
Solving problems: With the public cloud, they now get features such as robust operations with in-house infrastructure cost, scalable performance when needed, and a pay-as-you-go payment structure keeping their finances in check. 
Requirements and capabilities: It's quite possible that they might encounter higher festive season traffic. They were looking to resolve it with the public cloud as a solution for the peak loads with scalability capabilities, which might justify and perfectly fit the requirement. Their eStores investment capabilities for in-house infrastructure and resources were quite limited.
Portability concerns: With the public cloud, the application's portability is not a concern at all. If the company decides to migrate to a different cloud model, they can transfer to VM seamlessly without affecting the overall response time or performance of the e-store.
Thinking to migrate your application to Cloud?
Community Cloud Deployment Model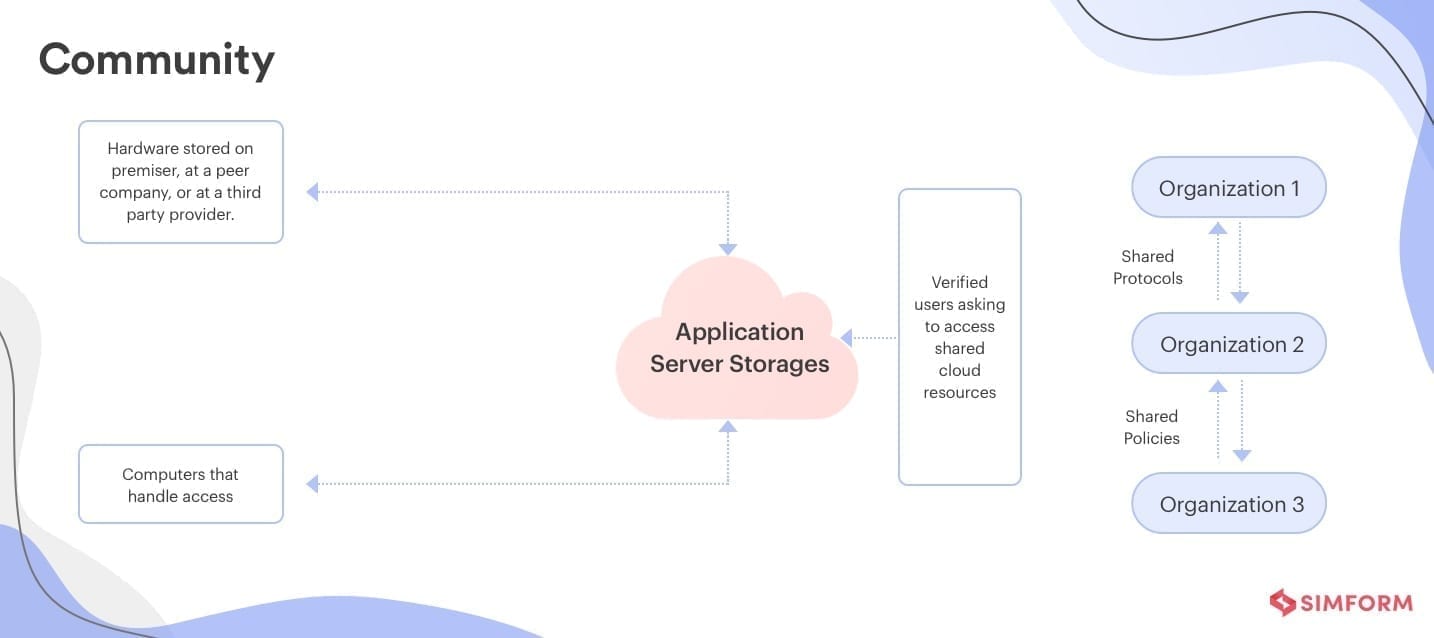 This model is shared among many companies/tenants operating within the same domain like banking, government, education institutions, etc. Access to a community cloud is limited to the members of that specific community. In other words, a group of several companies shares a multi-tenant setup where they have some privacy, security, and performance limitations and concerns. Businesses use this for joint ventures and research firms that require a centralized cloud-computing system. For governments, it's known as Government Cloud and is embraced by many countries. Due to legislative issues, a typical Government Cloud is the answer to many country-specific judicial matters. 
For example, according to Google's recent announcement, it will develop security-and-app-management tools for the Defence Innovation Unit of USA's Pentagon to eliminate the challenges the Defense Department faces and run a multi-cloud environment in a community cloud deployment model. Two Google Cloud product managers, Christopher Johnson and Bhavna Batra, said, "Assured Workloads for Government helps its customers, suppliers, and contractors. Additionally, the Department of Defense, the FBI's Criminal Justice Information Services Division, and the Federal Risk and Authorization Management Program to meet the extraordinary security and compliance standards set forth."
Community cloud is technically no different than public cloud or private cloud. The difference lies in who holds the control together with their set of users. It's as if a group of companies shared the cost of a building, and several other firms with similar requirements for infrastructure and resources share this environment. In this model, all active users share the cost. This multi-tenant data center helps companies boost their efficiency and performance while also maintaining standard protocols for privacy, security, management, implementation, and usage for projects like a centralized cloud.

Advantages of community cloud
It's more cost-effective than other cloud models. Multiple companies share the bill, which lowers the individual cost.

It offers scalability and flexibility to manage cloud computing needs. 

Configuration and protocols in community systems are designed to meet the community's requirements to enhance efficiency.

The availability and reliability of the community make it a go-to choice for governments and universities.
Disadvantages of community cloud
The most common problem with this system is its lower bandwidth capacity with limited storage. 

Its security standards are difficult to maintain without skilled IT staff. 

It increases the setup costs and incurs consistent maintenance costs.

You can't get the complete benefits of either private or public cloud. 
Community cloud: prospective customer scenario for a large organization payroll processing
Say there is a large organization that has two dedicated servers for payroll processing, which became a complicated and time-consuming process over the years. Now they are considering simplifying it, so they decide to migrate it to a cloud model. Their existing payroll-system architecture was a distributed application. So currently, to manage employee data and utilize cloud-database service from SQL database, they have to retrieve data from cloud storage. In order to simplify their payroll app and make this process faster, they want to deploy their app to four different VMs to run simultaneously. Here, the community cloud deployment model is best suited, according to their organization's requirements. 
Solving problems: The overall payroll processing time was delaying their operations and created many time-consuming bottlenecks. This community cloud model could resolve this and transform it into a flexible, faster, and cost-effective solution. This cloud model could also be useful if the organization expands in the future.
Requirements and capabilities: In this scenario, the cloud services could utilize VMs cloud storage like IaaS. To opt for a community cloud model, they don't want to modify the existing payroll app, and are considering deploying it to VMs instead. Furthermore, to avoid conflicts with data structures, the database can also be migrated to the cloud. 
Portable concerns: If the organization wants to migrate again, they can do so according to their cloud storage provider's services and technical capabilities.
Cloud Cost Optimization Strategies (Even AWS won't Tell you!)
Hybrid Cloud Deployment Model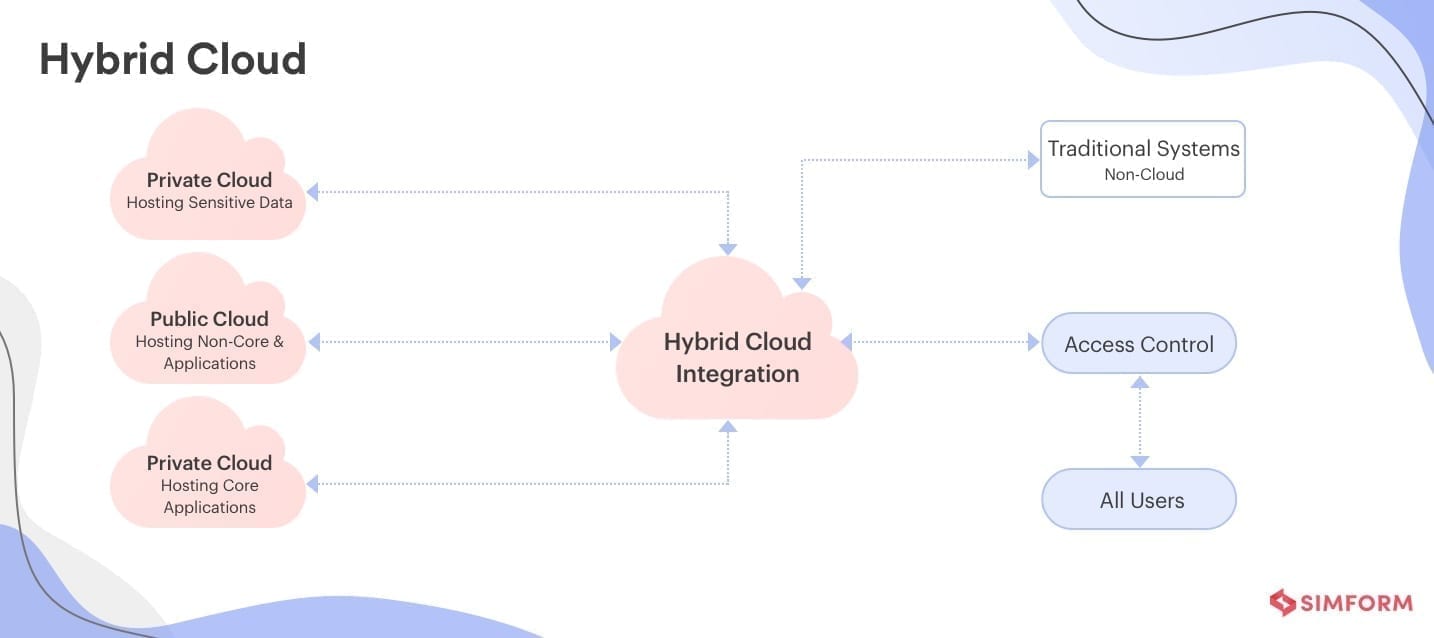 This consists of two or more cloud-deployment models. They're all unique, but they're bound by specific, standard protocols. Very few companies can switch over all of their technology stacks to the cloud in one go. For such companies, the hybrid cloud-deployment model provides a smoother transition with a mix of on-premise and cloud options. NASA uses this system. For example, Nebula- an open-source cloud-computing project, employs a private cloud for research and development while using a public cloud to share datasets with external partners and other people. 
Hybrid cloud models are used for cloud bursting. Say the client runs their application mainly in a private cloud. But if the system is experiencing a spike, sudden surge, or heavy load, it can 'burst' into the public cloud to ease the load. This hybrid cloud combination of public and private cloud environments allows sharing of applications. It helps companies seamlessly scale services within their cloud infrastructure whenever required.
This model safeguards and strategically controls your company's essential assets. It's such a cost-effective and resource-positive approach that more companies should adopt it. Its infrastructure strategy facilitates application and data portability greatly and enables companies to mix and match options that best suit their requirements. 
As the private cloud-deployment model might not be optimal for all workloads, this model meets all requirements of even the larger organizations. It borrows significant advantages of both public and private cloud although some companies find their needs met via either one model and embrace the benefits to going "all in".

Advantages of hybrid cloud
It reduces operational costs and gives companies the freedom to combine cloud models for workflows.

Thanks to its segmented storage, the security protocols are simpler. So it becomes easy to shield the cloud from attackers.

It gives robust setup flexibility, so that customers can customize their solutions to fit their requirements.

It's scalable due to its mix-and-match combination to operate and manage the workloads. 
Disadvantages of hybrid cloud
It's a somewhat complex setup to manage as you combine two or more separate cloud models.

It makes sense only if your company has varied use or demand for managing the workloads.

It's noticed that there can be infrastructure dependency on this model.

There are possibilities of a security violation by public cloud back-door.
Hybrid cloud: possible customer scenario for a local government
To address the concerns of multiple states or local administrations, this model might fit right in. Say, a central government is looking to centralize yet build a hybrid cloud environment for their cloud ecosystem. To handle local administration data storage needs for sensitive information and to manage internal tasks. A hybrid cloud deployment model can resolve this problem. 
Solving customer problems: The local administrations could store their confidential data and economize their energy consumption with fewer dedicated IT staff.
Requirements and capabilities: In case if a central government's privacy laws are strict about adhering to storing and accessing data from a server. This hybrid cloud model might resolve their challenge within their compliances, capabilities, and already existing cloud infrastructure.
Portability concerns: Portability is not a concern because the government might have no intention of moving its centralized applications and data.
Multi-cloud Model

In the Multi-cloud Model, as the name suggests, we're talking about using numerous cloud providers simultaneously. It is comparable to the hybrid cloud deployment strategy, which mixes resources from both public and private clouds. Multi-cloud utilizes numerous public clouds as opposed to combining private and public clouds. Cloud services may experience an outage. Even a small outage can lead to a loss of millions of dollars for enterprises relying on these cloud services.
The main reason why organizations go with the multi-cloud strategy is to increase the availability of their cloud infrastructure. This is because it is rare that two public cloud services will experience an outage simultaneously.
Advantages of the Multi-Cloud Model
The ability to utilize the strengths of different cloud providers for various applications, tasks, and business needs.
Reduced latency and improved user experience by selecting cloud locations that are near customers.
Increased reliability of services as it is unlikely for two separate clouds to experience an outage at the same time.
Disadvantages of the Multi-Cloud Model
Incurs additional cost for moving data between clouds.
Requires the development and maintenance of multiple deployment and pipeline strategies.
Complex cloud architecture can lead to difficulties in monitoring and troubleshooting systems.
Multi-cloud: possible customer scenario of a healthcare institute
By implementing a multi-cloud strategy, healthcare solutions providers operating in multiple locations can ensure high reliability as it is rare that all the public cloud systems fail at the same time. Given the sensitive nature of their business, it is crucial for these organizations to have a highly dependable system and a multi-cloud approach can provide that.
Problem to address: By implementing a multi-cloud strategy, healthcare organizations can ensure high reliability by utilizing multiple public cloud systems. This approach allows them to increase bandwidth, improve network performance by bringing deployments closer to customers, and integrate new data sources from various cloud providers while still maintaining low-latency access to their data through multiple cloud workloads.
Requirements and capabilities: By constructing their entire cloud infrastructure on two public cloud systems, the healthcare organization can ensure an always-on architecture for servers and databases.
Portability concerns: By adopting a multi-cloud strategy, the organization can increase its portability by enabling greater flexibility in the deployment and execution of workloads and data across different cloud environments.
Take Away
While you evaluate your cloud deployment options, it's critical to consider your application architecture as well. If you haven't already upgraded it and respective cloud deployment options, it'd just be a matter of time before you do. 
Choosing the best possible deployment options for your business is vital to your company's success, which means you need to fully understand the advantages and disadvantages of various options. 
Still struggling with selecting the perfect cloud deployment model? We're here to help!