Angular vs Vue: Which Framework to Choose in 2021?
Starting from jQuery, a Javascript library released in 2006 for building interactive web apps, Javascript frameworks have evolved very quickly over the past few years. And ever since, there has been a trend for developing organized frontend frameworks. This very evolution made it possible to meet the concept of Single-Page Applications (SPA) – web apps that dynamically rewrite the web pages without loading entire new pages.
As SPAs were already catching the attention, the evolution of front-end frameworks gifted a long-term stable web framework to the world – Angular (initial release-2016, a complete rewrite of Angularjs-2010.) A standalone frontend framework with most things built-in without sacrificing the size or speed.
In 2014, one of the former core team members of the Angular team at Google, Evan You, made a breakthrough by releasing Vue- a progressive frontend framework for building complex user interfaces used explicitly for creating views.
Today, in this blog we are going to talk about these two extremes. Both are frontend Javascript frameworks with enormous capabilities. I hope it helps when you select the Javascript framework.
Overview of Frameworks

– Angular vs Vue

As we know, Angular is a typescript-based Javascript framework that helps businesses build vast, scalable web and desktop applications with more native-like experience. In contrast, Vue is a progressive web framework for developing highly interactive user interfaces. Although Vue is explicitly known and used to build small to medium scale apps, it is evolving as an enterprise-ready framework like Angular.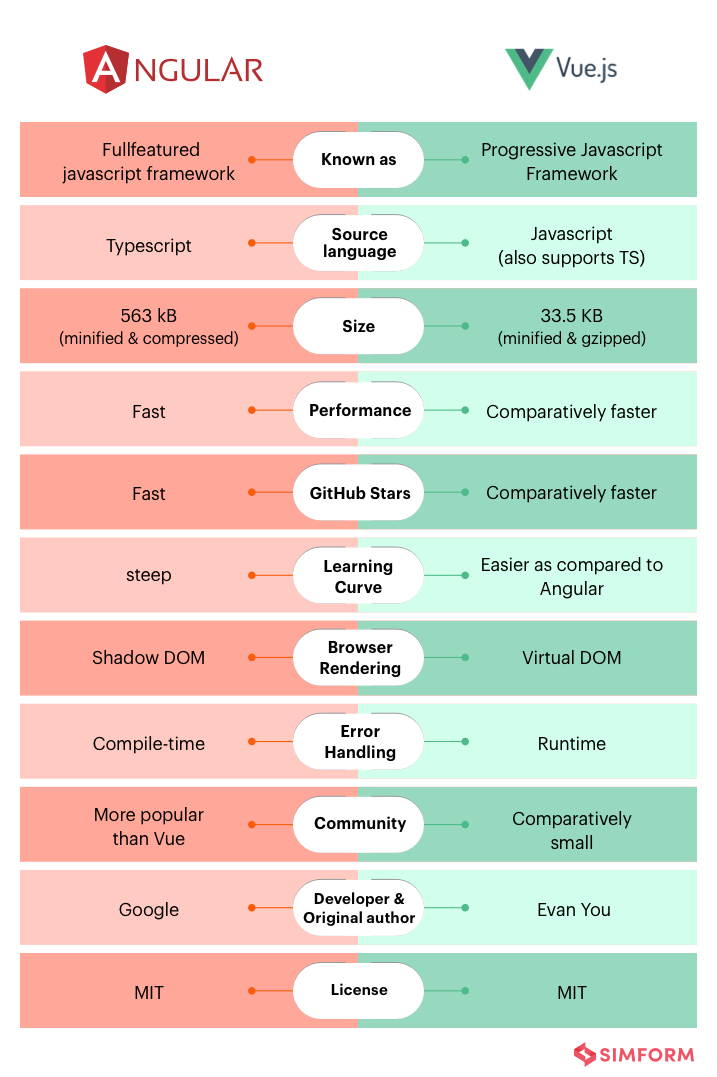 Let's start comparing frameworks on their compatibility with backend technologies, followed by other prominent points of comparison.
Angular vs Vue –
Use cases
Angular and Vue both have significantly contributed to web application development. Both frameworks have recognized companies using them, and multiple applications are built using them.
To justify the point and get confidence in choosing either of the frameworks, you need to check out the famous ones as well as startups who use these frameworks. You get a clearer perspective when you know why they think using Vue in particular or using Angular is worth in respective cases. 
Let's discuss the use cases where these frameworks are used.
Angular use cases 
Youtube TV 
According to Similarweb, the platform experiences 33.5B average visits per month. Youtube TV is an American over-the-top internet television service. It operates over various operating systems such as Apple TV, Android TV, Chromecast, etc. along with various operating systems such as Android TV, Apple TV, and Chromecast. The internet platform is famous for its cloud-based DVR service through which users can record unlimited streamings for nine months. 
Since the online television platform receives a huge amount of monthly traffic over 30 billion, let's not hesitate to declare Angular a sure-fire frontend framework. The framework has made it to the uninterrupted user interface regardless of the web traffic, the unmatchable graphical user interface, and great on all screens. These large-scale apps exemplify Angular being used for complex problems and live video streaming use cases. 
Mixer 
The Mixer is a live streaming platform for video games. The platform serves with low stream latency and allows viewers to perform actions that can further influence streaming. The Microsoft-acquired platform is famous for its interactive user experience and seamless integration of video games streaming. With over 16 million monthly visits, the platform is popular for its responsiveness and collection of live streamings. 
These enormous platforms of interactivity are possible with enterprise-based frameworks like Angular. The Mixer is a simplified example of streaming video services with an ultra-rich user interface built with Angular. 
Udacity 
One of the largest eLearning platforms, Udacity, serves thousands of students by providing educational courses. The platform helps in the programming domain, along with advanced studies like artificial intelligence and machine learning. With over 7 million visits per month, the platform has a massive audience over the internet. Educational platforms like this can be built using the Angular frontend framework. 
Though the platform is massive with the informational content and courses loaded along with the continuous web traffic, it has never been failing in fulfilling its purpose of 24/7 knowledge streaming. All thanks to robust frontend frameworks like Angular, which never fails to support large-scale platforms like Udacity. 
Apart from the above use cases, we at Simform build a highly performant website in Angular named "FoodTruck Spaces".
Check how we build a highly performant Angular App for the food truck industry.
Vue use cases 
Building an app with Vue from scratch is easy using their guide, unlike Angular, where familiarity with Javascript and development experience is required. A short learning curve and flexibility to build and run applications have made it possible for many big names to use this framework. 
Find out applications built with Vue here. 
Gitlab – DevOps lifecycle tool 
Since we all know, Gitlab is a web-based solution for managing repositories, tracking issues, and streamlining continuous integration. Gitlab helps teams to deliver better and faster applications, converting a single application from any number of apps that slow down the processes. 
It was evident for them to select a lightweight, easy to manage and integrate the solution for managing the platform. They need a framework that can handle multiple entities with frequent changes in statuses. For example, Gitlab manages the tracking of issues opened and closed by the developers, so the status of issues frequently changes.
Now for a large-scale application like Gitlab, you need a framework that works smartly with fewer lines of code. What if the same above mentioned operation can be performed with 30 lines of code? And you have so many operations like these in the queue. It will be either a lousy performing app and not so productive like it is right now. 
With Vue, they could manage to perform operations like these in just one line of code. Earlier, it was difficult to manage 30 lines of code with Jquery for the same operation. They faced so many problems related to managing the code, how to write the code easily, and still keeping to the fewer number of lines, not depending on the external libraries and easy to get started. 
Grammarly – an AI-enabled effective writing application
Grammarly a web-based application for effective writing in English. Grammarly's rich user experience is an example of how classic user interfaces can be built using Vue. The application is highly performant when it comes to checking the grammar and loading the page.
Though the application is AI-powered and uses the intelligence to check the grammar and communicate the data to the view layer, it maintains the aesthetic representation of the outer layer and remains clean and understandable.
Laravel's Laracasts
Laracasts is a screencasting platform for learning Laravel, Vue, and other programming languages. The user interface of Laracasts is built using Vue. This learning platform has an ideal learning environment through which thousands of developers can enhance their knowledge about frameworks and technologies.
Managing such popular learning platforms could fail if the user experience is not delivered correctly. The platform is built with Vue and successfully serves the learning experience through the interactive user interface.
Laravel website
The combination of Laravel and Vue works amazingly well. Both frameworks favor elegant styling and clean coding architecture. Millions of developers use Laravel, and according to Similarweb, the average monthly visit of users is 4.90M. Vue handles this with grace by providing a seamless experience to the millions of visitors. We can not say that Vue is an enterprise based framework like Angular but no less than an enterprise-ready frontend framework. 
Alibaba – global eCommerce platform
China organizes a shopping festival called Double Eleven every year before Christmas in the month of November. The festival is about shopping online without stepping out and was first introduced by the biggest online shopping website Alibaba in 2009. It is almost like crashing the application without using the robust technology solution for such an event in China.
In 2015, Alibaba used Vue in one of their modules of Double Eleven for making better interactions because the interaction between the product module and users has to be productive and smooth when it comes to generating good revenue from a single day. 
 Choosing Vue over other available frameworks:
They chose Vue over other tools and frameworks because of the flexibility. The framework is easily integrated with existing libraries and tools. Since it is a large scale problem, the framework should be convenient to operate in removing and adding modules, managing DOM operations, and effortless code reviews. 
Vue satisfies all the requirements of a large scale complex application plus provides the basic functionality of Angular in a more streamlined way. Also, it was a great combination to try with a web pack as a modular frontend solution.
Moreover, when you want to solve short term problems with great functionality, the solution has to be quick and running. Vue has an affordable learning curve in terms of time and can quickly integrate with the existing code blocks, which is a great thing when you want to fix the problem once in a year. 
What's more important is that the framework saves the application from unnecessary DOM manipulations by keeping it to change Arrays for the operations like state changes. 
Ultimately, Vue emerged as the quick and fruitful business side benefit by fixing the smoothest user experience on Double Eleven day by making as big as a 1B dollar in as small as seven minutes. 
Now you may want to ask, 
why Vue if Angular has super built-in features?
The size of the Vue framework is 80KB, as compared to 500KB in Angular. Not to mention, size can be the only reason for Vue's existence or choosing it. Still, it weighs high in providing the niche for building user interfaces, the reactivity for updating views, and flexibility to use the framework in modern applications. You can use Vue in particular modules and later scale to the further modules if you want to since it is progressive.          
Is Vue Better than Angular?
Vue is better than Angular for building small to mid-sized applications. You may not want to use a bulkier framework like Angular in smaller apps. These apps might find Angular's functionalities and built-in support overwhelming. Vue should handle these cases since it is very comfortable figuring out the interfaces and providing reactivity to update the view model quickly.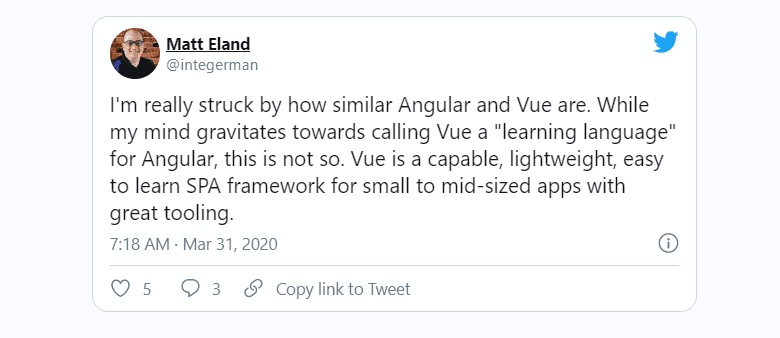 Since the framework is developed by ex-Googler Evan You, who knows the ins and outs of Angular, both these frontend frameworks have strong bases but different ways of dealing with apps. 
Combination

with Backend Technology

Web applications are classified and dependent on two significant aspects: Frontend and Backend frameworks. There's always a choice between the frontend and backend frameworks along with the critical decision of which pair of frameworks do the best.

Though developers often decide based on their familiarity with the frameworks, it is important to see which technical aspects benefit the requirements most. I have an opinion based on the experiences and technical compatibility of frameworks for Vue and Angular. 

Angular – Angular excels at providing built-in functionalities. You can select any backend framework with stable scalability and speed. Though the framework is flexible with any backend, you should choose the one that fits your web app's future needs.

Furthermore, Angular can be paired with Node.js, for it offers a backend that streamlines with Javascript on the server and client-side. However, in case of the statistical or analytics based requirements, a backend powered by complex tools eases the development such as Python.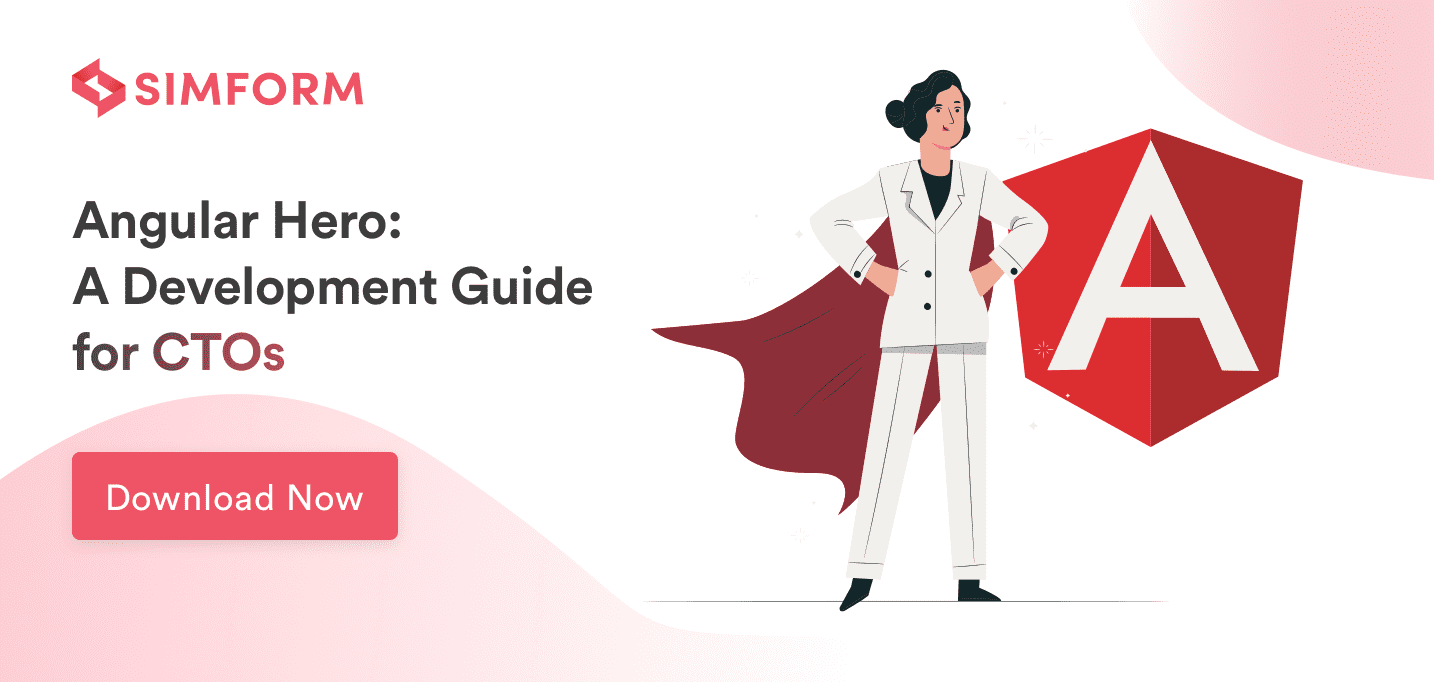 Vue – Since the framework specializes in creating elegant user interfaces with clean and intelligible coding architecture, you need a backend framework with comprehensible coding architecture with sophisticated user experience and ecosystem.
With Vue, Laravel seems to be the best bet when it comes to building an elegant system. It complements Vue because of its powerful object-oriented and Model View Controller(MVC) architecture, and default configuration. Both these frameworks are detailed and well-documented, along with strong community support.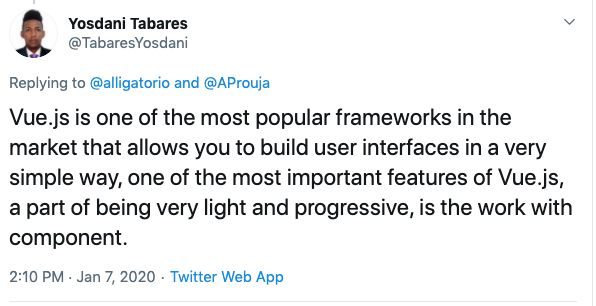 State

Management

State management is a deep-dived part of the programming world. It is a management pattern of how a website interacts with users. For example, when you watch a Youtube video and resume it from the same point of time. And when you send that video link to your friend, it starts from the beginning. It means that the application has remembered your activity but has not reflected in the URL. 

Another example. Every app component consists of multiple graphical user interfaces. How would these apps manage their states and interaction between them? These UI controls are dependent on each other. When a user inputs valid information, the button stays enabled, and when the inputs are wrong, it changes the state to the disabled state. 

Depending on the requirement, below are the types of states for a typical web app. 
Server state

Persistent state

The URL and router state

Client state

Transient client state

Local UI state
Let's see how state management goes for these frameworks.
Angular – We know that Angular manages everything on its own and has most things in-built without depending on the external resources. But when it comes to simplifying the process in a large-scale project with a detailed map, nothing compares to the NgRx store. NgRx, a group of Angular libraries, provides Reactive state management for Angular apps.
You can supercharge your application's responsiveness with this state management library to improve your Angular app's performance. Reactivity strengthens an application's backbone and gives us complete control over handling multiple threads.
For example, you want your application to perform well in every aspect of user engagement like handling calls, events, messages, and even sometimes failure of operations. This library store is responsible for handling everything that stands for reactivity and asynchronous programming, responsible for making the application responsive to users and their actions.
This whole process focuses on streaming the data store and making it easier to compose the programming in a way that causes changes in models quick and simultaneous. 
Vue –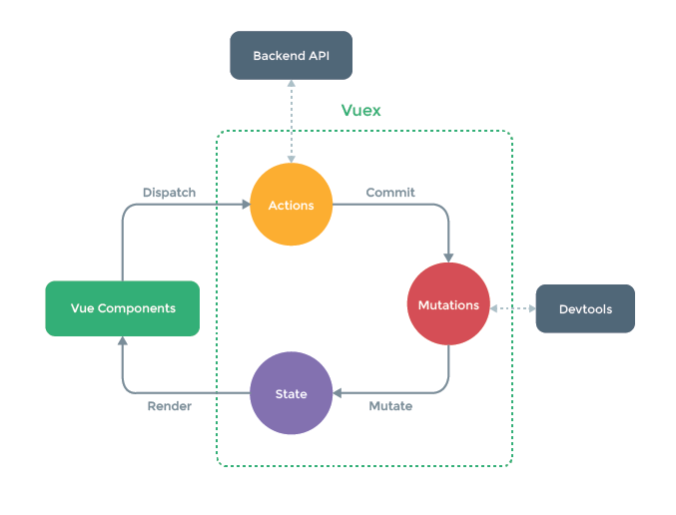 Unlike Angular and other Javascript frameworks, Vue offers its state management library Vuex. The library boosts the app's maintainability and testability to the next level. The library helps in keeping up with the reactive data to store and share across the application without trading off with the performance, which is the most desired aspect when you select a Javascript framework.
The centralized state management store helps in building large-scale applications by establishing interaction between multiple states of components, which generally is the case of increasing complexity in development.
Ultimately, this predictability helps ground-level technicalities to take place in an organized way and reduce the development time and effort, making the framework more adaptable to development. This library pattern is explicitly designed for Vue Javascript, and hence, unlike other libraries, the pattern can work more efficiently. 
Compatibility

with Templates

Angular – Since the framework has divided into components, classes and segmentation for a clean coding architecture, it manages the users' interaction through templates. The framework controls the displaying of data to the users in a sophisticated way.

Providing the template language helps keep the data binding and rendering of HTML on the same page. That means, every time the application page is rendered, the framework interacts with the template syntax and updates the view in no time. Again, keeping no time gap between the updating and displaying the information to the users.

Vue – Vue uses HTML-based template syntax and binds the rendered DOM to its smallest component and subtrees. It allows you to compile the templates into the virtual DOM and minifies the rendering for constant values of data. Now, this benefits you in achieving the minimum form of DOM manipulation, which is a competence expected from a Javascript framework to load the apps in a super-fast way.
Performance

Metrics: Angular vs Vue

App performance is the focal point of determining the return on investment. For any audience to be considered, engagement is rather dependent on the app performance than the number of features provided. For SPAs to be performance heroes, Javascript frameworks are needed to be scrutinized.

This is distilled down to the performance of frameworks that further lead to many technical ground-level aspects such as startup time, Javascript engine, framework's ability to deal with some instances, build times, and more. Based on these aspects, the application emerges as an effective digital solution to the users, and so do the user interactions.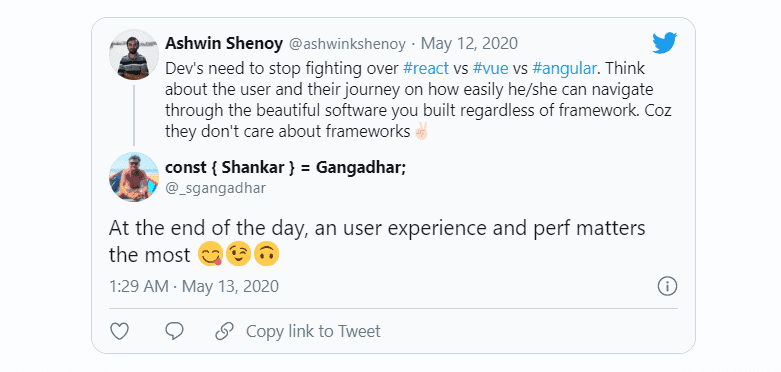 If it takes more start-up time, the app does not seem to be handy, creates problems with real-time app usage, results in slow page response, and more undesired user experiences. 
Below is the fair comparison of Angular and Vue's start-up time (initial load time) and performance metrics. 
Comparison metrics of DOM manipulation in the latest releases of Angular and Vue. 
Angular – By using the advanced change detection mechanism and ahead-of-time compilation, you can reduce the number of times DOM manipulates and pre-compiles HTML and app components before the browser even downloads and uses them. The framework is privileged to have these advanced mechanisms ready for optimizing the performance lag.
It might impact the application negatively and limit the success it deserves. It might be the reason behind the much-gained popularity as a Javascript framework for building high-performing apps.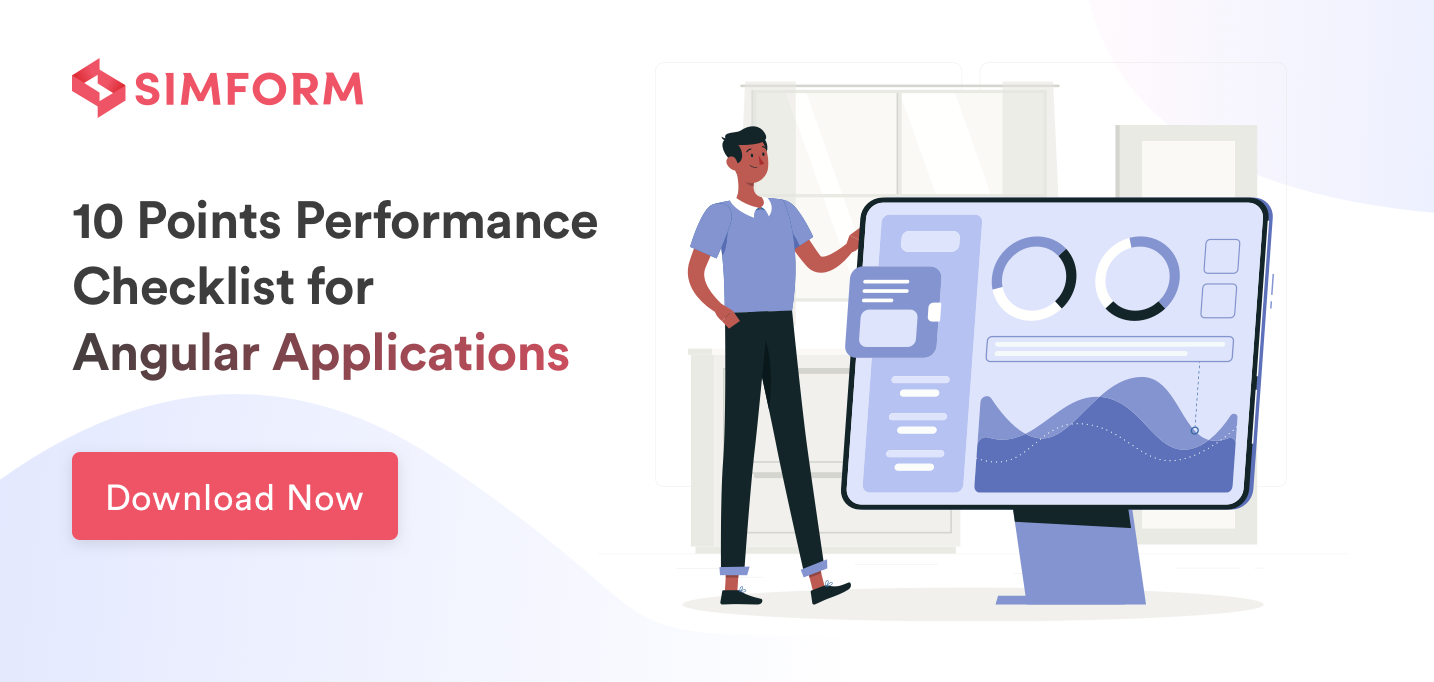 Vue – With the help of the virtual DOM mechanism, the framework has sorted a default performance-optimized configuration. This way, the runtime and initial load time are reduced drastically, boosting the app performance to a great extent. Also, the virtual DOM provides more efficient ways to update the view.
Each time the application data changes, it renders the virtual DOM rather than rendering the user interface in the actual document object model, which is faster and more performant. 
Both Javascript frameworks support all modern browsers and their previous versions. However, there are exceptions in the versions of Internet Explorer 8 mentioned below, where some features of Javascript frameworks might not work well. 
Popularity Measures

: Angular vs Vue

Based on HotFramework's online collection of data, the popularity measures have been taken shown between Angular and Vue. The comparison is based on the relative numbers to frameworks, based on the GitHub stars and Stack Overflow tags. We can see the rising demands of the frameworks in the chart for a specific date and to what extent both frameworks have gained popularity over time.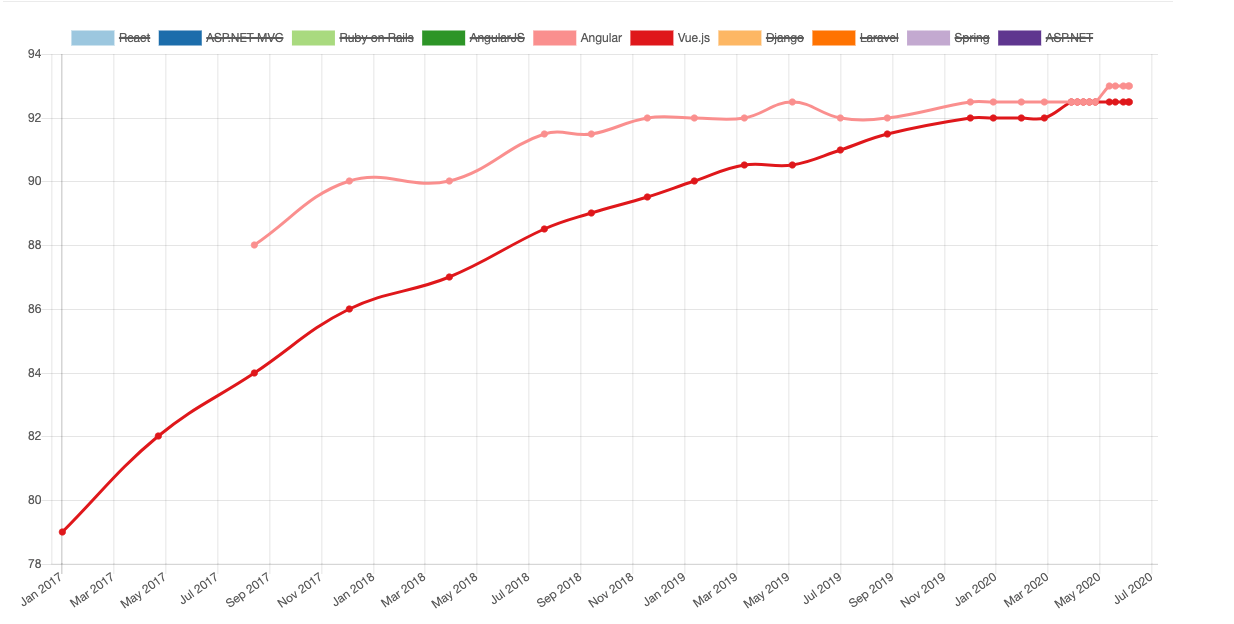 Source
The chart below shows Angular's GitHub score starting from August 2017 to June 2020.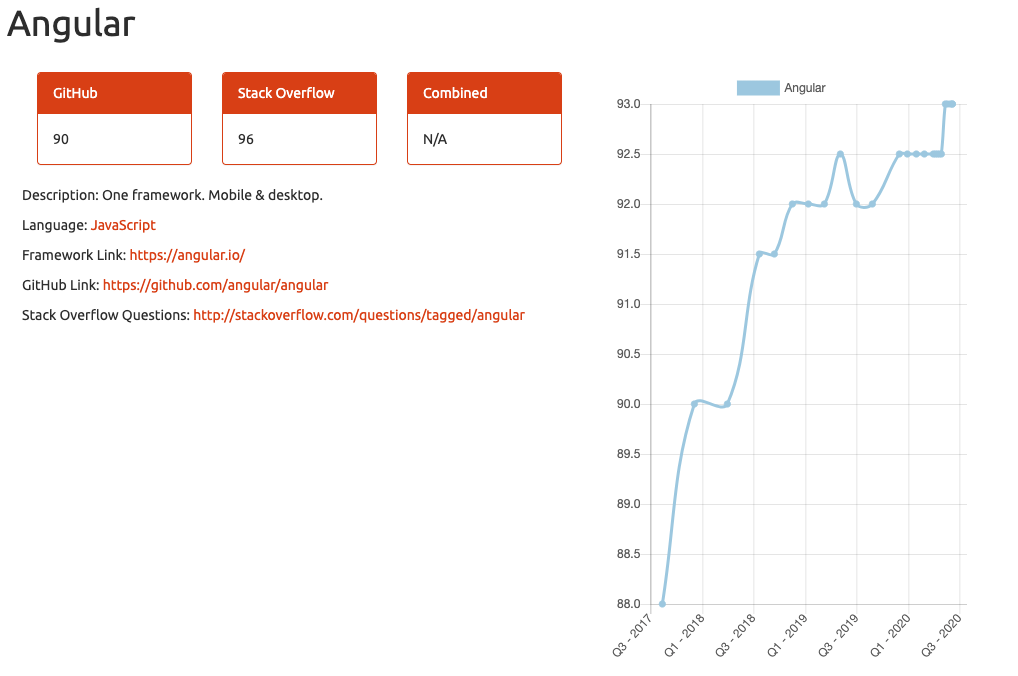 Source
Same for the Vue's GitHub score starting from January 2017 to June 2020.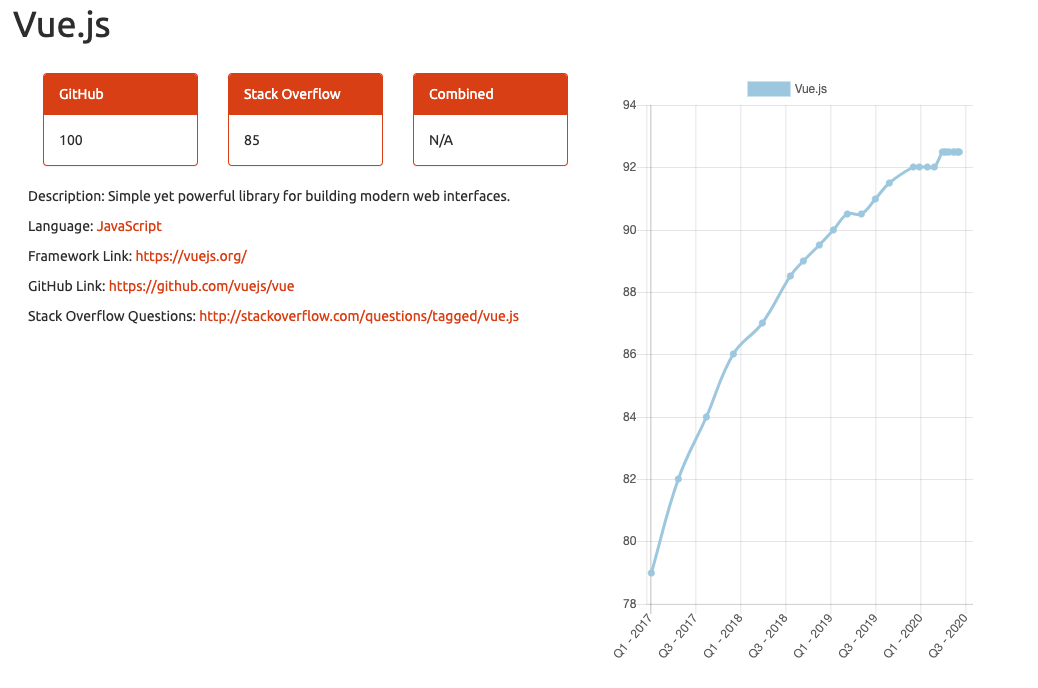 Source
Learning Curve

of the frameworks

Angular – Angular has a steeper learning curve. For productive development in the framework, developers have to be confident with Javascript and a few other programming concepts since the framework works on fetching the data from API by handling the frontend alone.

So it is much deeper and used for large and complex applications. Though for experienced developers, Angular does not seem to be a tough deal; it demands more familiarity with Javascript and more practice for less experienced developers.

Vue – Vue is based on the HTML and ES5 Javascript. The framework is more comfortable to learn in comparison with Angular. You can start building the application with Vue without having much familiarity with Javascript. It is focused on developing highly interactive user interfaces by providing a vast ecosystem of tooling.

You can get started using their guide and build something basic within a day. This helps in the development environments where quick decisions and implementation are to be made.
Development Speed

of the Frameworks

Angular – Development speed varies depending on the framework's adaptability and flexibility. It also depends on a developer's grip on the respective frameworks. Angular is maintained by Google, so the Angular core team at Google is responsible for the native framework development, which is what makes it a mature framework capable of handling and taking care of development speed.

This makes it easy for developers to understand the ecosystem and work along with it. The framework's ecosystem is vast, and so is its community, due to which the complex problems are addressed effortlessly, and the framework provides most things in-built. So this surely is a plus in the development speed of Angular applications.

Vue – On the other hand, Vue is maintained by the open-source community, but its ability to solve critical problems in building user interfaces is incredible. Thanks to its rich source of ready to use plugins that aid noticeably in web development.

Additionally, the Vue's ecosystem is formed of Vuex, Vue Router, and Vue CLI, which answers most problems of developers. The wide and rich ecosystem of Vue makes the framework super-efficient in boosting the development speed.
Convinced with Angular? Let's build a full-fledged Angular App Together
Documentation & Community
support
Documentation is the guide and support through which a developer can decide his journey with the framework. A well-documented framework is imperative when it comes to the development speed and feasibility of any software development.
Likewise, a wide community of developers is a bonus. Community support helps solve problems, share cases, and gather information, which is the requirement of building innovative web applications.
Angular – Angular is by far the most widely used Javascript framework across the world. The framework has gained tremendous popularity over the past years and because of the constant updates in the releases. You will get the solutions available over the web for the weirdest cases you may face while building apps with Angular.
Talking about the documentation, Angular has quite a well-documented understanding of templates, forms, bootstrapping, and details about architecture, components, and interaction between the components. The documentation includes the separation of units in an intelligible format.
Vue – Vue documentation includes a theoretical explanation of technical details like templates, watchers, directives styles, and more deep-dived sections such as state management and routing. Thanks to the practical examples and well-documented tasks that direct the developers in solving real-time problems. It also includes information about deployment and migration from other frameworks.
On the community side, the framework has increasing popularity among the developers and is gaining positive response in chats, Github repositories, and other growing forums of developers' discussions.
Future of frameworks

& Conclusion

Angular has been evolving rapidly with constant updates and releasing additional functionalities to speed up the development to offer an effortless development environment and a smooth user experience.

Especially after the release of Angular 2, it has emerged as a significant frontend framework for building user interfaces and independently handling the frontend. Angular is already on the verge of providing a splendid development experience by putting the Ivy compiler into its full-fledged form. 

Though the framework seems a little old compared to newly developed frameworks like Vue, it is not leaving any stones unturned in keeping up with the recent advancements in user experience and development needs. Angular is an obvious choice for building enterprise-based applications because of its extensive built-in functionalities and community support.

Vue is a technically sound framework when it comes to building user interfaces and solving complex problems. Though Vue has an excellent backbone, it is not as popular as Angular.

But this does not define Vue's future because the framework has a robust ecosystem with pretty good syntax. Developers have shown interest in adopting the framework even though they have fully-featured frameworks like Angular. Vue is likely to bring the updates like Angular in its upcoming versions. 

According to the state of Javascript survey, developers who used Vue and would like to use it again have increased rates from year to year. The study has shown that in 2018, it was 28.8% of developers that have grown to 40.5%. 

When you analyze deciding factors and project requirements, you may get caught up with deciding factors like: 
Team size, experience & urgency 

Reliability of framework – how are the developing chances of the framework that you are choosing?

Does your application need a handful of features with decency in a user interface as focus, or will you require to make it scalable at any instance of time?
Answer these questions, and you will likely reach the decision point.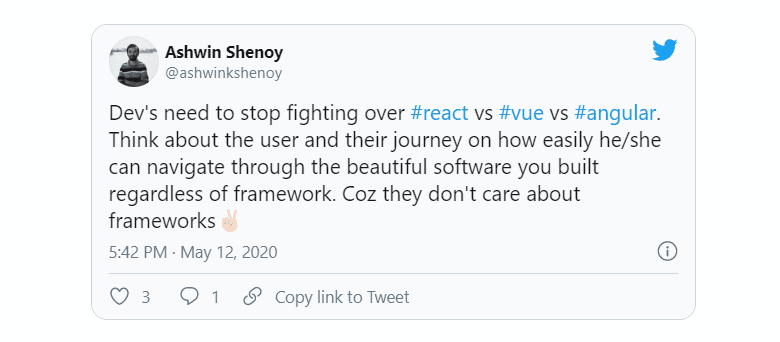 Furthermore, when deciding a frontend framework, you should look for future development chances since you are building a long-term product based on the frontend and are not likely to migrate shortly.
You know well that both these frameworks are resourceful, but with a small team and short time, selecting Vue won't get you in trouble. If you are not in any urgency and are looking to build a scalable product in the future, choose Angular.
If you would like to discuss something more on Javascript frontend frameworks or want to share any insights, feel free to connect with me on Twitter or drop me a line at hiren@simformlabs.com.