Why You Need to Build a Virtual Call Center Software?
You might not even notice it, but cloud technology is all around you. From social media platforms such as WhatsApp, Facebook, and Instagram to streaming services like Netflix and Youtube – all of them use cloud-computing technology that enables them to offer services all over the world.
There are many types of call centers but with the rise in cloud-based software solutions, the market of traditional call centers is also shifting towards a more modernized solution known as virtual call center software. This software helps in migrating all the traditional features like auto call distributor (ACD), smart routing, and Interactive Voice Response (IVR) to cloud-based solutions. Moreover, you can now take advantage of some advanced features like Outbound Dialer and Web-based communications that make use of VoIP and WebRTC technologies to achieve a real-time exchange.
In this blog, we will discuss about virtual call-center software and why you should get one.
What is Virtual Call-Center Software?
An online contact-center or a virtual call-center software is a solution that meets both inbound and outbound communication needs for businesses and organizations. Historically, call-center platforms are stuck with bulky hardware like Auto Call Distributor (ACD) and physical telephones. But with the advent of software-based call centers, remaining tethered to physical hardware is out of the equation.  
According to a study conducted by CallMiner –
"Cloud contact centers are 27% cheaper and experience 35% less downtime than their on-premise counterparts."
Cloud technology has democratized the service and sales industry in many ways. As virtual call-center software uses cloud-based technology, it allows your team to work from a remote location while remaining a cohesive unit all the same. The software usually leverages Computer Telephony Integration or CTI technologies, VoIP, and SIP for all their calling needs. 
Keeping in mind the recent buzz about offering an omnichannel experience, virtual call center software also provides an easy API integration of web-based communication APIs. WebRTC has APIs for all browser-based communication between you and your customer, be it voice, video, or any form of data. This allows you to synchronize different channels under a single option.
Virtual call-center software is also lighter on the budget. It lets you take advantage of API integration of required services within your cloud-based software solution – This means you pay only for the services you're using.
Let's take a deeper dive into virtual call-center software and what it has to offer for your organizational needs.
Why do You Need a Virtual Call Centre?
Guess what? Cloud-based software and a reliable internet connection… That's all you need to leverage virtual call-center software. Given the mounting popularity of virtual call centers, more organizations are switching over to it, thanks to its numerous benefits. Let's take a look at some:
No geographical limitations
The main USP of virtual call center software is that it's not region-specific. This means you're no longer limited to employing people only within commuting distance, and you can widen your hiring pool.

Secondly, with customer-support executives working in different time zones, you can extend your office hours. This will allow you to provide around-the-clock service. 
Since virtual call center software uses API solutions based on cloud-computing technology, you no longer need to negotiate with your target country's carriers.  It's a cloud-based call center software, so the uptime exceeds the 99.95% SLA. Once your virtual call-center software gets configured, you can enjoy instant, multi-region connectivity and on-demand phone numbers around the world.
Improved customer experience
You cannot imagine the modern digital era without the internet. Even so, the chances are that Google may not always provide relevant information about your business to your customers. So if a customer reaches out to your contact center, it's because they want something is done which they couldn't do using your website or app. 
Now, imagine a customer's frustration who's kept waiting on one of your customer helplines for a long time and decides to give up eventually. Study shows that 38% of customers will switch over to a competitor or cancel orders or services after a poor communication experience. 
By relying on the API approach, you can use skill-based routing to better allocate calls via selected IVR options. This not only minimizes the wait time for customers but also connects them with a more-suited agent. What's more, you can take post-call surveys to improve your customer satisfaction (CSAT) scores.
Add channels easily
Virtual call-center software lets you integrate communication APIs for an omnichannel experience for your customers. You can rely on communication-API service providers like Vonage or Simform for all your API integration needs. 
With APIs' help, you can incorporate different communication channels like programmable voice, chatbots, SMS, Chat, Video, and In-app calls. As all these channels are also subdivided into different API services, so integrating them takes minimal effort compared to building them from the ground up. 
Boost agent productivity
Using APIs, your virtual call-center software can equip your agents to meet customer needs efficiently across multiple channels. By adding a WebRTC gateway, your agents can take calls from a remote location through their browser. 
You can better equip your virtual call center software with a customized UI that suits your agents. API can help you integrate CRM into your software and rule out the need for your agents to juggle multiple windows.
Your virtual call-center software integrates with a software-based outbound dialer. This means your agents can now make calls without having to punch in the numbers manually. Other tools, such as feedback surveys and analytics reports, provide agents with information from all channels so that they can act on it immediately. 
Scale elastically
Say you've hired a new employee for your call center. Now, you need to provide them with application licenses, hardware, and other necessary business equipment – none of this comes for cheap. But with virtual call-center software, you just need to focus on integrating APIs with your virtual call center. 
As and when the need arises, you can simply scale up or down your virtual call-center software without any penalties. Because the software is universal for all your agents, you can channel your time and focus toward what you want to build and stop worrying about the capacity and hardware planning. Since APIs are structured on a pay-per-use basis, you can use the software flexibly without the risk of oversubscription charges.
Lower upfront costs
If you want to start an onsite contact center, you need to take into consideration the hidden costs it entails. Host servers, PBX, and phone terminals are just some of the initial expenses. On top of that, infrastructural investment such as furniture and basic office equipment can bite a big chunk off your budget.
Virtual call centers, on the other hand, eliminate the need for any hardware requirements whatsoever. Cloud solutions provide a set of certified applications without burning a hole in your pocket. Using a virtual call-center software means you no longer need to employ or rely on in-house developers. Instead, you can bank on API-integration service providers like Simform to do the heavy lifting for you. This translates into reduced upfront costs when opening a call center. The only expense coming your way is for the cloud-based software billed as per use.
Must-Haves

for a Virtual Call Center Software
According to a study –
"34% of the customers abandon their calls due to high wait time."
"70% of the customers get 'extremely frustrated' waiting on hold."
In the battle between manual vs. automation, the latter has an incredible edge. A cloud-based contact center is by no means inferior to an onsite call center.
And to assist with the task of inbound and outbound calls, a virtual call-center software has inbuilt features that make it more effective and efficient. Let's look at some of these features: 
Auto Call Distributor
Auto Call Distributor (ACD) feature is a skill-based routing offered by the virtual call-center software. It helps in directing customers on any channel to the best available agent at that moment. This minimizes the wait time and improves customer experience significantly.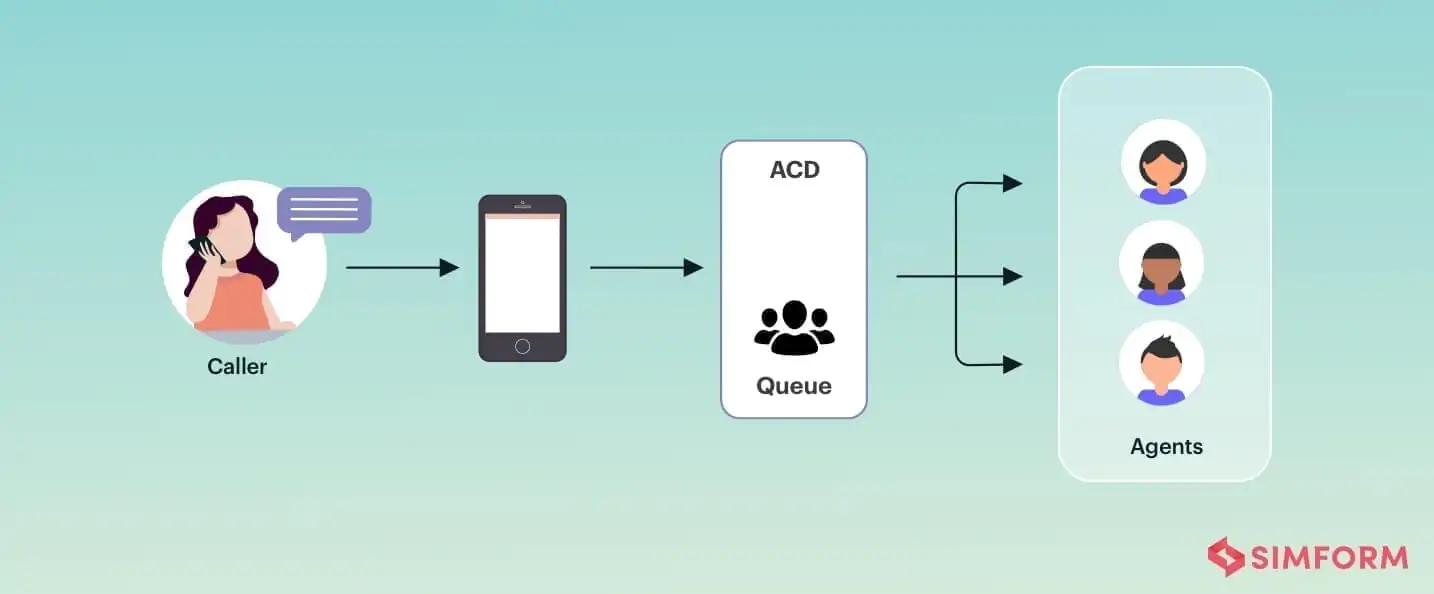 Computer telephony integration(CTI) technology provides ACD solutions for virtual call-center software. The automatic routing of calls to new recipients based on specific criteria involves a database lookup for the caller's ANI(Automatic Number Identification). This is achieved by using the call-routing server functionality provided by CTI applications that run on a cloud computer.
Virtual call centers that use ANI services can route calls based on location. The area code of the caller's number is used to identify the probable location of the caller, and the call is then routed to agents within that region.
Interactive Voice Response (IVR)
Customers don't enjoy waiting on a call-center line no matter how busy your reps may be. Not to mention that your agents cannot afford to lose a potential lead.   So the self-service Interactive Voice Response(IVR) feature is a delight to the customers and agents alike.

Looking at the stats –
"65% of consumers feel good about themselves when they successfully use self-service."
IVR allows customers to interact with the company's host systems with their phone's keypad or via speech recognition. The use cases of IVR include payments, retail orders, weather or travel-related information, mobile purchases, and the like.

An IVR can be deployed one of two ways:
Equipment installed in the PSTN (public switched telephone network)

Hosted using an ASP (Application Service Provider)
Virtual call-center software uses ASP to deploy IVR systems. This omits the need for physical equipment and any operational or maintenance costs associated with it.
When customers type into their keypad for relevant information while using IVR services, dual-tone multi-frequency (DTMF) signaling tones are transmitted, which are then decoded at the host server. Other than this, automatic speech recognition (ASR) technology is used for speech recognition, which employs natural language processing (NLP). Under ideal conditions, using NLP can lead to an accuracy of 96% to 99%. 
Skill-based routing
Even after using the Interactive Voice Response (IVR) feature, the resulting information could still be limited. And customers may want to speak with personnel with specific skills for more of an in-depth picture. A call center must be able to route a customer's inbound call to suited agents based on their IVR selection. This is where skill-based routing comes into play!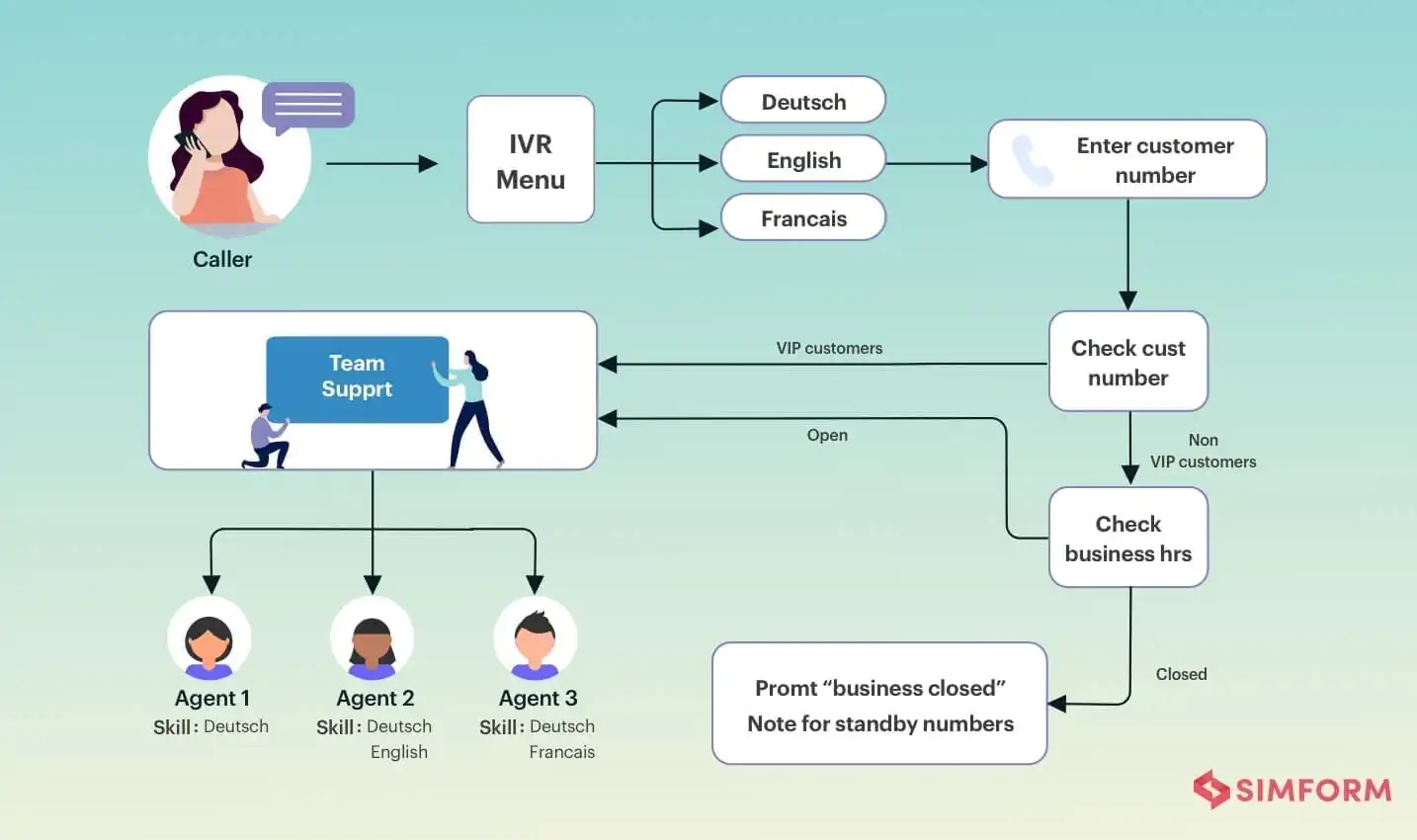 The process is an enhancement of the auto call distribution (ACD) technology used by the virtual call-center software. It re-routes the customer's inbound call based on three unique parameters – the call's geographical location, the agent's area of expertise, and the caller's interaction history. Needless to say, a skill-based routing feature can save a lot of your time.  
Integrated CRM
Normally, it takes about 2 minutes to manually save call details in the CRM. But with the seamless CRM integration into your virtual call-center software, all call activities, SMS, voicemails, and recordings automatically get logged under their respective contacts – reducing the time from minutes to mere seconds.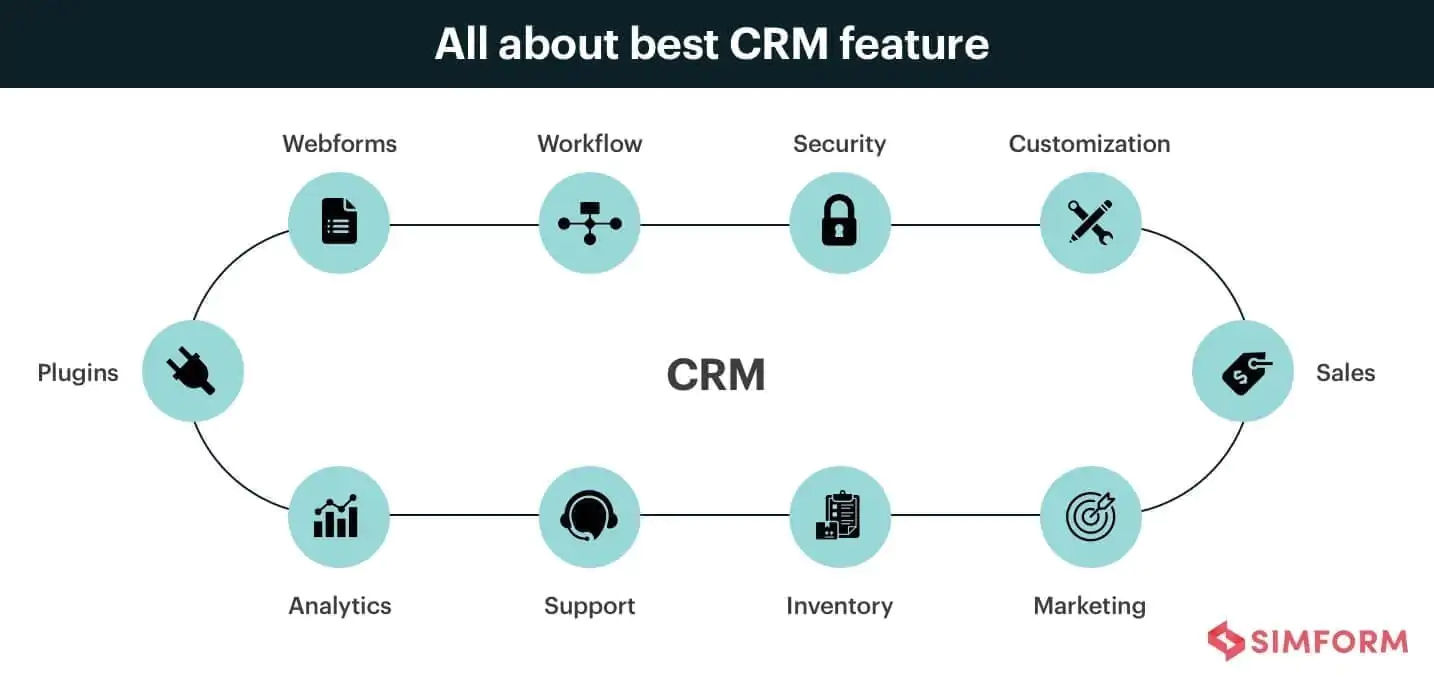 Leveraging an integration platform allows you to transfer bi-directional data and process orchestration with a complex set of business rules. This way, APIs with common functionality can be shared across all systems in the cloud. A few of these integration platforms are:
Zoho
Zoho provides a simple and straightforward CRM integration with a small learning curve. It offers everything from multiple pipelines for a unique sales process and creating workflow automation to advanced BI with Zoho analytics and integration of third party CRM through API. With a global network in 180 countries, ZOHO CRM empowers you to convert more leads, engage with a larger customer base, and grow revenue.   
Twilio 
Twilio'sCRM integration comes via their Twilio Flex platform, and natively supports Salesforce CRM out of the box. However, if you are in favor of custom API integration, Twilio also provides a flex-plugin framework for custom integrations.
Vonage
Vonage's integration services are ideal for a business of any size. Being pioneers in network communications, their integration solution is seamless. Vonage caters to your choice of CRM features through their API integration, and you can also choose from your favorite CRM, be it Salesforce, Zoho, or Hubspot.    
Outbound dialer 
Because dialer phones are used in traditional call centers, agents end up spending about 3rd of their time simply dialing numbers and shuffling between the phone and CRM. This results in misdials, calling of unfiltered DNC prospects, excessive wait times, and a decrease in your agent's productivity.
Virtual call-center software uses Voice Over Internet Protocol or VoIP technology for all its inbound and outbound calls. Thanks to its virtual extension, the need for physical phone lines are omitted. VoIP sends voice information over the internet by converting voice data into packets. Since VoIP converts analog signals to digital signals, it requires a stable internet connection. 

VoIP chiefly includes two different types of protocols:

The first one is the Session Initiation Protocol or SIP to establish, maintain, and terminate calls between two or more people. Most connections established in VoIP are known as SIP registration. SIP registration occurs when a SIP device tells the server( junction networks, in this case) its IP address and that it's available for calls. If you're looking to maintain your existing IP PBX and get the benefits of VoIP, it's possible by using SIP trunking.
SIP trunking provides telephone service to on-premises phone systems like PBX. It transitions your existing PBX setup into an internet-powered telephone network and gives you access to affordable and infinitely scalable phone service.
The second protocol used in VoIP is known as User Datagram Protocol (UDP). Once the connection between two parties is established using SIP, it's time for UDP to take action. As previously mentioned, a phone conversation is a stream of voice data packets meant to be created, sent, and received in real-time. Unlike TCP, UDP is connectionless, which means that data packets can be sent without warning, preparation, or negotiation. It's ideal for real-time services like VoIP as you're more concerned about "real-time" communication rather than receiving every single voice packet. UDP ensures a lag-free experience when making calls over the internet. 
Predictive dialer
Normally when an agent dials a number, it can lead to a waste of time in multiple ways. Having to wait for calls to patch through and them going unanswered are some good examples.  In short, a one-on-one call isn't always an ideal way to communicate, especially if you're running an important campaign. 
The predictive-dialing feature of virtual call-center software dials from a list of telephone numbers and allows agents to reach out to customers whose calls were not previously answered by a rep. Though bear in mind, a team of agents should be available beforehand while running predictive-dialer campaigns.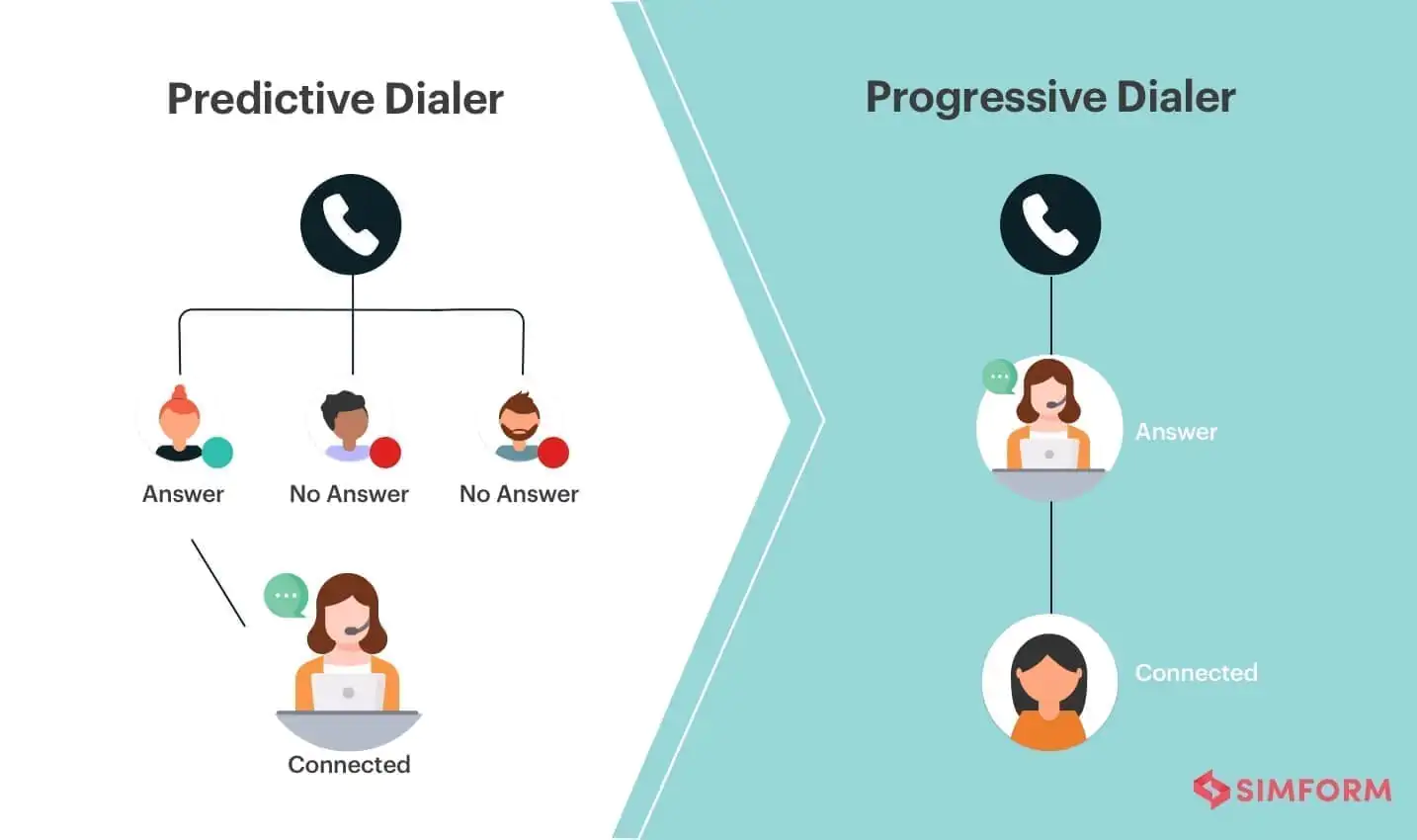 Call Progress Analysis (CPA) determines whether the call has been established or not. Once through, it's then connected to an available agent. The use of the CPA with a virtual call-center software ensures fast and automatic call classification, which boosts the efficiency of agents.
Web-based communication
Despite the pros of digital media, different sorts of digital media have torn customers into shreds. This is because none of the channels (voice chats, SMS, emails…) are interconnected. For example – if customers are facing an issue that has already been reported on web-based communication, it's naturally frustrating for them to have to explain it all over again on a call.
Thankfully, with the help of WebRTC (Web Real-Time Communication) technology and its associated APIs, you can offer an omnichannel experience to your customers. 
WebRTC is an open framework for the web that enables real-time communication in the browser. WebRTC achieves this by providing network, audio, and video components and building blocks for developers to use in their source code. It goes without saying that webRTC is capable not only of audio signals but of any multimedia or arbitrary data. The building-block components of WebRTC are implemented in a browser and can be accessed using Javascript APIs. Let's look at some of these APIs:
Voice APIs
You can integrate your virtual call-center software with voice APIs from the industry's leading service providers like Twilio or Vonage. This will allow you to take advantage of web-based calling features furnished by WebRTC. To establish your voice call over a browser and initiate sessions, you can use the RTCPeerConnection API of WebRTC.
Video APIs
Integrating your virtual call-center software with WebRTC lets, you have browser-based real-time video conferencing. The DataChannel API of WebRTC is capable enough to handle both voice and video at the same time.
In-app messaging API
With the help of WebRTC technology, you can engage your customers through instant messaging within the browser itself. WebRTC's DataChannel API can handle any kind of arbitrary data, thus enabling you to process voice, video, and other data through the same API. 
Chatbot API
A chatbot is another specific area where your customers can interact with your organization. Some people tend to use it based on their personal preferences. Using a chatbot, API helps you combine natural language processing or NLP with taking requests, extracting the intent of a message, and delivering an appropriate response. 
SMS API
Aside from the internet, your wide customer base can also be reached via SMS on their phone using SMS API. It keeps track of customer conversation made through SMS and maintains the conversation in the user profile within the organization for a more streamlined experience. Alternatively, messaging API can be used for tasks like two-factor authentication, promotional campaigns, timely notifications, confirmation or rescheduling, and acknowledgment for service requests from the customer. 
Vendor Based

Solution vs.

Personalized

Solution
It goes without saying that different businesses have different requirements. So if you choose to rely on a ready-made virtual call-center software, it can have certain limitations. While it's relatively easy to get you started with an already existing virtual call-center software in the market, the product may not offer the flexibility you might need down the road.
But when you choose to build your virtual call center software with communication building blocks or APIs, you can have the exact blend between the software capabilities and the user experience you need for your customers. With custom API solutions, you're no longer attached to one vendor's roadmap.
Simform realizes the need for modern-day businesses and offers API integration services for developing virtual call center software. Being an API integration partner of the world-renowned telecom-service provider, Vonage, we understand the problems faced by the traditional call-center software and the need to improvise it. We suggest using API building blocks so that you can develop your in-house virtual call-center software within no time. API integration will allow you to explore various personalization and is easily scalable if the need arises in the future.
Conclusion
You might be on the lookout for ways to cut costs of operations for your call-center service while also catering to a higher customer base and that too in a more efficient manner. If so, then we have good news! You can easily achieve all of the above by hiring an API integration-service provider.
If you're someone who'd like to have customized solutions for their online contact center, Simform could bring you the right solutions for all your needs. Vonage is known for its communication API services. Having partnered with Vonage and from a decade of experience, Simform can look into the matrix of technical challenges and the capabilities needed to overcome them for your organization's business needs.
Here, we put before you all that you need to know before jumping into the space of virtual call-center software. In case of a query or need for guidance on the subject, do let us know in the comment section below.