Top 7 Signs That Your Legacy System Needs Modernization
Most enterprises have legacy custom applications supporting critical business operations. Over time these applications become hard to up­date and costly to maintain. However, replacing these applications with newer ones is also complex and expensive in the early stages.
Take the example of Lotus Notes, built on a more than 30-year-old design that includes a proprietary development framework, scripting language, and deployment process. The solution was quite powerful once. However, its lack of flexibility, security, and agility drove organizations to replace it with a model-driven AI development environment to create secure and sophisticated offline experiences.
So, if it's difficult for you to decide whether to go for app modernization or not, then you don't need to worry. We've compiled the signs that indicate it's time for legacy system modernization.
Legacy systems need to be made compatible with modern platforms. Helping organizations derive the maximum value from critical applications; naturally, the market for application modernization is expected to reach $24.8 billion by 2025 at a CAGR of 16.8%.
Signs that your legacy system needs modernization!
The risky and aging applications may create failures or performance issues and become the greatest threat to business growth in today's digital era. It is high time to upgrade if your apps do not provide business value, possess modern functionality, or fulfill your expectations.
Here are the signs you need to transform your existing legacy system –

1. Liabilities caused by product end-of-life
Imagine that you meet your old colleague at a conference. At some point, your friend asks about the software you use to manage customer databases. Astonished by your reply, your colleague says, "It's outdated." Using end-of-life solutions is quite hazardous as they can increase the risk of hacking attacks and data breaches.
For instance, Windows 7 wasn't as secure as its successor. Unfortunately, businesses that failed to adapt had to pay the price when 98% of the computers running Windows 7 were impacted by the 2017 WannaCry ransomware attack. Yet, despite Microsoft's warning about Windows 7 being out of date in January 2020, 17% of desktops were still running on this version as of June 2021.
Once a manufacturer announces the end of life of one of its products or services, a business using soon-to-be-legacy technology should –
Review the current state,
Compare different subscription models and replacement choices,
Decide what should be replaced first and how
2. Excessive hardware dependency
On-premise servers have been widely used for corporate data and software storage, providing companies with the peace of mind of having a tangible asset within the four walls of their office building. However, the administrative expenses and cost of ownership of such systems are high. If you choose the cloud, you don't need a server to operate your applications.
Enterprises are now considering the cloud as a viable place to use complex business apps. When you run your applications in the cloud, your provider is responsible for keeping your systems up to date. If you choose a trusted provider, you won't have to worry about outages.
3. Frequent system crashes
In this digital era, businesses expect superior performance. But, if you use outdated legacy software, you will experience constant lags, glitches, and crashes. Such frequent system downtimes and crashes wouldn't help you move at the desired pace. Moreover, legacy software will also have an outdated interface and no community support, which makes it unimportant for you.
You can integrate various software quality management and testing processes to resolve the above-mentioned issues. This method helps you modernize legacy systems to improve operational efficiency and performance. Also, you can optimize server performance through virtualization, website caching, or hardware upgrades.
4. Device dependencies
As our lives revolve much around our mobile devices nowadays, the market share of mobile traffic in the United States was around 57% in 2022. So, if your software still works best with bulky desktops only, then you are already falling behind your competitors in terms of profits and performance.
You can mobilize your legacy software, which augments some features and provides additional benefits. Yet, you must consider possible integration issues, as legacy systems often need a large amount of custom code and workarounds to be capable of running with the new tools.
5. Higher maintenance costs
Legacy systems often do not have a centralized data processing module. As a result, you have to spend a sizable fortune on upgrading the databases. According to The Government Accountability Office, around ten of the federal government's legacy systems cost around $337 million annually.
Apart from this, there are other costs associated with legacy systems, like tech debt, ongoing maintenance activities, frequent downtimes, special licensing, etc. In addition, you need to spend money on paying some hidden costs while using legacy systems.
Critical vulnerabilities and bugs can lead to a data breach or total data loss. Adding to the woes, maintaining such systems can strain the IT department as they will mainly focus on finding and fixing bugs in legacy systems instead of mission-oriented projects.
Refer to this graph to better understand the hidden costs of legacy software maintenance that you may know after a more profound observation –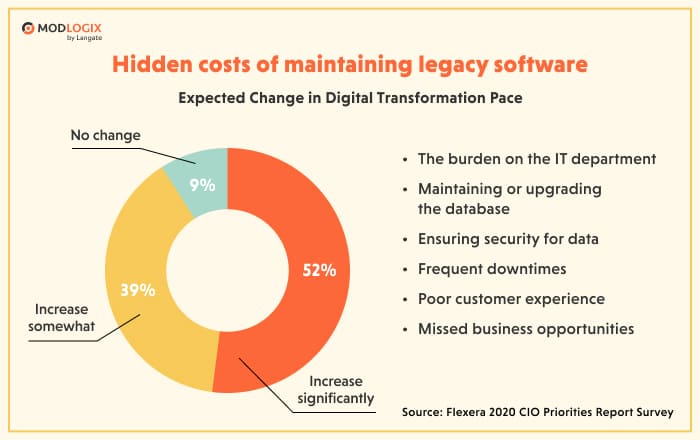 6. Incompatibility with modern systems
Speaking of compatibility, it is important that your software, regardless of how old it is, works well with the other apps you need to operate your business activities effectively. You can't afford to ignore the compatibility problems in a company's business systems, whether a new CRM or a live chat add-on for your website.

If you are still tied up with outdated systems or unable to utilize advanced tech capabilities, chances are your competitors have already integrated new tools. Unfortunately, that means you will continue to lose your customers, which eventually puts your business's existence at risk.
7. Non-compliance with current regulations
Generally, legacy systems are non-compliant with existing rules and regulations. Moreover, due to the lack of support and investment, the probability of the internal code base meeting the latest regulatory framework is lesser. So any mistake from your side can lead you into judicial troubles and penalties and may harm your reputation in the market.
Apart from this, a data-heavy solution stores a lot of sensitive data that can potentially turn down into criminal lawsuits if it gets misused. Moreover, you need to incur heavy expenses to secure this data so that it may not get exposed to external or internal risks.
How to approach legacy system modernization?
Legacy modernization aims to meet the organization's current business needs by enhancing business agility with new functionality and appealing features, strengthening customer service, and increasing efficiency.
However, modernizing a legacy system is not child's play, as nearly 74% of enterprises fail to complete legacy modernization processes due to a disconnect between technical and leadership teams.
Adopting the below-mentioned approaches can drive your modernization efforts in the right direction –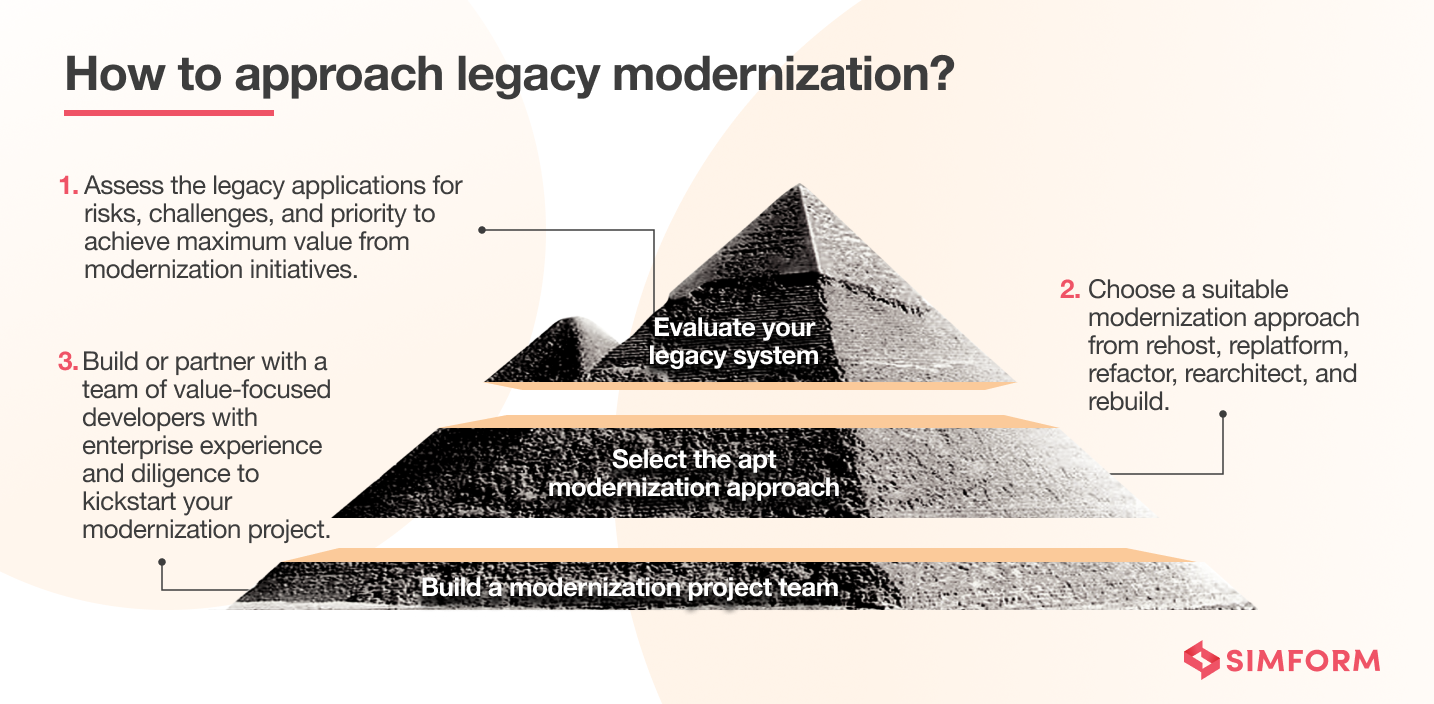 1. Evaluate your legacy system
To evaluate your legacy systems, you should focus on six main drivers, where three are from the business perspective — business value, agility, and business fit. You must ensure that your legacy application can meet the changing business requirements or have the agility to keep pace with the changing markets.
And the other three drivers come from the IT perspective and involve cost, complexity, and risk. You need to ascertain whether the total cost of ownership is too high, the technology is too complex, or security gets compromised. By considering these six key drivers, you can quickly know whether your legacy system needs modernization or not.
2. Select the apt modernization approach
Select the correct application modernization approach after assessing project requirements and analyzing relevant case studies. Generally, companies may choose to rehost or refactor applications to operate them on the cloud. However, some applications may need to be rearchitected or replaced with SaaS-based systems as per business criticality.
3. Choose the right modernization partner
Don't get limited to technology only while working on enterprise application modernization projects but focus on people and culture. You can hire a trusted software partner specialized in re-engineering legacy systems and following various modernization approaches.
Many legacy application approaches focus on transferring monolithic, on-premises applications into cloud-native architecture rather than maintaining and updating onsite using waterfall software development processes. However, you can look for a software development team that leverages Agile and DevOps practices to ensure faster time to market your modernization project.
Learn from legacy system modernization success stories
Legacy software modernization empowers your development team to work more efficiently and intelligently. Other than that, it can assist you in leveraging cloud computing to update existing applications and infrastructure platforms and, ultimately, unlock the fullest potential of your enterprise.
Here are some companies that have successfully improved their operations by modernizing applications –
1. Etsy
Popular online marketplace Etsy used private data centers to manage its operations. But in 2018, it migrated on-premise servers to Google cloud to support a huge number of sellers on its platform.
First, Google's engineers transferred Etsy's web servers, mobile APIs, API servers, and a lot of MySQL databases into the cloud. Then they shut down their data center by migrating other services to the cloud.
Know Everything About Etsy's Devops Journey
2. Goldman Sachs
Goldman Sachs, one of the largest financial services companies worldwide, faced a big hurdle with its technology division. Its complex toolchain in the legacy system was slowing down the execution process. By adopting legacy modernization, Goldman Sachs simplified workflow, increased developer efficiency, and achieved faster execution.
3. Carhartt
Carhartt is a US-based clothing company that collaborated with IBM to modernize obsolete systems and processes. With IBM's assistance, it increased employee productivity, giving more time to its team to focus on critical strategic projects.
Make your legacy system future-proof with Simform
Modernizing legacy applications assures better revenues even if the customized replacement doesn't satisfy all security regulations or business requirements. Although updating legacy applications can be initially expensive, you can adopt an incremental approach with the right modernization strategy and tools.
Simform can help you analyze and implement a legacy system modernization initiative aligned with your business goals. In addition to our proven application modernization services, we assemble collaborative teams combining vast industry experience and specialized technical skills. Connect with us today to integrate an ideal legacy modernization strategy into your business.