How to Hire Angular Developers?
Did you know the average cost of hiring an Angular developer is $50,552? And this cost includes management time, overall productivity loss, and the cost of hiring a recruitment agency. 
That's almost like buying an Audi S5 Sportback Premium Plus every time you hire someone!  
Is it worth spending this amount of money on a single hire? We understand that the talent marketplace is changing, and hiring top Angular developers is challenging. Non-tech companies also require developers to grow their business, which adds to the already fierce competition. Since you're reading this, I assume you're facing the same problem. 
To have the best of the best talent to work for you, you need to come up with a strategy that you can replicate. Let's discuss some of the off-beat ways and strategies to hire Angular developers.  
Fantastic Angular Devs

and Where to Find Them?

In my overall experience working with recruiting agencies and in-house HRs, one go-to way is screening/hiring developers through LinkedIn. I couldn't help but wonder if that is the only option. Absolutely not. Let's discuss some other ways to hire the best talent. 
Hiring Offline
When it comes to looking through offline habitats of the software community, here are the few options that have worked for us. 
#1. Tech Conferences/Meetups: Conferences and meetups are a great way to get involve and be an active part in the community. You name the technology, and there are plenty of them happening near you. However, just attending these events isn't enough. If you can get yourself enrolled as one of the speakers or sponsors, you and your organization's visibility grows exponentially. What's more, your chances of attracting top talent increases manifold. 
#2. Coworking Spaces: Coworking spaces are one of the potential places for networking. I realized this during my last visit to New York, where a coworking space regularly organizes lunches and high teas as an initiative to get to know each other and promote their business. In our case, this has served as an excellent opportunity to get ourselves noticed and hire developers. 
#3. Hackathons: These are one of the best places to keep a watch for new talent since you can see them live in action. From time to time, we've been hosting hackathons by partnering up with local colleges, and it has proved extremely fruitful for us. 
Hiring Online
#1. Freelance Websites: Websites such as Upwork, Freelancer, and Fiverr are pretty helpful when you want to source talent for temporary, remote projects. However, in cases when you want to hire a full-time Angular developer, websites like Toptal works as a better option since the developers are pre-vetted.
#2. Developer Communities: Niche developer communities are an excellent platform when you want to hire developers with specific requirements; in our case, it's Angular. Platforms such as GitHub, Reddit, and Stack Overflow work best. You can also reach out to a tech-specific newsletter that provides job postings. Apart from that, platforms like Angelist are also an excellent source to hire developers. 
#3. Augmented Teams: When you're scaling your projects and need a bunch of devs immediately, staff augmentation can come to your rescue. Tons of startups have hired extended teams at a scaling stage. Considering the tight market for in-house talent, a perfect option that can save you time and money without compromising on the work quality is- staff augmentation.  
Dedicated development teams work best in cases where
You can't find an expert or a developer with sound skills.

You need to double your development team due to specific projects. 

Most of your employees are already engaged in the projects. 

You are based in a region where development rates are high. 

You have a small team and you want to modernize your services. 
Having discussed various modes of hiring, let's jump onto understanding which type of team is perfect for you– remote vs in-house.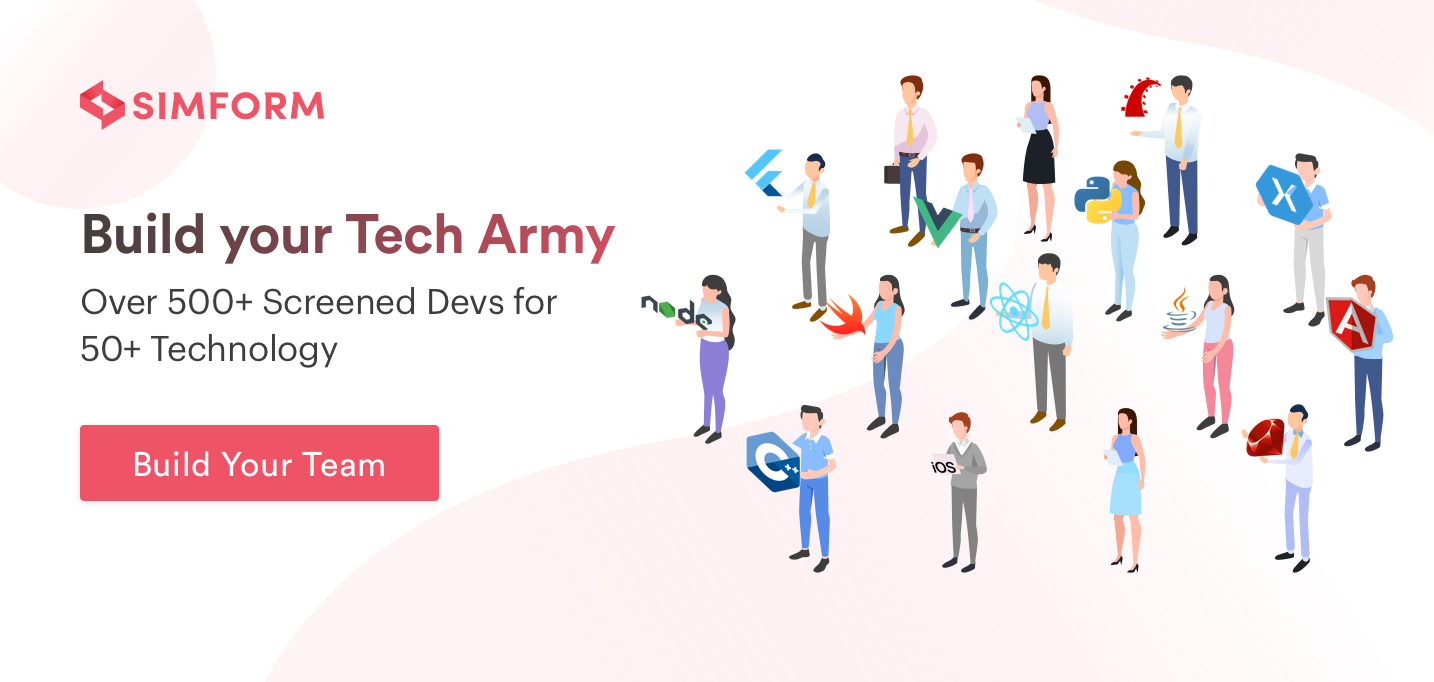 Dedicated
Remote Developer vs. In-house

Developer?

In-house teams or remote teams? The debate is real. I've worked with both kinds of teams, and the differences are major. Let's discuss them in detail. 

When you work with in-house teams, traveling is one of the major cons, primarily, if you're based in a metro city. I remember a client from London sharing a similar problem as mine. He mentioned how some of his developers struggled with 3 hours of commute, to and fro, from the workplace. Travelling took a significant toll on the productivity of those developers. Apart from this, investment in infrastructure, administration, and operation is another burden.  

Still, there are few advantages too. Your team understands the company goals, product, and culture the best. Plus, you have direct oversight over your team. But is it all worth it? Only if an in-person presence is required, you'll have no problem in terms of cost per developer. 

On the other end, dedicated remote teams release you from many headaches. Remote developers may lack face-to-face communication, but hey, there are tons of video conferencing tools available at your disposal. Plus, I've personally observed a 30% hike in productivity when developers are allowed to work wherever they want.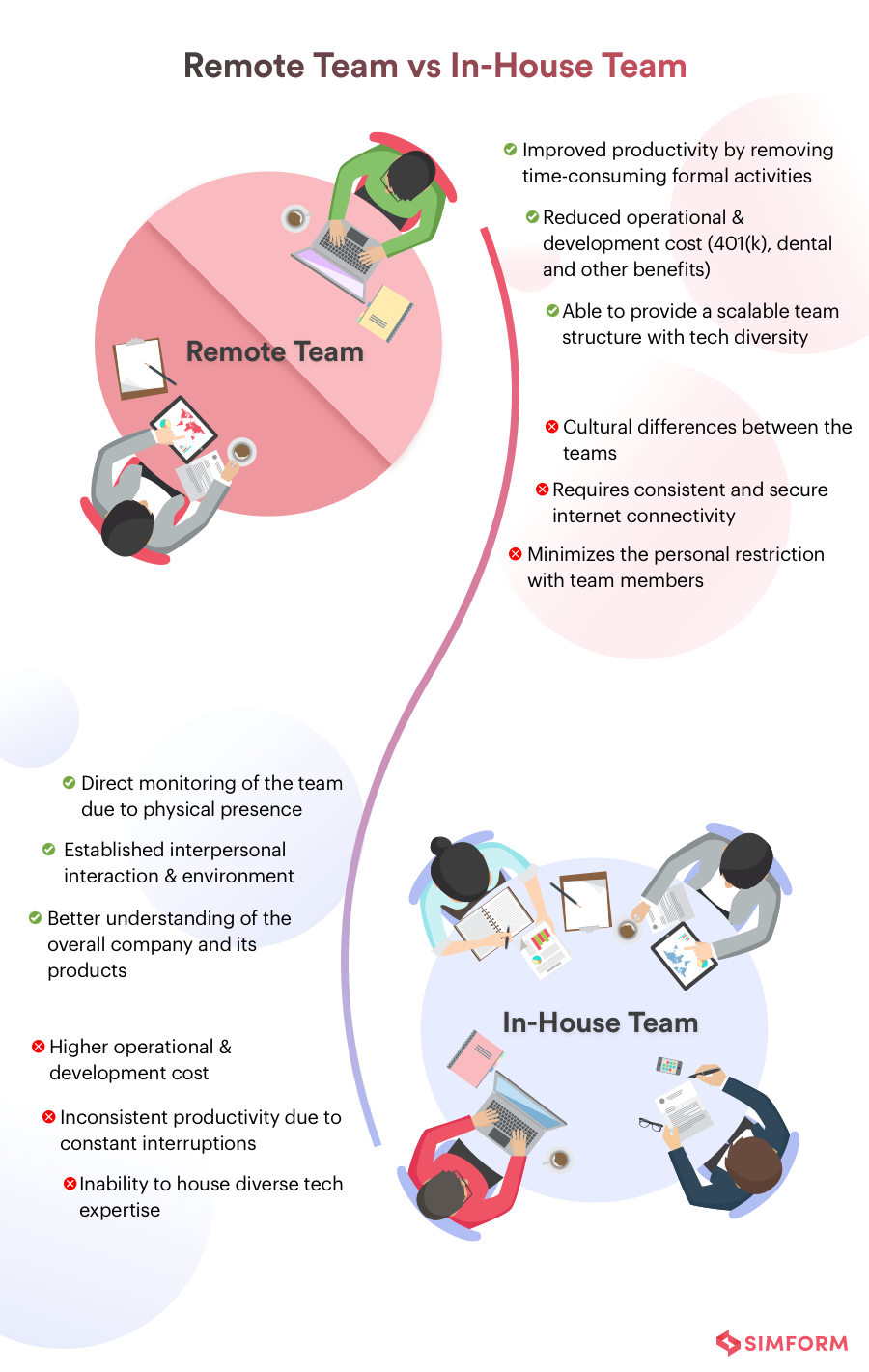 5 Steps to
Hire Better Angular Developers
Let me tell you; engineers are king right now. And especially for technologies like Angular, the demand is skyrocketing. This demand has led to Angular developers demanding generous salaries and legendary perks. And guess what? Big organizations are more than happy to present that. 
Bethany Marzewski from Stack Overflow Careers 2.0 mentions that the developer to job ratio is 1:5. This implies that onboarding quality candidates mean you need to do more than just posting a job on LinkedIn. Here are 5 ways you hire the best Angular developers. 
#1. Stay Away from Super Performers 
To build a world-class team, you need more than one world-class performer. Is hiring a single super performer a good idea? Not really! Your development team develops your software and not a single Angular developer. Great development teams work on the idea of leveraging individual strengths. If you think a super developer can solve all your problems by working overtime, maybe your problems are too insignificant. 
The other problem? When these super performers are run over by the bus, you'll be left in much trouble. The solution? Build a cohesive and super team instead of hiring a super developer. 
#2. Hire One at a Time 
This is an old but golden rule. If you hire A-listers, they would suggest other A-listers to join your company. On the other hand, if you hire B-listers, they'd suggest C-listers to join your company to look better in comparison. One of the worst ways to construct your team is to hire B-listers as the first developers. That's why I hire one developer at a time. 
#3. Talent over Lastingness 
All my life, I've adhered to a belief that it is better to have your developers, learn new skills, and eventually leave rather than not invest in people and have them stay. Let's be honest, while hiring millennials, you can't expect them to be at a single place for the next 5 years. While looking out for your next Angular developers, keep in mind that top talent always moves onto better things eventually. 
#4. Smaller Team Attracts Better Devs 
Coders want to code. They don't want to be buried under the layers of endless bureaucracy. Small companies can use this factor for their advantage in comparison to the likes of Google and Facebook. Moreover, if you're a mid-sized company, you have better chances of luring top developers since you provide different challenges at scale. However, the ability to move fast and make a company-wide impact. 
#5. Cultural Fitness 
In a competitive market of developers, tons of companies are providing standing desks, in-house gyms, and other benefits. The only way for you to set apart from your competitors is by showcasing your product and team. I'd say cultural fitness is as necessary as coding skills, if not more. 
In the end, let's make one thing clear. Finding the right people isn't easy. But you can always have other people – like Simform – find the right talent for you. 
Conclusion
In the tech space, there is a world war of talent. Due to the presence of tech giants like Google, Microsoft, Facebook, and other innumerable attractive startups competing to hire the best of the best Angular developers, the war is real. However, if you broaden your hiring aspects and opt for dedicated remote developers, chances are you may find the perfect match. 
The world is your oyster; take advantage of it! We hope this blog helps you in making the right choice to extend your team. Good luck!