Exploring Multifaceted Growth of Energy Tech in Houston
Houston, best known for its oil and gas industry, has recently observed a growth in energy tech. It's become a breeding ground for many tech startups working to rediscover the energy industry with technology. The number of R&D centers in Houston is near to a score, where overall corporate research centers are double that number. 
In 2019, a quarter of Houston's venture capital backed by startups generated $65.8M in deals focused on energy technologies. A majority of these startups have been working on new-age technologies like AI and Blockchain. 
In fact, the head of Houston Exponential, Harvin Moore is so positive about futuristic technologies that he predicts Houston will soon become the energy tech capital of the world. 
Yes Energy Capital of the World #Houston can & will become #energytech Capital #HTX. From digging the largest inland port in 1914 after the worst hurricane in US history in Galveston 1900, to landing on the Moon in just 8 years, #HTX solves problems that matter. @GHPartnership https://t.co/hNqt67xvEs

— Harvin Moore (@harvinmoore) February 1, 2020
The job growth in the energy tech sector is also worth considering. According to an article published in Houston Chronicle in December 2019, tech jobs have observed noticeable growth while the oil and gas industry was down 3% in comparison to the previous year. 
Energy Tech Trends in Houston
There is an enormous opportunity for tech companies in Houston to rediscover and innovate in the energy industry by accelerating the industry's digital transformation.
Let's explore some popular energy-tech trends.
#1. Artificial Intelligence
Artificial intelligence has seen an upsurge in recent years in Houston. There are about 80 AI startups that have flourished in the area. 
Many startups have been working consistently to leverage the growth of the energy sector in Houston. According to ReportLinker, AI growth in the Oil and Gas Market was valued at USD 2 billion in 2019.   
AI has great potential in shaping the future designs of energy systems. Major application areas cover electricity trade, smart grids, sector coupling of electricity, and the like. AI technology also helps analyze data volumes- making the energy industry more efficient and secure.
Moreover, AI has made the network of electricity consumers and generators more efficient and intelligent. Since the decentralization and digitalization of power grids is on rise, the management of grid participants and maintenance of grid balance becomes difficult. This would require a thorough evaluation and analysis of data. AI can help in processing of data in a quick and efficient manner. 
There are companies investing massively in AI based analytics solutions to leverage the growth of the energy tech in Houston.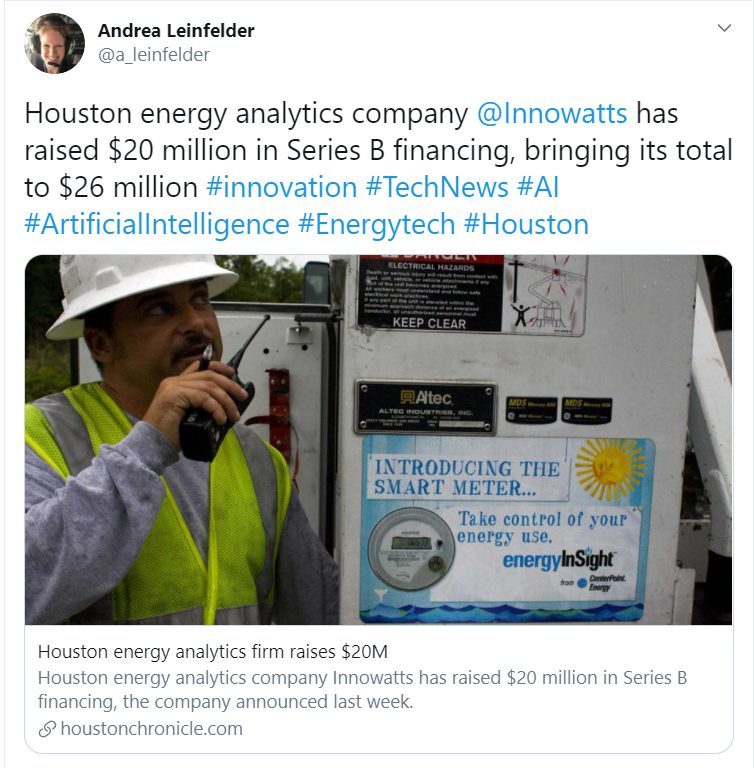 AI also plays a significant role in the management of smart grids. Nowadays, it's become more critical for power generation to react intelligently to the consumption (and vice-versa) due to the increasing number of power-generating plants like wind and solar. With the help of AI, the data of various participants (consumers, producers, storage facilities) connected by the grid can be evaluated, analyzed, and properly managed. 
Also, with the rise in the usage of e-cars, there are fresher opportunities for AI in the energy sector. The charging of electric cars needs to be in sync, and AI can better assist in coordination and monitoring. It can also help in stabilizing the power grid by detection of anomalies in the generation, consumption, and transmission in real time.
#2. Blockchain
The energy industry is continually changing with many innovations taking place – solar panels, e-vehicles, etc. And another emerging tech that's expected to spur growth in the energy tech sector is Blockchain. 
According to a joint report by Stanford Woods Institute for the Environment, the World Economic Forum, and PwC, there are more than 65 existing and emerging use cases of blockchain for the environment. 
In Houston alone, there are about 21 blockchain startups which have brought blockchain technology to oil and gas fields. There are constant advancements in this field which are acting as catalysts to the overall growth of the energy sector in Houston.
According to Chron, a Houston-based company named Data Gumbo was able to raise $6M to develop blockchain in the energy sector. They're working on automation of business transactions. 
Blockchain technology is already being used for wholesale electricity distribution. Companies have been working on this to connect the end user with the grid. They combined blockchain with IoT devices to let consumers purchase electricity directly from the grid instead of buying it from retailers.  
Since retailers have very little ownership of the grid infrastructure, the services they manage can be easily replaced by Blockchain technology. 
As per the statistics, consumer bills can be reduced by 40% if blockchain-based platforms could replace retailers. In this way, the energy market will be more stable with lower electricity costs.
Another application of blockchain technology is in gas and energy commodity trading in Houston, which requires maintaining the huge records of trades and commodity prices at a specific time. Blockchain technology will make this process much cheaper and more efficient. Here, software development companies in Houston have a significant role to play.
They can easily program options like security, unchangeability, and immediacy in the blockchain. It'll also remove the slow adaptability of large proprietary systems. 
#3. Internet of Things
Energy consumption worldwide is expected to grow by 40% over the next 25 years, which calls for smarter energy solutions. In 2019, the IoT in the energy market was valued at USD 15.04 Billion which is expected to reach USD 39.09 billion by 2025 according to Mordor Intelligence.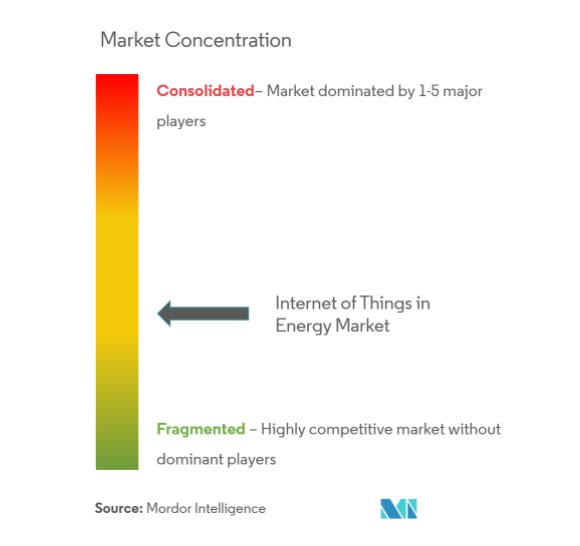 From smart light bulbs to completely automatic offshore oil rigs, IoT has been advancing impeccably. There has also been a growing demand for process automation and operational efficiency. 
At the core, IoT solutions include sensors embedded in the energy systems. These systems connect to the cloud or other software systems that can record data collected by the sensors. 
IoT is helping the energy companies in remote monitoring and management of assets as well. IoT sensors can be fixed onto the equipment for generation, transmission, and distribution. This would allow energy companies to monitor these machines remotely. The sensors can measure various parameters like vibration and temperature.
They'll further help in optimizing maintenance schedules and significantly improve reliability. They can also come in handy in issuing warnings and virtual troubleshooting before the system fails.
IoT sensors can work toward improving safety- sensors connected to the internet can be attached to oil and gas pipelines. This way, they can detect leaks and prevent accidents like a fire breakout or even an explosion.
Furthermore, these systems can be accessed through mobile applications duly notifying the authorities about any issues detected.
Another application of IoT is in the Smart Grids. With the rise in the number of residential solar panels and other technologies, energy is becoming more and more distributed. The management of this growing number of small-generation resources located across the grid becomes challenging – smart-grid technologies powered by IoT help enable the transformation of distributed energy.
IoT devices also detect changes in the electricity supply and demand. What's more, they can even react to these changes autonomously and provide operators with the information they need to manage the demand more accurately.
NRG energy has developed a solution simplifying communication management – between markets and sites and between sites and devices/load. It's a centralized fleet-management system that can scale for the management of 10,000s distributed resources and connects these assets with access to physical energy markets. 
#4. Energy as a service
This business model is based on companies partnering with experts to have better control over energy spending. Energy experts or resource consultants are the people who have an in-depth knowledge of the various aspects of the industry, so their advice is valuable
A typical EaaS company would give recommendations in two areas- i) energy-saving ways and ii) energy-efficient operations and alternative energy sources including production and storage.
The EaaS partners or consultant will learn about the building's energy profile identifying opportunities to control and optimize energy efficiency. For instance, measuring the power usage of all large equipment and determining the equipment using the most amounts of energy and its operation time.
The consultant will then devise different strategies to run the necessary equipment and replace underperforming machinery. 
EaaS companies make use of advanced machine-learning applications that can be specifically designed for a company's building, eventually offering them more precise recommendations. 
EaaS partners can equip companies to cut the energy cost in this way. First, they assess the current energy-purchasing program and then give recommendations to implement better ways of procurement, production, and storage of energy that is used.
For instance, Enerwisely- a science based sustainability platform- turns the consumption data into smart energy choices. This reduces energy costs and cuts carbon emissions. 
#5. Vehicle to Grid
V2G is a new technology that sends the energy stored in vehicles back to  the grid or national electricity network. This helps in supplying power at times of high demand. V2G will provide an opportunity to manage energy in your own way and become more energy self-sufficient further reducing the reliance on energy companies. 
You can even make your home a mini power station with solar panels and then adopting V2G technology.
At a mass scale, Vehicle to Grid technology could even reduce the need for additional physical power plants. All power needs can be fulfilled by tapping into distributed energy sources – cars or trucks- owned and managed by third parties. 
For instance, NRG energy is spreading its network in Houston using electric-car batteries to balance the grid. It's even working with government officials, along with businesses and residents, to offer monthly charging plans at affordable rates.
#6. Energy storage
In recent years, the energy crisis has become more intense. So naturally, energy storage has become a major focus in both industrial research and academia. 
When demand is high, electricity becomes more expensive as the power plants have to increase production. Energy storage contributes to meeting spiked electricity demand during peak hours. 
Energy-storage technology allows distributors to buy electricity during down-times when energy is cheap and sell it to the grid when the demand is high.
Energy storage systems provide a broad range of technological approaches to leverage power-supply management and create a more resilient energy infrastructure. It brings more cost savings to utilities and consumers. The diverse approaches that are currently being deployed include– batteries, thermal power, mechanical storage, hydrogen power, and pumped hydropower.
Pason Power, a company based in Houston, provides services to solar suppliers and energy-storage providers using Internet of Things.
#7. Cybersecurity
The energy industry is undergoing digitalization giving attackers new surfaces to exploit. Emerging technologies like smart grids and smart devices are especially vulnerable to attacks. According to the latest World Energy Congress report, there has been a considerable increase in the number of cyberattacks in recent years.
One of the major cyberattacks in the energy industry was carried out against Ukraine's power grid in December 2015. IT systems of three distribution companies got hacked, where the hackers were able to effectively disrupt the supply of electricity to end consumers. 
Hackers can use unprotected wireless signals to gain access to oil, gas, and petrochemical factories. As per an article published in Houston Chronicle, Richard Garcia- a former FBI agent who became a cybersecurity specialist- raises concerns about how hackers can either temper with a refinery or cause any vessel to explode.
In order to address cyber risks, various solutions have been put in place: 
Identification of risks that are associated with the systems, data, and capabilities that are included in the organization's critical infrastructure

Developing and implementing safeguards to deliver critical infrastructure services – segmentation of networks, removal of default or shared passwords, motoring unauthorized activities, etc. 

Establishing proper tools to detect the occurrence of a cyberattack and providing proper alerts 

Devising proper programs, processes, and tools to respond to any cybersecurity event in a timely manner 

Remediation plans for resiliency and quickly restoring capabilities or services that suffered due to cybersecurity events

.
Energy Tech Startups in Houston
#1. Future Sight AR
This company has been set up by a former worker in the oil and gas company. It uses Artificial Reality technology on smart devices so that instructions are easy to follow for the technicians. They can also access the solutions for the hardware that they're handling at the site. 
The idea is to make complex instructions and information easy to follow for the on-site workers of oil and gas companies.
#2. Chariot Energy
The company was founded in 2019 providing new ways to harness the power of renewable solar energy. It makes use of AI and ML to build utility-scale solar farms. It can save homeowners and businesses the hassle of installing rooftop solar panels. Customers can access clean solar energy through affordable, easy-to-understand plans.
#3. Arundo Analytics
Sometimes, the exchange of information can be slow and siloed between professionals within an organization. Well, energy professionals came across the same problem. Arundo analytics have come up with a solution by connecting each dot involved in an energy company's operations.  The company was founded in 2015 and with the help of data science and analytics, their software drove value into their daily operations.
#4. NatGasHub
The company was founded in 2016. It works toward streamlining the traditional and complicated process of moving natural gas from one point to another and to collect data about natural-gas pipelines. 
NatGasHub has aggregated the pipeline data from numerous websites to make it available for use. 
Conclusion
In the digitalization era when people are more inclined towards using smart devices, developments in the energy sector become crucial. Houston, being in the centerstage of the oil and gas industry, holds an important place when it comes to advancements in energy tech. And many startups have been working rigorously to give the industry a tech-boost. 
We, at Simform, can help the startups transform their ideas into reality. Our expertise in development of software applications – from mobile to web – as well as complete software solutions can help you develop smart and ideal tech. 
If you have any thoughts on the matter or want a consultation with us, feel free to leave a comment. We'll be sure to get in touch.