How to Find Software Development Partner? Step-by-Step Guide
One of the primary reasons for finding a software development partner is that not everyone can afford the resources required to develop customized software. For example, startups and small businesses often have limited budgets at their disposal.
On the other hand, large-scale enterprises want to focus on daily business operations and cannot afford to halt their products. Additionally, some projects may be short-term, so companies may not want to hire permanent employees.
By partnering with the right software development company, businesses like yours can benefit from speed and agility, risk mitigation, technical expertise, cost-effectiveness, scalability, flexibility, innovation, access to unlimited resources, etc.
As a result, global spending on outsourcing will become $971.2 billion by 2023. Also, 57% of executives indicate a budget increase in managed services, while 32% indicate a budget increase in traditional outsourcing. This article will provide a comprehensive guide on how to find a software development partner for your business. We'll also discuss the prerequisites for outsourcing the software development partner.
Prerequisites for finding the right software development partner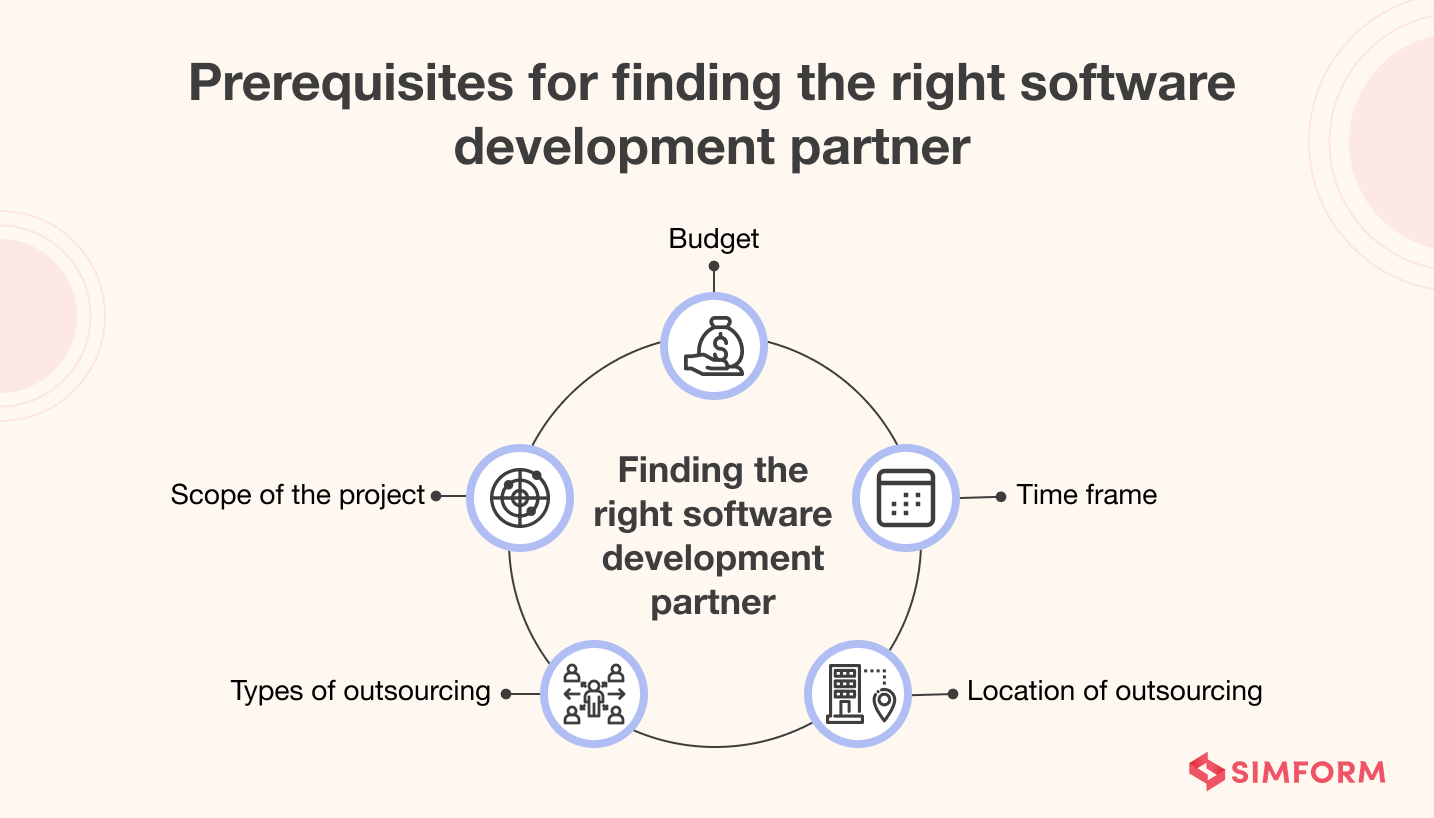 1. Scope of the project
Before looking for a software development team, it's paramount to take a step back, analyze your project, and define its scope. Then, set goals for your project and establish milestones to achieve them. Also, define the objectives you aim to accomplish by executing the project.
Framing your project's functional and non-functional requirements will give you a reference point to compare the current status of your project. However, if you have a rough idea and want to relieve yourself from requirement analysis, you can contact a group of business analysts.
An experienced and knowledgeable business analyst will help you in defining the project's scope, functional and non-functional requirements and sketch rough mockups for projects.
2. Time frame
Associating a time frame with the project's scope will help you define time-bound deliverables for your project. Sometimes it may also help you to take first-mover advantage. However, when associating time-frame, consider factors that may impact project's duration such as bugs, errors, maintenance or upgradation of software, technical issues, and additional feature requirements. Aim for flexibility rather than a fixed duration!
You can reach out to a leading software development company. Their highly experienced project managers will help you determine your project's time frame, and divide the whole project into time-bound deliverables, making it easier to track the progress.
3. Budget
Budget is one of the most critical aspects of your SRS (Software Requirement Specification) document. Every business has a dedicated budget for a particular project and desires to complete the project within the defined budget. However, a startup's funding may differ from that of an enterprise-level company. So, knowing this aspect is crucial for businesses.
There are several factors that affect the budget of a software development project, including:
Product complexity
Tech stack
Product design
Product features
Development team
Target audience
Support and maintenance
Testing
Technical debt
Expert business analysts can help you break down budget estimates per various features. They will also help you know the amount you need to invest for a minimum viable product (MVP).
4. Types of outsourcing
Once you define your project's scope, time, and budget, the next step is deciding on outsourcing. There are multiple ways to outsource software development partners:
Staff augmentation
Staff augmentation involves hiring a software development partner for contracted time to augment your organization's capabilities. The internal management generally oversees the hired staff, which works with the rest of the development team.
Despite its benefits, such as more project control, deadline flexibility, and better integration with internal processes, you also have to deal with its drawbacks. These include higher operational costs, significant training costs to get augmented staff familiar with internal processes, and great difficulty in scaling the project.
Project-based
For companies with tighter deadlines and the need to maintain daily business activities through IT solutions, project-based outsourcing can be an effective option. This approach offers benefits such as ease of project scaling, decreased management costs, access to specialized expertise, etc.
However, there are potential drawbacks to consider, such as less control over the project, and difficulty integrating with the internal system. Additionally, it may be less cost-effective for smaller projects.
If your enterprise level could benefit from project based outsourcing, consider partnering with a reputable digital product engineering company such as Simform.
With a focus on helping entrepreneurs shape and validate their product ideas, Simform offers software development outsourcing services that let you focus on strategy, business expansion, and profitability. Our engineering team owns the development cycle and helps you develop a product that aligns with your business methodology.
5. Location of outsourcing
After deciding the type of outsourcing, you should then decide on the location. The geographical location of the developers makes a massive impact on the outcome of your project. Language, time zone differences, and culture significantly impact day-to-day business activities.
Here are a few different types of location-based outsourcing you can choose from-
| | | | |
| --- | --- | --- | --- |
| Parameter | Onshoring | Offshoring | Nearshoring |
| Cost | Most expensive | Most affordable | Mid-level between onshoring and offshoring |
| Language barriers | None, one language for communication | Some language barriers | Language proximity |
| Ease of collaboration | Effortless as all processes occur within the same region | Challenging due to different timezones and geographical location | Almost effortless due to the proximity of location, language, culture, and timezones |
| Cultural barriers | None | Significant barrier | Cultural proximity |
| Skillset availability | May be lack of talent | Large talent pool | Limited talent pool |
These prerequisites should be in place before starting the process of finding the right software development partner. Now, with these in place, let us find the step-by-step process of finding the right software development partner in the upcoming section.
Steps to find the right software development partner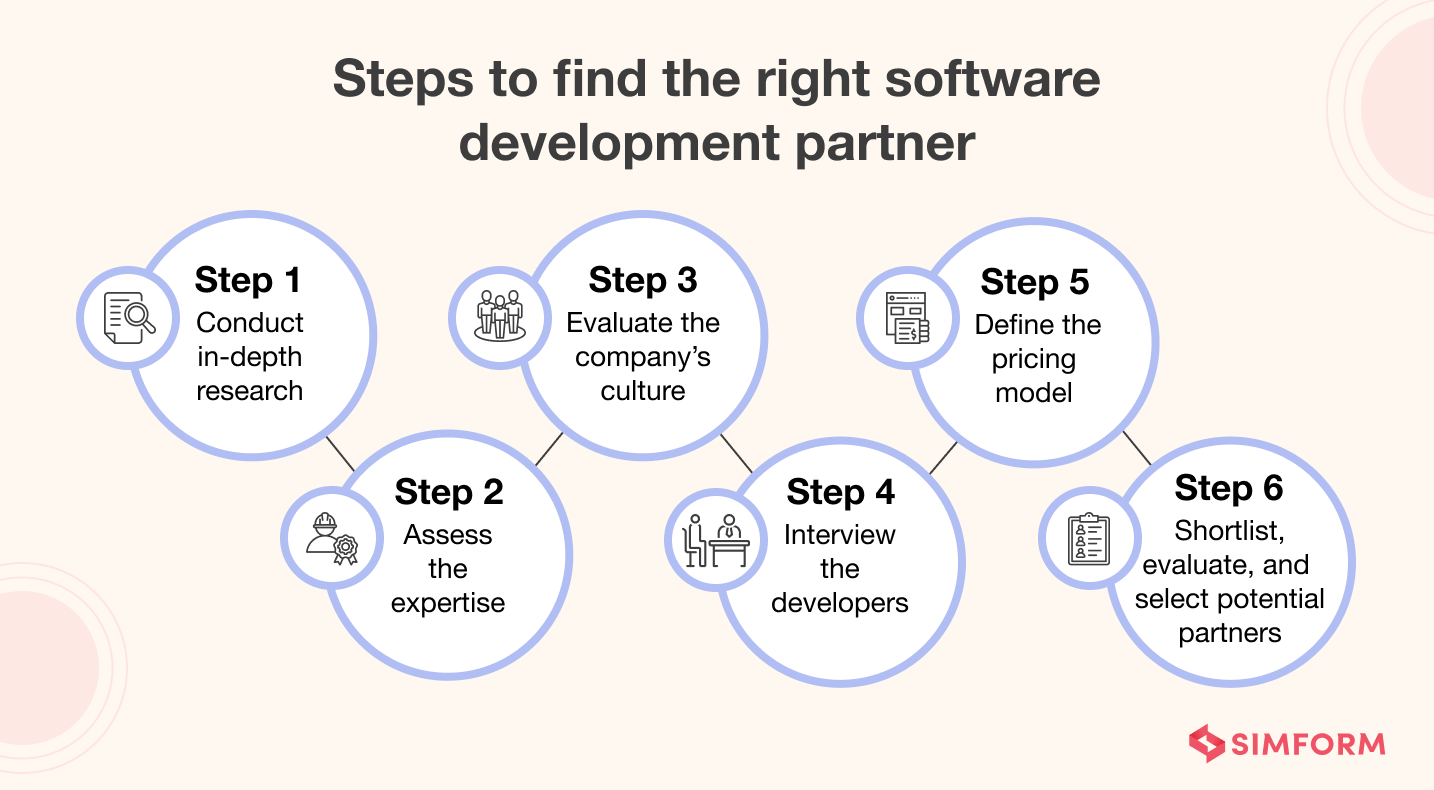 Step 1: Conduct in-depth research
One of the primary ways to find software development partners is by searching for "Software Development Companies" on Google. While this may provide a list of companies, not all of them may be suitable for your needs. The reason is that Google provides thousands of search results; filtering the one that matches what you need from that list would be cumbersome.
So, what alternate sources can you look for software development partners? Clutch, Goodfirms, The Manifest, etc., are some sources that provide reviews and ratings of the leading IT outsourcing companies, which can help you identify potential development partner.
These platforms have objective reviews provided by clients, and they constantly review the ratings given to the particular company, building a strong reputation among IT companies.
Major IT companies have their profiles on these platforms, making it easier for you to identify a technology partner that matches your business needs.
Step 2: Assess the expertise
The development partner you want to collaborate with should have business expertise. For example, if you're looking to develop a healthcare product for your enterprise, the development partner or developer you're dealing with should have technical expertise and domain knowledge in healthcare solutions.
Assessing your potential software development partner's expertise is crucial to know whether they can deliver the required domain expertise for your project. Moreover, its important to choose a partner with right credentials, as you aim for a long-term relationship.
To get a preliminary idea of the company's core services and offerings, you can check its client testimonials and case studies. Client testimonials will provide you with a view of the company's previous work experience and the challenges it can handle.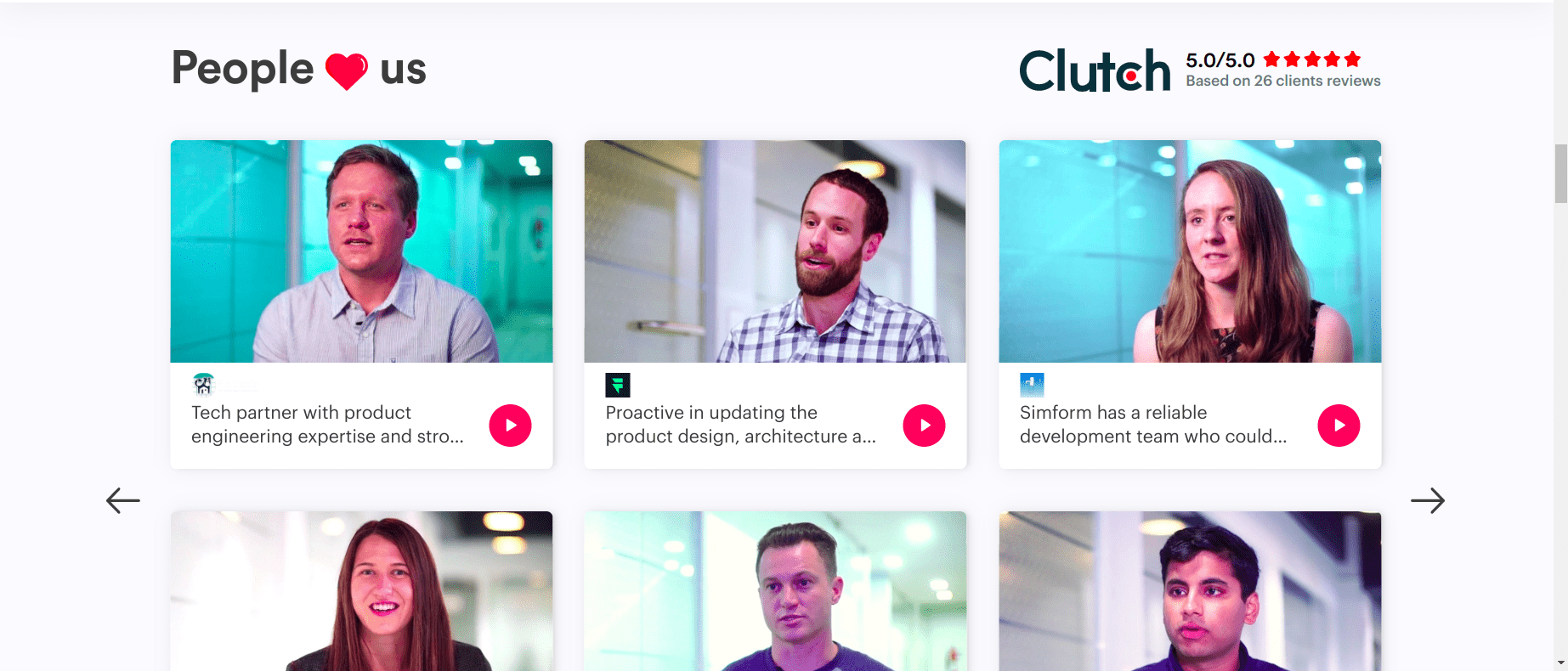 Case studies can provide a holistic picture of the various verticals the company has worked in and the kind of technologies they used to build a robust product. You can also learn about the challenges they overcame and the features they implemented to ensure a good user experience.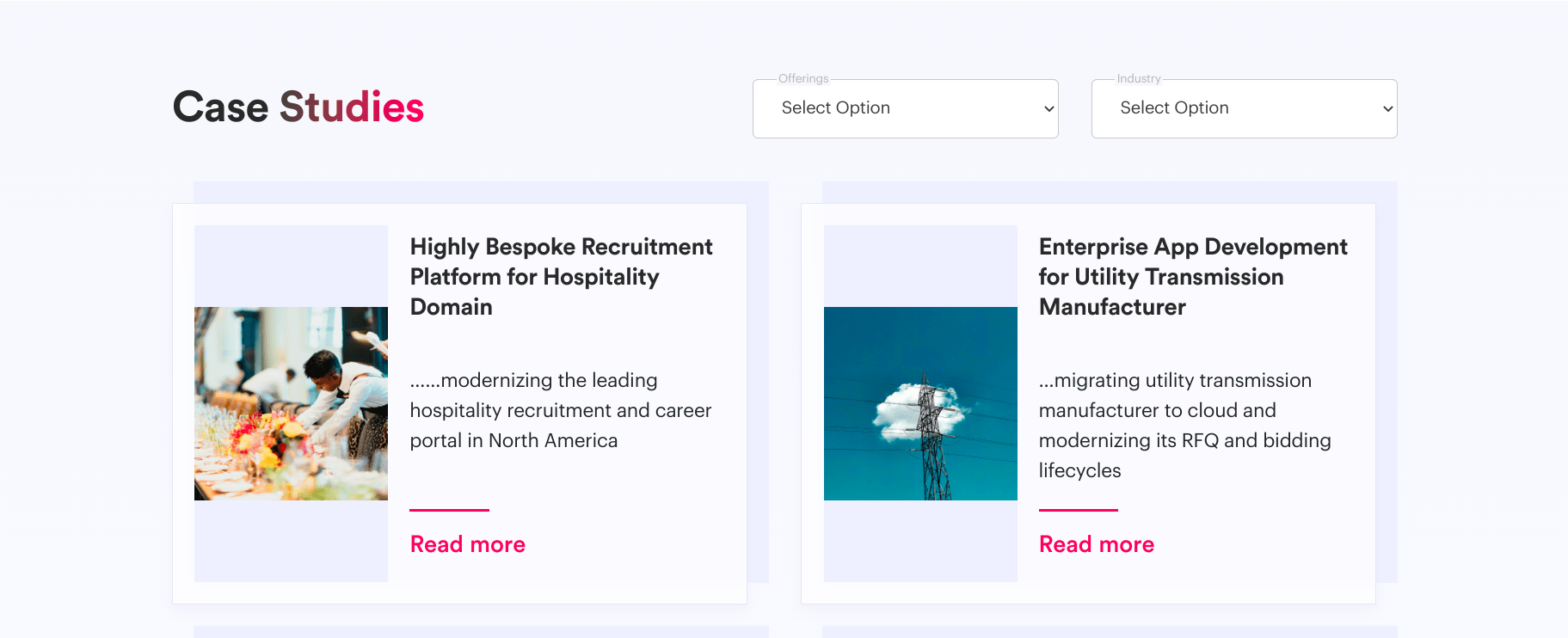 If you evaluate the company's expertise on client testimonials, case studies, and reviews on third-party platforms, Simform will be one of the potential partners. With its experience and knowledge, Simform delivers end-to-end complex engineering solutions for various industries such as hospitality, manufacturing, healthcare, retail, mobility, etc.
Step 3: Evaluate the company's culture
A company's culture represents the company's personality and provides insight into the company's values and work culture. You can contact their previous clients to learn about the company's ethics, goals, and expectations. It will help you know how they operate and handle client relationships throughout a project.
Another way to see a company's culture is by connecting with its ex-employees. You can find them on LinkedIn and chat with them about the company's work culture. You can also inquire about the level of professionalism they keep while communicating with their clients.
However, to avoid getting into these hassles, you can check the Glassdoor review of the companies. It's one of the simplest and most effective ways to judge a company's work culture. Another way to check the company's work culture is to check their reviews on Great Place To Work. It's the global authority on work culture.
Step 4: Interview the developers
Most of the time, you interview the sales team and hear their pitches before making the final decision on whether to partner with them or not. However, you should also consult and interview the developers, who will be responsible for your product development.
For instance, you may want to ask them about their previous experience, the kind of projects they've worked on, and how they handle complex engineering challenges such as scalability, performance, reliability, resiliency, etc.
Simform has a team of 1000+ expert engineers capable of addressing complex engineering challenges. Our engineers help clients with functional requirements while considering non-functional requirements to ensure robust development.
SIMFORM also allows clients to interview the tech team before deciding on collaboration and selecting the team for the project. However, if you need clarification about which developers to pick, Simform can help you.
Step 5: Decide the pricing model
Pricing plays a vital role in finalizing the software development partner, as most businesses today are looking for a cost-effective solution to maintain the uniqueness of the product within their defined budget. That's where the pricing or the engagement models plays a massive role.
There are three significant pricing models:
Fixed-price model
A fixed-priced model is a contract where the software development team should deliver the project within a predetermined amount agreed upon by both parties. It works well for the client as they don't have to pay anything outside the agreed amount.
However, software development teams have their work cut out as if there are changes in the feature requirements; they cannot charge any extra money. So, in the long term, the relationship between the client and the development team can become bitter-sweet.
When to use a fixed-price model?
When you're working with a limited budget and time
When the project is small and short-term
When technical documentation is ready
When requirements are not going to change
When you can fix the project's scope in advance
Time and material model
Time and material model calculates the cost of software development based on no. of resources and time used by the development team. Here, the client pays for the number of hours development occurs. So, the client has to keep an eye on the project's scope.
The clear the requirement, the faster the delivery of the finished product. However, if you're needs are not precise, and require plenty of amendments, then you have to pay a lot of extra money.
When to use a time and material model?
When the project is for the medium or long term
When the requirements continually get evolve
When you want plenty of customization in the product
When you wish for flexibility to modify requirements
When you want transparency between the client and the development team
Dedicated team model
The dedicated team model eliminates fixed price, time, and material drawbacks. The software development provider will provide your team's infrastructure, recruitment, and administrative support.
They also monitor the developer's performance and report the project's progress frequently. Lastly, the dedicated team model tries to comply with your corporate policies & culture, development practices, software development methodologies, tools, etc.
When to use a dedicated team model?
When the project is long-term, and the scope gets changed rapidly
When you want to access cross-border expertise and knowledge sharing
When you want to have total control over the development process
When you lack any specific technical skill or expertise
When you want to control the budget and finalize the scope
Step 6: Shortlist, evaluate, and select potential partners
Once you've gathered the information about the potential partner, it's best to shortlist some companies. For that purpose, you can use comparison metrics that comprise information such as methodology, technology, testing process, lifecycle, pricing model, communication medium, culture, legal compliances, etc.
Based on this analysis, you can quickly narrow your list from many companies to a few targeted companies. Now, prepare an RFP (Request for Proposal) document for such companies that contains a questionnaire you might have about their development methods.
Here are some questions you may ask your potential partners:
Could you present a project similar to mine in the technology or business domain?
Can you provide good references from previous projects?
Who is your ideal client?
What does your typical process look like?
How do you ensure quality on your software development projects?
What reporting practices and collaboration tools do you use?
Tell me about your hiring process.
Will the developers assigned to my project work on any other project simultaneously?
What are your rates and payment terms?
Can you estimate the length of my project?
Which engineering practices are you following?
Which technology do you've first-hand experience with?
Based on this questionnaire, you can evaluate various software development companies and finalize the one that aligns with your requirements and business methodology. Following this structured process will help you to find the best possible software development partner.
Simform is your one-stop destination for software development
Finding a reliable and dedicated software development partner requires you to get into the nitty-gritty of software development and identify critical factors that could impact your evaluation. This requires dedicated efforts from your side and a structured process to find a suitable technology partner.
Simform is a leading digital product engineering firm with 10+ years of experience delivering customized software solutions. With a team of 1000+ skilled, experienced, and certified professionals, Simform could be your one-stop destination for all product engineering services.
To get started, collaborate with our engineering team to share your requirements. Our tech consultants will contact you in a day or two for further consultation and help you transform your business digitally.